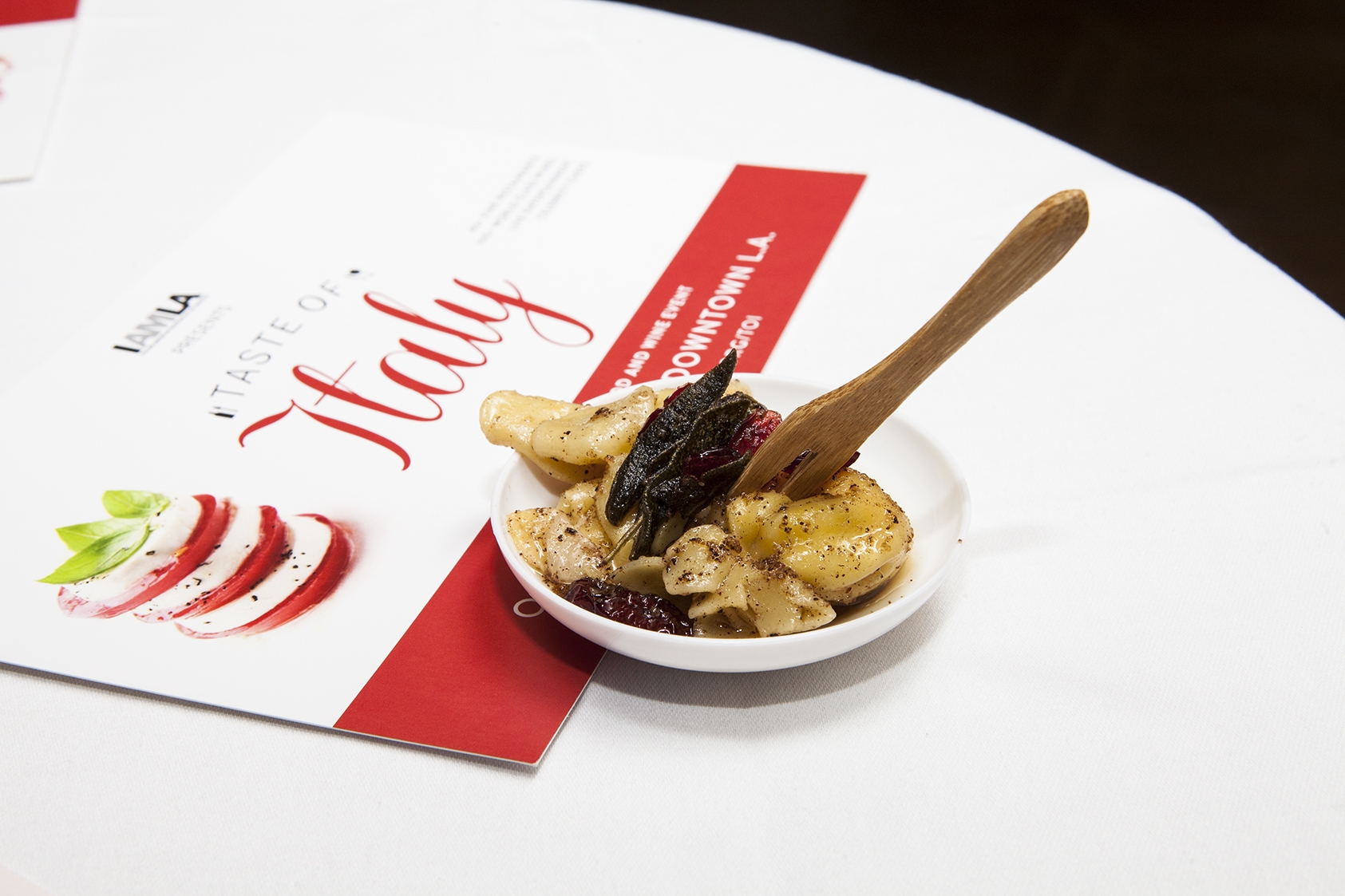 On October 10 in downtown Los Angeles, the seventh annual "Taste of Italy" will showcase over 35 fine restaurants, 100+ wines, all in celebration of the rich culinary and cultural traditions of Italy
Presented by The Italian American Museum of Los Angeles (IAMLA) in support of the museum's educational and cultural programming, and historic preservation projects, "Taste of Italy" is an annual upscale food and wine event featuring the region's best Italian restaurants, purveyors of authentic Italian products, fine wines, chef demonstrations, celebrity guests and live entertainment.
In advance of the highly anticipated yearly event, IAMLA held two kick-off events at top L.A. eateries Locanda del Lago and Rao's Hollywood, giving guests a first sampling of what they can expect.
On September 24, Santa Monica's Locanda Del Lago hosted "Morso della Bestia," a five-course, nose to tail, communal Italian dinner prepared by Michelin-starred Chef Gianfranco Minuz, featuring a whole, roast suckling pig, with rare, boutique wine pairings and preview of the seventh annual Taste of Italy.
The following week, an exclusive reception at Rao's Hollywood featured some of the favorites from the legendary restaurant's menu, as well as fine Italian wines and Peroni beer. A special treat was the appearance by the charismatic restaurant owner and actor Frank Pellegrino and his son, Frank Jr., who runs the L.A. and Las Vegas locations.
"Taste of Italy provides an authentic Italian experience in the heart of in downtown Los Angeles," explains Marianna Gatto, historian and Executive Director of the IAMLA, "where guests can enjoy exquisite Italian cuisine and exceptional Italian wines in a charming, historic setting. Taste of Italy offers a glimpse of the region's extensive Italian history and contemporary Italian lifestyle while supporting the Italian American Museum of Los Angeles."
The event will highlight the unique specialties of Italy's twenty regions and the foods of the Italian American diaspora. From Veneto to Sicily, Tuscany to Calabria, each region has its own traditions, dishes and flavors. After settling in the U.S. and elsewhere, Italian immigrants transformed traditional dishes and invented others, incorporating the products available in their adopted country. Taste of Italy will provide guests the opportunity to explore the incredible diversity of Italian gastronomy and Italian American cuisine.
Participants will include Valentino, Drago Centro, Rao's, La Bruschetta, Marino, Locanda Del Lago, Il Fornaio, DiStefano Cheese, Verace Pizza Napoletana, and Celestino. Approximately 100 world-class wines will be served by participants such as Casa Torelli, Ca'Momi, Gruppo I Vinai, Massanois, Veneto Hills, and many others.
This year's entertainment lineup includes performances by LA Opera, a tribute to Frank Sinatra and the vocalist Giovanna Gattuso. For the grand finale, guests will dance to the sounds of DjLo on the ground where the City of Los Angeles was founded 234 years ago.
What: The Italian American Museum of Los Angeles' Taste of Italy
When: October 10, 2015 from 5-10 PM
Where: 424 North Main Street, Los Angeles, CA 90012
Why: Proceeds from the event will support the Italian American Museum's exhibitions and the preservation of the historic Italian Hall (the building in which the Museum is located, which is listed on the National Register of Historic Places).
Cost: $55 General Admission (6 food + 6 wine food tastings), $125 Premiere (8 food + 8 wine tastings, VIP bag, and red carpet entrance), a limited number of reserved tables and sponsorship opportunities remain.
Tickets/Info: www.italianhall.org/TOI or tel. 213.485.8432
The Italian American Museum of Los Angeles documents the history and continuing contributions of Italian Americans and Italians to Southern California and the nation. Featuring interactive exhibits and educational programming, the Italian American Museum provides visitors of all ages and origins a meaningful understanding of the complex, multi-cultural fabric of the United States. The Historic Italian Hall Foundation is a 501(c)3 charitable organization dedicated to supporting the Museum and the continued preservation efforts of the building in which it is located, the Italian Hall, the oldest remaining structure from the city's historic little Italy, built in 1908.
Photos courtesy of IAMLA