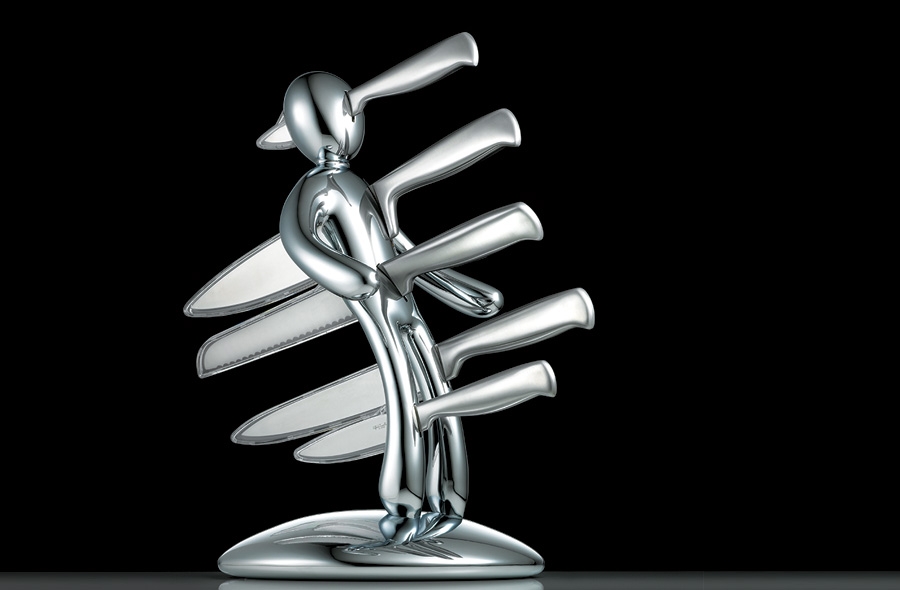 At RICSB we've been making thought provoking products for many years. Introducing…The Ex Voodoo Knife.
Customer demand has led us to create a Collector's Edition of "The Ex" Voodoo Knife Holder in Solid Metal, Available now at TheExKnife.com
Unlike our plastic version, the Solid Metal holder is one solid piece and requires no assembly. The great thing about The Ex Voodoo Knife holder is that it can go anywhere in your home. It's a conversation piece that can be placed in your kitchen, displayed in your living room or even on your coffee table. It also makes a great gift!
MAGNETIC SUSPENSION SYSTEM:
On the rear of the holder, the clear plastic sheaths and our patented magnetic suspension system securely hold each knife in place-all making The Voodoo very sturdy and very safe.
Redefining 'Cutting Edge':
"The Ex" is artistic and fun, but it is also fully functional with a German Stainless Steel 5 piece knife set with custom-made, 18/10 stainless steel handles. This Kitchen Carving set includes an 8″ Chef knife, an 8″ Slicer, an 8″ Bread knife, a 4 1/4″ Utility Knife and a 3 1/4″ Parer.
Each sheath is removable for easy cleaning.