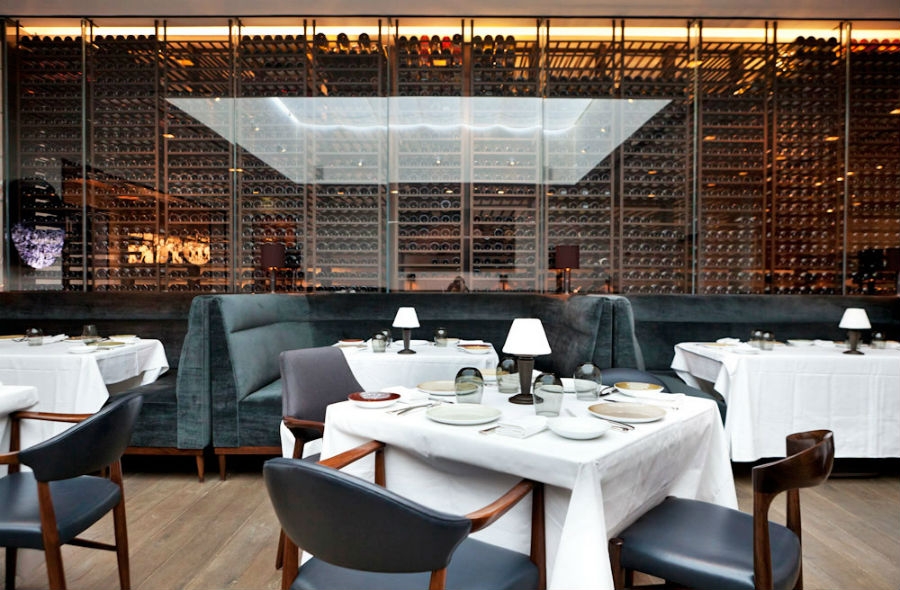 Another iconic LA eatery has reopened in Beverly Hills. Wolfgang Puck's Spago has unveiled a new look after a much needed facelift and menu revamp.
Designer Waldo Fernandez – also responsible for the casual-chic vibe at Soho House in LA, has brought calming neutral colors to the banquettes and open main dining room facing the kitchen, while the patio is sure to be one of the most romantic date spots to book this holiday season.
Die hard Puck fans need not worry about some of the changes, the pizza with house cured smoked salmon and dill crème fraiche is still on the lunch menu and there is a Weinerschnitzel, Austrian potato and cucumber salad as well, but we have our eye on the dinner menu with steamed Maine lobster, Hong Kong, for two; B.B.Q. skate, spicy Indonesian sambal and the whole roasted Chinese duck.
While lounging in one of the white canvas chairs on the patio has been a top table to book on the Westside of Los Angeles for over three decades, it was time for Michael's to update the dining room, bar and even menu. What many people don't realize is Michael's was not only a hot elbow rubbing dining destination, and art gallery, but this American eatery also launched some of the largest legends in the culinary business. Nancy Silverton, Mark Peel, Jonathan Waxman, and Sang Yoon, all spent time in this kitchen and the legend will certainly continue with Executive Chef John-Carlos Kuramoto who was recently named to LA's "Top 30 under 30" by Zagat.
"We have reinvented Michael's into a very approachable American-Californian restaurant, to reflect the way people are dining today," says owner Michael McCarty. "We appreciate the support of all of our valued guests over the past 33 years and will continue our world-renowned reputation for farm-to-table, impeccably cooked new American food, now in a new, exciting, and inviting atmosphere designed to match our very accessible prices and expanded menu."
Michael's now features a best-of-the-best menu along with specialties from a newly installed pizza oven, a raw bar, a wide selection of small plates, pastas and tasting menus. The expanded bar will also offer a small bites menu featuring items like oysters, raclette, a Santa Monica Farmers' Market sauté, and a daily pizza selection. The new mixology power bar features farm-to-glass cocktails using organic produce from Michael's very own rooftop garden.
Japanese-Mexican influences from Chef Kuramoto's heritage standout in dishes like Tuna Poke with apple, Jalapeño, pine nuts and cilantro-ginger-soy dressing; a daily selection of tacos; house-made merguez sausage, hand-torn pasta with mushroom ragu, and Michael's burger – which is the best in town at the moment.
The iconic garden patio has been re-landscaped and re-decorated with new tables, chairs and lighting, along with a new art collection specially curated by artist Kim McCarty, Michael's wife. Features works by famous local artists include Peter Alexander, Lucas Reiner, Billy Al Bengston, Roger Herman, Dennis Hopper, William Berry, Elisabeth Kitchen, Julião Sarmento, Tony De Los Reyes, Ed Moses, Tony Berlant, Charles Arnoldi, and Laddie John Dill.