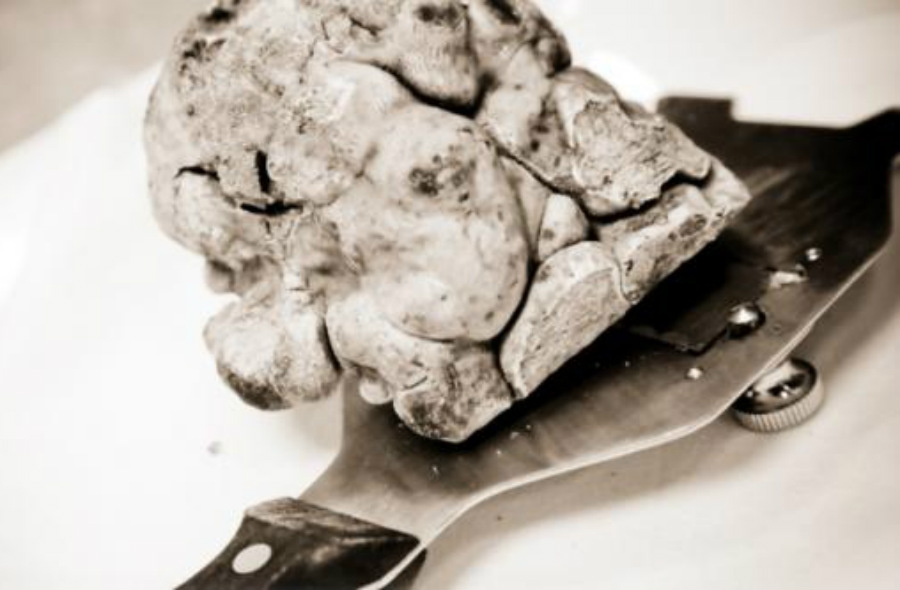 It's that time of year again for gastronomic gurus to start shaving white truffles on just about everything from pasta to pizza.
If you don't want to miss this annual fungi feast, book a table at SAAM – the private tasting room in the SLS Hotel on the border of Beverly Hills, for the White Truffle Dinner Series.
Culinary Director José Andrés celebrates the white truffle season with the second annual series with a sixteen-course dinner that highlights the flavors of the truffle through the inventive vision of Andrés' culinary team, Think Food Group's research and development chef Aitor Lozano, The Bazaar's Executive Chef Joshua Whigham and Sous Chef Holly Jivin. The truffles themselves, foraged by the expert Truffle Brothers Michael and Marco Pietroiacovom, travel from the wooded hills of Abruzzo, Italy before they meet the team at SAAM.
Each course – think bite size truffle doughnuts, rich risotto, lobster with dashi, and pillows of agnoloti as a few of the creative dishes, that will be paired with cocktails including the Truffle Mist with rum, pomegranate, mescal, lime and truffle syrup that is served with a cotton candy truffle dumpling with brioche air, Iberico pork cheeks and white truffles; chicken skin with cured chicken, black garlic and white truffles. Guests can explore the tasting menu, available for a limited time only, on Thursday, Friday and Saturday evenings from October 23rd to November 23rd, for $325 per guest with wine pairing options available for both $150 and $300. Reservations are required and can be made by calling 310.246.5555.
If an elaborate tasting menu is too much for you, try the new fall menu from the just opened Mezzanine level at our favorite Peruvian restaurant Picca on Pico in West LA. Ricardo Zarate has created a modern spin on many South American inspired dishes including the 'papa rellena' with truffled chicken, frisee and slices of black truffle atop a crunchy potato with a creamy center that reminded us of the best knish we've ever tasted. We predict this earthy-fungi topped dish will be a winter staple along with a smoky mescal cocktail with 'secret ingredients' from Julian Cox.
Lastly, there is always the sublime truffle cheeseburger from Adam Fleischman's Umami Burger for an even quicker fix. Still a West coast staple from San Francisco to San Diego, now New York can see what all the fuss is about with a new outpost of the burger chain that just opened to long lines around the block and record crowds – sounds familiar. The Umami Restaurant Group will also be launching a special truffle menu on November 1st at their various eateries around town. http://www.umami.com/truffleseason