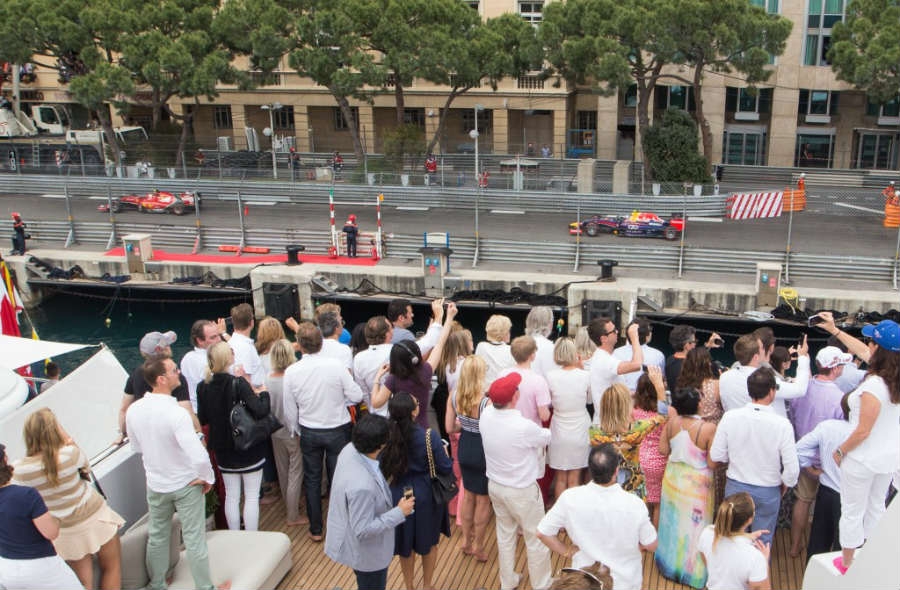 9th Annual My Yacht Monaco welcomes HSH Prince Albert II of Monaco; Hosts luxury brand partners, HNW guests aboard M/Y Turquoise.
My Yacht™ Monaco hosted its exclusive, annual 4-day luxury hospitality and F1 viewing experience during the 72nd Monaco Formula 1 Grand Prix, May 22-25. Discerning HNW guests and luxury brand partners enjoyed an extraordinary weekend aboard superyacht Turquoise (55.4m / 181ft), the largest and newest yacht moored in a trackside berth, opposite the giant screen on the Quay Kennedy straightaway.
My Yacht Monaco's 9th Annual Friday night Royal reception and party was honored by the presence of HSH Prince Albert II of Monaco, who mingled with guests aboard for several hours. Other notable attendees included former President of Pakistan Shaukat Aziz; Hon. Consul of Lithuania Dr. John Prunskis; easyGroup founder Sir Stelios Haji-Ioannou; 5-time USA Olympic bobsledder (Bronze, Salt Lake City) Brian Shimer; PayPal co-founder Ken Howery; Chairman of the Board of Directors for AP Moeller Maersk, Michael Pram Rasmussen; film producer ("Rush", "The Ides of March") Guy East; Super-Max Chairman Rocky Malhotra; Santa Cruz bicycles founder and CEO Rob Roskopp; philanthropist and songwriter Denise Rich; TV personality Star Jones; plus 4-time Olympic bobsled drivers Mark Tout (GBR) and Chris Lori (CAN).
Misahara Jewelry showcased exquisite and unique, hand-crafted pieces throughout the weekend, with creator Lepa Roskopp & CEO Mike Poutre aboard. Lauge Jensen displayed its new, Henrik Fisker-designed Viking concept motorcycle, with CEO Anders Johansen and Fisker aboard throughout the weekend. Spyker Cars' B6 Venator Concept, set for 2015 production, welcomed guests to the Friday night reception, with CEO Victor Muller in attendance. High-speed X-Tenders and Van Dutch tenders whisked guests to and from the yacht daily, affording enviable views of Monaco on the fast 'commute'. Chateau d'Esclans poured its delectable 95-point Garrus rose wine, in addition to its Caves d'Esclans, while Gold Emotion kept the bubbles flowing with its 24k gold-flecked Luxor Brut, and beer drinkers enjoyed the all-new Blonde of Saint-Tropez. Additional partners included Creechurch Capital and Burgess Yachts.
Making its debut at the Monaco Grand Prix following an extensive winter refit, the beautifully-appointed, 2011-built, tri-deck Turquoise provided the perfect setting for all of the weekend's activities. With a contemporary, elegant design, expansive decks, and spacious, luxuriously furnished lounges, My Yacht Monaco guests enjoyed all of the F1 racing action in superb comfort. A professional crew & staff of 25 ensured the highest level of service, with sumptuous foods, including caviar, and open bar throughout.
Each guest received custom, limited edition My Yacht Monaco gifts, plus a lifetime of incredible memories, from what remains one of the must-attend annual events on the sporting / social calendar.
The 73rd Monaco Grand Prix will take place May 21-24, 2015. The price for 4 days aboard My Yacht Monaco is €9,450 ($13,250) per person for all on board hospitality and F1 race viewing. Space aboard is limited to 75 daytime guests only. Accommodations, flights and all 3rd party services are extra.
For more information please contact: [email protected] or visit http://www.myyachtmonaco.com . My Yacht™ Monaco is a My Yacht™ Group event.
My Yacht™ Group creates turnkey, luxury hospitality and branding opportunities on board private superyachts at premier international sporting, social and artistic events. My Yacht Group is the result of twenty years spent working in the fields of sports and entertainment sponsorship and experiential marketing, creating long-term strategic partnerships with luxury and aspirational brands that showcase their products and entertain their top clients, while mixing with a highly targeted, pre-qualified guest list at invitation-only events.
Current My Yacht Group events can be found at: Miami International Boat Show, Palm Beach International Boat Show, Cannes International Film Festival, Monaco F1 Grand Prix, Monterey, CA's Concours d'Elegance, Monaco Yacht Show, Abu Dhabi F1 Grand Prix, and Art Basel Miami Beach. Non-yacht events include My Yacht™ Club at the USA F1 Grand Prix in Austin, TX. New events planned for 2015 include Hong Kong Art Basel, and Singapore F1.
TURQUOISE is available for charter: Summer, Mediterranean; Winter, Caribbean. TURQUOISE is managed by Knox House Marine Management Limited and charter enquiries are handled by its charter partner Burgess Yachts. Further information about TURQUOISE, biographies of the crew and contact information to charter TURQUOISE can be found at www.my-turquoise.com.