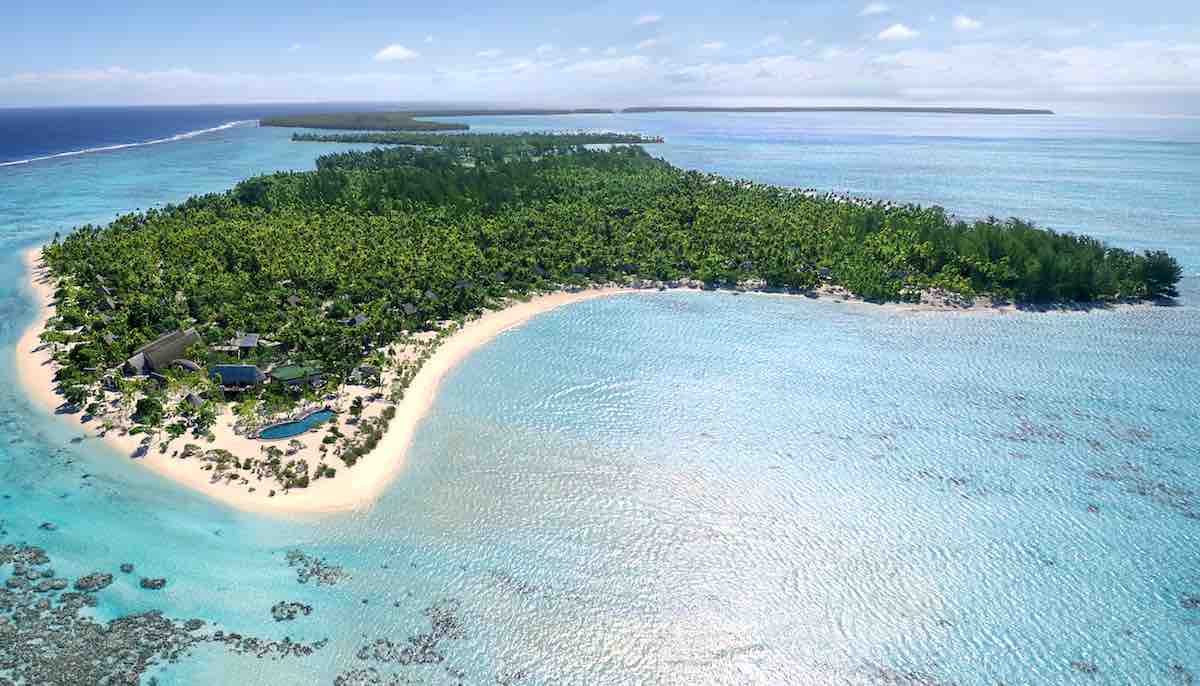 The Brando is the kind of destination-defining resort that can make you feel as if any drama beyond this South Pacific beauty ceases to exist. Tetiaroa, 30 miles northeast of Tahiti, is composed of a dozen tiny islands surrounding the palest, bluest, lagoon. There are few places on earth more untouched and achingly beautiful. From Tahiti, we hop aboard a 20-minute flight on The Brando's private plane. On arrival in Tetiaroa, we're greeted with smiles and singing, tropical flowers and chilled towels, and a refreshing herbaceous elixir.
While many of the world's legendary hotels boast an intriguing or glamorous provenance, there are few more storied than The Brando. Much like Marlon fell in love with Tetiaroa while filming Mutiny on the Bounty (he purchased the land for him and his wife Tarita in 1965), I'm instantly spellbound by Shearwater birds circling over coconut palm groves and platinum sand beaches. The remote resort captivates imaginations with Hollywood legend and a string of notable A-list guests While the prestige of this pristine playground was an obvious draw, such luminaries were equally compelled by supporting Tetiaroa Society research.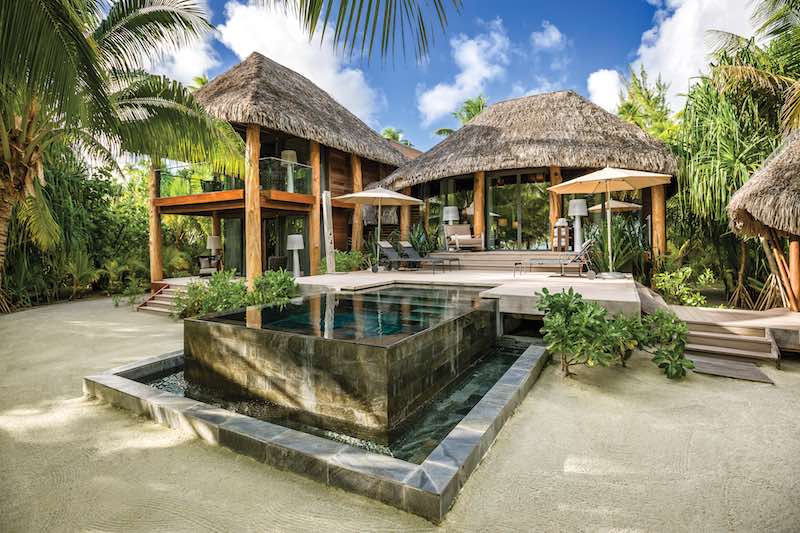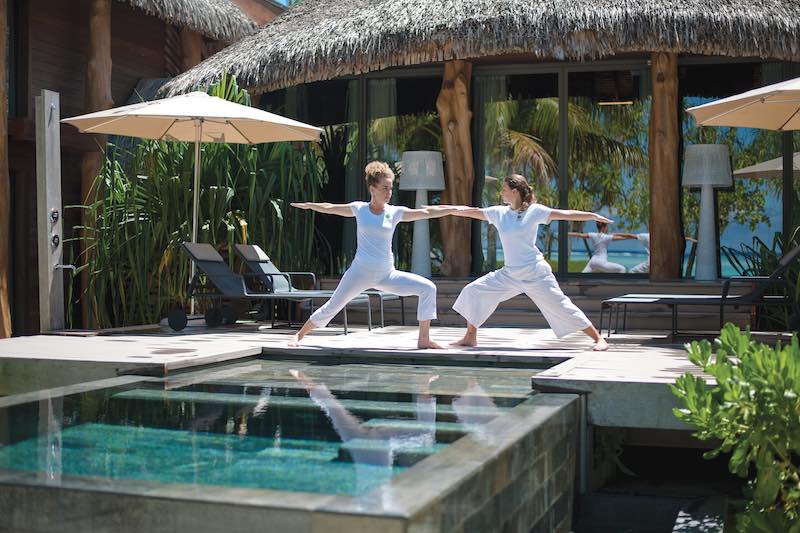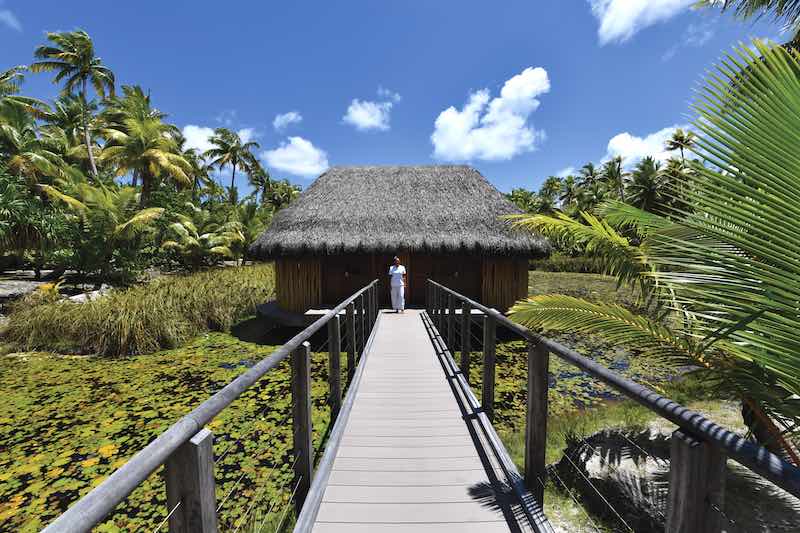 For those wishing to travel in a more meaningful way, The Brando is a beacon. There has been little in the way of public examination of how travel and resort culture may fuel retrograde tendencies toward unchecked consumption. CEO Richard Bailey's leadership of The Brando shifts travel from an "extractive" practice towards something altogether more regenerative, where both guest and destination flourish in a deeper way. Brando and Bailey met in 1999, spending many drawn out dinners dreaming up the "world's first post-carbon" resort. With Bailey as an early consigliere, the island evolved not merely as a luxury escape for the well-heeled, but as a model of how tourism could be reborn. From innovation in green technologies to the eradication of mosquitoes, The Brando's benchmarks and accomplishments could aid in tackling global health crises.
Over a beer at one of Marlon's original beach huts, Tetiaroa Society Executive Director Frank Murphy muses, "It's wild and wonderful, hidden here in the middle of the Pacific, we may be able to give insights that impact the future of our planet." You see, Tetiaroa is a living laboratory for scientists worldwide to test cutting-edge ideas that could have global impact. Favored for centuries by Tahitian royalty as a ceremonial sanctuary, the atoll is now home to a thriving Ecostation where researchers study archeological sites, brackish lakes and deep ocean activity. Touring the property's acclaimed Sea Water Air Conditioning system and solar fields is a revelation to hotel infrastructure junkies.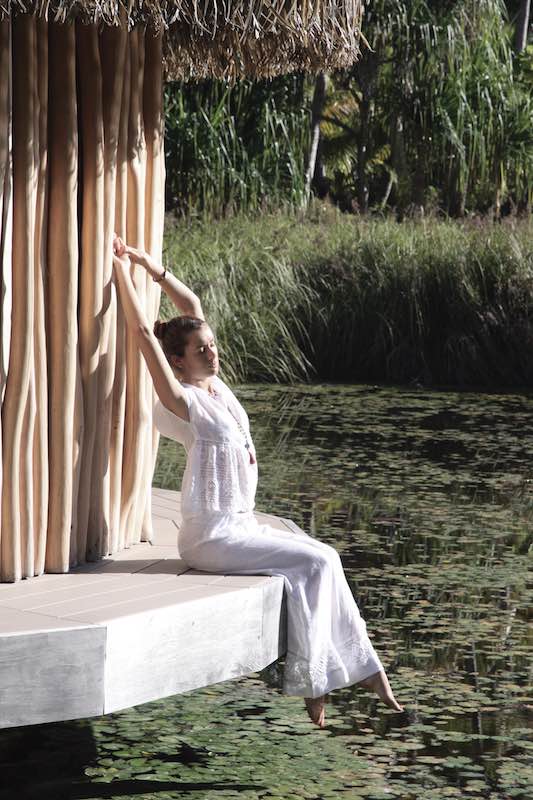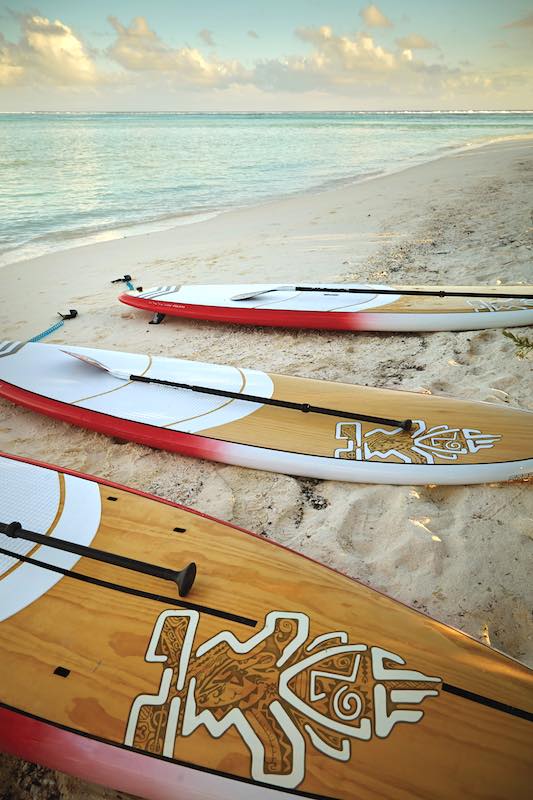 The first thing you'll want to do after checking in is get wet. Your beachfront villa's private pool shimmers like a submerged black pearl box, pulsating with the ambient groove of waves—a hypnotic prelude to a most euphoric stay. Unwind in the whole-hearted embrace of luxury; you'll feel like you have much of the place to yourself as there are only 35 impossibly posh villas here. Villas offer one, two and three bedrooms, which suits many couples returning with family. Ceilings soar with massive ironwood timbers and impressive and sleek finishes abound, especially in the designer bathrooms. Stylish bedrooms and sublime outdoor bathtubs are pretty conducive to unbridled coupling. A lounge and media suite opens up to a private terrace with an infinity pool overlooking the beach. Every guest enjoys the use of the most Instagram-able bicycle, branded in the resort's livery.
The Brando's three restaurants and two bars serve dishes and cocktails composed of ingredients from the resort's own organic orchard and garden. Te Manu Bar in particular strikes my sweet spot, a collection of cozy circular lounges, suspended high above the beach. Sip exquisitely crafted cocktails over sunset views and a spirited game of billiards.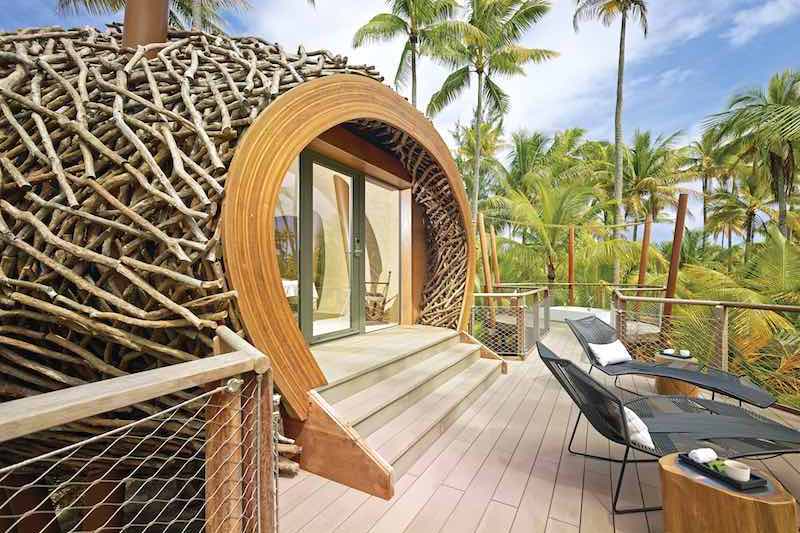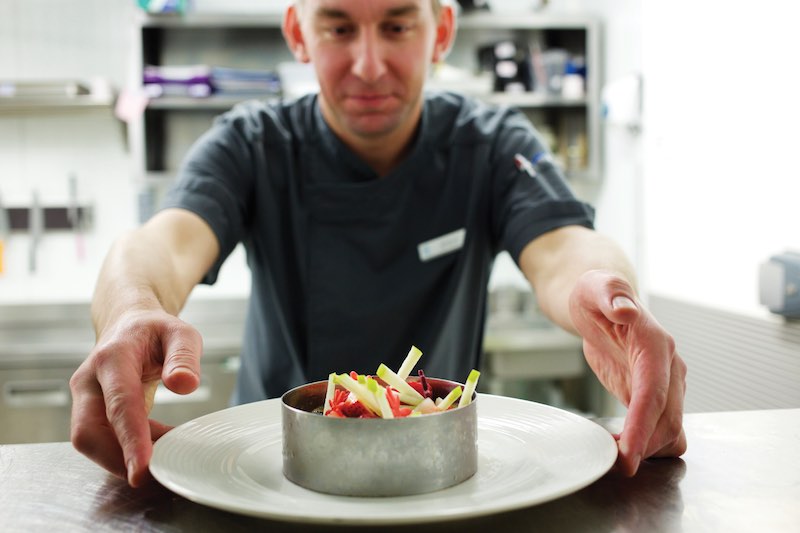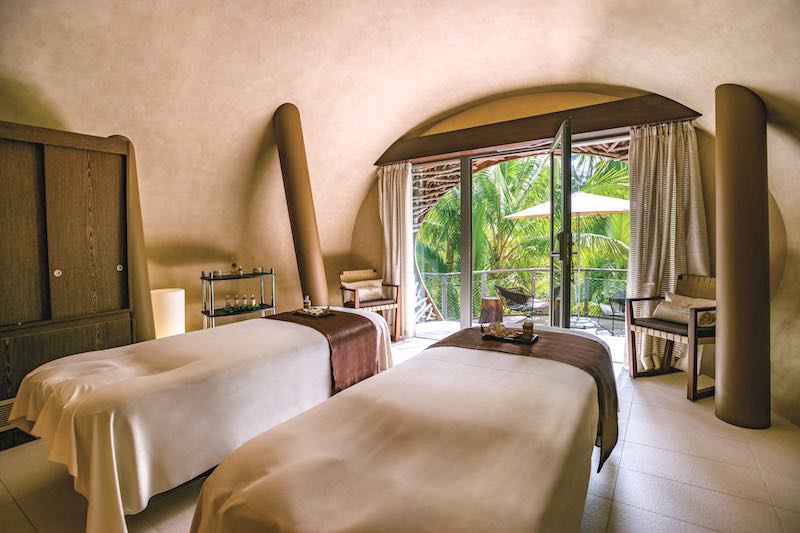 Les Mutinés, a gastronomic destination unto itself and only open for dinner, hosts guests in a celestial venue whose shape artfully evokes an inverted frigate ship. If this is what fine dining at the end of the world looks like, let this night never end. Executive Chef Pierre Lecorne's succulent crab, divine duck, phenomenal foie and marvelous filet mignon arrive with consummate devotion to skill and presentation. The moat surrounding the restaurant gives a floating sensation, or is it possibly the effect of the world-class wine cellar behind the wall of glass?
When it comes to massages that make you feel the earth move, Varua Te Ora delivers all the feel-good endorphins. The spa's aesthetics program straddles science and style, drawing inspiration from seawater. Algotherm, a prestige marine-based line from France, is ideal for antioxidant facials leveraging species of algae proven to enhance the skin's genetic composition. An immaculate haven for spa aficionados, high in a canopy of palm trees 20 feet above the ground, the Fare Manu "Bird House" hovers like a tranquil cocoon between heaven and earth. This legendary couple's spa suite sprawls out like a pied-à-terre on stilts, with its own outdoor terrace and jacuzzi; simply unforgettable.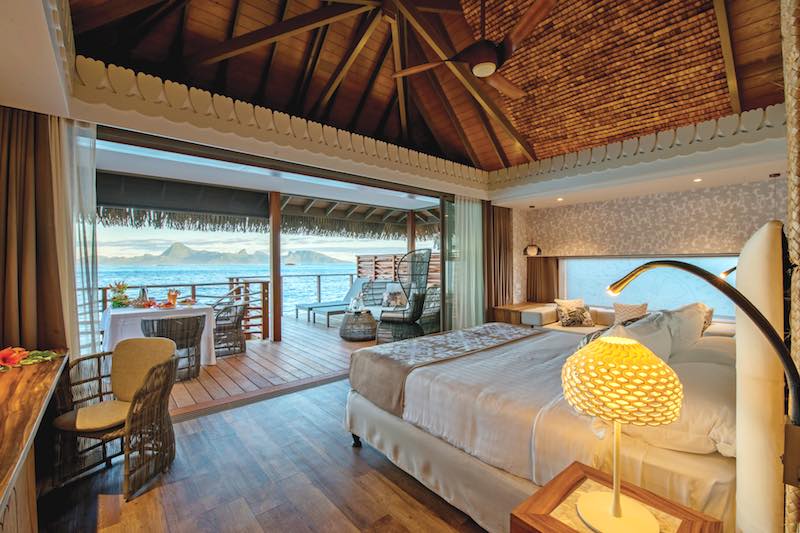 For guests arriving on long haul flights, overnighting at InterContinental Tahiti sets you up for a stress-free transfer to The Brando. Better yet, spend two nights at InterContinental Bora Bora Resort Thalasso Spa. The geography here is simple: dramatic volcanic remnants in the center and low coastal land strips fanning out in a fringe. On the most pristine side of the isle, the InterContinental boasts a prime position. Think Ketel One-clear water over platinum white sand. Your overwater villa fans so far out over the water that a golf cart comes in handy when it's time to retire after a three-hour dinner. Scenery here looks like a screen saver and each villa features a glass floor area, allowing you to gaze dreamily into the sea. The joy of waking up, gliding through sliding glass doors onto your lanai, jumping into the warm lagoon and back into an alfresco rain shower is a luxury unlike any other. After working up an appetite, the tasting menu at Le Corail is not to be missed.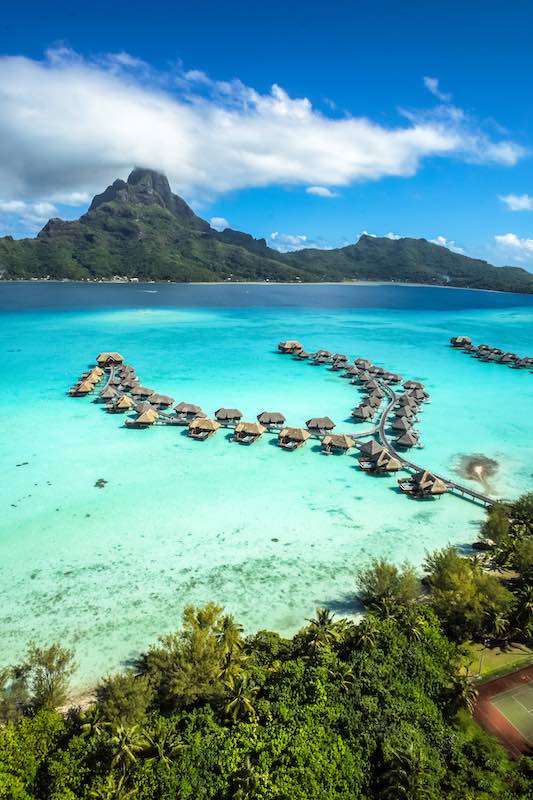 A trip to French Polynesia can open your eyes to a world of wonder and whimsy. In a moving, living metaphor, The Brando's beekeepers have sent their strongest queens to farms around the globe to aid against colony collapse. It's just one of many reasons why, upon returning home, it's hard not to become a diplomat for the ideas and best practices you've seen firsthand during your stay. The Brando certainly delivers exquisite experiences in a seamlessly magical setting, but its most meaningful contribution gives guests—and the broader world—something far more profound.