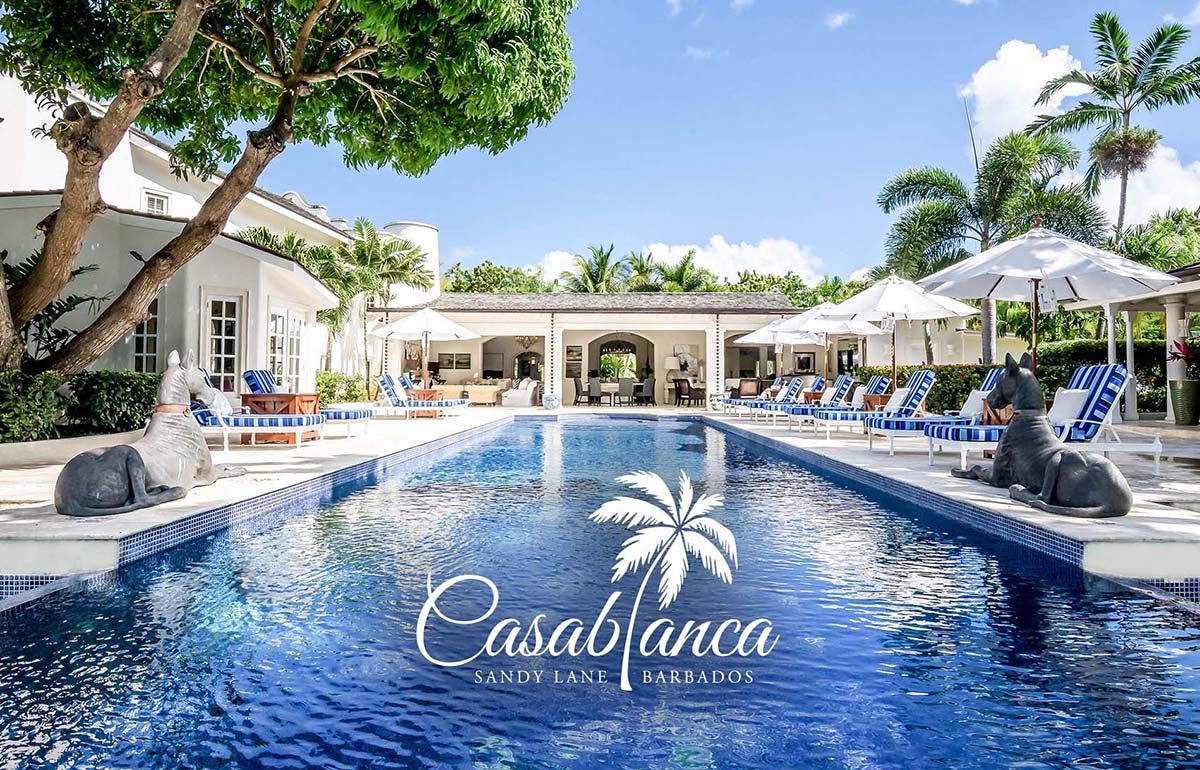 Your next destination vacation is waiting for you! Nestled in the heart of Sandy Lane, Barbados, Casablanca Villa is a beautiful blend of the luxurious and exotic.
Experience island life like never before, with decadent meals prepared by our chef, a personalized cocktail in hand, and private, beautiful gardens. Stroll through the lush two-acre grounds at your own pace and experience the wonders of tropical beauty. You might even come face to face with a green monkey!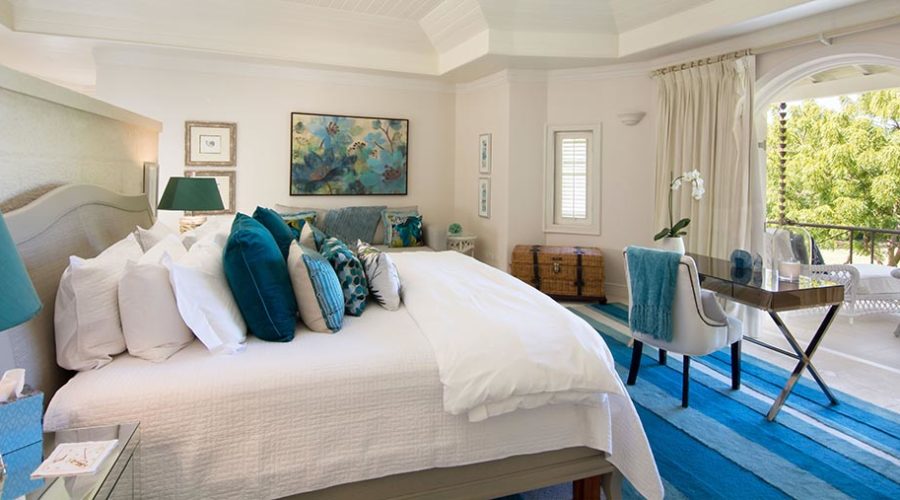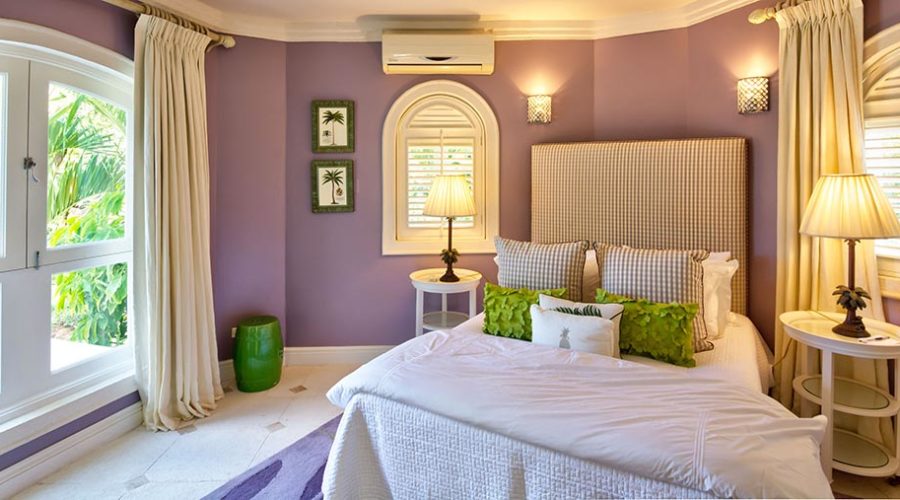 Casablanca is perfect for the whole family. Our 7000 square-foot Villa includes five bedrooms, decked out in exquisite finishings, and attached en-suites for your convenience. Wake up to a Barbados sunrise, throw open your curtains, and walk straight onto your patio and into paradise.
The guest cottage has additional bedrooms to sleep your whole party. The two extra bedrooms ensure that 14 people can comfortably enjoy their stay at the Casablanca Villa. Luxurious beds make your stay comfortable, and gorgeous views from every room and bring the tropical landscape right to your door.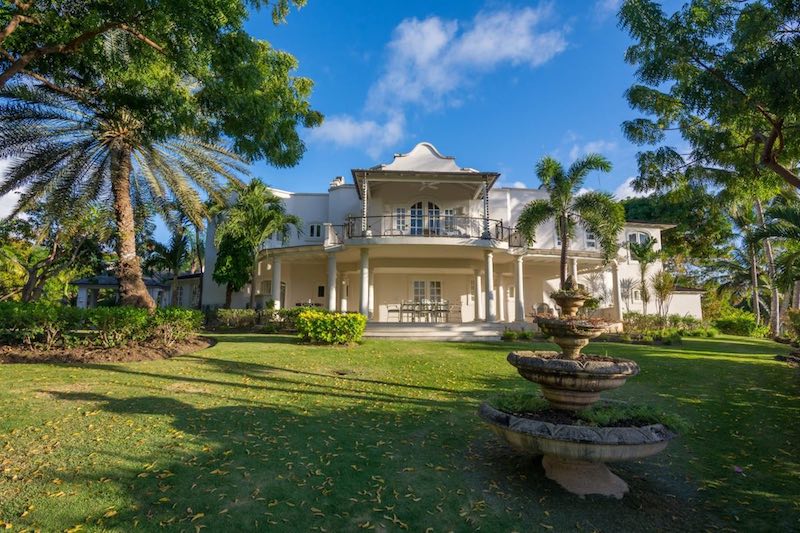 Once you arrive at Casablanca, you won't have to worry about a thing. Our experienced staff are committed to making sure that your stay exceeds all your holiday expectations. You'll return home with more wonderful memories than you have room for in your suitcase. With our butler, property manager, and concierge services at your disposal, you can rest easy knowing that all your needs are taken care of and even anticipated.
Whether you're looking for adventure or some much-needed relaxation, Casablanca has you covered. Our 20-meter-long infinity pool, located in the heart of Casablanca, is the perfect place to get your feet wet with adventure — literally. Organize a swimming race with friends and family, play some water polo, or kick your feet back and watch from a pool deck lounge chair. Host your very own pool party in the surrounding gazebo and terrace, and get the party started with your favourite tunes! Add in local seafood and your favourite cocktails, and you've got an experience you'll never forget.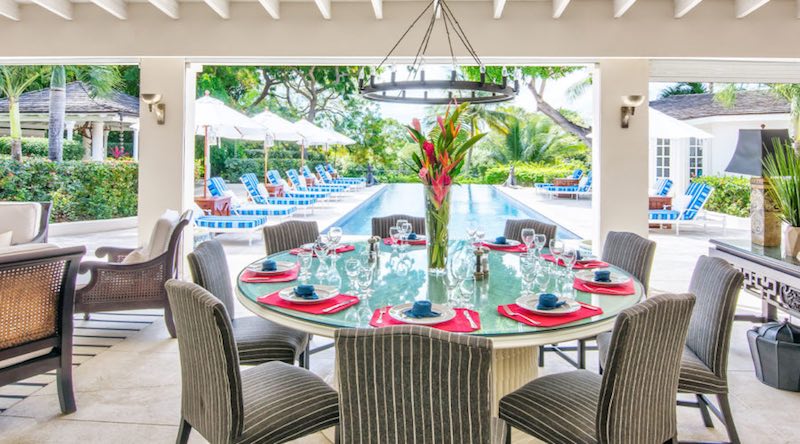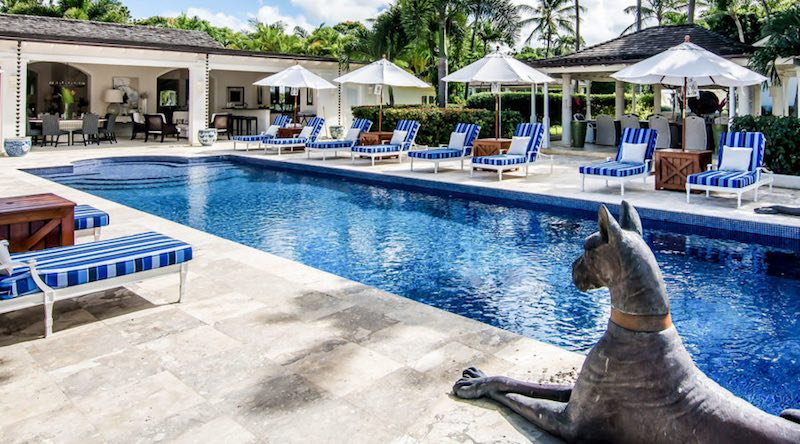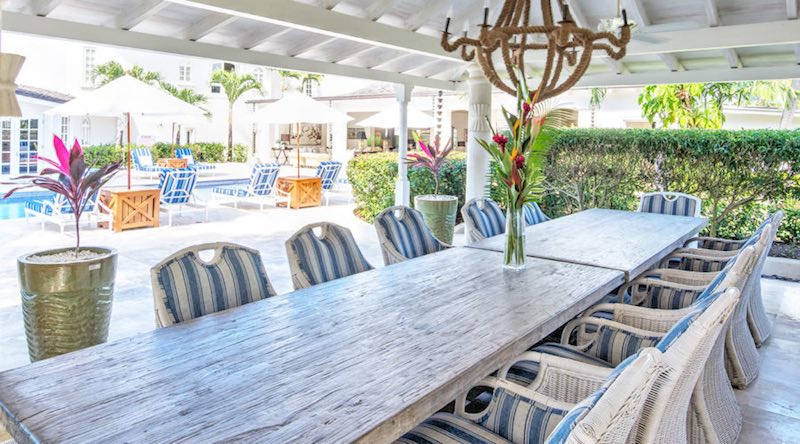 For a dazzling night-time adventure, turn your eyes to the stars. Track constellations with the Skyview app, relax under the sparkling night sky with a cocktail in hand, and amp up the romance with some slow tunes.
If you're looking for something low-key, head on over to our media room! Complete with cozy furnishings and plenty of pillows to go around, you can experience island life at a slower pace. Play all your favourite games, from backgammon to checkers, or browse our library for an exciting new read. With access to the free PressReader app, you can download and read any magazines that strike your fancy. If you're feeling musical, feel free to try out some Schubert and Lizst on our electronic piano.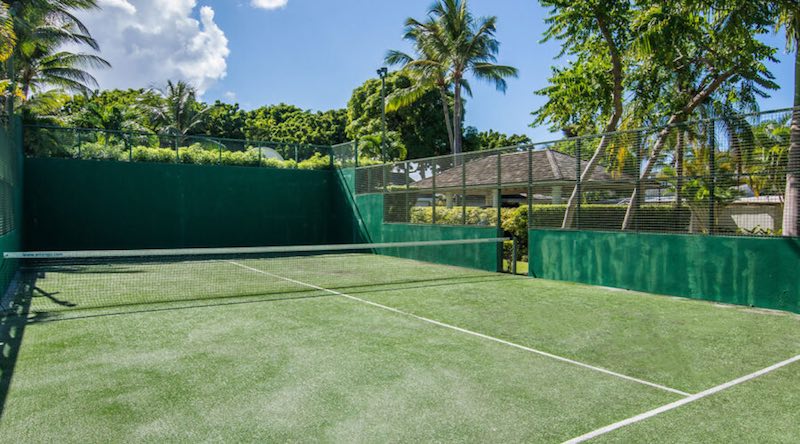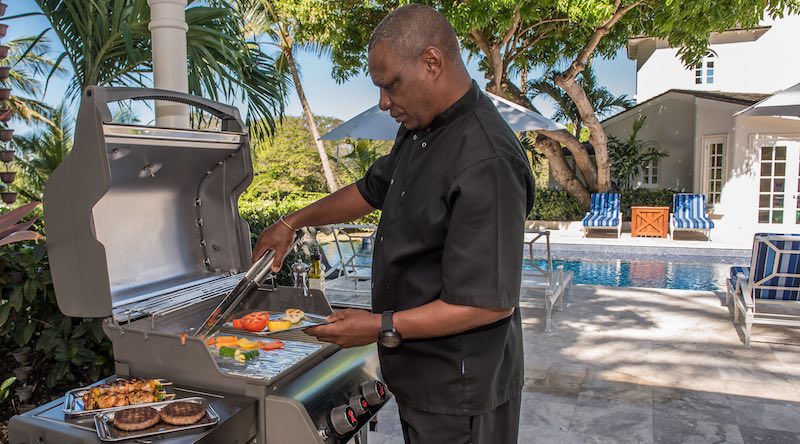 With a private gym and tennis court on-site, you can experience your regular workout on the beautiful island of Barbados. Our Villa is located on the Old Nine Golf Course, so not only do you have gorgeous views from every window, but you can pick up your golf clubs and head on over to golf paradise anytime.
Experience world-class cuisine at Casablanca. Request personalized meals or delight in fresh, local dishes prepared by our exceptional chef. Try flying fish — an essential Bajan dish — pudding and souse or all the delicious seafood Barbados has to offer (lobster, crab, fresh fish, and more!). And for dessert? Try Cassava Pone, a decadent cake that will have you asking for seconds. Our chef can accommodate any dietary restrictions.
With local shopping and dining just minutes away from the Villa, you can explore all the island has to offer, from distillery tours to sailing, and come home to luxury. Dine at local restaurants, whether you're looking for a more casual bistro experience or fine dining, or go shopping at the luxury Limegrove Lifestyle Centre, only a five minute drive from the Villa. Barbados has everything you're looking for.
The gorgeous white-sand beach is only a short walk from Villa Casablanca. Splash in the crystal water of the beach or relax on the shore in a private cabana at the Sandy Lane Beach Club Estate! The sheltered beach has calm waves for floating, and between July and October, you can even come face to face with a Hawksbill turtle! Perfect your tan and bring your favourite beach reading material from our library at Casablanca.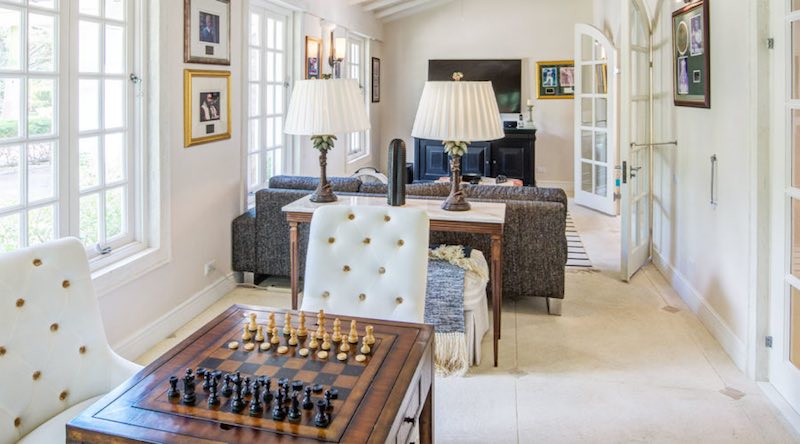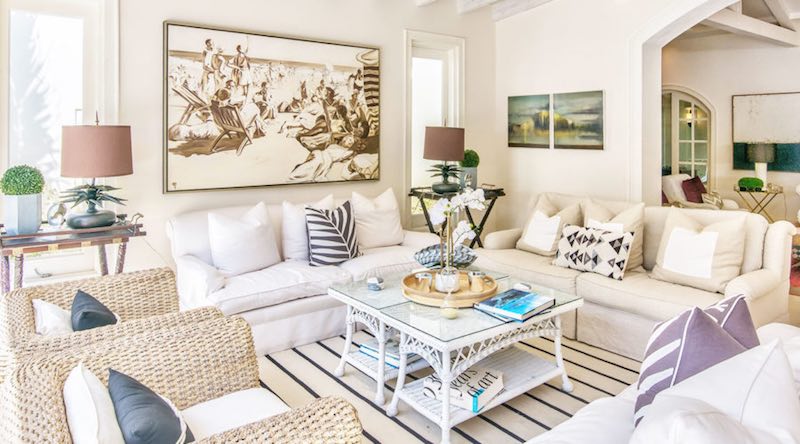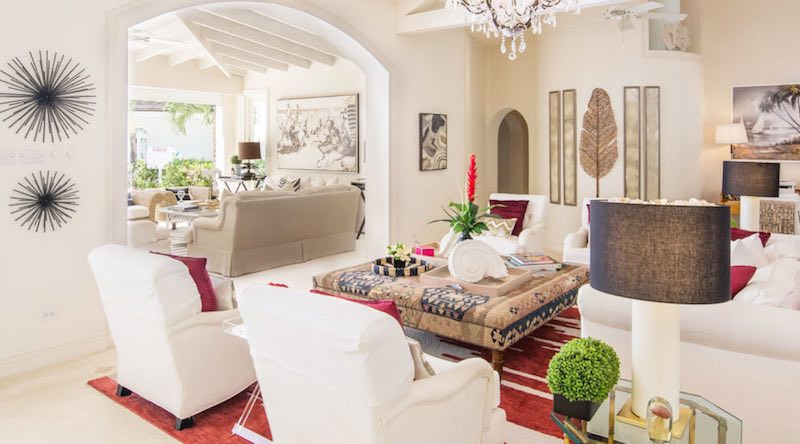 Our team is committed to keeping you and your family safe. We have thorough cleaning protocols, including daily disinfecting of surfaces, and a private, on-site laundry facility. In the privacy of Casablanca, you rest easy knowing that our Villa is safe and virus-free.
Whatever your holiday plans, Casablanca is the perfect place to be. Our idyllic and private Villa is the ideal combination of relaxation and luxury. Soak up the Bajan sun and experience island life at its finest. Treat yourself to a vacation you'll never forget.