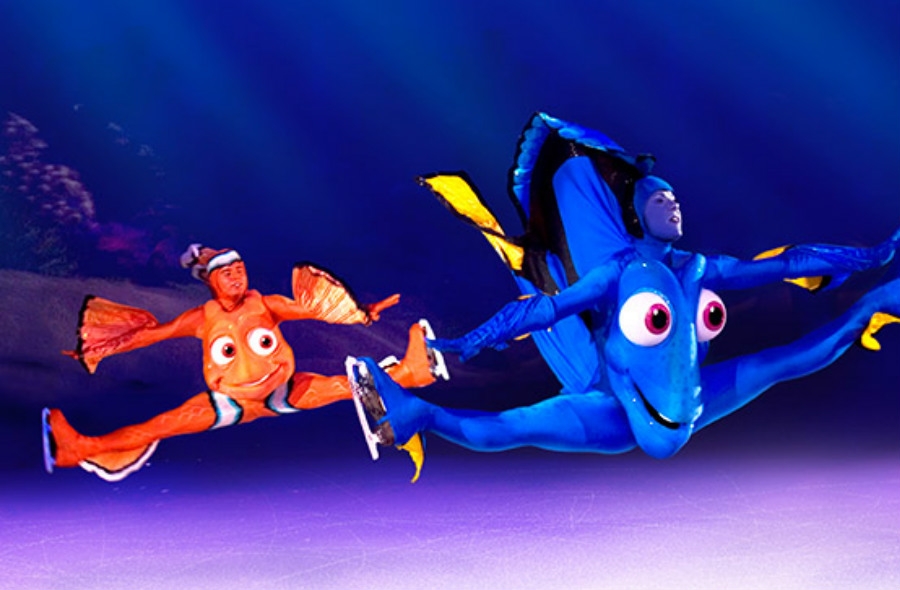 Featuring More Than 60 Disney Characters. Including the Stars of Disney/Pixar's Finding Nemo.
Mickey Mouse, Minnie Mouse and their friends from Disney's Mulan, The Lion King and Pinocchio, and Disney/Pixar's Finding Nemo, The Incredibles and Toy Story, take to the ice for a grand celebration in Disney On Ice celebrates 100 Years of Magic. Produced by Feld Entertainment, this fanfare production features more than 60 unforgettable Disney stars that span the decades, a sing-along score of award-winning Disney music, stunning choreography, elaborate sets and beautiful costumes.
With Mickey and Minnie leading the fun, audiences enjoy breathtaking production numbers choreographed by Emmy Award®-winner Sarah Kawahara. Kawahara previously worked with Michelle Kwan and choreographed the skating segment for the Opening Ceremonies of the 2002 Winter Olympics.
Complementing Kawahara's fabulous skate sequences are the memorable tunes compiled by music directors Art Kempel and Stan Beard that bring the wonderful memories of Disney to life on ice. Scenic Designer David Potts and Lighting Designer LeRoy Bennett create the mood and settings that showcase extraordinary Disney moments.
Outfitting this cast of more than 60 characters was the challenge facing Costume Designer Scott Lane. His dazzling designs range from Mickey's Marching Band, to the "It's a Small World" dolls, to the stars of Mulan and Finding Nemo. The bright colors and minimal structure in the Nemo costumes allow the characters to move freely in order to mimic the natural movement in water. Renowned designer Bob Mackie also lends his talents to a red sequined evening gown worn by Minnie.
Scenic Designer David Potts, who has worked on numerous Broadway productions, creates a theatrical atmosphere on ice. Skaters weave around and enliven the "It's a Small World" sequence amidst sparkling floats that turn into a radiant light parade; a blanket of snow and an avalanche fall as Mulan battles the Huns; and a giant present is opened to reveal Buzz Lightyear as he's first introduced to that favorite toy cowboy, Woody and his pal Jessie.
To discover more about Disney On Ice, log on to www.disneyonice.com, or visit us on Facebook and YouTube.
DISNEY ON ICE CELEBRATES 100 YEARS OF MAGIC
IS COMING TO PHOENIX, APRIL 10 – 13
WHAT: Be part of the festivities when Disney On Ice celebrates 100 Years of Magic comes to Phoenix! More than 65 of Disney's captivating characters from 18 unforgettable Disney stories come to life in this commemorative celebration, produced by Feld Entertainment. In this lavish ice show, everyone's favorite sweethearts, Mickey Mouse and Minnie Mouse, take audiences on a fun-filled adventure, sharing memories with Disney friends including Goofy & Donald Duck; the beloved Disney Princesses; Chip & Dale; Pinocchio & Jiminy Cricket; Belle & The Beast plus many more – and magical moments from Disney's Aladdin, Mulan, The Lion King plus Disney/Pixar's Finding Nemo, The Incredibles and Toy Story!
Beautifully choreographed skating, breathtaking production numbers, stunning costumes and toe-tapping songs will inspire fond Disney memories. Families can share this once-in-a-lifetime skating spectacular as Mickey and the rest of the gang take the audience on a whirlwind tour of favorite Disney moments.
WHEN:
Thursday, April 10 – Sunday, April 13, 2014
Thursday, April 10 7:00 PM
Friday, April 11 10:30 AM & 7:00 PM
Saturday, April 12 11:00 AM, 3:00 PM & 7:00 PM
Sunday, April 13 12:00 PM & 4:00 PM*
*Spanish language performance
WHERE: US Airways Center – 201 E. Jefferson Street, Phoenix, AZ 85004
TICKETS: Ticket price levels are $19, $24, $45 (VIP) and $65 (Front Row). Weekday Kids tickets start at only $10 each for select seating (available for Thurs 7PM and Friday 10:30AM & 7PM shows only).
Tickets now available for purchase online at Ticketmaster.com, charge by phone at 800-745-3000 or at the venue Box Office.
*tickets may be subject to service charges, facility and handling fees.