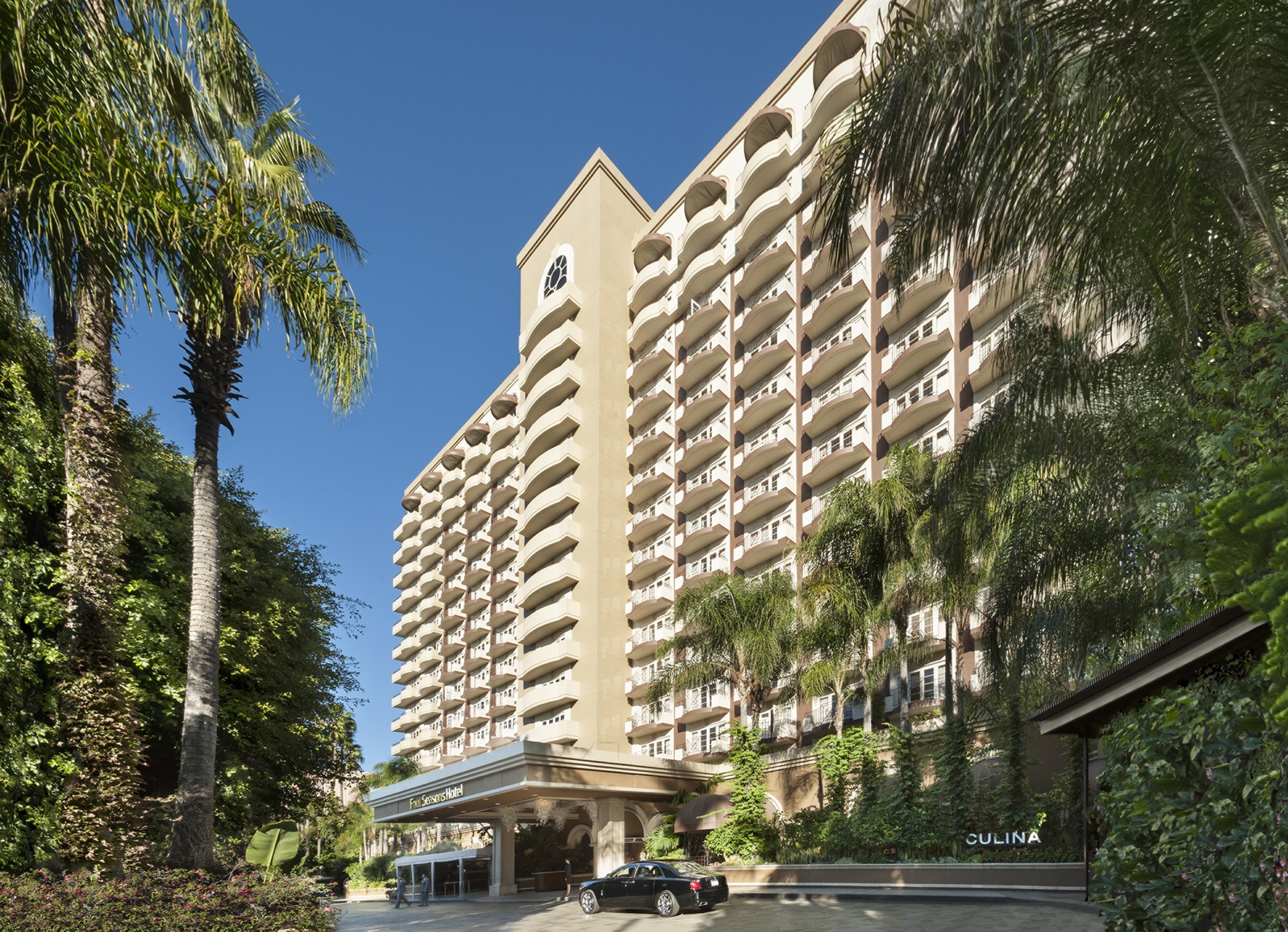 I admire and appreciate prominent luxury hotels that effortlessly, seamlessly, and confidently stay in their lane. Take for instance, the three new features recently launched by the Four Seasons Hotel Los Angeles at Beverly Hills. Known throughout the entertainment and affluent lifestyle worlds as one of the shining gems of the Four Seasons family in any major city around the globe, this understated-yet-oh-so-spectacular urban oasis consistently finds ways to take things up a notch in the area of expertise it's best known for — catering to a glamorous crowd. The hotel is located in the center of Tinseltown, and has a long standing as one of the go-to spots for Hollywood celebrities and power players, and so these three exciting new endeavors make perfect sense: The unveiling of the Screening Room, the hiring of Jeff Leatham as Artistic Director, and a new Italian-inspired espresso and wine bar, Vinoteca.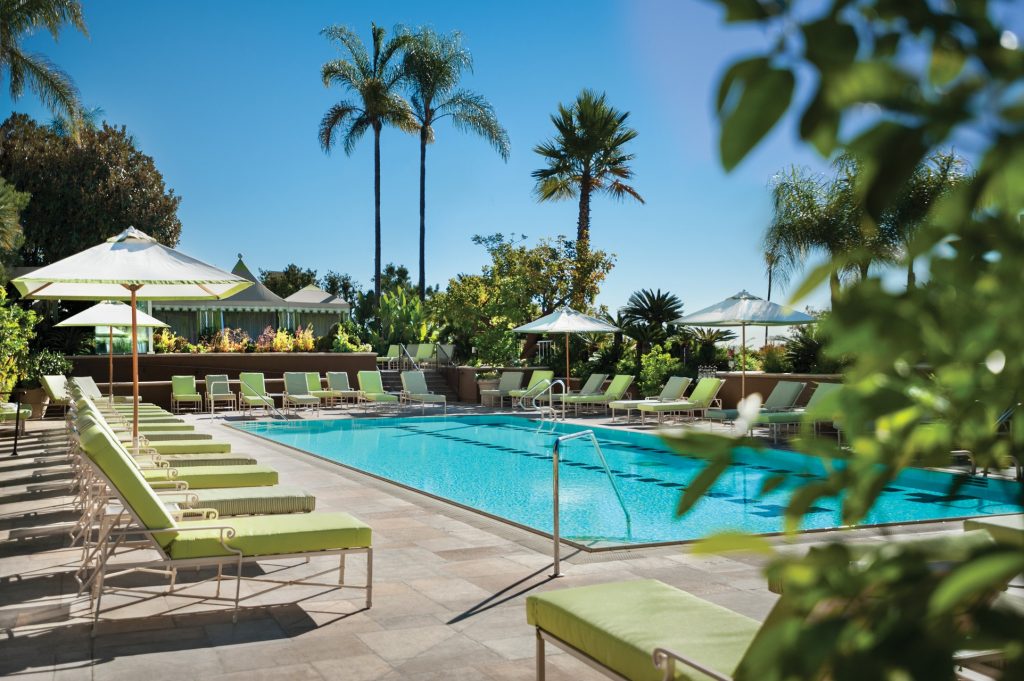 Located on the main floor adjacent to Culina restaurant, the Screening Room is essentially a boutique theatre, complete with 38 plush leather recliners and outfitted with retractable tables and armrests. It's a brilliant idea, as the room is designed to host private events, movie screenings, and parties of various sizes, imaginations, and budgets.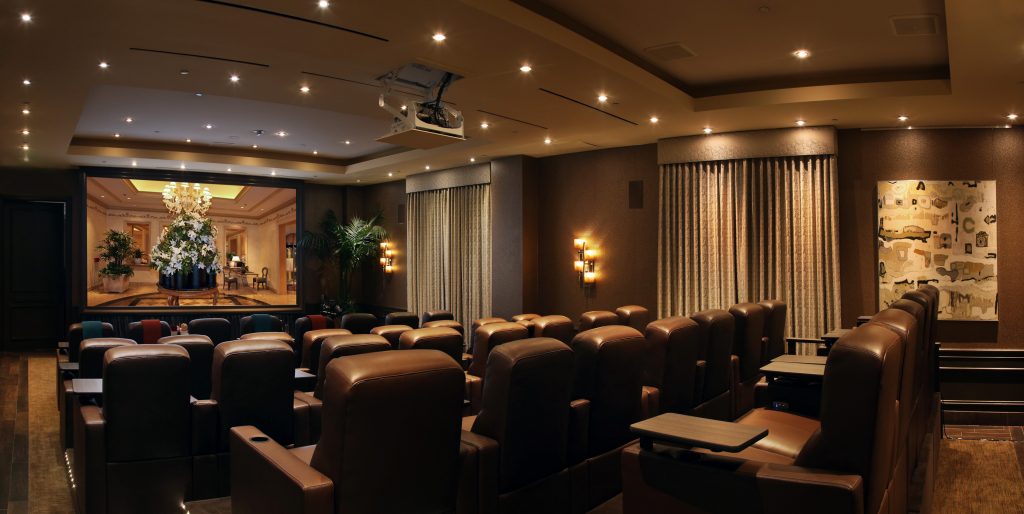 The chairs all have built-in dining trays, which were specifically designed to hold what's on the special menu created by Italian Chef de Cuisine Denis Dello Stritto, as the close proximity to Culina means Four Seasons Los Angeles at Beverly Hills hotel guests and private attendees have access to an elevated assortment of movie snacks and beverages way beyond the typical fare. The list is delectable, ambitious, over-the-top, and fun, and includes (among other things) truffle popcorn, french fries, gourmet churros and pastries, and small plates like house-fired montanara, prosciutto, and formaggi. Housemade dolci, espresso, and a curated assortment of Italian wines, champagne, and fresh juices are also available to take any private party or evening of relaxing to a new level — no matter the demographics of the crowd.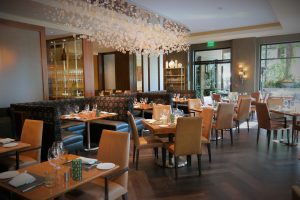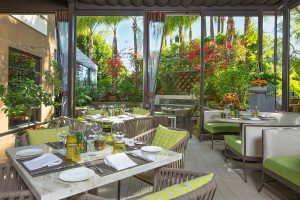 The Four Seasons Los Angeles at Beverly Hills has always been a magnet for A-list stars and, just as importantly, the Hollywood infrastructure of key players, executives, agents, managers, and publicists. As mentioned, the hotel caters extensively to this crowd, and because of their perfect location that is equal parts discreet while still being in the center of the entertainment universe, stars know they will be able to relax and unwind here, while enjoying the amenities that well-heeled travelers and jetsetters worldwide have enjoyed for years. It's quite difficult to visit the hotel and not run into a recognizable face from TV, movies, or sports, but what makes the spot unique, is that these interactions take place in an organic environment. The celebs genuinely seem to be enjoying their stay as much as guests, whether they are there during a junket for the release of a new film, an awards show weekend, or just looking to unwind by the pool or partake in the hotel's legendary Sunday brunch.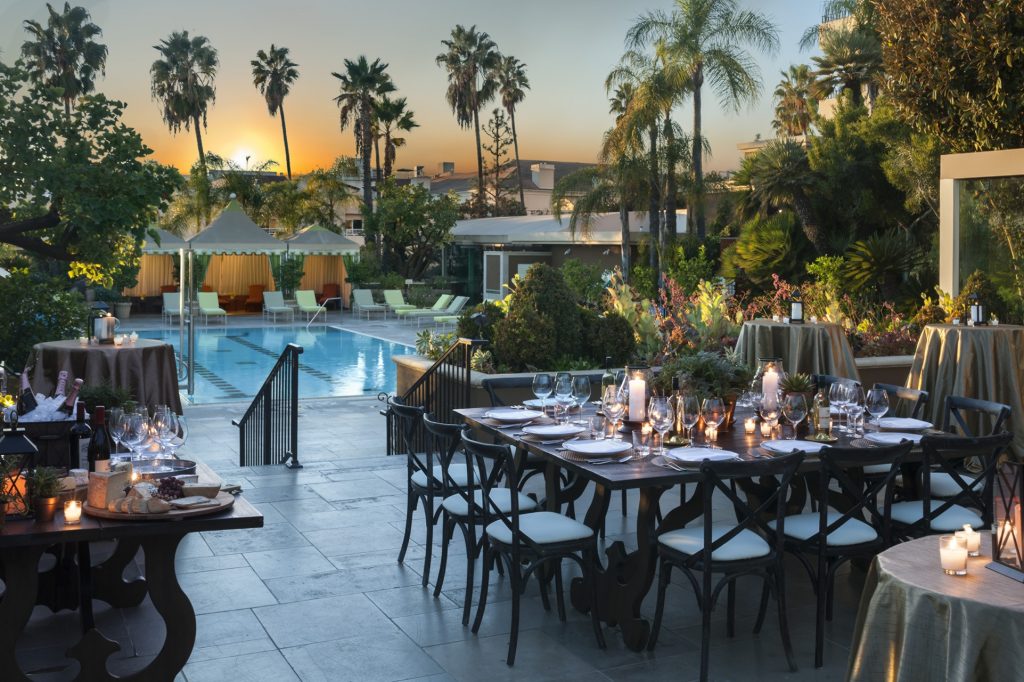 The second notable new touch at the hotel is the addition of Leathame, who returns to the place where he began his career after a very successful run at the Four Seasons Hotel George V in Paris. His signature floral installations during his tenure at that famed Parisian hotel earned him accolades and a loyal legion of fans around the world, and his new work on display now in the lobby and gardens of the Four Seasons Los Angeles at Beverly Hills are, quite simply, show stoppers. His specialty is bold-yet-simple design, with unique twists on shape and color, and returning to LA gives him a brand-new canvas to craft exciting masterpieces within a celebrity-driven sandbox.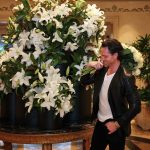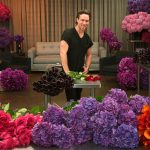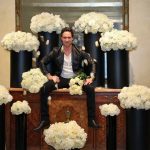 The third and final recent addition to the hotel is the unveiling of the espresso and wine bar, Vinoteca. It's a strong and strategic idea — one that will no doubt lure visitors for meetings and light meals throughout the day and become another one of those mandatory LA hotspots where seeing and being seen at is an essential part of enhancing your brand and/or Q rating. Vinoteca offers powerful Wi-Fi for those who want to work as they sip an espresso or glass of wine, and there are an assortment of unique menu items including what might be considered their signature dish, Neapolitan montanara (fried) pizzas.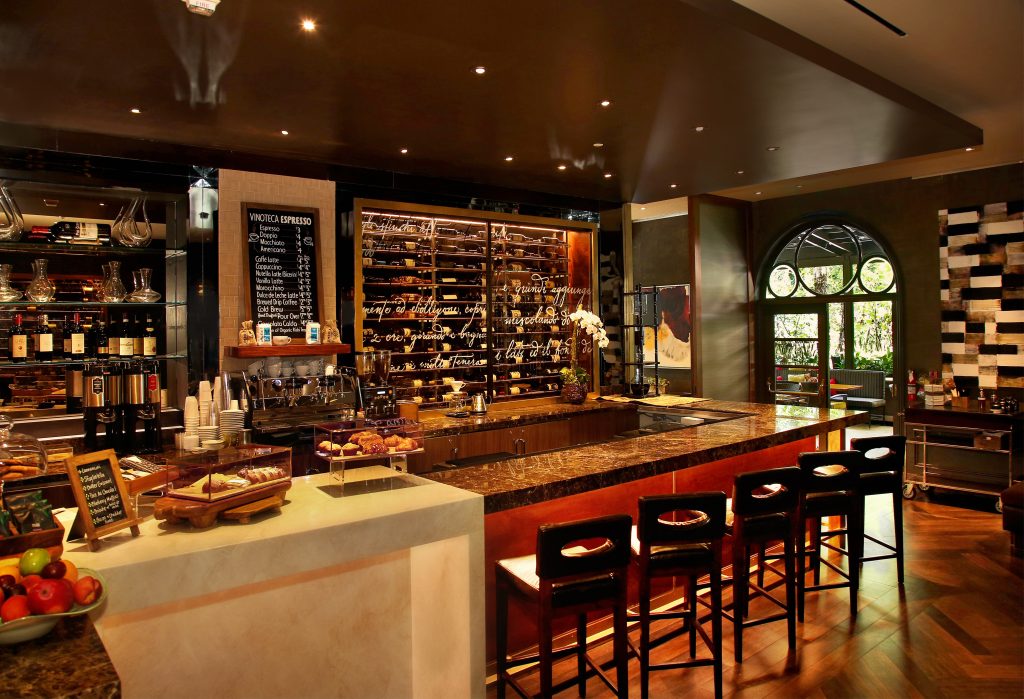 I have special way to describe the Four Seasons Los Angeles at Beverly Hills. If you are a a sports fan, think of the vibe at this hotel to be reminiscent of a "playoff atmosphere." There is a charge in the air at this hotel that reminds me a playoff game with the Bulls during Jordan's reign, or the Lakers when Magic was in his prime. If you prefer an entertainment analogy, it's an "awards night" experience. I find these analogies the best ways to convey the high levels of energy and excitement omnipresent here regardless of time of day or year. Yes, the regular season is special and exciting, but there's something tangibly different about the playoffs, or awards night, and that's what separates this hotel from others that are of similar distinction in other cities.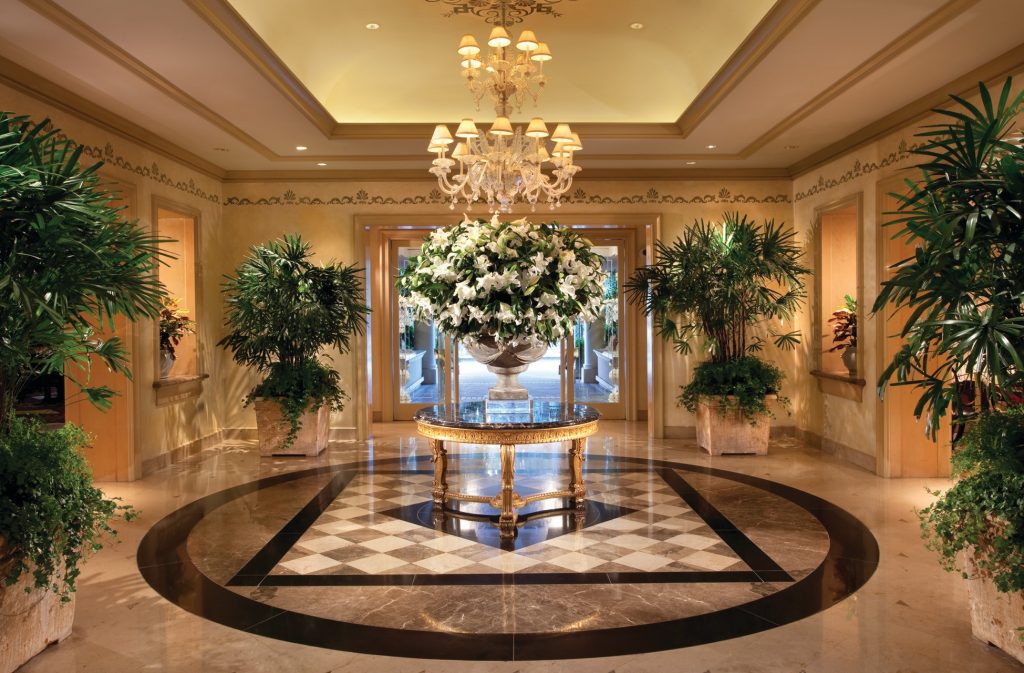 The quality of employees at Four Seasons properties in general is at a high level to start with, but a location like this attracts the best of the best, so it's only natural that you feel and experience special personal touches and nuances throughout your stay. In my opinion, that's part of the reason it's a hotbed for celebs and all moving parts of the entertainment machine. It feels bigger. It's a tangible feeling of elevated electricity that starts when you arrive with the bell staff and parking attendants, continues through the check-in process, and doesn't stop until you exit the hotel at the culmination of your stay. Things feel more important here. More grandiose.
Simply, the Four Seasons Los Angeles at Beverly Hills has long history of excellence. The hotel has always been known for its great relationship with the motion picture and television industries (in large part because they make a conscious effort to cater to them), and these three exciting new additions have kept them firmly in their lane, the fast lane, and near the very top of any list of the best hotels in LA.