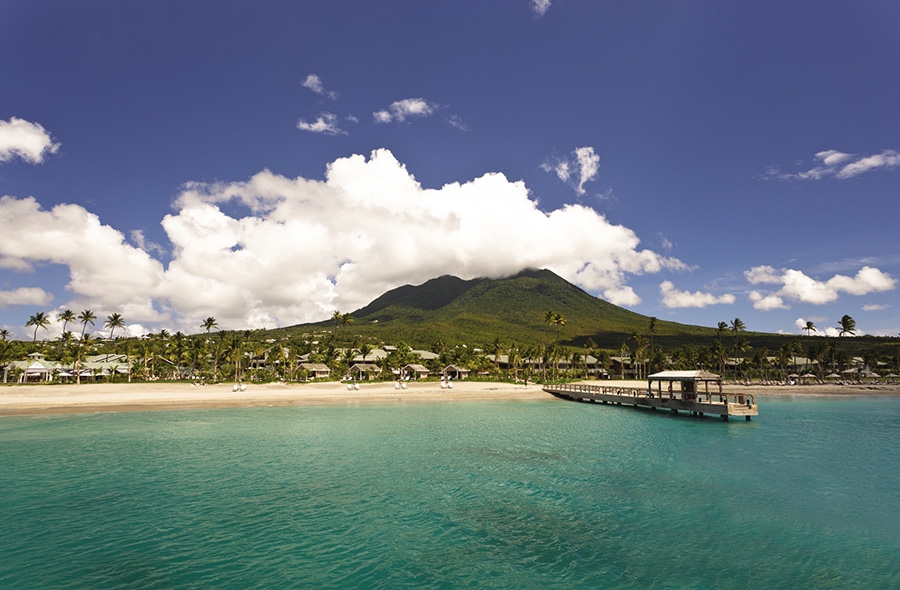 Experience one of the most pristine and authentic Caribbean islands.
Four Seasons Resort Nevis is located along a prime stretch of Pinney's Beach and expands on three sides into a beautifully landscaped championship golf course and luxury villas neighborhood. The resort's accommodations include 196 rooms and suites and are located in 12 two-story guest cottages. Two of these Caribbean guest cottages face the majestic Nevis Peak and the remaining dwellings face the Caribbean Sea, and all are just steps from the beach. All rooms and suites feature either an outdoor patio, or balcony with lounging furniture. Additionally, full marble bathrooms features a double vanity, and separate deep soaking tub and stand in shower. The guest cottages are just a short walk to the Resort's pools and beach. The 44 luxury villas are located throughout the golf course and range from two to seven bedrooms. Nearly every residence boasts its own pool and sundeck along with a large screened in and fully furnished patio and surrounded by foliage to ensure privacy. A six-seat golf cart is also provided with each rental villa to make getting around easy and fun for the entire family.
Three infinity edge pools are located seaside and offer full service. The Reflection Pool is the adults only quiet pool and is located on the south side of the Resort. The two remaining pools are centrally located near the Great House and includes the Garden and Ocean Pool, both family friendly.
Four luxury beach houses are available for rent along Pinney's Beach, complete with amenities and a beach butler, offering couples and families a special place to reconnect.
World class cuisine is offered through four restaurants including a 101 Rums Bar and Chef's rum pairing menu at Mango, the Resort's iconic waterfront restaurant. Other dining highlights include mingling with local artists during Breakfast with the Arts at Neve or catching a game at the sports themed Cabana. The more adventurous food lovers can experience a once in a life time dive with the Resort's executive chef and a local dive master. The "Dive & Dine" program offers a two tank dive where guests forage for their food and attempt to Lasso a Caribbean spiny lobster. After the dive, the chef hangs up his wet suit for his chef whites and hosts a private beach BBQ and lunch at one of the beach houses.
The exhilarating 18-hole, Par – 71, championship golf course, designed by Robert Trent Jones II, offers stunning views of the Caribbean Sea. Guests can join in a weekly "Par-Tee" 9-Hole golf scramble followed by a reception hosted by the Resort Managers. Private lessons and rentals are available. A new golf activity at the Resort is Eco-Bio Golf. A beach driving range is set up and golfers can take their turns pitching golf balls into the Caribbean Sea trying to hit a floating green. These special golf balls then dissolve into fish food within 72 hours and, and in turn, provide food for fish living nearby on the man-made reef.
Tennis enthusiasts can enjoy a ten-court tennis facility run by Peter Burwash International. Consistently ranked top in the world by Tennis Resorts Online, the facility consists of six hard courts and four red clay courts, five of which are lit for night play. Weekly clinics and friendly tennis mixers are hosted weekly by the Tennis Pro.
Wellness travelers will be delighted by the spa, a stunning oasis that has 12 treatment rooms. Six are outdoor gingerbread trimmed cottages located in the serene spa gardens. The Spa's signature treatment is the Lemon Grass hot stone massage. After this relaxing experience guests are presented with a fresh cup of lemon grass tea which is home brewed from the Resort's own herb garden. Spa goers can further unwind at the Sala deck and Japanese inspired cold plunge pool or volcanic stone Jacuzzi. The Spa also features a food and beverage menu with fresh squeezed juices and healthy light fare. Salon services are also offered.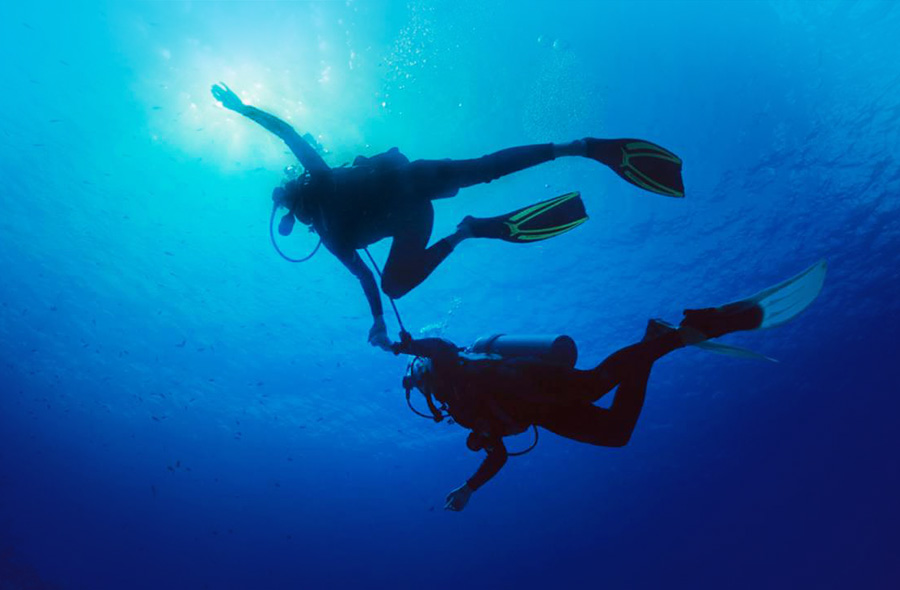 Visitors enjoy abundant activities by land and sea. The Caribbean Resort offers hiking trails around the golf course. Guests enjoy this climb up the slopes of Nevis Peak because the playful Vervet Monkeys come out in numbers. A full watersports cabana is located on property and offers; sailing, snorkeling, kayaking, stand-up paddling, and fly boarding. The man made barrier reefs just off the shores provides an underwater ecosystem teeming of sea life, including juvenile sea turtles to observe while snorkeling or diving. Guests can become scuba diving certified while at the Resort.
The Resort features several new "local" activities that highlight Nevisian Culture. The most popular is the Coconut Story. Mac Kee France, the Resort's Nevisian Director of Recreation, takes guests on a journey to show how locals use all parts of the coconut palm in everyday life, from beauty secrets to children's games. The experience comes to a dramatic end when the local "spider-man" climbs the tall coconut tree bare hand and foot to retrieve the coconuts. Some of the other activities include Calypso dancing, botanical garden tours, Lime and Dine and dialect classes.