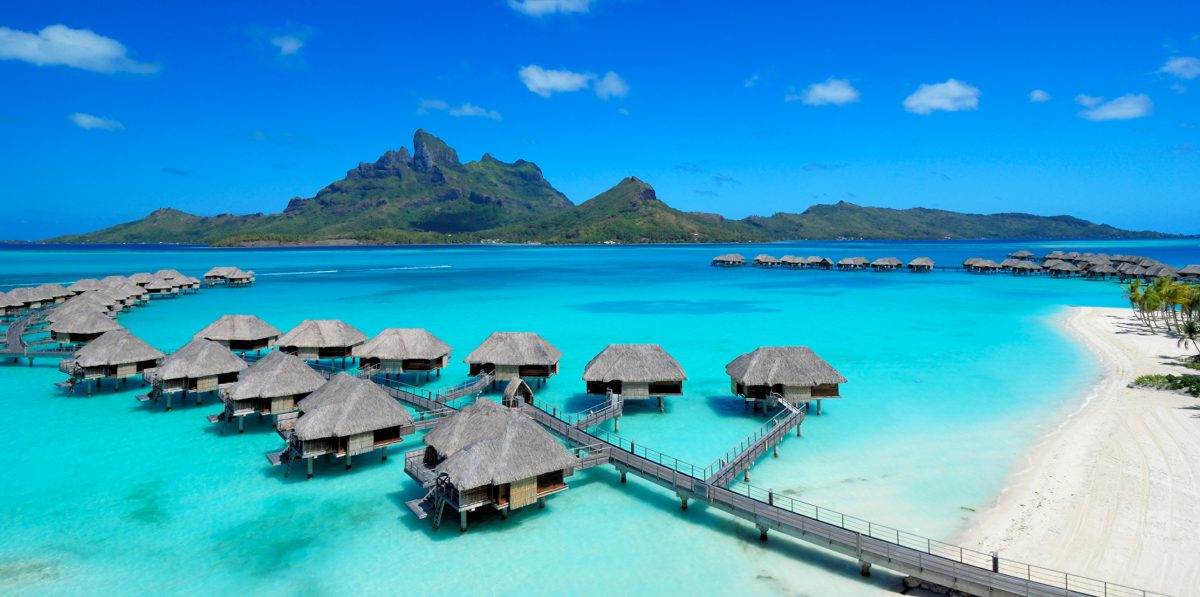 Four Seasons Resort Bora Bora is a cultural paradise, a resort that blends the relaxation and tranquility of the South Pacific with the invigorating Polynesian arts of dance, song, cuisine, textiles, seafaring, and sport. The Resort combines the highest standards of service with the natural ease and gracious hospitality of Polynesian culture. Guests can lose themselves in the deep serenity of the location, immerse themselves in the customs and traditions of local culture, or set off on one the island's many adventures, from outrigger canoeing to deep-sea fishing to inland safaris – creating an unforgettable experience.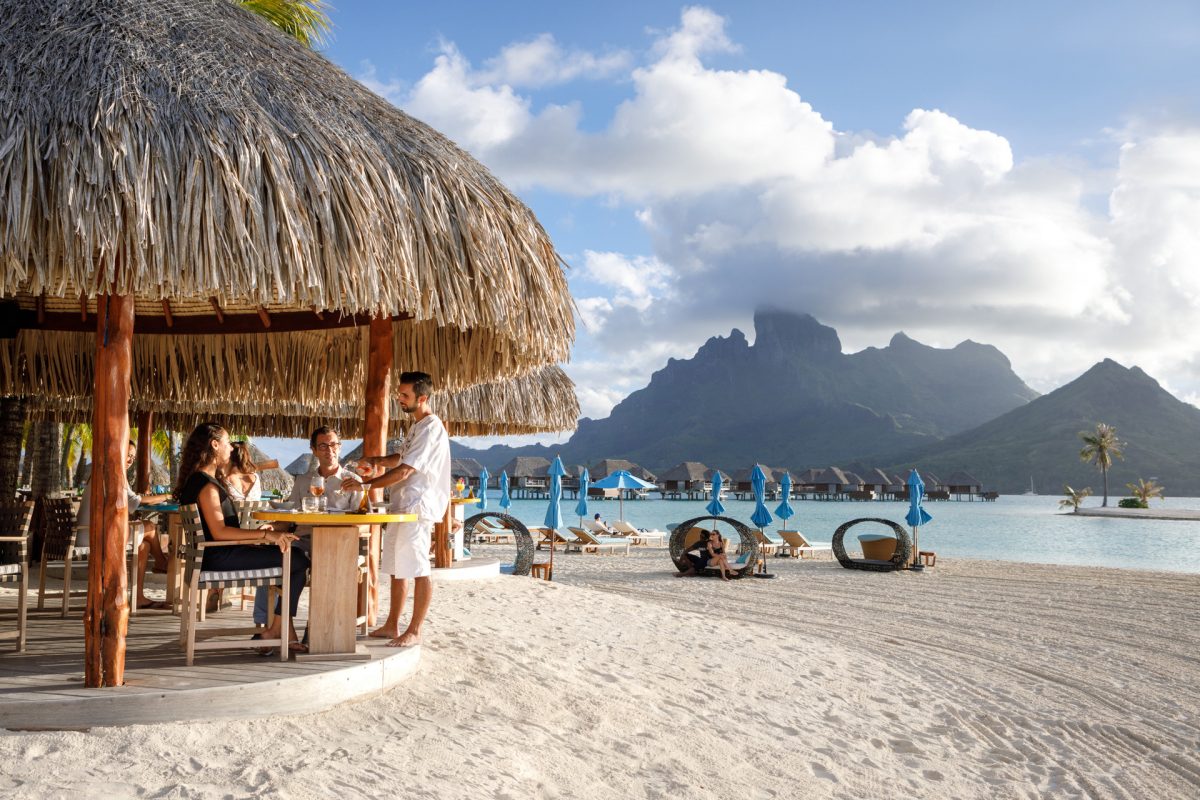 Set upon Bora Bora's surrounding coral atoll, away from the bustle of its mainland, the Resort is a vast tropical grove, replete with coconut palms and pandanus trees. Meandering channels of pure turquoise lead to the property's main beach or to smaller lagoons, creating secluded private beaches waiting to be discovered. Every vista is breathtaking, and all have been incorporated into the design of the Resort: views of the open water and its vast sky contrast with the lush green of the island's mainland, capped by the towering monolithic peak of Mount Otemanu (2,385 feet) and the domed summit of Mount Pahia (2,159 feet.)
Villas and Bungalows
The Resort offers 100 overwater bungalow suites and seven beachfront villa estates, all designed with thatched roofs and decorated with indigenous artwork. Each of the Resort's 100 one and two-bedroom overwater bungalow suites measures between 1,080-2,228 square feet and offers a pull-out sofa bed in the living areas to accommodate families. Located on branching piers that extend into the heart of Bora Bora's inner lagoon at one of its most serene points, guests can view schools of fish below (and even swim among them from their private berth) or gaze above into the star-filled South Pacific night. 15 of these premium accommodations offer their own plunge pool.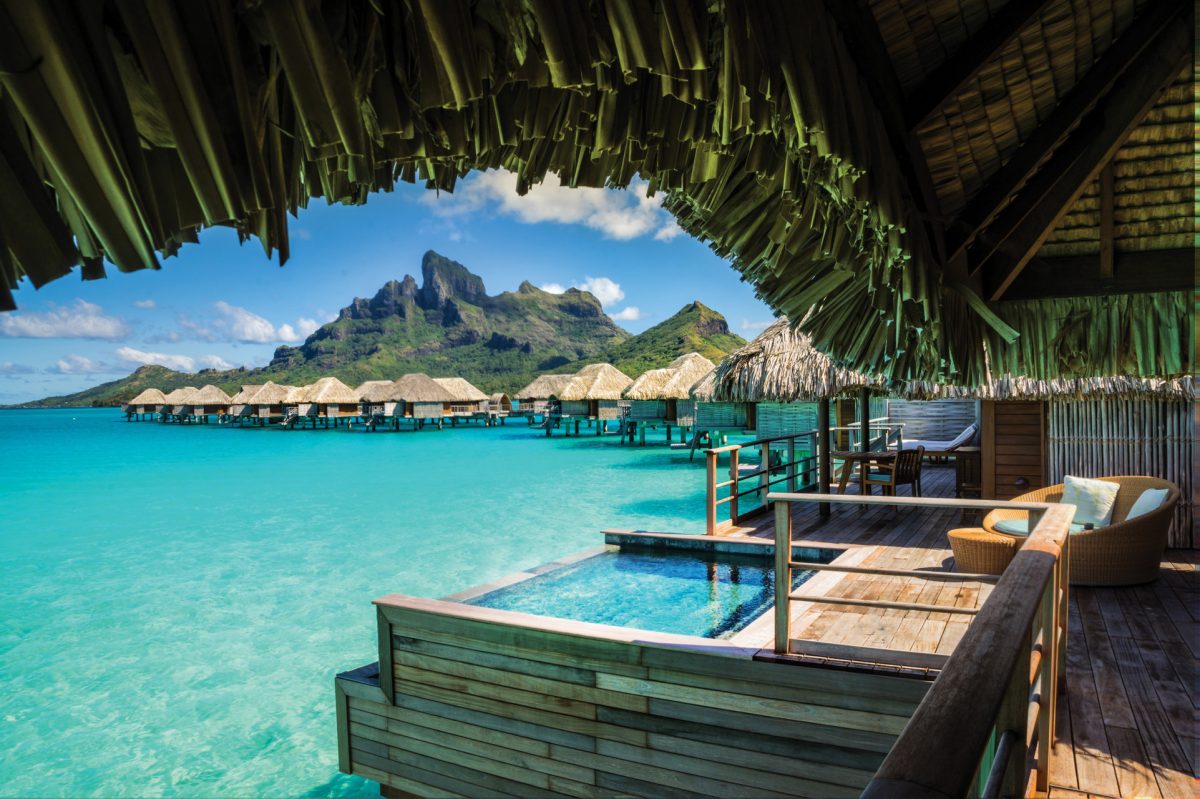 Seven spectacular beachfront villa estates are also available, catering to families or larger parties. These one, two, and three bedroom beach villas are the ultimate in beachside accommodations, ranging in size from 2,722–5,380 square feet, each offering expansive living space, separate entrances to each bedroom, a dining area, its own private plunge pool, expansive beachfront lawn, white sand beach and views of Bora Bora's famous lagoon and majestic Mount Otemanu.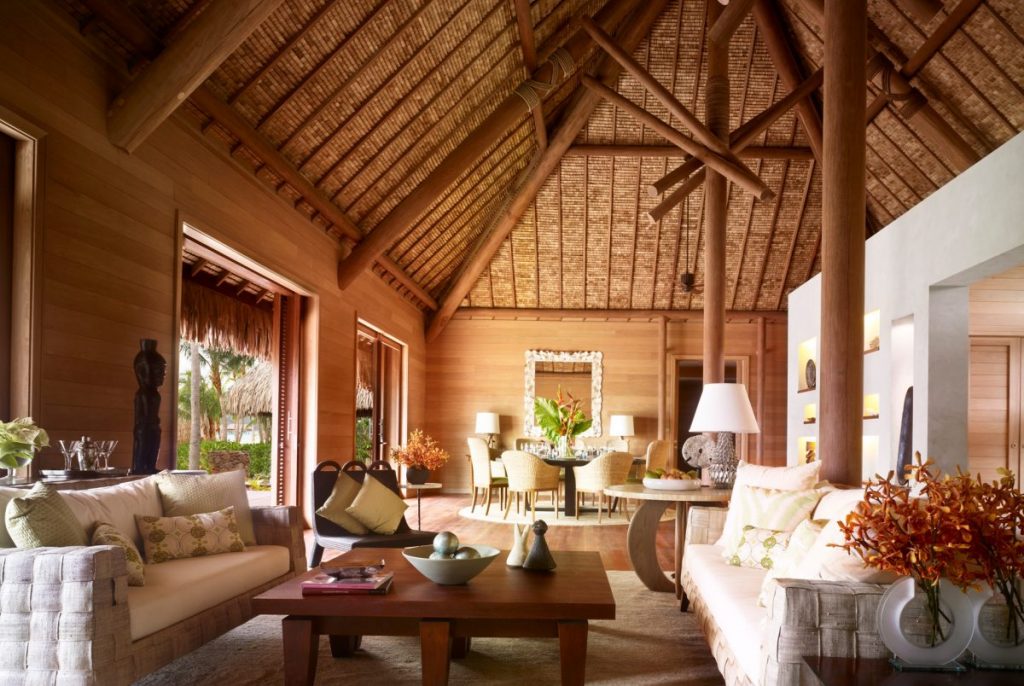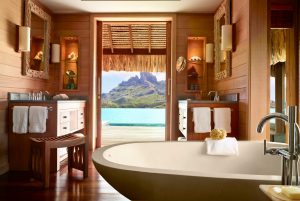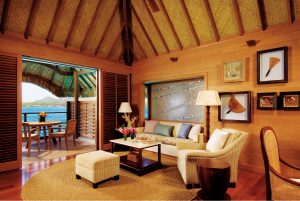 These beachfront villa estates are inspired by local architecture and built to Four Seasons standards, offering the ultimate in luxury living with Polynesian design and warmth. Spacious and private, they are ideal for multiple couples, small groups or families and those seeking an under-the-radar tropical escape. These accommodations are personalized to the guests, ensuring that personal items, conveniences and preferences guests enjoy at home are made available at the Resort, along with myriad amenities and special services.
Amenities
Four restaurants, offering a vast selection of creative culinary experiences, from Polynesian to French to traditional favorites, are complemented by special open-air dining, from private oceanside dinners to Tahitian beach parties with musicians and fire dancers.
A full-service spa, balanced by the powerful rhythms of the Pacific Ocean and the secluded tranquility of the island's lagoon – and featuring an overwater spa suite – offers a combination of relaxation and exhilaration that only Bora Bora's unique location can provide.
Set upon a sprawling 54 acres, the Resort meets a vast array of needs and accommodates a wide variety of entertainment programs. Facilities for families are unrivaled in the region: a Kids for All Seasons clubhouse with splash pad for children ages 5 – 12. The connection Four Seasons has with the island community provides a truly authentic Polynesian experience. Local guides are available for many excursions, as is the Resort's own marine biologist, providing a wealth of learning opportunities, whether scientific or cultural.
The architecture of Four Seasons Resort Bora Bora is the fruit of a unique collaboration that brings together the cosmopolitan flair of Paris-based architect Didier Lefort and the modern elegance of San Francisco design firm BAMO, with the Polynesian authenticity of renowned South Pacific architect Pierre-Jean Picart. The Resort was developed with the natural setting in mind, its installations designed to harness the location's ample natural light and prevailing breezes.
Fly Private to Paradise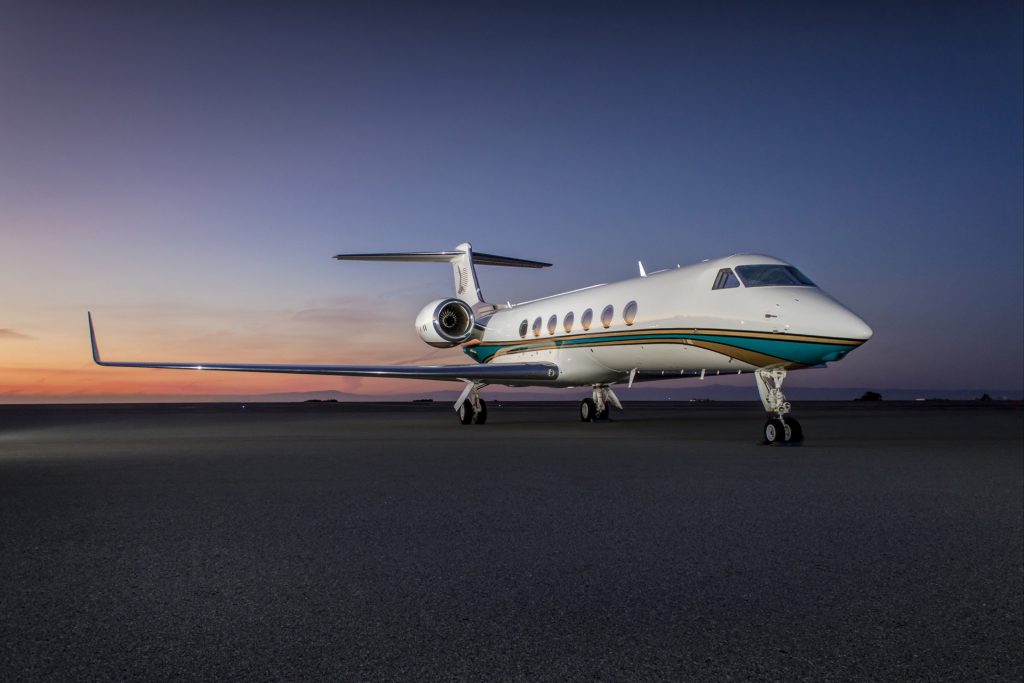 In partnership with Aircraft Logix, Four Seasons Resort Bora Bora provides non-stop flights from the executive terminas of Los Angeles-area airports – bypassing the hassles of commercial air travel and boarding directly onto a Gulfstream G550 private charter. Guests relax in a truly luxurious flight experience and enjoy first-class dining and cocktails en route directly to Bora Bora. Upon arrival, guests are escorted by yacht to the breathtaking Four Seasons Resort Bora Bora. Charter options include exclusive private charters (one party of up to 12 guests) year-round, or a resort-organized shared private charter (with other Four Seasons guests) over select dates.