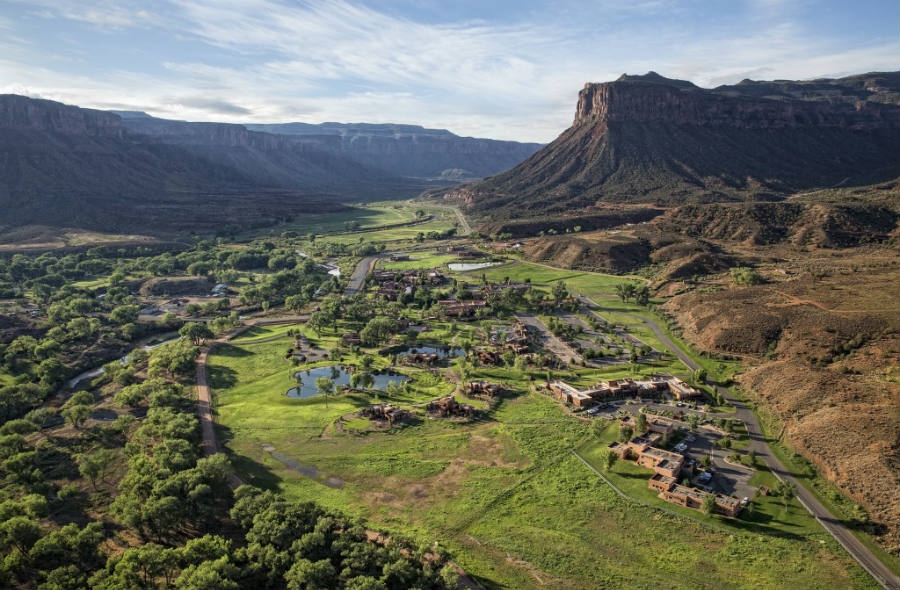 Edging the Colorado/Utah border and cradled in the shadow of the Palisade rock formation, Discovery Channel founder John Hendricks introduces Gateway Canyons.
The world's first and only discovery resort, created to nourish guests' curiosity through the art of discovery and adventure within a naturally intriguing environment.
Just steps away from one of the highest concentrations of dinosaur fossils on the planet, Gateway Canyons Resort & Spa – part of the Noble House Hotels & Resorts collection – is a place where the earth opens up to tell its story, inviting guests to explore the wonders of the natural world while delighting in luxury accommodations and once in a lifetime experiences.
With more than 6,000 acres of natural splendor to explore at its most primitive state – including one of only locations in the world where Precambrian rock is still visible by the human eye, guests temporarily pause the mass mayhem of their lives, take a deep breath of fresh air and become inspired by a sense of wonderment – while posing their most simple questions and appreciating a quiet authenticity to make their own discoveries.
When world-traveler John Hendricks designed the picturesque adobe lodges at Gateway Canyons Resort & Spa, he knew a few things were a must: There must be generous rooms, comfortable beds, quality linens and details such as deep tubs and spa-quality bath products, which is evident in all 72 (58 Guest Rooms and Suites; 14 Palisade Casitas) of the beautifully-appointed guest rooms, suites and private casitas – all offering breathtaking views of the majestic red rock canyons from every window.
The resort has three restaurants. Sophisticated palates indulge in a distinctive blend of savory cuisine under the direction of Executive Chef Stephen Belie known for his fusion of fresh seafood, regional meats and locally sourced produce combined with a Cuban influence of spice and flavor.
Whether spending an evening discovering the galaxies, nebulae and star clusters under one of the darkest night skies on the planet, or an afternoon taking a Bentley Supersport through the scenic rural byways of the American West, the resort awaits travelers ready to awaken their adventurous spirit. If you stay at the resort don't miss the 'Driven Experiences'. Whether navigating the open road behind the wheel of a Bentley Supersport, or pushing the envelope of off-road adventure in a Pro-Baja racing truck – Gateway Canyons' new Driven Experiences program invites guests to enjoy privileged access to a luxury fleet of high-performance vehicles – such as a Porsche 911 Carrera Coupe, Bentley Continental, Mercedes-Benz SL550 Roadster and Corvette ZR1 Coupe, to name a few, in addition to professional driving instruction and training classes, allowing for an unforgettable, once in a lifetime driving experience. Spa Services Once finished conquering the rugged terrain, guests are encouraged to rest and relax at The Spa, featuring treatments tailored to soothe sore muscles. With expansive windows that reveal breathtaking views of the canyon, senses are rejuvenated through intimate body pampering. The full-service spa provides a soothing atmosphere with four spacious treatment rooms and a variety of services, including massages, body treatments, and facials, along with hair and nail services.
The only resort in the world situated at the convergence of five majestic canyons, Gateway Canyons Resort & Spa is located an hour southwest of Grand Junction, Colorado and minutes from the renowned Moab Desert of Utah. A cloistered world unto itself, the resort is a resplendent of adobe-style southwestern architecture, tall cottonwood trees and irrigated green fields contrasting the red walls of the canyons that were once home to the Ancient Puebloans.
Guests of Gateway Canyons Resort & Spa have the option of arriving into Grand Junction Regional Airport, Montrose Airport, Eagle Airport and Denver International Airport, as well as by scenic drives from Salt Lake City and Moab. Shuttle service and rental cars are available from all locations. Visit www.gatewaycanyons.com