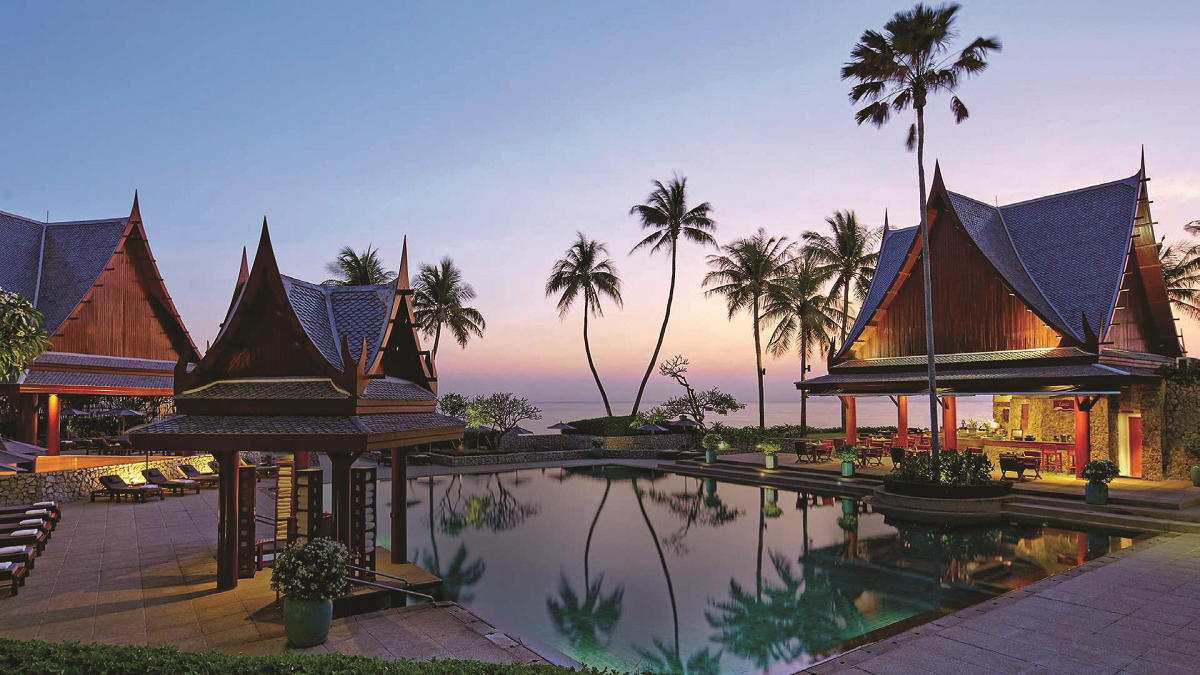 In this ravishing portfolio of brazen, genre-defying hotels, we salute hotels that make little business sense in 2019, passion projects that posed risky even back in the day to build. Celebrating this kind of vision and over-the-top risk for great reward is what we're all about at Jetset.
Fogo Island Inn
Newfoundland, Canada
A renown architectural beacon and a compelling model for preserving an imperiled culture, Fogo Island is a metaphysical metaphor for ethical travel. The Inn is central to a broader experiment in development, aimed at revitalizing a community hit hard by the collapse of Newfoundland's cod fishery. The anticipation of the summer season on Fogo Island ushers in feelings of sweet anticipation for anyone who has dreamt of chasing reinvention at this highly lauded Atlantic coast jewel. Intrepid travelers who have made a pilgrimage to experience the rich, centuries-old history of this "Salty Narnia" come away enlightened. Fogo's wildlife, visionary hospitality and unique way of life has a way of leaving an indelible mark.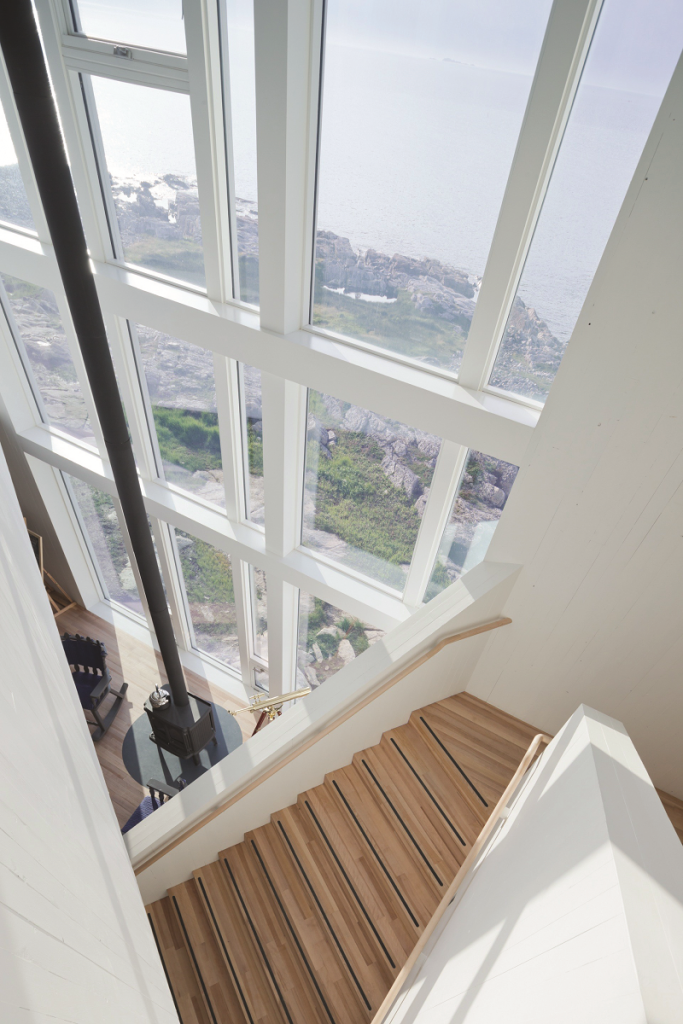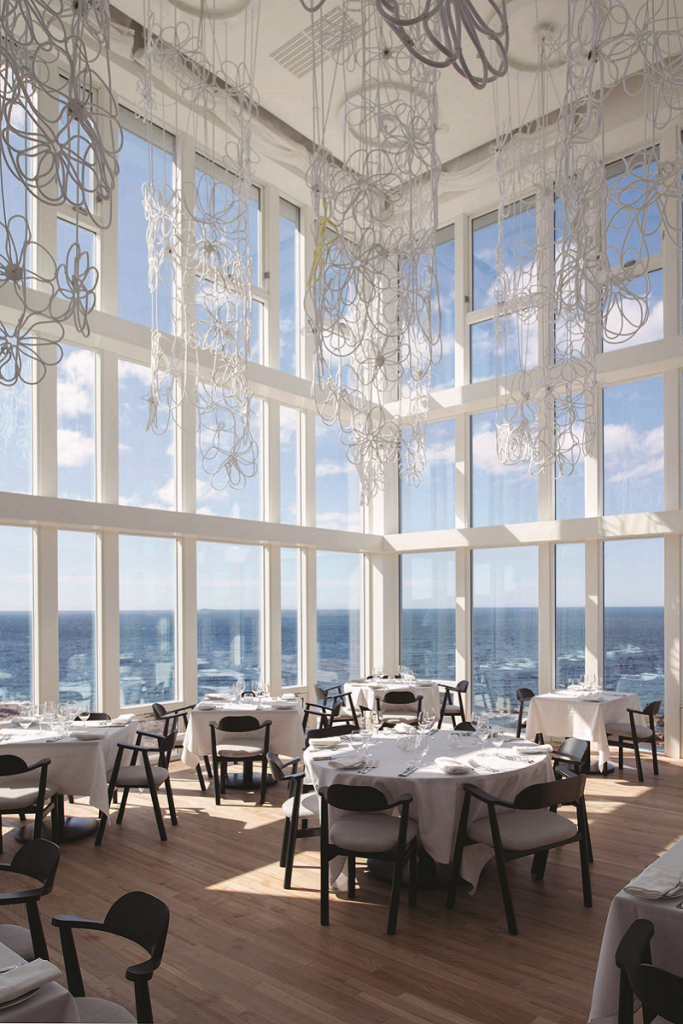 Insider Tip
Zita Cobb is the brains and chief bankroller behind the Fogo Island Inn. The inn and its artists-in-residence program is a savvy bid to use culture and tourism to revive the island. Fogo's food is the main draw; Executive Chef Jonathan Gushue recently took part in a food-centered discussion at The New School in New York, following a sold-out dinner at The James Beard House.
Manta Resort
Pemba Island, Tanzania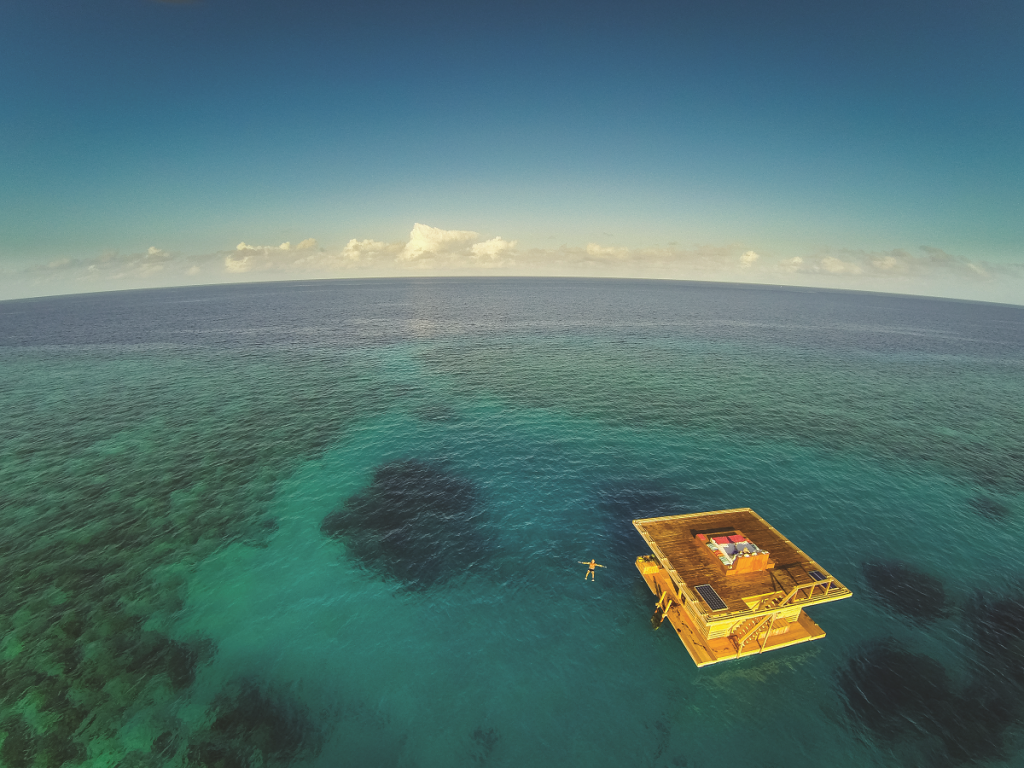 Nothing defies logic like underwater living. The Manta Resort recently unveiled its Underwater Room, a three-floor suite that floats among hypnotic corals, featuring a submerged master bedroom with panoramic windows to appreciate local aquatic species. Located on the tropical Pemba Island in Zanzibar, the resort's main draw is the natural reef lying just off its beach, a haven for divers and snorkelers alike. According to the resort, some coral has already begun forming on the room's anchoring lines and a few of the reef's more unusual inhabitants, like octopus and Spanish dancers, are easily spotted.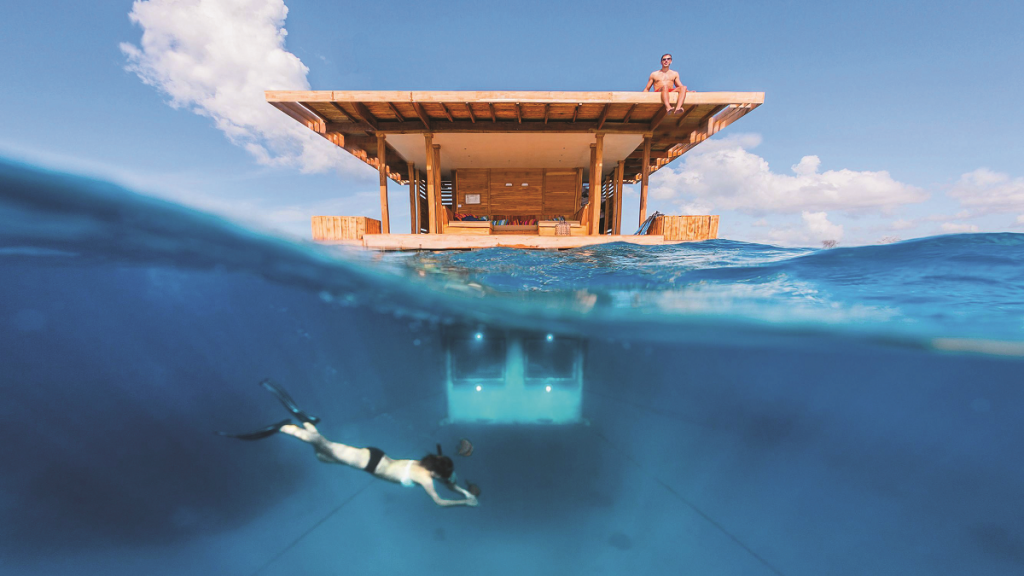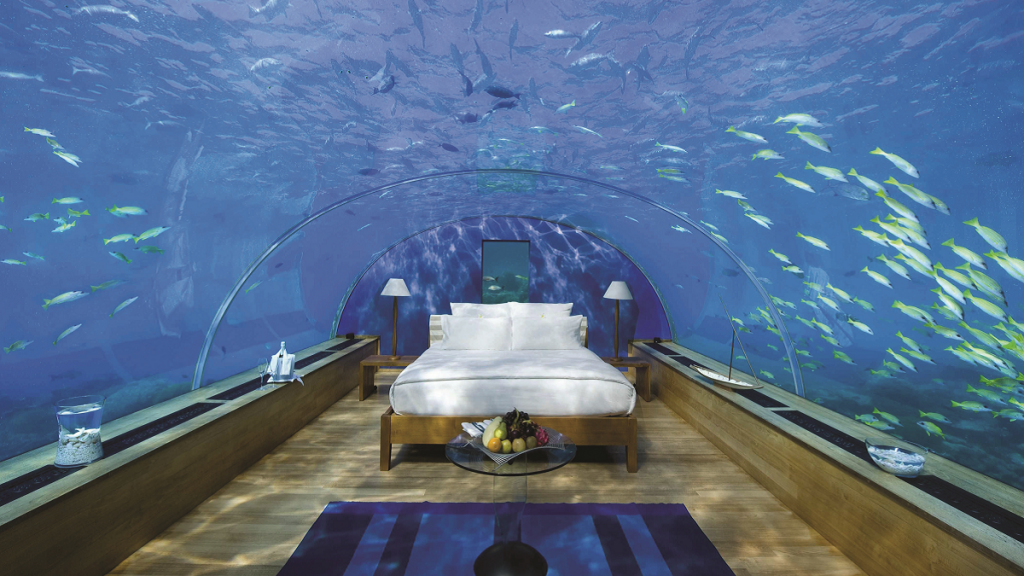 Insider Tip
Stay at least three nights, but make two of them in a sea facing villa and only one in the underwater room; while truly spectacular, this novelty suite has no hot water and only a marine toilet. The feeling of isolation may get to you by night two.
Laucala Island
Fiji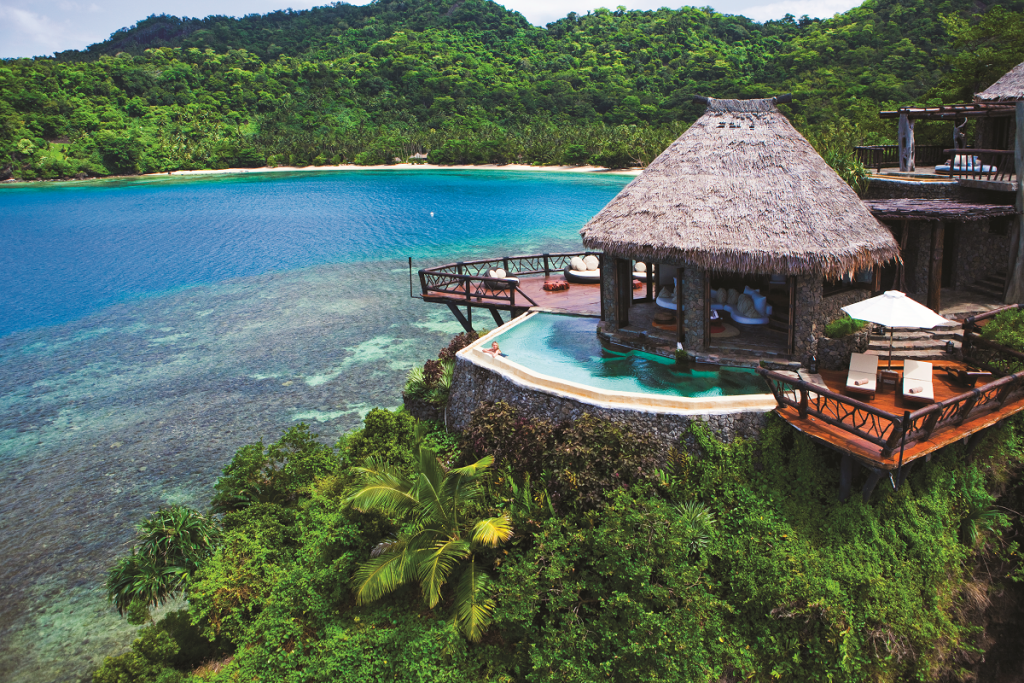 Red Bull magnate Dietrich Mateschitz spared no expense ($30-million U.S.) to create one of the world's top tropical private islands. Laucala boasts the most stunning architecture in the South Pacific, not to mention an organic farm, a village of friendly staff, mechanics to service private jets, and a James Bond-worthy collection of posh marine vessels. Laucala certainly changed my perception of the luxury category in Fiji, or anywhere else for that matter. It is one of a handful of hotels I have visited that defies categorization. The island operates at a staggeringly high level but still feels completely natural.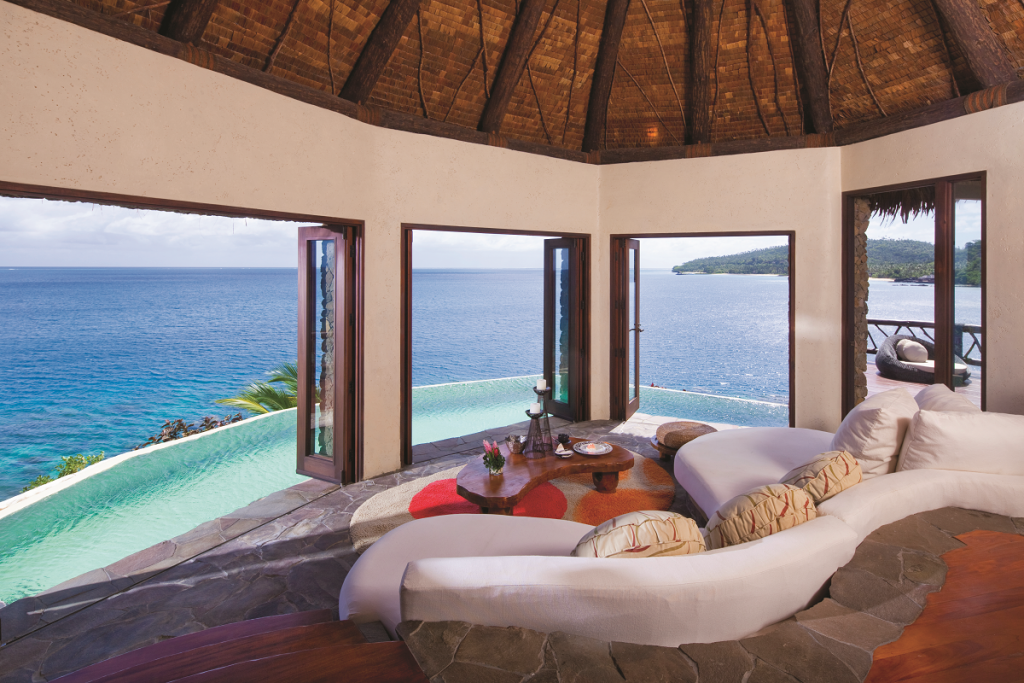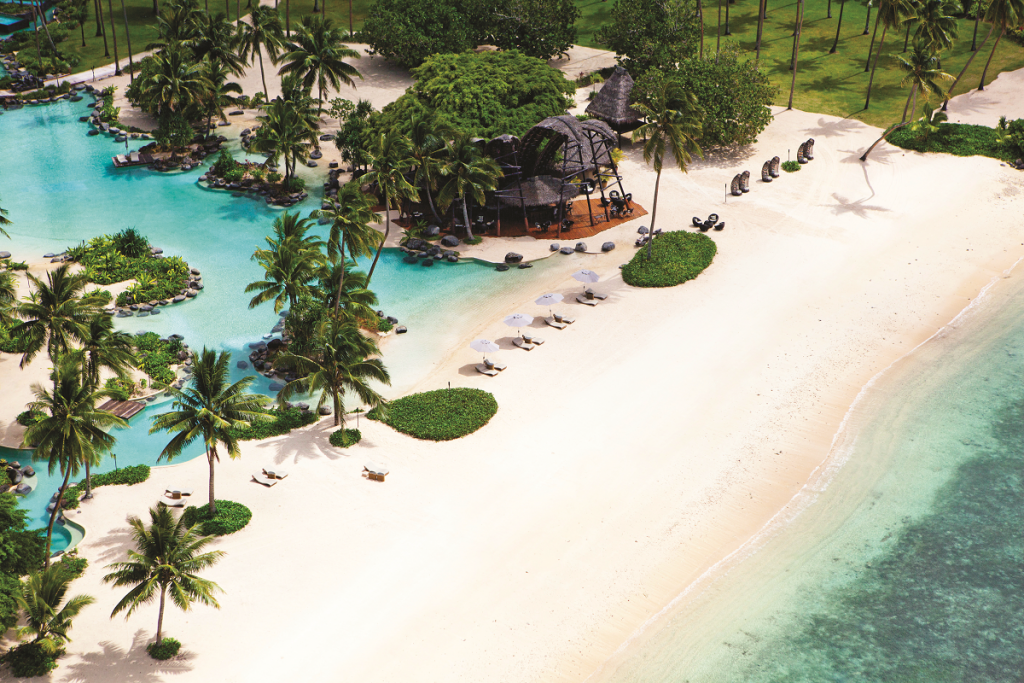 Insider Tip
The island's par-72 golf course gives players one jaw-dropping vista after another. It was designed by David McLay Kidd, the bright young architect who wowed aficionados with The Castle Course in St. Andrews, Scotland. Carved from a jungle that could dwarf King Kong, the course is ripe with drama and stunning elevations.
Amanjiwo
Central Java, Indonesia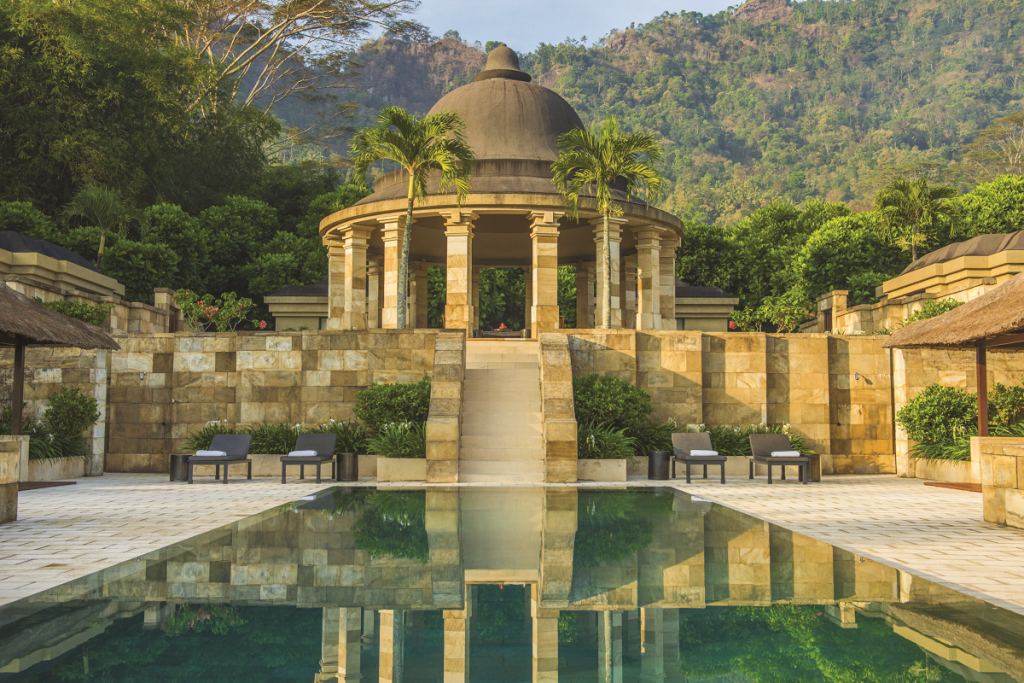 Nestled in a natural amphitheater, Amanjiwo faces the world's largest Buddhist monument, the ninth-century Borobudur. My 22-hour pilgrimage to Amanjiwo, what many hoteliers consider the world's most extraordinary hotel, was well worth the flight time. Amanjiwo is a cultural crucible renowned for its architecture, the heart of which is a circular monolith, crafted from local limestone and rising to a domed centerpiece. The atmospheric entrance of the main structure was designed to frame the Borobudur UNESCO World Heritage Site in the distance, with adjacent soaring portals framing four encircling volcanoes. Visually arresting, to say the least. Only 30 guest suites are laid out in two crescent formations rimmed with high limestone walls, crawling with spider lilies.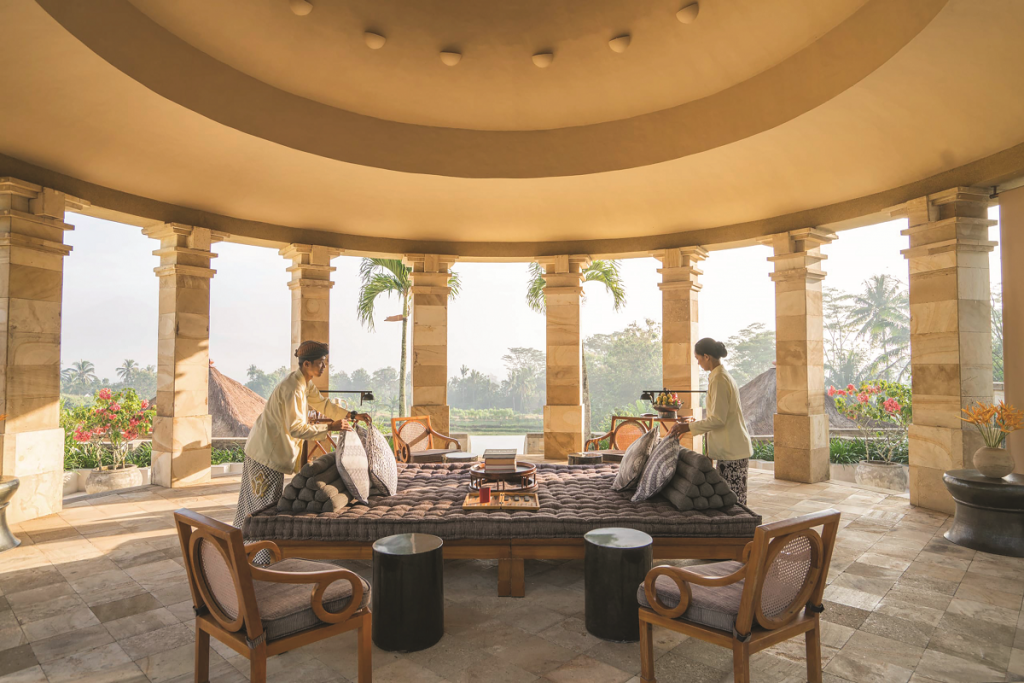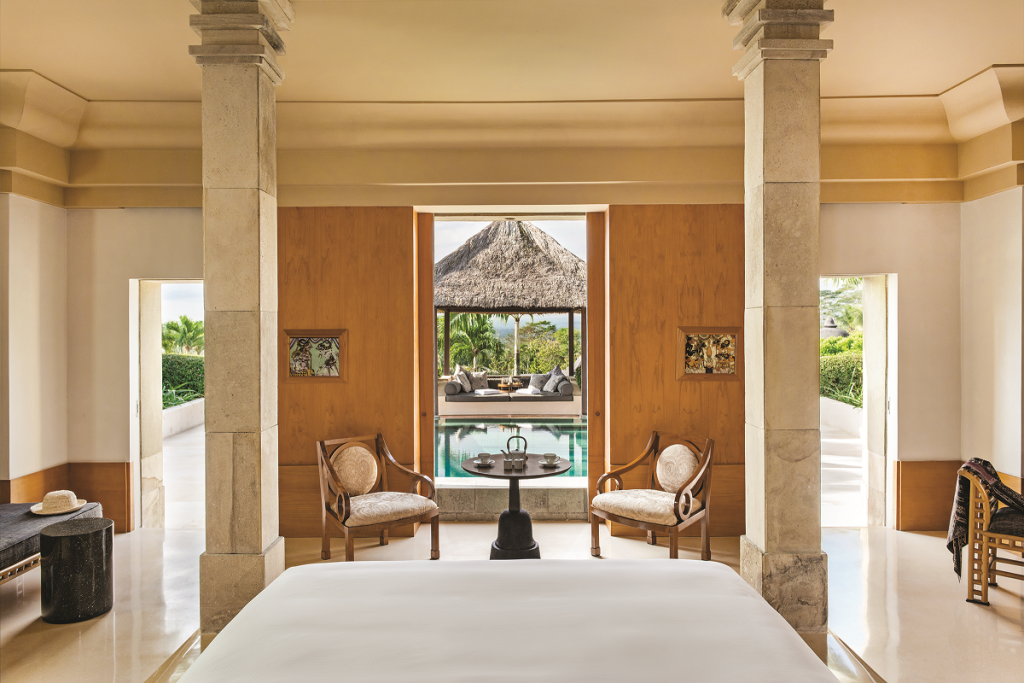 Insider Tip
Amanjiwo's ultra-connected management team can arrange anything from perfectly executed picnic lunches, complete with silk pillows and more fresh fixings than you can imagine, to excursions to see the traditional Dayakan trance dance. The concierge can access cultural encounters that very few foreigners will ever have the chance to witness.
La Mamounia 
Marrakech, Morocco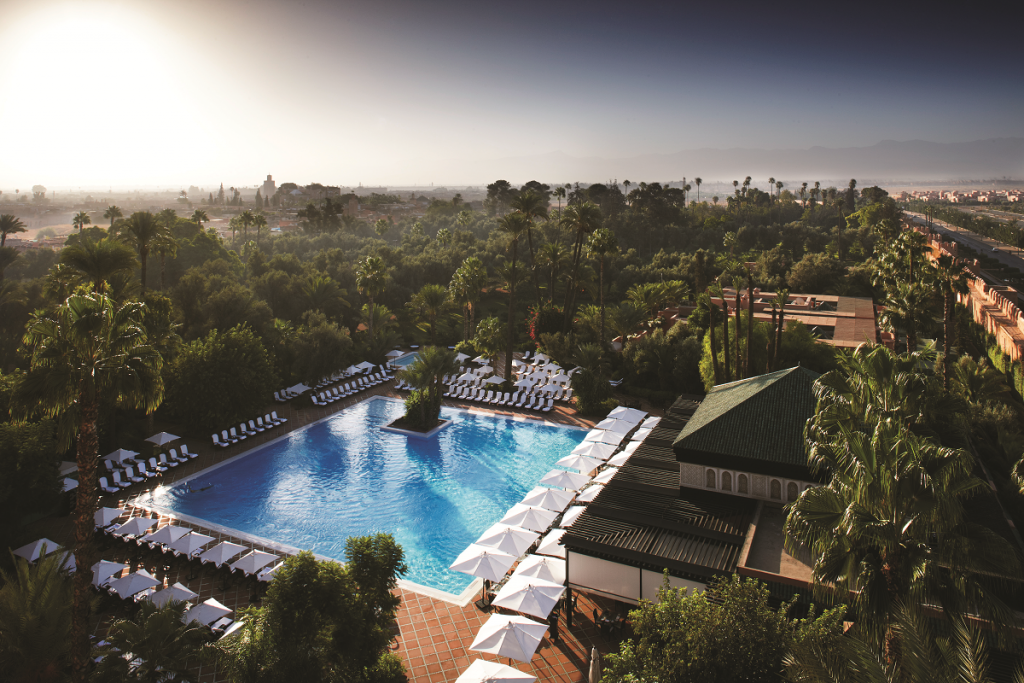 A hotel of beguiling extremes, La Mamounia takes you from luxuriously sublime to ludicrously simple pleasures in mere minutes. From the sybaritic splendor of the lobby to perfectly executed turndown service, this is where Dionysus himself would do date night. Soaring arches fit for a pharaoh fan into the distance like a mirage. Imagine Mosque Koutoubia on steroids and you're halfway there. The posh unveiling of this Arab-Andalusian masterpiece after a $170-million renovation drew out the star power of Gwyneth Paltrow, Jennifer Aniston, Orlando Bloom, Salma Hayek and Adrien Brody.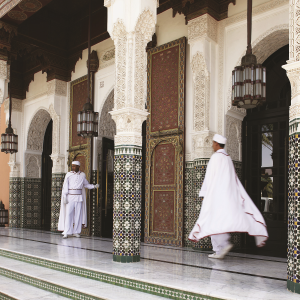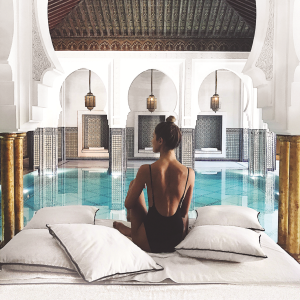 Insider Tip
The Moorish intricacy of La Mamounia's 27,000-square-foot spa features fine Moroccan craft, arabesque screens and luminous mosaic tile. This is a spa retreat where guests disappear for hours on end, escaping to a destination within a destination. Navigating a rather palatial courtyard pool edged by ornamental lantern towers, the dark aesthetic ushers in an embryonic, deep-space spa odyssey.
Hapuku Lodge & Tree Houses
Kaikoura, New Zealand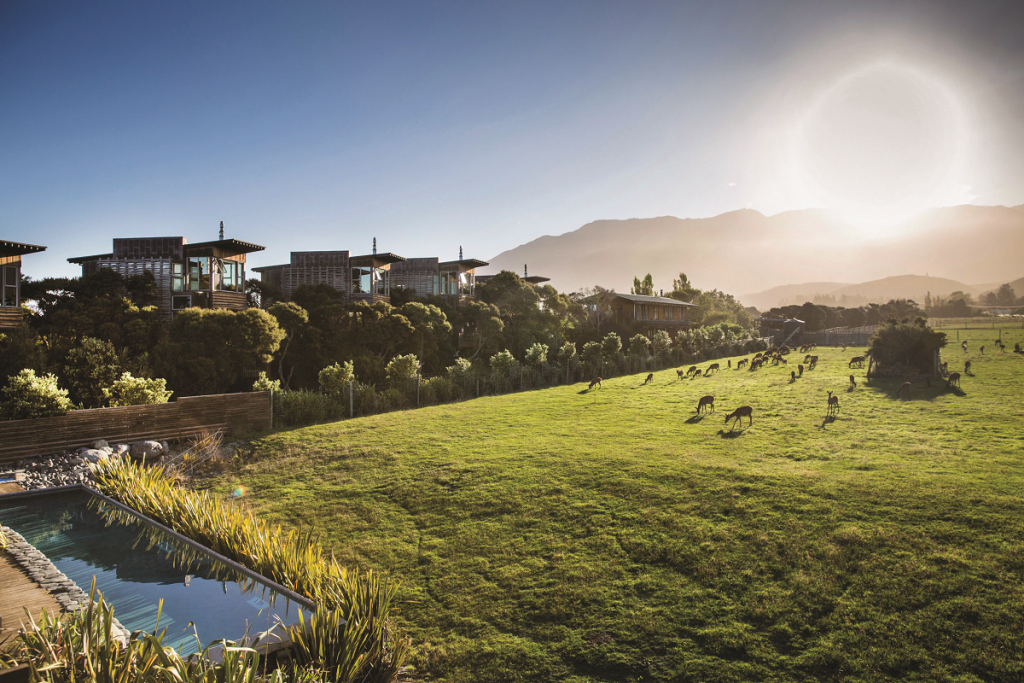 Imagine being eye to eye with a canopy of leafy trees at Hapuku Lodge & Tree Houses hotel in Kaikoura, New Zealand. Category-defying Treetop-high suites are luxurious, with an inviting king-size bed in the center, and ridiculously impressive views. One end of the sky-high cabin features a wood-burning fireplace with two comfy chairs and dramatic vistas of snowcapped mountains; the far side leads you to a smartly designed ensuite, looking out to the seascape. Featuring an outdoor pool and a private deer park, this idyllic retreat was made for kicking back in wonderland.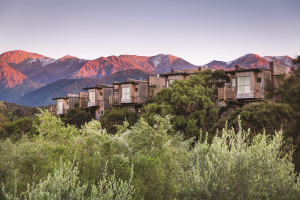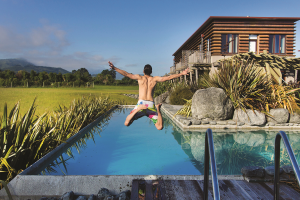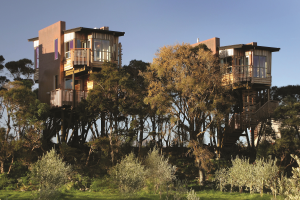 Insider Tip
The dining room at the Lodge is at the heart of the Hapuku experience. The Lodge's Executive Chef Fiona Read is a powerhouse talent, gathering provisions from local gardeners, sourcing the best meat and fish either directly from the farm or fisherman. Feasting on her simply exceptional dishes deepens an appreciation of what New Zealand has to offer.
Chiva Som
Hua Hin, Thailand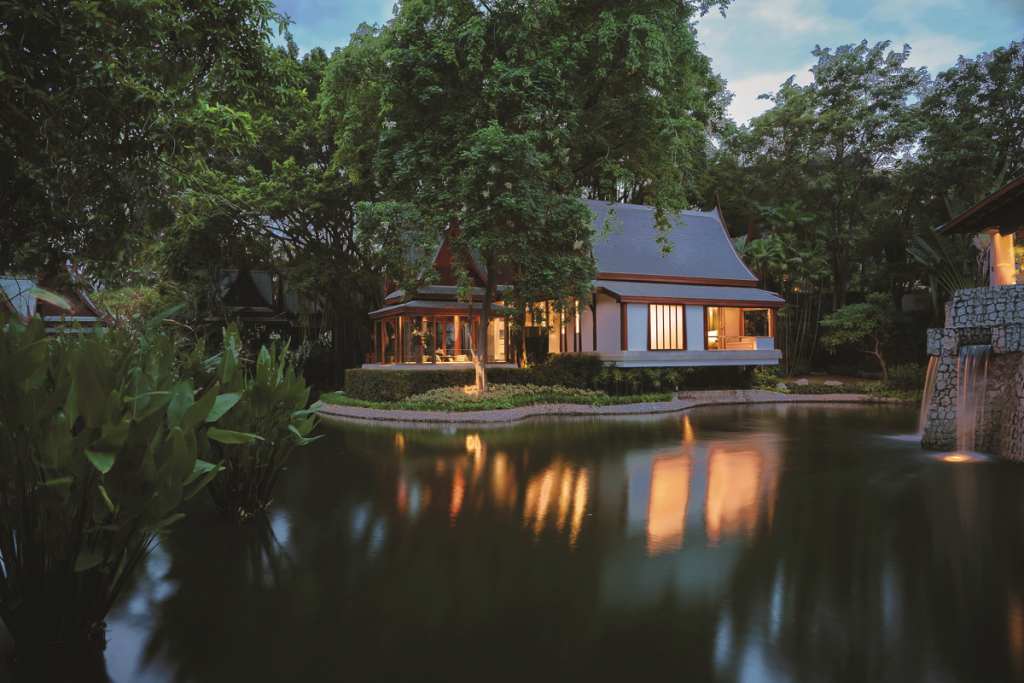 Chiva Som has become the gold standard by which all destination spas are measured. Swimsuit models and morphological oddballs alike are drawn in equal measure to Chiva Som, Thailand's holy grail of health retreats. Personalized programs cover everything from weight management and smoking cessation to skin rejuvenation and anti-aging regimens. Healthy food is a ritual here, and for many the dining is a main draw. The award-winning international spa cuisine is detoxifying, fat and salt-free and still somehow divine. The kitchen team spends their days devising low-fat ways of producing chocolate cake and ice cream, to much gastric fawning. Many ingredients are homegrown in Chiva Som's own organic gardens.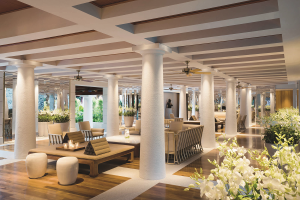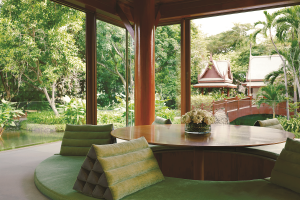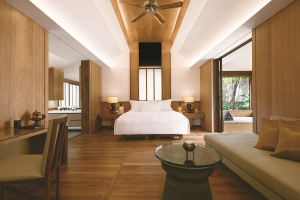 Insider Tip
Several high-profile athletes have put Chiva Som at the top for body conditioning. Serena Williams checked in just after her first Melbourne Open win; David and Victoria Beckham are also big fans. Kate Moss, Kylie Minogue, Jude Law and Hugh Grant have also come to be pampered into oblivion.
Bedarra Island
Australia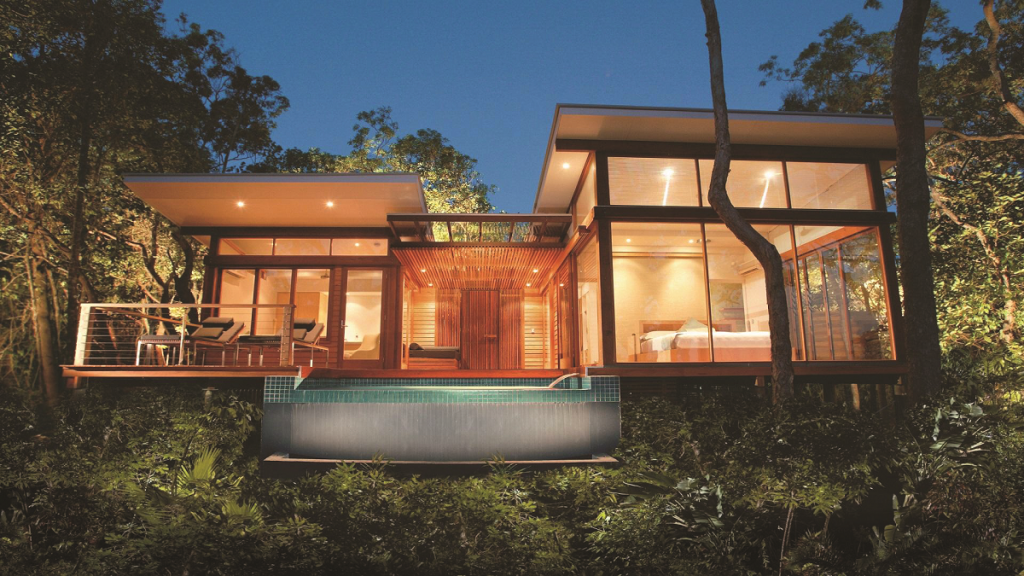 This barefoot luxury retreat caters to global celebrities and dignitaries drawn to the Great Barrier Reef Marine Park. The trophy of this geographic jewel box is the privately-owned Bedarra Island – one of Australia's most coveted stays, catering to the most indulgent interpretation of "me time" imaginable. Just nine architecturally magnificent villas overlook the beach, surrounded by forest. The Point Villa, set in seclusion above monolithic boulders with crashing waves below, is favored by honeymooners. Blessed with fresh water springs to fill its pools and landscape, solar hot water also adds to Bedarra's sustainable chic.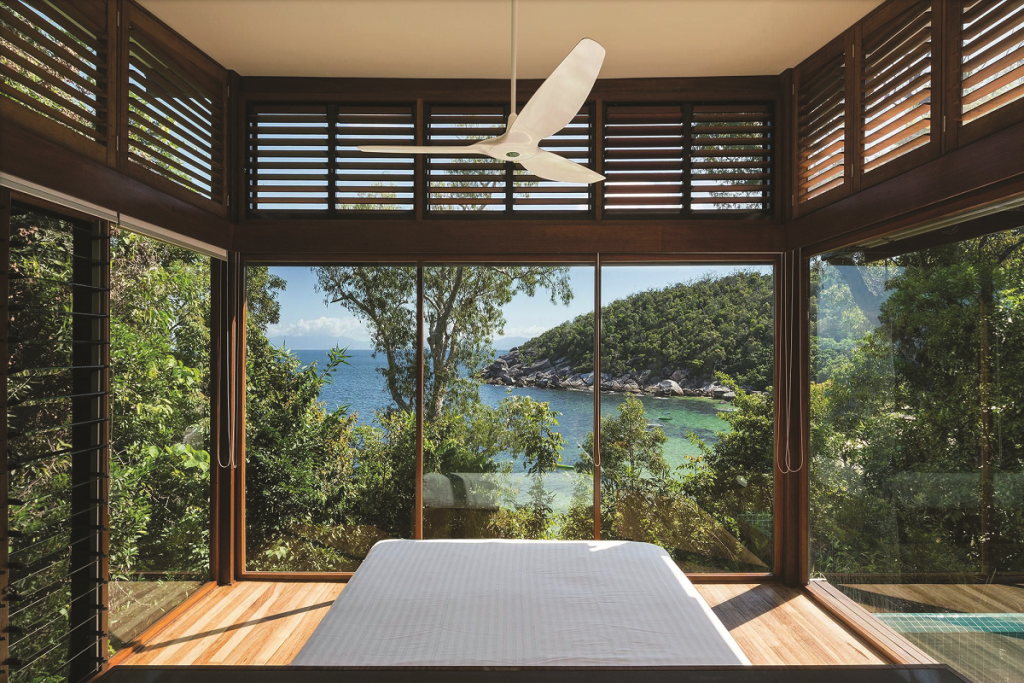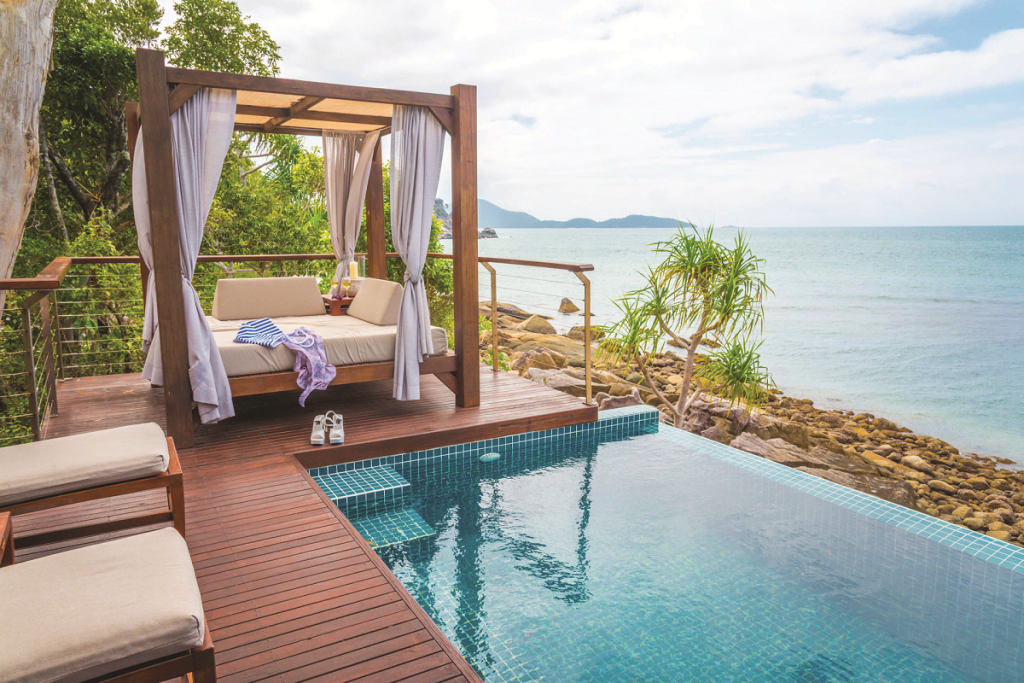 Insider Tip
No other island does privacy quite like Bedarra. Speaking volumes of the island's sterling "fortress of solitude" reputation, both Jennifer Aniston and Salma Hayek checked in post-haste following break ups with Brad Pitt and Edward Norton, respectively. When Cameron Diaz was between boyfriends, Bedarra got her as far from tinseltown as logistically possible. Winning favor with European royals, the isle's physical inaccessibility makes it paparazzi-proof.
Natura Vive Skylodge Adventure Suite
Cusco, Peru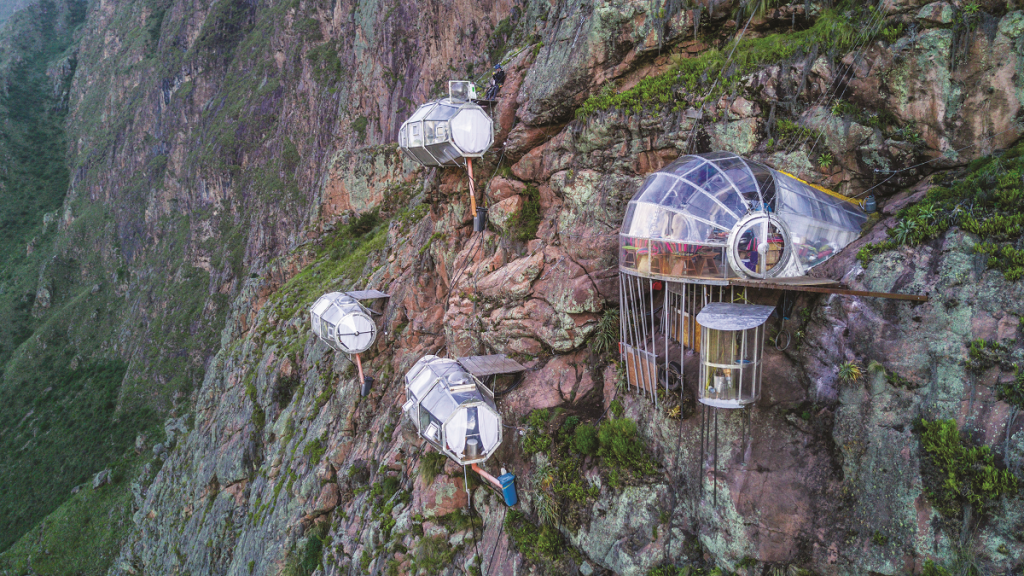 Fancy waking up in a transparent capsule hanging off the side of a Peruvian mountain? Chase this futuristic feeling at Skylodge Adventures Suites, glass lodges strategically situated on the side of a cliff in Peru's Sacred Valley. Not ideal for the mobility challenged, these crystalline pods are accessible by climbing 1,300 feet or hiking a trail featuring a signature zip-line. Once ensconced in your pod, feast your eyes on panoramic night views of the Milky Way. Once upon a time, this kind of venture would be mired in legal waivers. These days, NASA innovation trickle down makes it all possible; crafted from aerospace aluminum and weather resistant polycarbonate, Natura Vive is able to present safe and secure pods.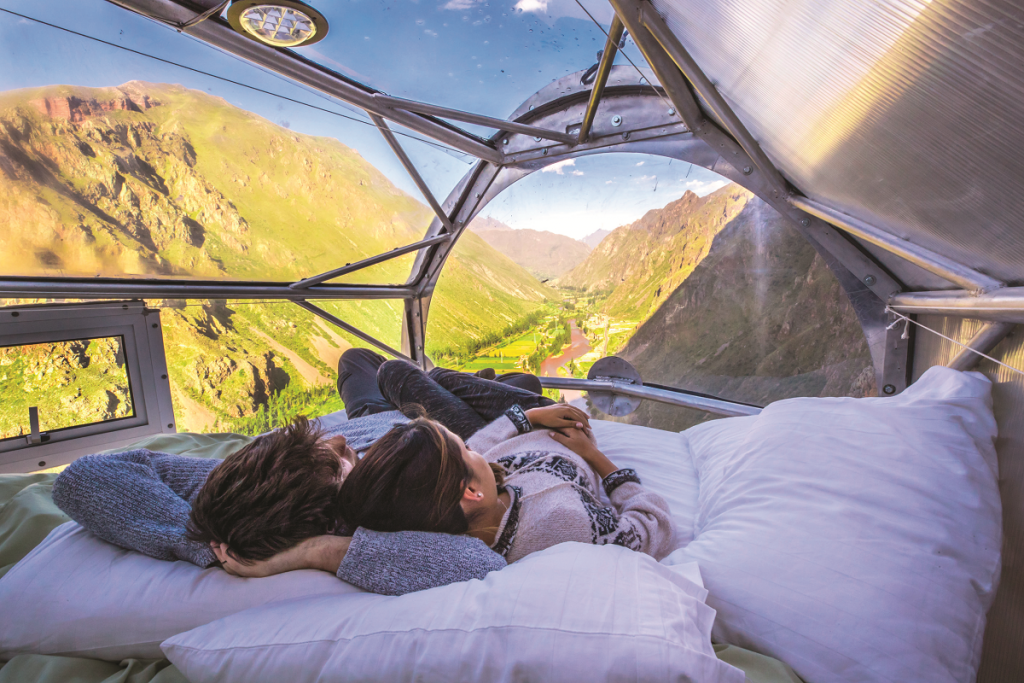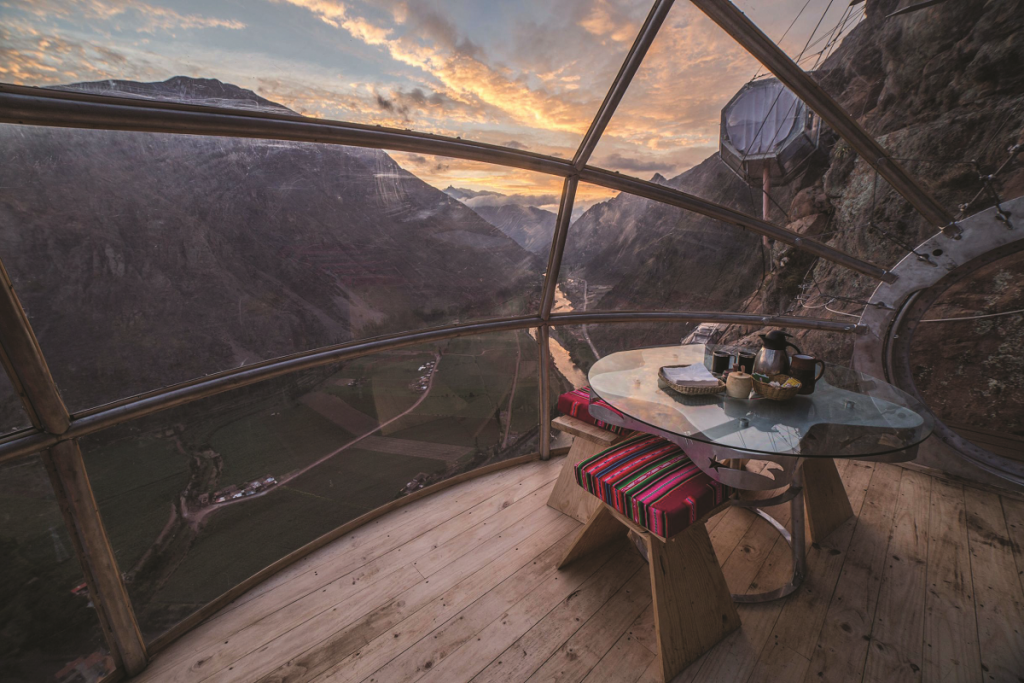 Insider Tip
Home to iconic archaeological ruins, the Sacred Valley is anchored by two UNESCO World Heritage sites: former Imperial capital Cusco and Machu Picchu. The SkyLodges are well positioned to allow guests a day or two to admire the Valley from above, before venturing below and onto Macchu Picchu.