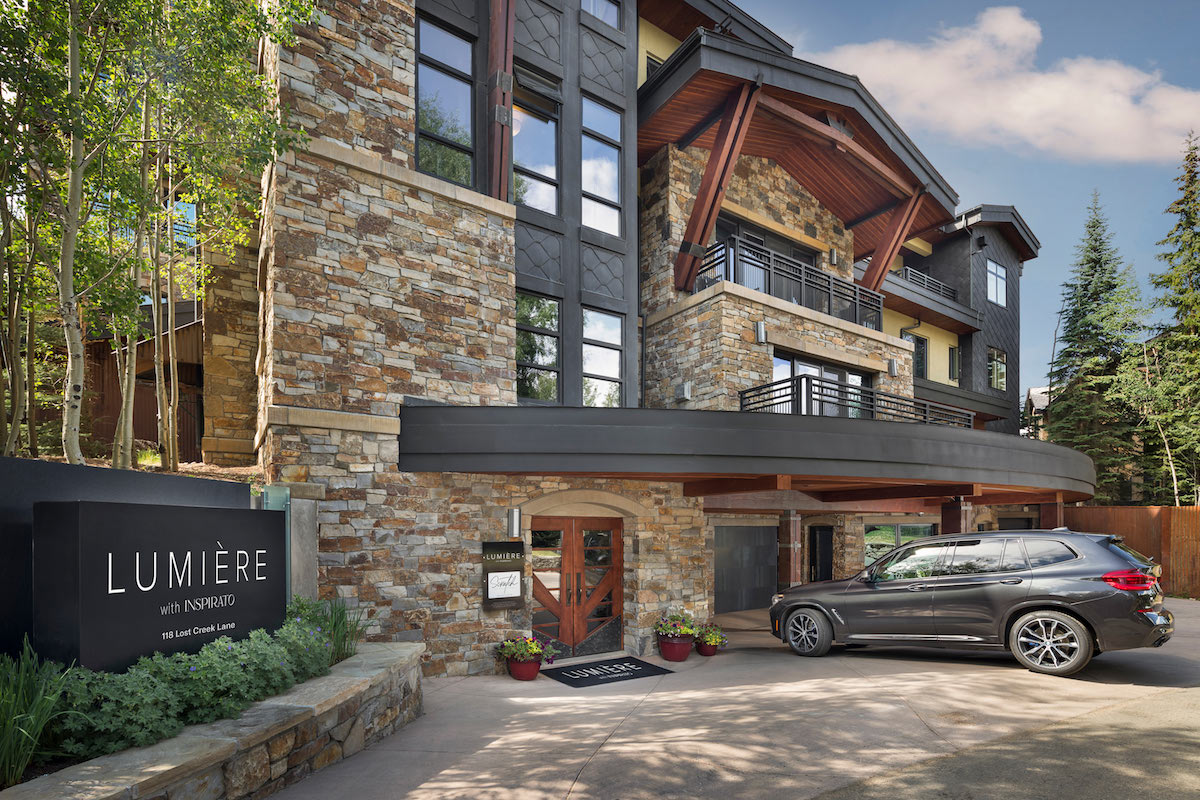 Discover a luxurious side of Telluride when you stay at the award-winning Lumière with Inspirato, nestled at the base of Lift 4 in Mountain Village. Enjoy ski-in, ski-out access before unwinding in the cozy lounge. The 18 recently remodeled hotel residences make the perfect home base, with ample space, high-end chef's kitchens, and dramatic mountain views—no matter if you're visiting during summer's bustling festival season or catching first chair to ski fresh powder.
Recent Accolades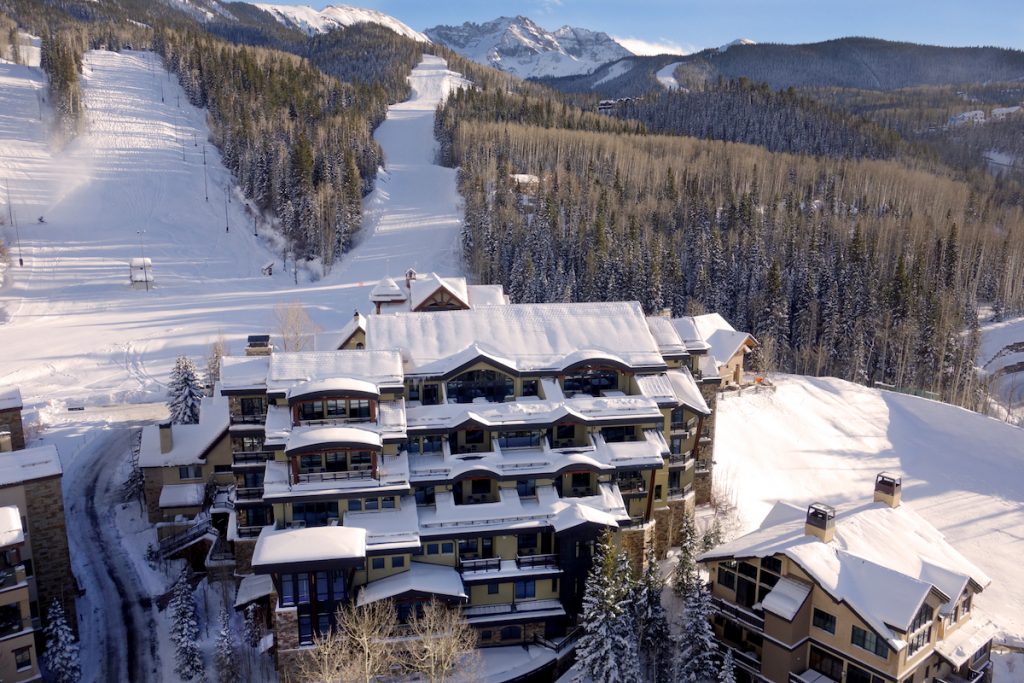 As the only boutique luxury residential hotel in Telluride, Lumière with Inspirato is renowned for its signature high-touch service and passion for hospitality. In recent months, the hotel has received an array of awards that recognize it as an industry leader, including Condé Nast Readers' Choice Awards "Top 10 Colorado Ski Hotel," USA Today "Top 6 Ski Hotels in the USA," and TripAdvisor "Award of Excellence 7 Years Running."
Full-Scale Renovation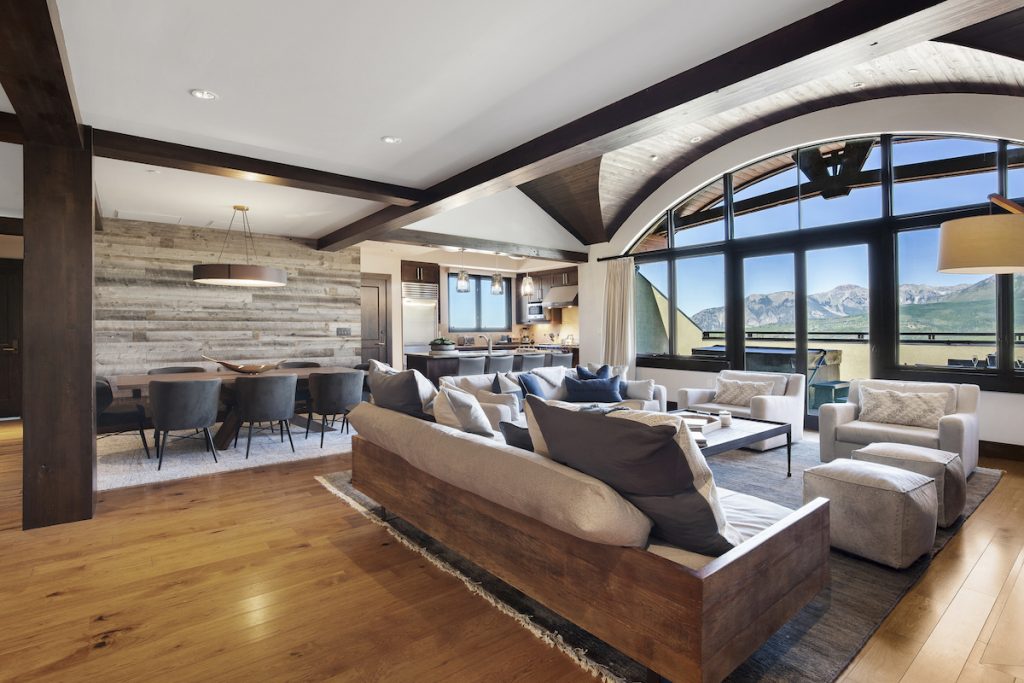 In spring 2019, Lumière with Inspirato underwent a full-scale renovation. Today, guests choose from 18 remodeled boutique residences, featuring high-end chef's kitchens and a modern, understated aesthetic that's designed to make visitors feel right at home.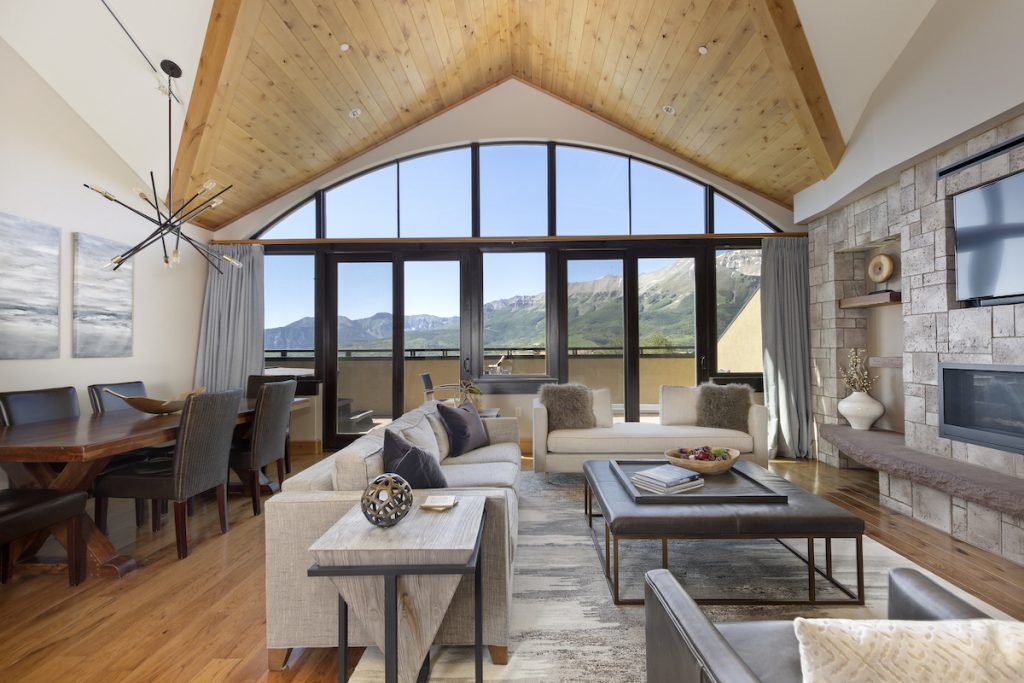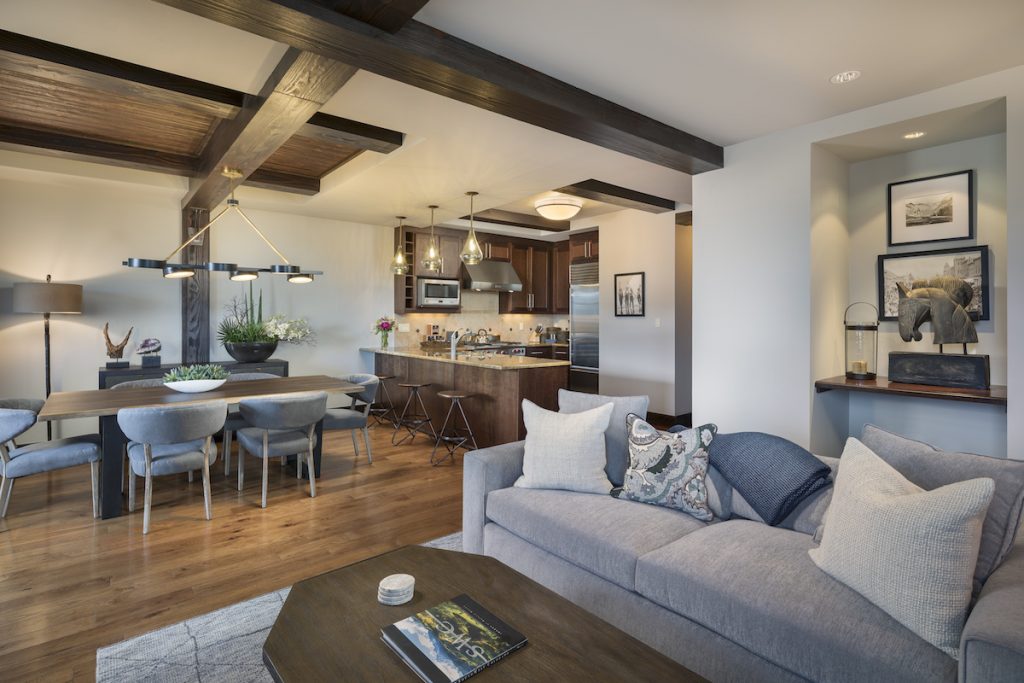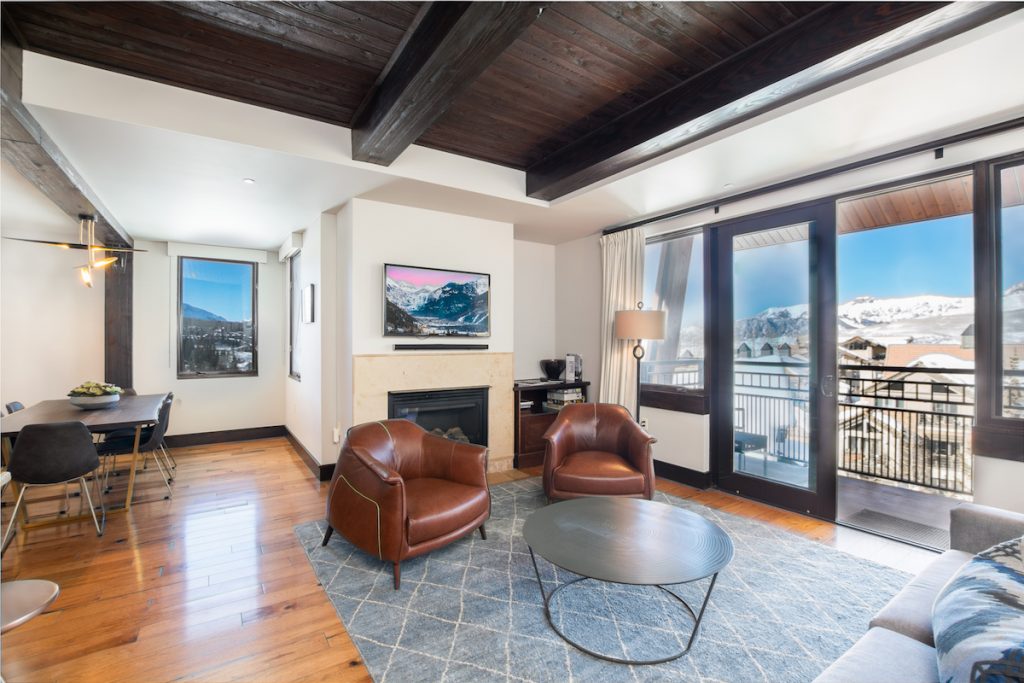 The recently redone on-site lounge is the perfect place to enjoy après-ski snacks and beverages. Kick back and relax with an outdoor hot tub, sauna, warm and cold plunge pool, and in- residence spa treatments.
Summer Festivals Worth Traveling For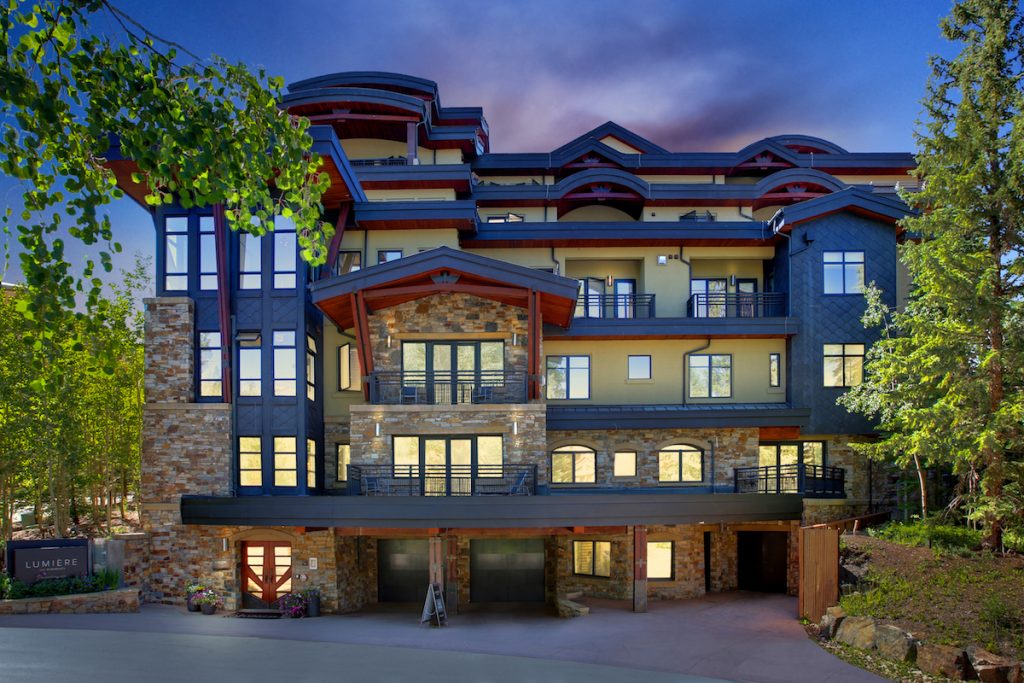 Although Telluride is perhaps best known as a snowy paradise—with its high-altitude chutes and miles of skiable terrain—it's also a bustling summer destination that transforms into a hub of activity once the snow begins to melt. Enjoy warm-weather recreation in this postcard- worthy box canyon with a few of our favorite outdoor festivals.
Telluride Mountainfilm: Discover interactive talks, free community events, gallery walk, and presentations from world- class athletes, artists, thinkers, and world leaders. Last year, guest director and renowned writer Cheryl Strayed surprised the festival with a standing-room-only interview with Oprah Winfrey. This year's festival's theme is simply "visionaries."
Telluride Balloon Festival: During this picturesque festival, the skies above Telluride's main street—with scenic Bridal Veils in the background—are dotted with colorful hot air balloons. Early risers can watch the balloons lift off from Town Park at sunrise and float past for at least mile down the valley.
Telluride Bluegrass: Summer might peak with this perennial fan-favorite festival, which takes place over the summer solstice weekend. Enjoy live bluegrass at a variety of outdoor venues that have welcomed artists like Sam Bush, Mumford & Sons, Brandi Carlile, Norah Jones, Jason Mraz, and Emmylou Harris.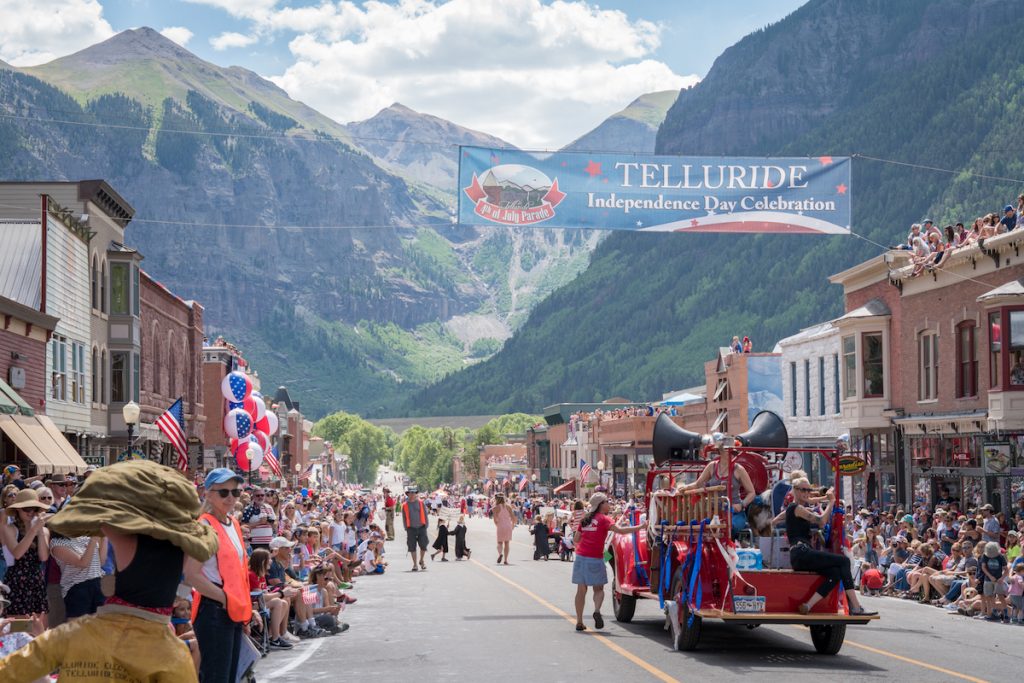 4th of July: Independence Day in Telluride kicks off with a blast—literally—as a fighter jet zooms over the skies of downtown Telluride. But first, partake in the annual uphill footrace from the base of the gondola in town to the top of Lift 7 during the Telluride Foundation's Rundola, and then reward yourself with a cold drink while you watch the annual Telluride 4th of July parade make its way down Colorado Avenue—escorted by a fighter jet flyover.
Enjoy barbecue and lawn games during the Firemen's Fourth of July BBQ, and then stake your claim to a comfortable spot with a big blanket and a few snacks to watch fireworks light up the sky in Town Park. The top of the gondola is another popular spot to catch the spectacle. Be sure to time your visit to Mountain Village wisely; the gondola line is known for getting quite lengthy during the fireworks rush.
Ride Festival: Celebrate a love of rock-and-roll music with music acts that have included Widespread Panic, Sheryl Crow, and Beck. Find time to experience the incredible outdoor scenery in between sets, whether that means floating down the river in inner tubes or stand-up paddleboarding beneath the red cliffs. Try your hand at mountain biking or set out on a hike to Bear Creek Falls.
Jazz Festival: Telluride gets a taste of the Big Easy with this high-altitude jazz festival, featuring incredible jazz musicians from around the world. Strut down main street in a New Orleans-style second line parade while you pump your parasol and wave your handkerchief.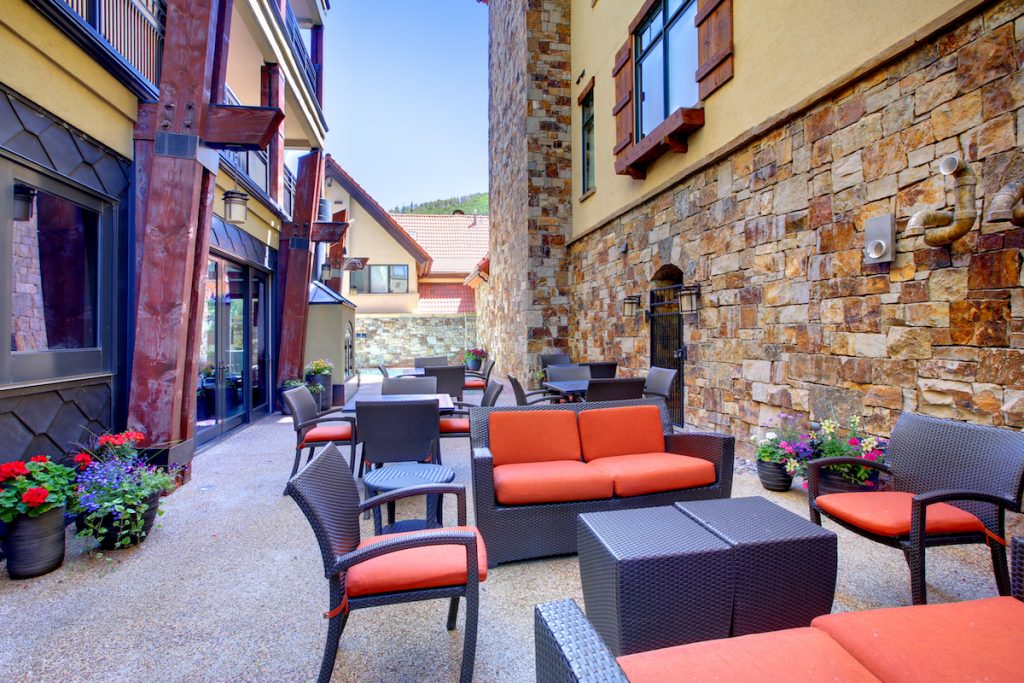 Telluride Film Festival: Many an Oscar-winning film has premiered right here in Telluride. This festival offers the opportunity to rub shoulders with the most promising and up-and-coming filmmakers. Previous "Best Picture" winners like Slumdog Millionaire, The King's Speech, Argo, 12 Years a Slave, Birdman, Spotlight, Moonlight, The Artist and The Shape of Water all played in Telluride—many of them world premieres. Two "Best Picture" nominees from 2019, Roma and The Favourite, were sent straight from Venice to Colorado.
Telluride Blues and Brews Festival: Telluride pairs craft brews with down-home bluegrass music in this crowd-favorite festival. Home to 56 craft breweries and 170 styles of beer and cider, Telluride is already a beer lover's paradise, and even more so during this festival. Enjoy a double-decker viewing platform of main stage with a fireplace, VIP lounge with premium stage views, private grand tasting, gospel brunch with champagne and bloody mary bar, as well as a candy bar for kids, shade tents, yard games, and fire pits.
Telluride Festival of Cars & Colors: Fall rolls into town along with the arrival of vintage and exotic vehicles. Enjoy the changing fall foliage in September, set against the backdrop of the San Juan Mountains. Heritage Plaza in Mountain Village transforms into a temporary fine art gallery, where you can peruse jewelry, paintings, photography, ceramics, metalwork, glass, and more. Aviation enthusiasts will love the air show. The festival moves from the downtown Telluride Historic District to Mountain Village and finally the Telluride Regional Airport.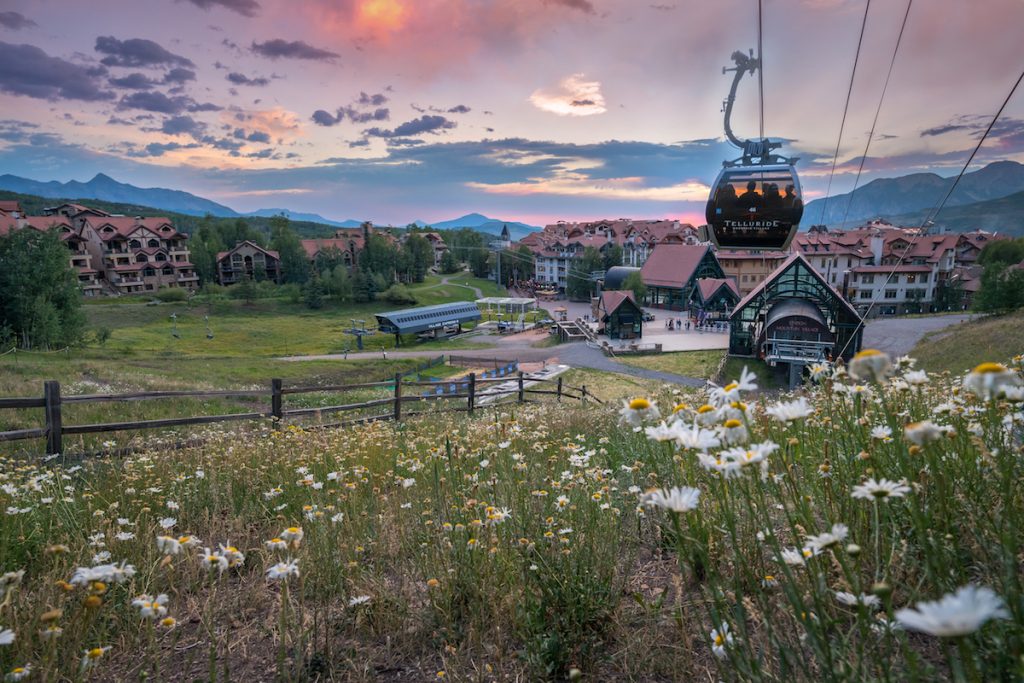 Original Thinkers: Telluride's newest festival is all about storytelling, offering a space to connect on a deeper level. It's an innovative festival where you can hobnob with filmmakers, foreign investigators, Ultraman World Championship runners, war veterans, DJs, journalists, documentary photographers, innovative designers, and chefs—all in the same day.