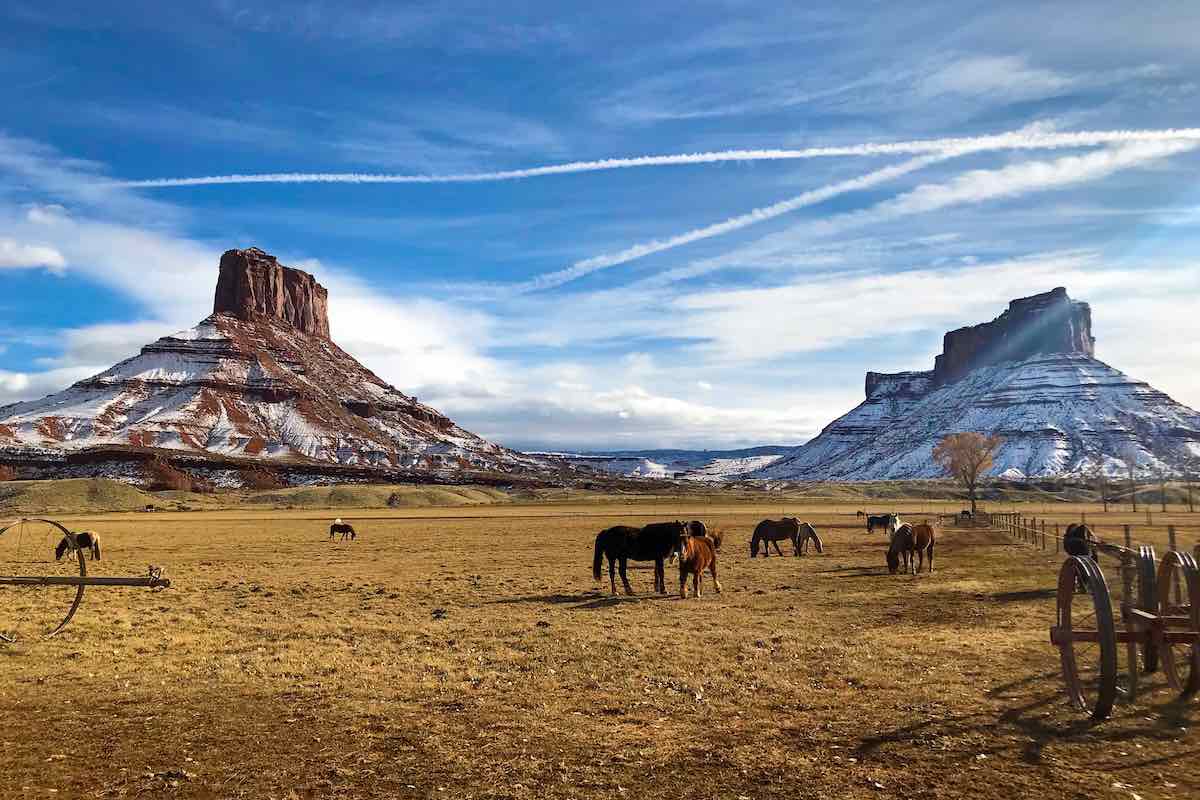 Located in Southeast Utah, about fifty miles away from the Colorado border, Moab is an up-and-coming resort destination, famous for its stark landscapes and proximity to several of the region's stunning national parks. The town is also an historic landmark. During the eighteenth and nineteenth centuries, it served as an important outpost along the Old Spanish Trail, a strategic trade route between Santa Fe and Los Angeles. Over the decades, Moab's identity has evolved from remote mining town to a hot destination for glampers and tourists. In recent years, it has become one of Utah's most popular locations for travelers looking to bask in the desert sun, spend some time away, and embark on once-in-a-lifetime adventures.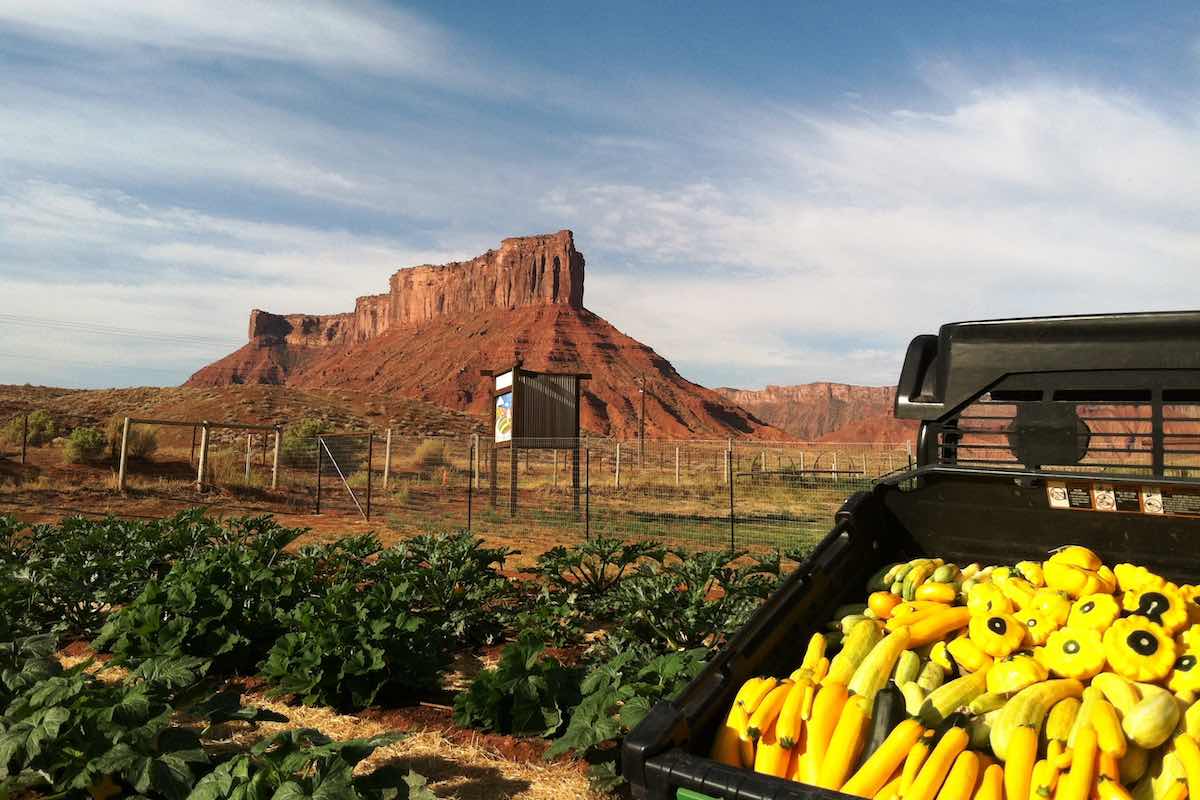 Fun and excitement are never in short supply in Moab. Guests can whitewater raft on the Colorado River, rock climb through splendorous canyons, or soar through the skies on a zipline—all in the same day. This desert oasis is also home to unparalleled views of Utah's desolate beauty and towering rock formations, as well as luxe accommodations furnished with world-class comforts. Though off the beaten path, Moab has something to offer every traveler—an unforgettable family stay, a romantic getaway for two, or a chance to meet new friends while trekking through the Utah desert's earthy-colored sands. With its growing number of high-end hotel options, this getaway has become one of the American Southwest's best kept secrets, where elite travelers can dine and be pampered after a long day of outdoor exploration.
For Thrill-Seekers and Nature Lovers
One advantage of setting up camp in Moab is that the town is just a short car ride away from Arches and Canyonlands National Parks, two of Utah's top locations for exploring awe-inspiring natural wonders. For example, Arches National Park boasts over 2,000 magnificent sandstone structures. Each one is like an abstract sculpture carved by the winds of time. Photography enthusiasts will especially enjoy trekking across and snapshotting this desert gallery, full of monumental beauty. Furthermore, the majestic Canyonlands National Park lives up to its name. Whether you want to glimpse the ancient petroglyphic art of the Horseshoe Canyon or hike the Chesler Park Loop to see the famous spiral rock formations known as "The Needles," Moab is the best place to situate yourself for a days-long exploration of this breathtaking network of canyons and gorges.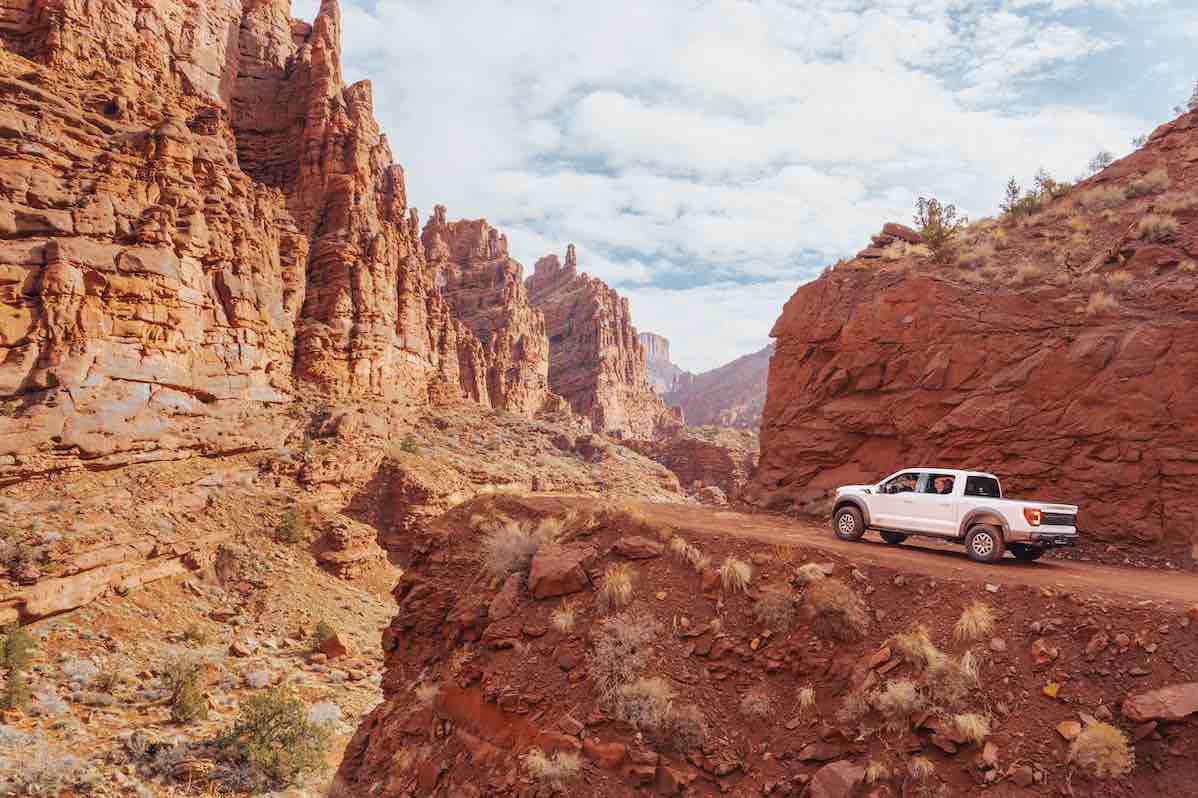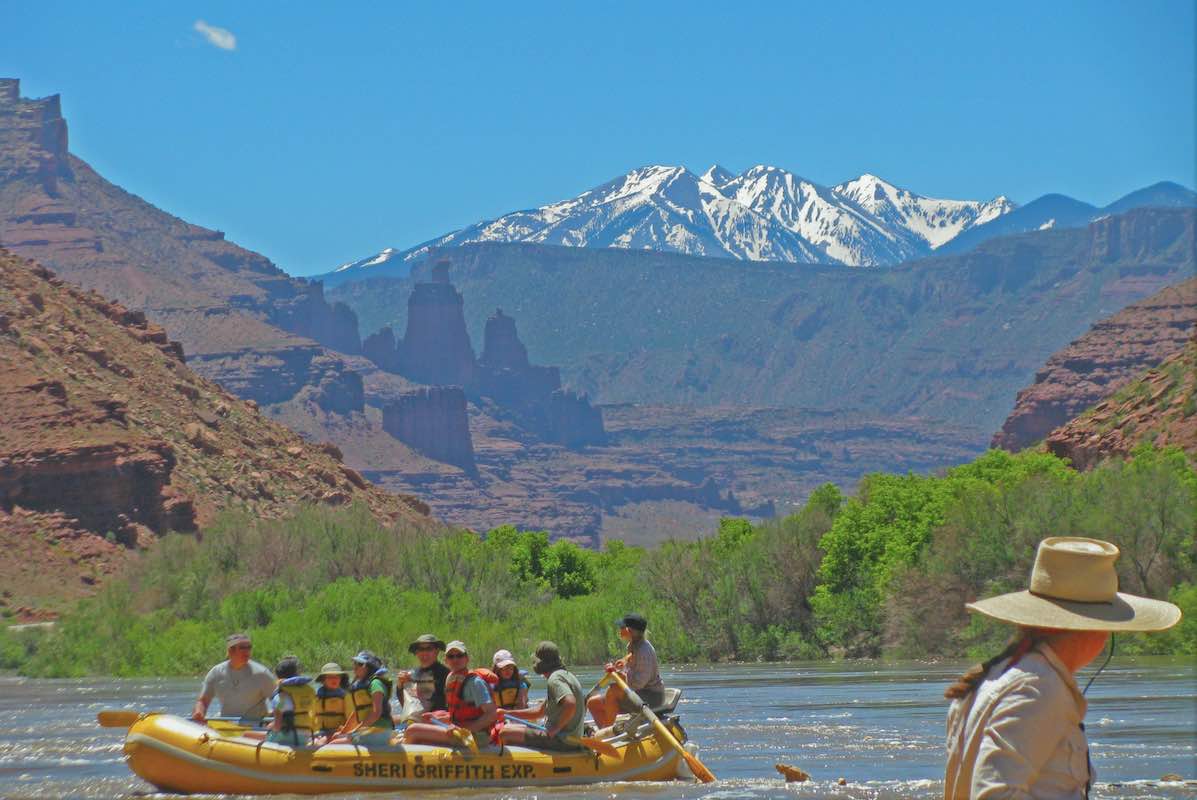 If you're looking for luxury accommodations and quick access to the region's most popular national parks, resorts like Sorrel River Ranch and Spa should top your list of possible hotel options. This cabin-style resort is advantageously located only a few miles away from Southeast Utah's closest airport, Canyonlands Field Airport. Priding itself on creating curated stays for discerning clientele, Sorrel River offers nearly uninhibited access to both Arches and Canyonlands National Parks, organizing regular private tours in a helicopter or a Ford Raptor, with upgraded suspension for smoother rides. Upon their return from whitewater rafting on the Colorado River or a canyoneering adventure, patrons can horseback ride through the desert landscape, get a massage at the onsite spa facility, or eat a delicious meal at any of the resort's top-notch bars and restaurants. Sorrel River represents just one of many ways to up your travel game in Moab and live in total comfort during your stay.
Moab/Castle Valley Immersion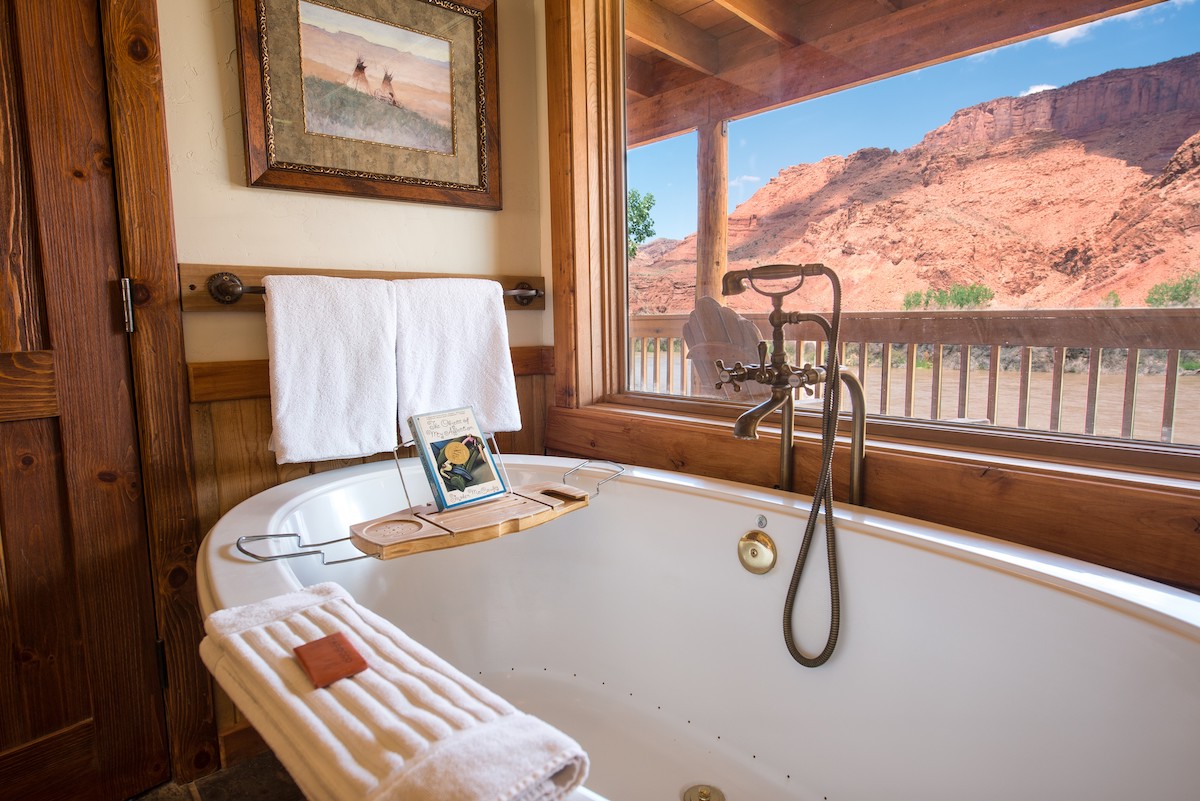 For those who prefer leaving the planning to the professionals, there are several different packages constructed to satisfy any interest, whether it be a relaxing spa weekend, hiking/horseback riding adventures, or/and food and drink experiences. For instance, Sorrel offers a multi-day immersive luxury package that begins at the Canyonlands Regional Airport, where guests will enjoy a private helicopter tour to kick off the trip. In the following days, they will tour the Dome Plateau in a Ford Raptor and enjoy a private lunch overlooking Castle Valley; they will gaze upon the stars during an evening UTV Tour in Onion Creek; and they will be guided through the colorful landscape by horseback during peak twilight hours.
Something for Everyone
Canyoneering, rock climbing and driving across uncharted terrain are activities packed with thrills, but the beauty of Moab is that it's a vacation destination for everyone, whether they are seeking an adrenaline rush or a chance to unplug from the daily grind. Sorrel River, for example, is home to lush golf courses in the middle of the arid desert. Spacious and well-maintained, these golfing facilities allow guests to sharpen their swing amidst the gorgeous desert, all while drawing closer to friends or colleagues. The town's multiple campsites also facilitate cozy and intimate campfire get-togethers during the cool desert evenings. Campers and glampers alike can socialize with friends new and old, sing songs around a roaring fire, and snack on some smores, all while relaxing underneath a sprawling blanket of stars. For yoga practitioners, Moab also offers a soothing and relaxing space to grow more in tune with their bodies and exercise in absolute peace.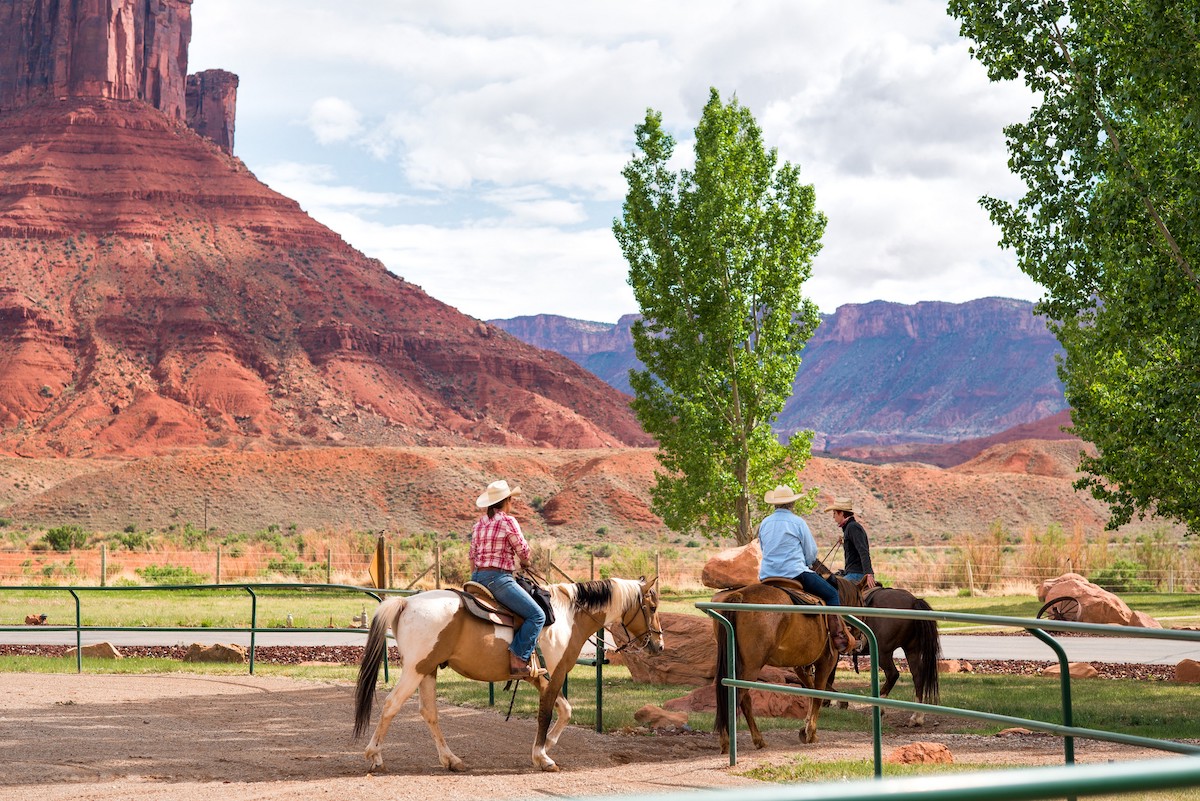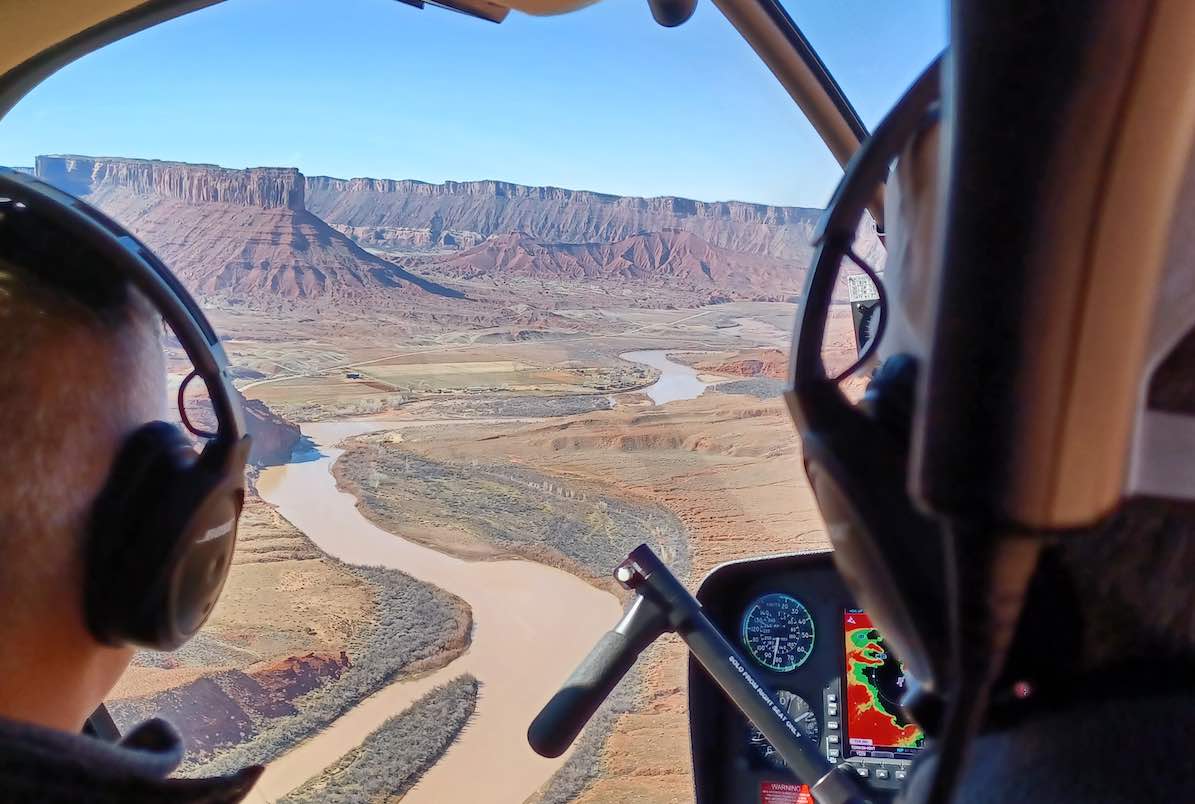 It's easy to appease guests of all kinds in Moab, since the landscape and amenities accommodate so many interests, activities and travelling styles. No matter the reason for your visit, no matter how adventurous or introverted you are, Moab—and its growing community of resorts—is a remote sanctuary, where every guest can luxuriate and recharge among the Utah desert's resplendent beauty and tranquility.