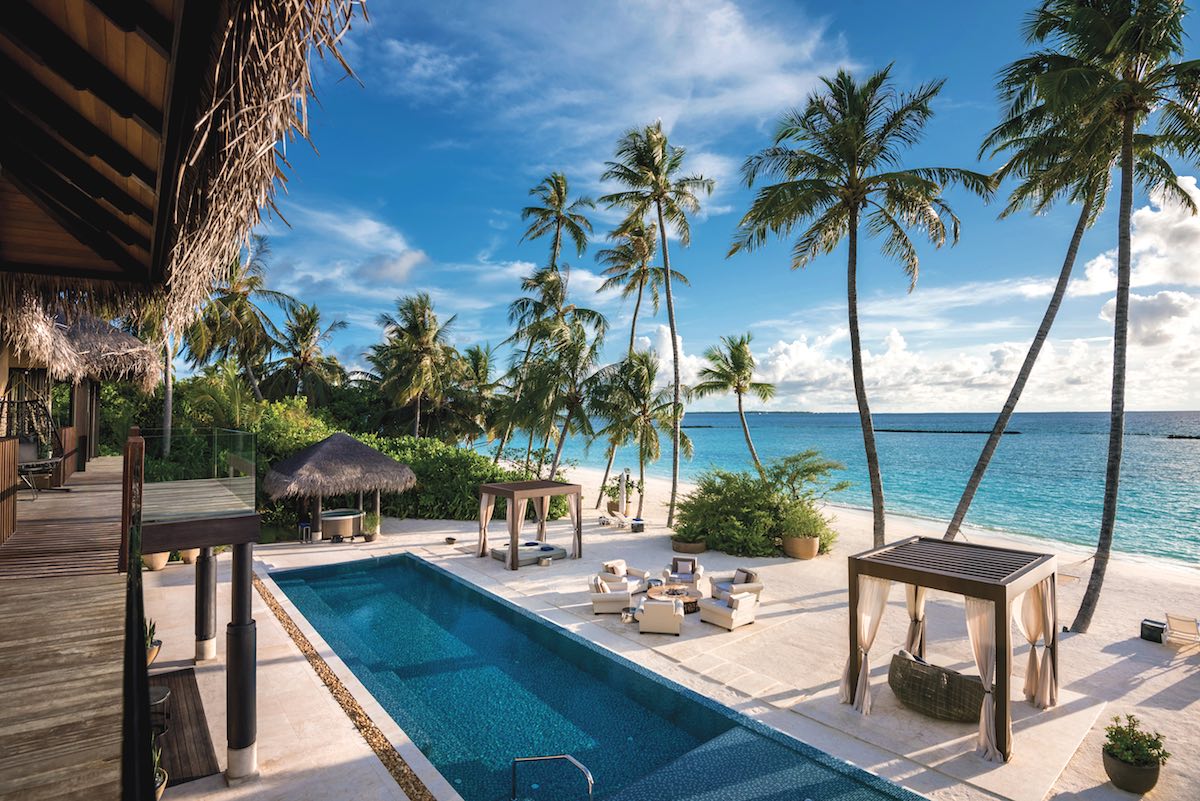 World-class indulgence meets a moveable feast of wonder in this portfolio of trendsetting resorts. Personalization and guest segmentation will continue to be a top priority in luxury travel. After spending so much time indoors due to lockdowns, travelers are craving wide-open spaces and the great outdoors. Nature is calling, and nature travel is expected to be one of the biggest 2021 travel trends.
The Private Residence at Velaa Private Island, Maldives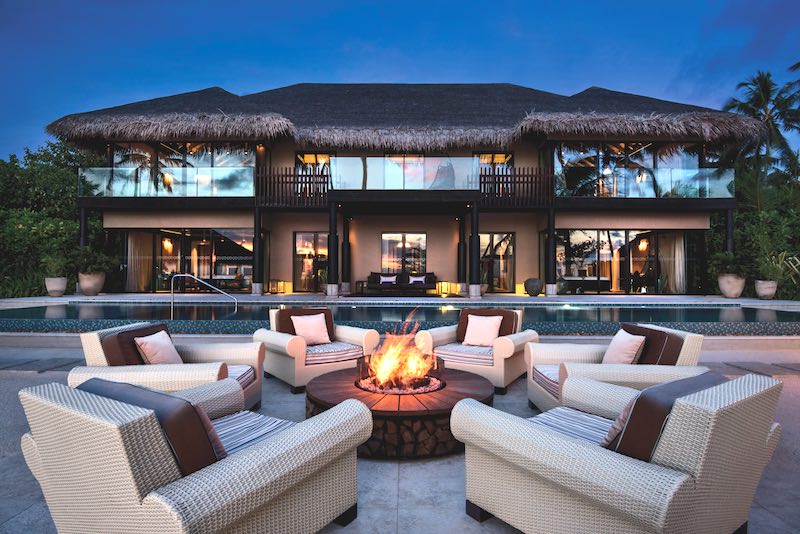 With a new in-villa Hamman, private gym, an award-winning chef and the largest wine cellar in the Maldives, the Private Residence at Velaa Private Island sure is swinging for the fences on the ultra-luxe front. A veritable playground for the rich and famous, this palatial residence offers an array of amenities and perks fit for a holiday in utter luxury.
A breezy 45-minute seaplane flight north of the Maldivian capital of Malé, Velaa Island is tucked within the refreshing waters of the Noonu Atoll – a pristine island chain famed for its titanium-white beaches.
This year the Nirolhu Private Residence unveiled its very own, brand new spa, including a steam room, cold pool and marble treatment bed. Guests of this next-level property may revel in a full Turkish bath and body massage ritual, all from within their quarters. At 14,250 square feet, the private residence boasts four enormous, ocean view bedrooms providing ample space for up to ten guests, making this the perfect base camp for a family reunion.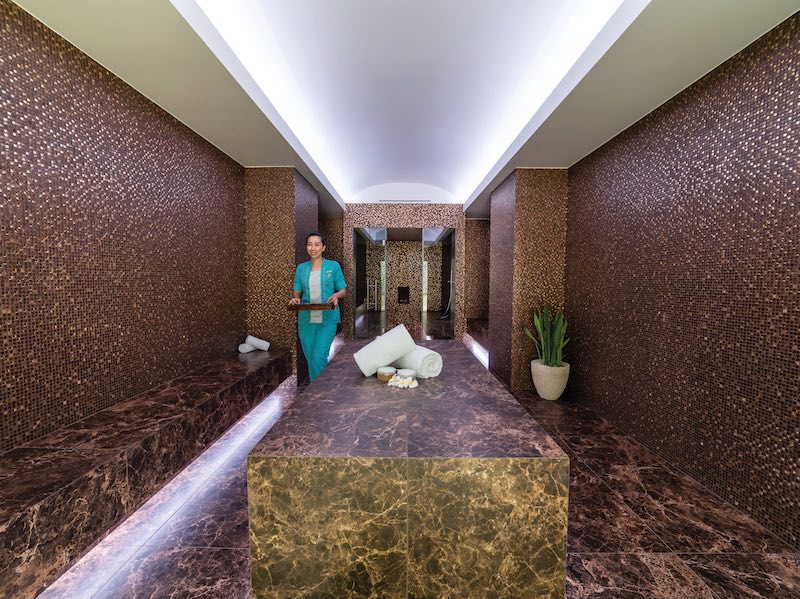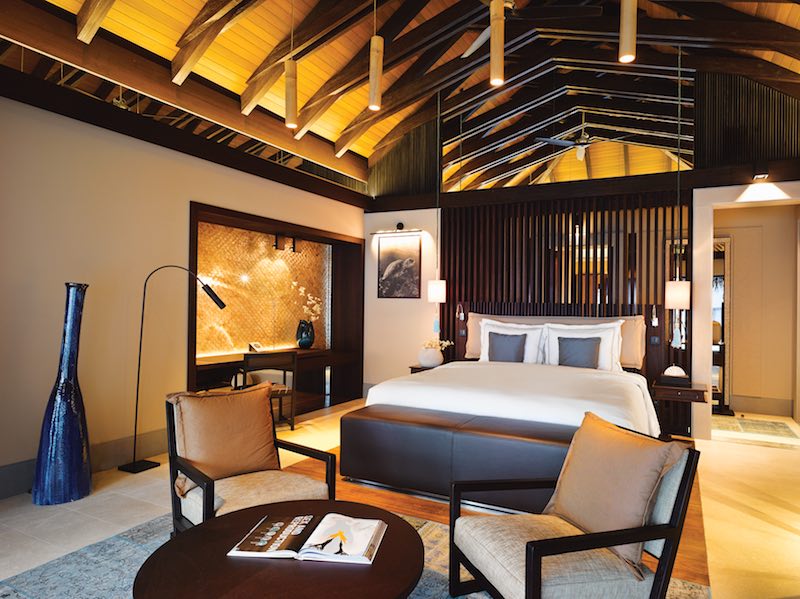 Gastronomes are drawn here for the renown cuisine and the finest wine list in the Indian Ocean region. With three restaurants and two bars, Velaa Private Island offers a culinary journey which takes in a fusion of flavors and inspiration.
By day, dive headfirst into the island's world-class watersports facilities or take a ride in the resort's private submarine. Golf aficionados delight in Velaa's engaging "short-game" course and academy – designed by none other than two-time Masters Champion Jose Maria Olazábal. The course has been described as "training in paradise" by its Major-winning designer.
Paradero Todos Santos, Mexico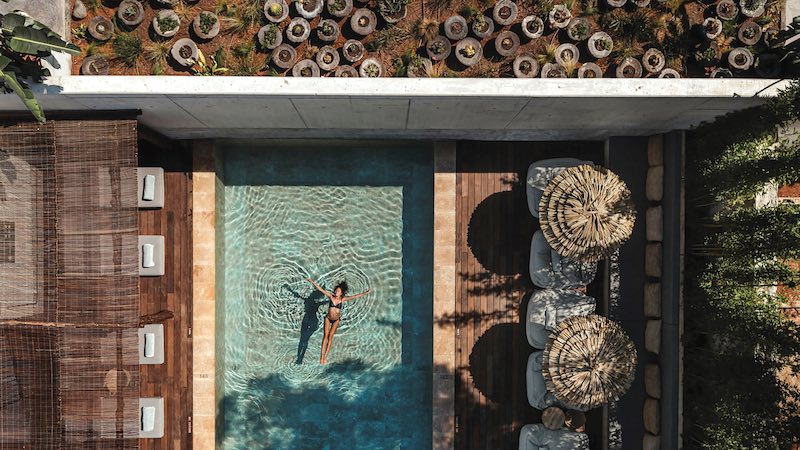 Clearly influenced by the success of Flora Farms, the cult hit wedding venue of Adam Levine and VS Angel Behati Prinsloo, Paradero prides itself on identifying as a landscape endeavor first and a hotel second. Set on a previously unused 5.5-acre plot within an agricultural village in Todos Santos, a stay here is all about exploring the five distinct ecosystems surrounding the 35-suite resort. The landscape's sunbaked hues inspired the resort's golden shades and desert tones, allowing the botanical palette in the gardens to take center stage: red sand verbena, Mojave yucca, and massive agave steal the show. Aside from great hiking and surfing, enjoy bountiful fishing expeditions, Baja-style cooking classes, as well as plans for self-guided running and biking adventures around the property's farms and gardens. If you're looking for an antidote to the all-inclusive, mega-resorts of Los Cabos, this is it.
Four Seasons Resort Tamarindo, Mexico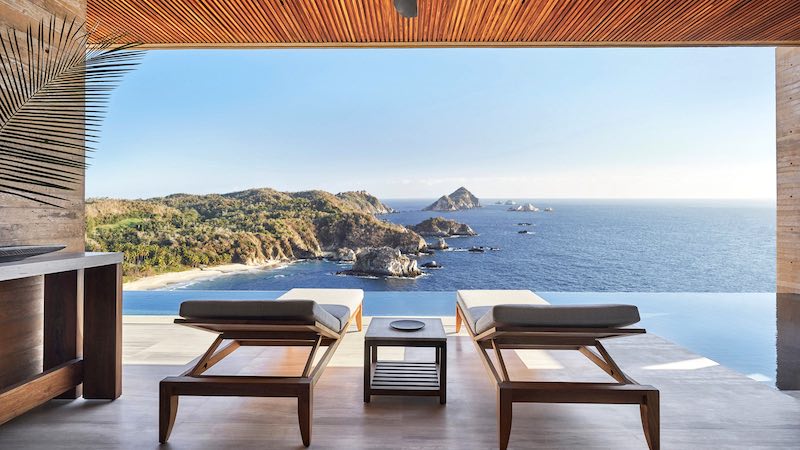 Debuting in 2021 as Four Seasons Resort Tamarindo, México, journey to a secluded enclave in the state of Jalisco, known as the "Joy Coast" for its acclaimed private beaches. The resort will be located on a natural reserve and a majority of the 155 rooms will boast exceptional panoramic views of the Pacific Ocean. The contemporary architectural and interior design will blend with the natural surroundings and showcase local materials and textures. The Resort will offer four dining venues, including an ocean view restaurant, beach bar, and golf club restaurant. The grounds will also feature three pools, a full-service spa set amid a tropical forest and fitness center, young adults center and lounge, water sports center, and tennis courts. The highly acclaimed 18-hole, par 72, Robert Trent Jones Jr. and David Fleming designed golf course will round out the amenities.
Kruger Shalati – The Train on the Bridge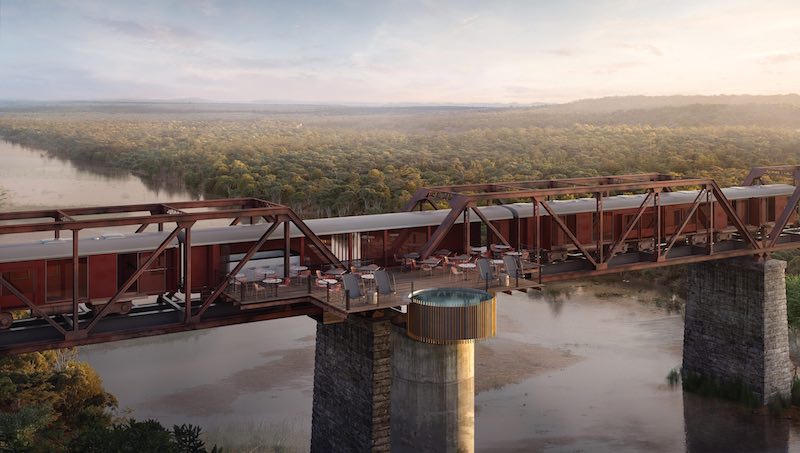 The Kruger Shalati Train on a Bridge debuts as a boutique hotel like no other, occupying a cleverly converted steam engine parked on the 300-metre-long Selati Bridge in South Africa's Kruger Safari Park. Unless you have a crippling fear of exceedingly large amphibious reptiles, any contemporary design junkie will love this hotel. Perched high above a crocodile-infested Sabie River in South Africa's Kruger National Park, the property offers just 31 luxury rooms reminiscent of a bygone era of exploration. The hotel design pays homage to the first travelers that journeyed to Kruger in the roaring 20s, when the train would park overnight where the Kruger Shalati now sits as a permanent tribute. Your wish, your whimsy; revel in cocktails on the terrace or slip into the dramatic overhanging pool. Accommodations are made up of 24 carriage rooms and seven luxury Bridge House rooms; many rooms feature floor-to-ceiling windows offering staggering views of the wildlife below.
Hotel Castello di Reschio, Italy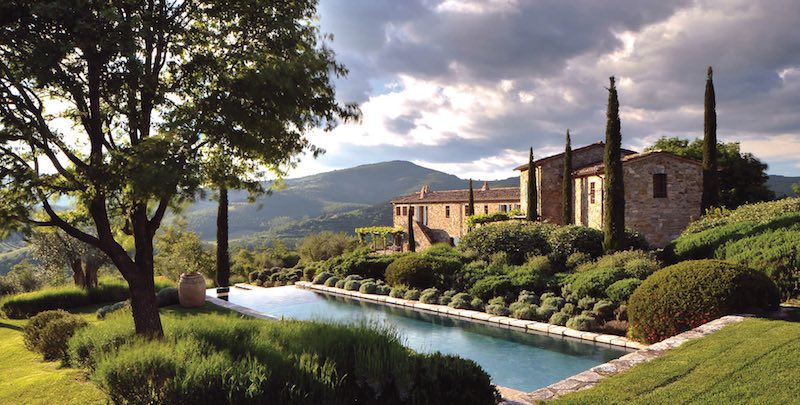 Looking for a slice of timeless Italy on your next holiday? Meet Castello di Reschio, a grand estate huddled amidst the rolling green hills of Umbria. Ripe for romantics and restless travelers, you'll find centuries-old stone walls and towering Cypress trees at every turn. An intimate 36 rooms come courtesy of nine bespoke farmhouses dotted across a 1,500-hectare campus. Each one lovingly renovated, with heritage furniture complementing the original stone. It's an enchanting hush that greets you every morning, interrupted only by the spine-tingling sound of Andalusian horses far in the distance. Locally-inspired dishes at the Alle Scuderie restaurant are sure to tempt your senses; the kitchen team handcrafts pantry staples from scratch– including honey, olive oil, pasta, and wine. Should you feel the urge to work off all that creamy gnocchi, make the most of your private swimming pool or the estate's state-of-the-art tennis courts.
The Suiran, A Luxury Collection Hotel
Located in the scenic district of Arashiyama on the far western side of Kyoto, Suiran is a traditional hotel with 39 guest rooms. The new hotel certainly makes a sensational first impression; to get here, you'll walk down a narrow cobbled riverside street alongside traditional boats, passing under a thatched gate into immaculately manicured Japanese gardens. This intimate setting allows you to experience authentic Kyoto hospitality for which the city is famous. Nestled on the Hozu River, the hotel is a sublime example of historic Kyoto architecture, while offering all the comforts a modern traveler's desires. Don't miss the hotel's own Meiji-era style restaurant, Kyo-Suiran. The building in which it resides was originally constructed in 1899 and has an authentic indoor/outdoor Japanese aesthetic.
Ithaafushi – The Private Island – Waldorf Astoria
If you're looking for a sublime, no-expense-spared getaway for you and your extended family, Waldorf Astoria's latest private island offering may be the answer. Waldorf already has a nearby $1,700-a-night resort in the Maldives, but if you require even more exclusivity, head to its latest Ithaafushi private island. The property spans 344,445 square-feet, with accommodation for up to 24 guests across two villas and a four-bedroom home. A wellness concierge and a spa are on standby for those in deep need of bodywork after a long-haul flight. The island may be surrounded by hypnotic aquatic atolls, but you can also opt to take a dip in one of the island's five pools, which includes an almost 115-foot infinity pool. When it's time to eat, the on-island culinary team whips up everything from citrus-spiked ceviche to classic comfort food. Guests may also hop on the courtesy speed boat to the main resort to dine at one of its 10 eateries. Planning a wedding in 2022? We can't think of a more celebratory takeover venue to say "I do."
Kisawa Sanctuary, Mozambique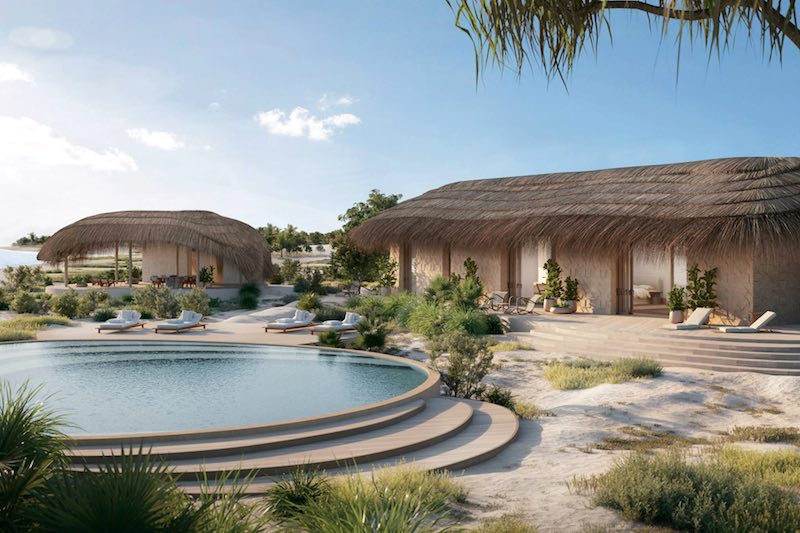 Fusing natural elements with leading-edge 3D printing technology, Kisawa Sanctuary, located on Mozambique's Benguerra Island, is garnering much praise for exploring a new standard in sustainability. Situated among picturesque dunes overlooking the Indian Ocean, this luxury retreat is being touted for its environmentally conscious construction, which uses patented 3D technology to create natural building materials. An amalgamation of the island's sand and seawater is the critical building block, providing a natural finish to the building facades. Stunningly, the mortar is also fed into the 3D printing machine to generate components for flooring, tiling, and masonry. On the regional front, the debut of this property has created over 1,000 jobs, sealing a kinship with Mozambique's cultural and natural wonders. Local textiles and carpentry made by artisans from Benguerra take center stage in many common areas enjoyed by all guests.
Ritz-Carlton Maldives, Fari Island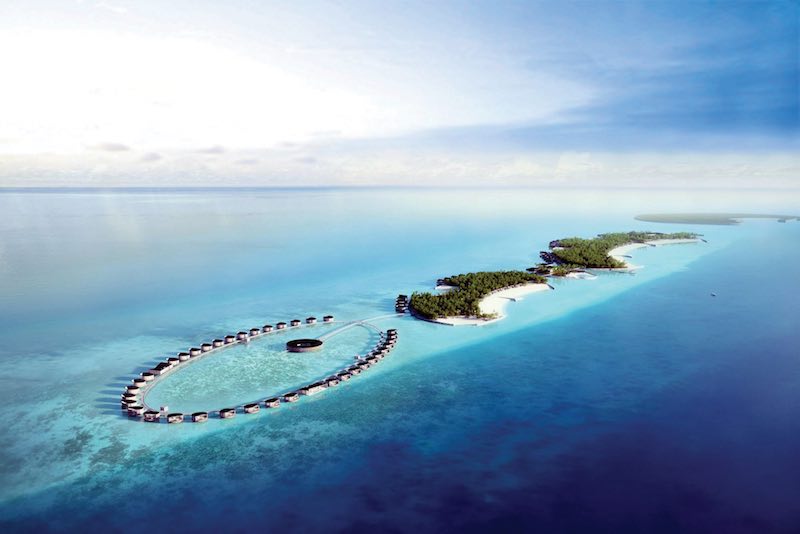 Marriott International continues its global expansion with the opening of The Ritz-Carlton Maldives, Fari Islands in June 2021. Modern design compliments sea views and pristine beaches; humble local ingredients are elevated by skilled chefs and mixologists; healing is guided by directional energy work at the spa and nature is explored with respect and mindful wonder. The resort's three islands and overwater quay serve as a base for discovering all the archipelago has to offer. The property features 100 villas, fringed by perfect white sand beaches. Minimalist architecture and a philosophy of wholeness respect the delicate Maldivian environment. A turquoise lagoon allows guests to revel in the circle of island life, connecting them with the environment and endless views to the horizon.
The Blake at Taos Ski Valley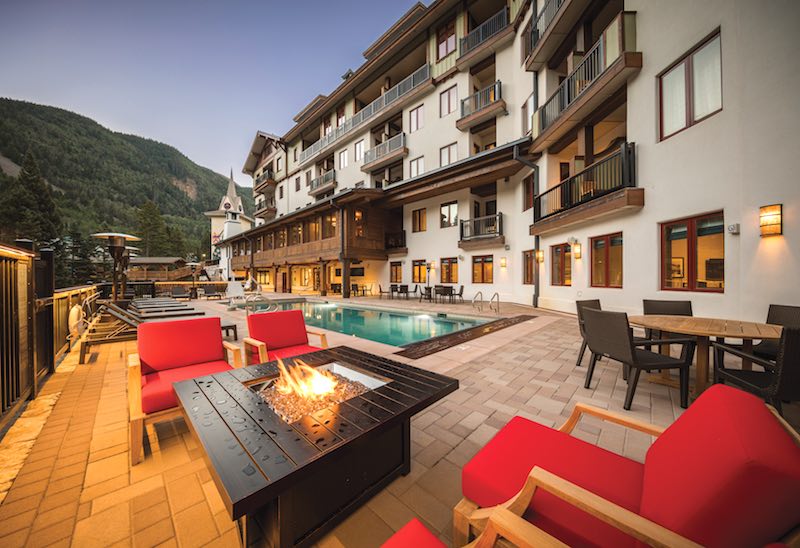 The Taos Air charter experience comes at the price of flying commercial, inclusive of shuttle service directly to Taos's newest haute hotel, The Blake at Taos Ski Valley, along with complimentary ski and snowboard rentals for four days. When you have three kids in tow, this perk pretty much seals the deal. A stay at The Blake is a gateway to robust, physical vibrancy, the opportunity to live your best life in Taos. The first thing to note about uploading selfies here is that everyone will look up the geotag—this is truly a photogenic gem from every angle. The one bedroom suites feel presidential, posh enough to cater to David Lauren and Lauren Bush. Taos Ski Valley became the first and only ski resort in the world to become a Certified B Corporation by thoroughly demonstrating its commitment to social, economic and environmental progress. Nestled among the pristine peaks of northern New Mexico, Taos Ski Valley is undergoing a $300 million renaissance making it one of North America's premier vacation and adventure destinations.