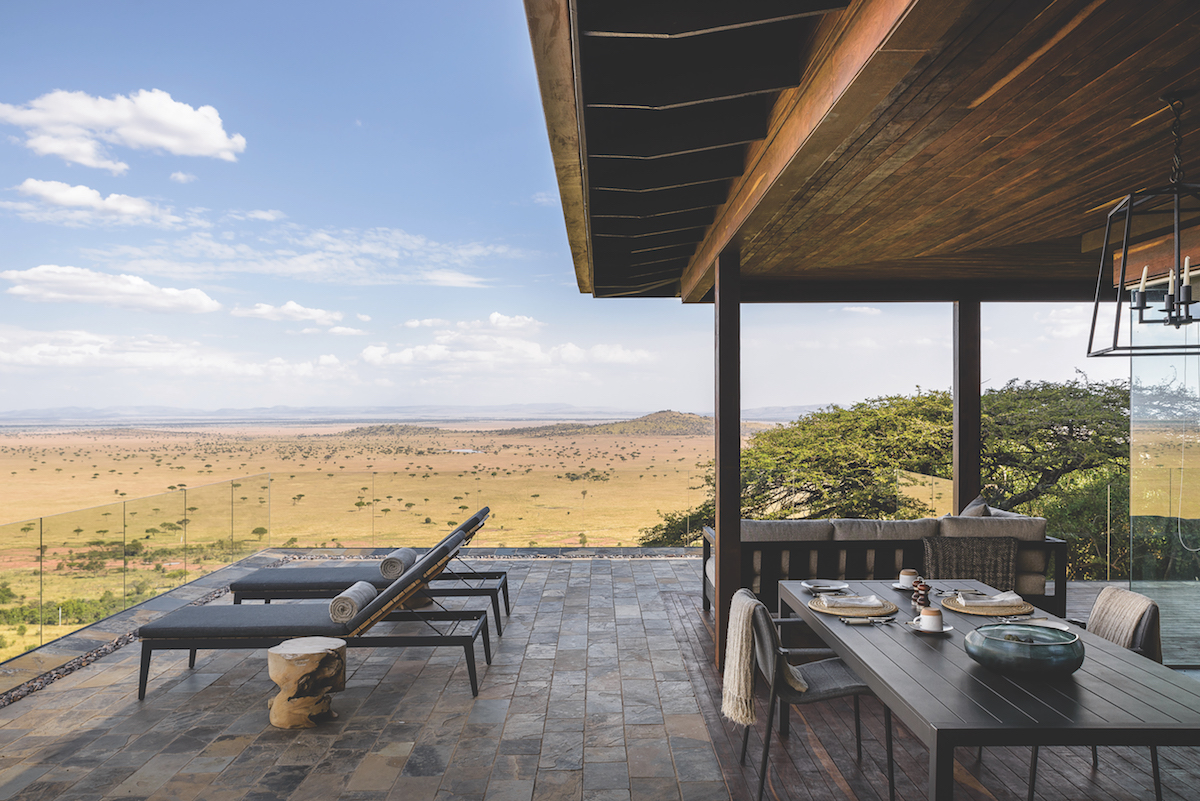 After months of confinement in the wake of Covid, we can't imagine a better pastime than making a list of all the far flung resorts we want to support once travel restrictions are lifted. Here are the hospitality havens that top our wishlist: both the places we dream of returning to— and the few resorts we have yet to explore— once it is safe to indulge our wanderlust once more.
Singita Kwitonda Lodge, Rwanda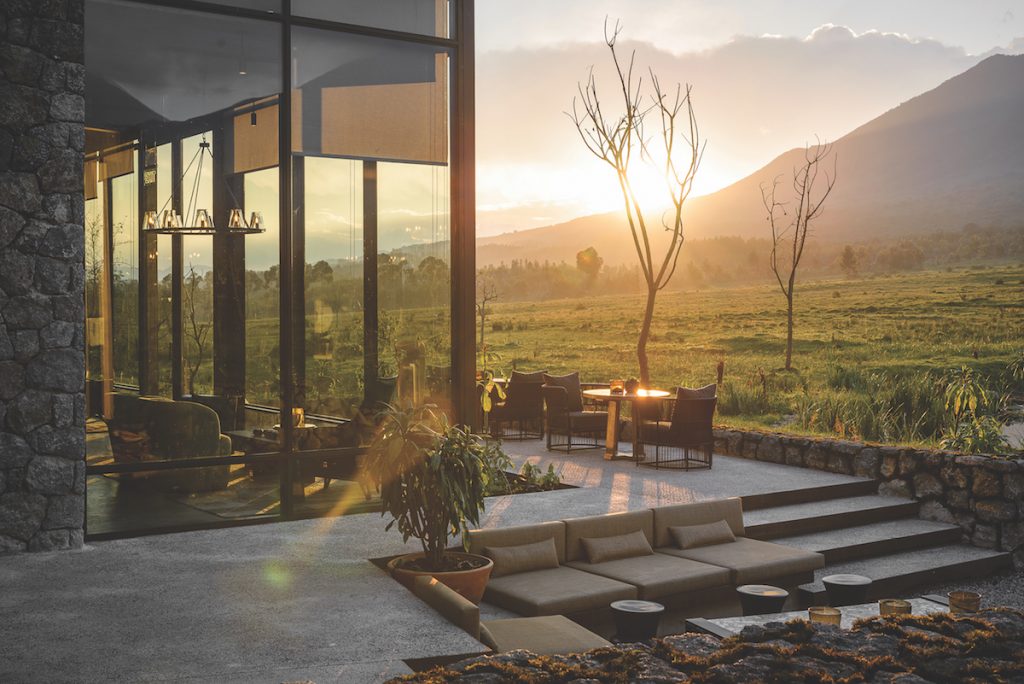 Honouring Rwanda's fertile landscape, Singita has built one of the most sustainable lodges in Africa. Newly opened and set on 178 diverse acres on the edge of Volcanoes National Park, Singita Kwitonda offers only eight luxurious suites, while Kataza House, an exclusive-use villa, encompasses four spacious suites.
Akin to the character of the 14 sister African lodges and camps built by Singita founder Luke Bailes, Singita Kwitonda is as customized as they come. Designed by GAPP Architects and interior design teams HK Studio and Cécile and Boyd, the lodge draws from Rwanda's cultural heritage, employing strokes of black, khaki, orange, and vermillion to create airy spaces both bold and inviting.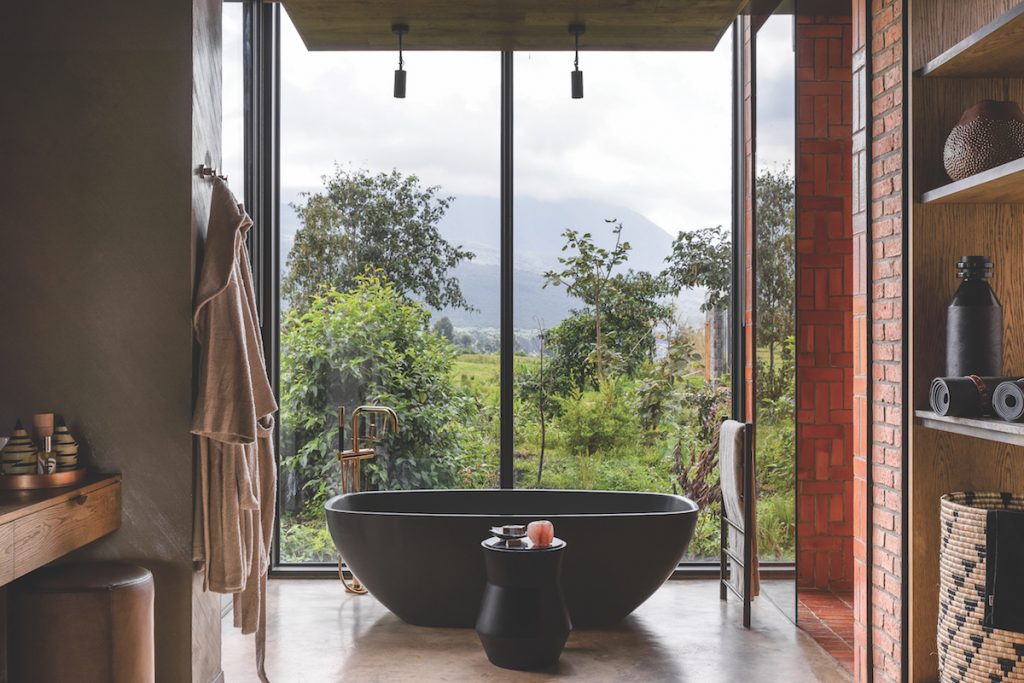 With a renowned 26 year history of ecotourism in Africa, Singita's expansion into Rwanda supports the company's 100-year purpose to preserve the African wilderness for future generations. The opening of Kwitonda brings much-needed attention to the plight of the gorillas and the urgent need to expand and protect their habitat.
Gili Lankanfushi, Maldives
Break up with your cell phone for the foreseeable future at Gili Lankanfushi. The luxury hotel's unofficial motto is "No news, no shoes"; guests shuffle around barefoot by the pool, and iPhones are verboten. Built with sustainable palm, teak, and bamboo, Gili is one of the Maldives' most eco-friendly resorts, boasting its own lush organic vegetable garden and a marine conservation program. Single use plastic is banned, food waste goes to compost, and organic toiletries come in earthenware.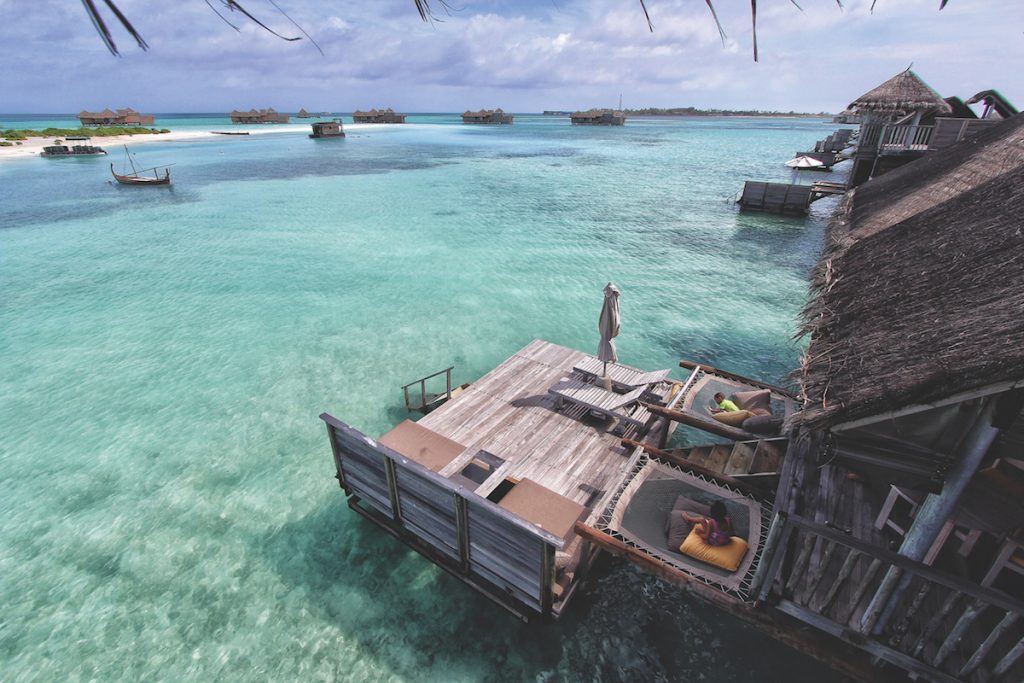 The atolls of the Maldives lie dotted along the Indian Ocean, just north of the equator. The private resort island of Lankanfushi basks in the North Malé Atoll, a proverbial paradise on earth. The 45 over-water villas rise up from a languid lagoon, fringed by silky coral sand beaches. Seven stand-alone Crusoe Residences offer a "castaway experience", complete with their own small boat. Gili also brags the largest overwater villa in the Maldives: the Private Reserve, set on its own island.
Ngala Treehouse Experience, South Africa
Luxury travel company andBeyond has added a brand new way to experience the romance of Africa at andBeyond Ngala Private Game Reserve in South Africa. The Ngala Treehouse is a remote overnight retreat that offers guests spectacular sleep-out experiences beneath the stars.
The four-level treehouse features a choice of two sleeping areas – an enclosed and weatherproof bedroom with a king-sized bed, hot running shower on the third level or an elevated sleep-out platform set beneath a retractable awning on the rooftop.
Guests may choose to arrive at the Treehouse in time to toast the sunset with cocktails or after their late afternoon game drive. A tapas-style dinner is set up in the safety of an enclosed boma beneath the stars. Guests are then left in luxurious solitude for the night, provided with a radio and mobile phone for use in case of inclement weather.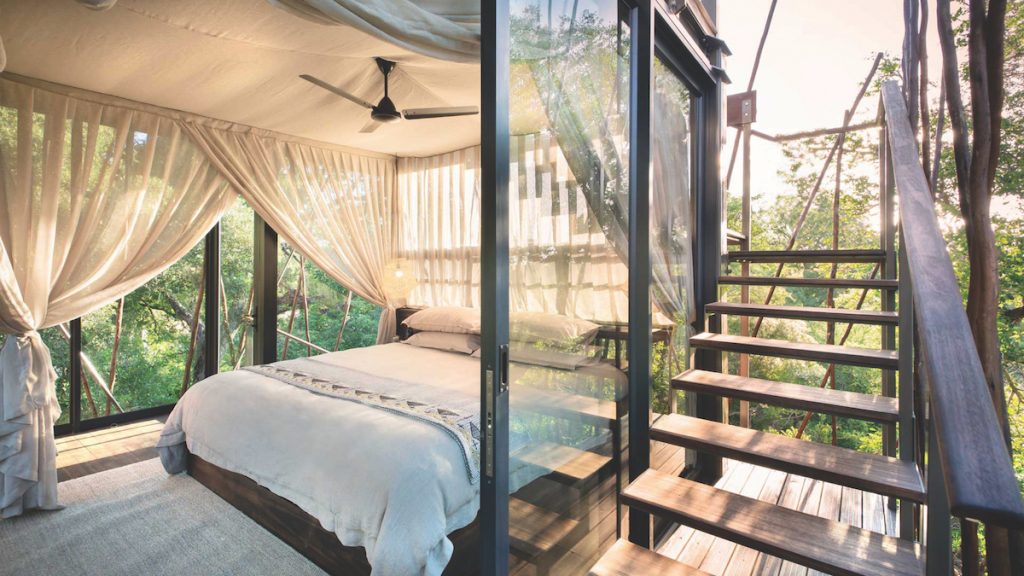 The Treehouse offers a stocked bar and selection of midnight and breakfast snacks, as well as a coffee station, are available for guests. The Treehouse is solar-powered, allowing guests to charge their camera batteries and other appliances.
Not designed for long-term stays, Ngala Treehouse is an overnight wilderness experience that upgrades a stay at one of the reserve's two permanent lodges, andBeyond Ngala Safari Lodge or andBeyond Ngala Tented Camp. A room at one of the other two properties at andBeyond Ngala Private Game Reserve must be booked in addition to the Treehouse. Ngala Treehouse caters to a maximum of two adults and two children aged between 10 and 16 in the two sleeping areas, one of which is the open sleep-out platform.
Situated on the border of the Kruger National Park, andBeyond Ngala Private Game Reserve shares unfenced borders with South Africa's most famous wilderness area, allowing a variety of wildlife species, including the entire Big Five, to wander freely through the reserve.
Tanah Gajah, Bali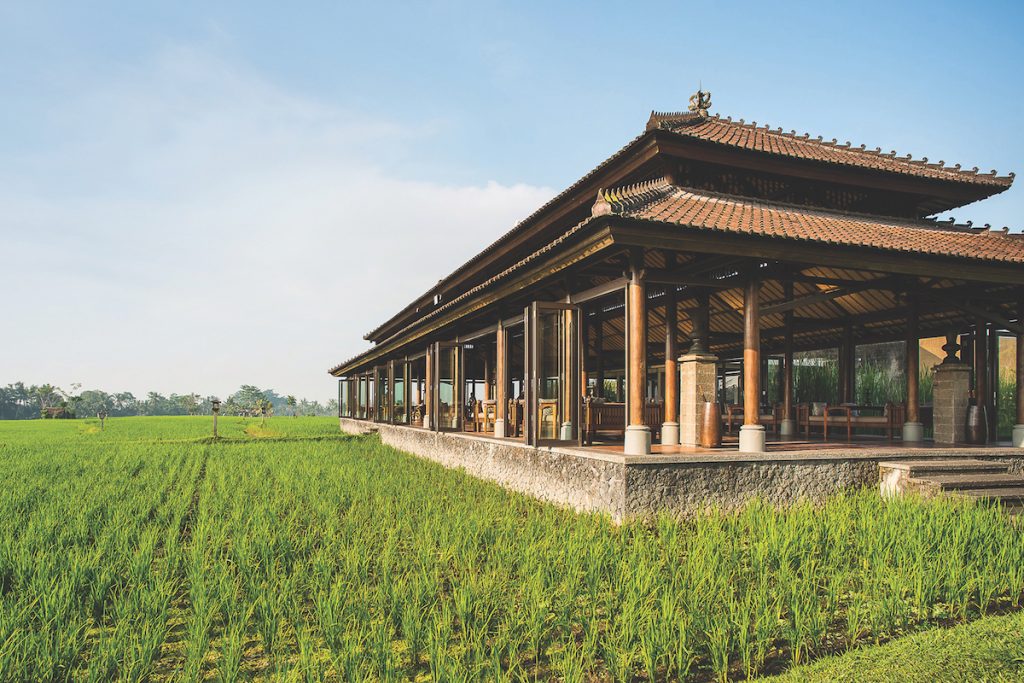 Established as a cultural utopia by an art collector, Tanah Gajah boasts luxuriously crafted accommodation adorned with exquisite local art and handicraft. Ideally located just outside of the bustling town of Ubud, lush jungle and rice paddies lie on the edges of the resort. A resplendent wellness spa, pool, and top notch al fresco restaurant add to the beguiling mix.
Most public spaces play up their open air advantage, with the expansive lobby aesthetic setting the scene. Much of founder Hendra Hadiprana's private collection is showcased inside and out. The resort makes you feel like you're living it up in a high concept design magazine.
All of the 20 spacious suites and villas are art pieces in themselves, think tasteful combinations of local stone and hardwood, along with cleverly curated Balinese art. Outdoor rain showers and baths make you feel at one with the jungle. Book a bird's eye view of the rice paddies from their hot air balloon.
Tierra Chiloe, Chile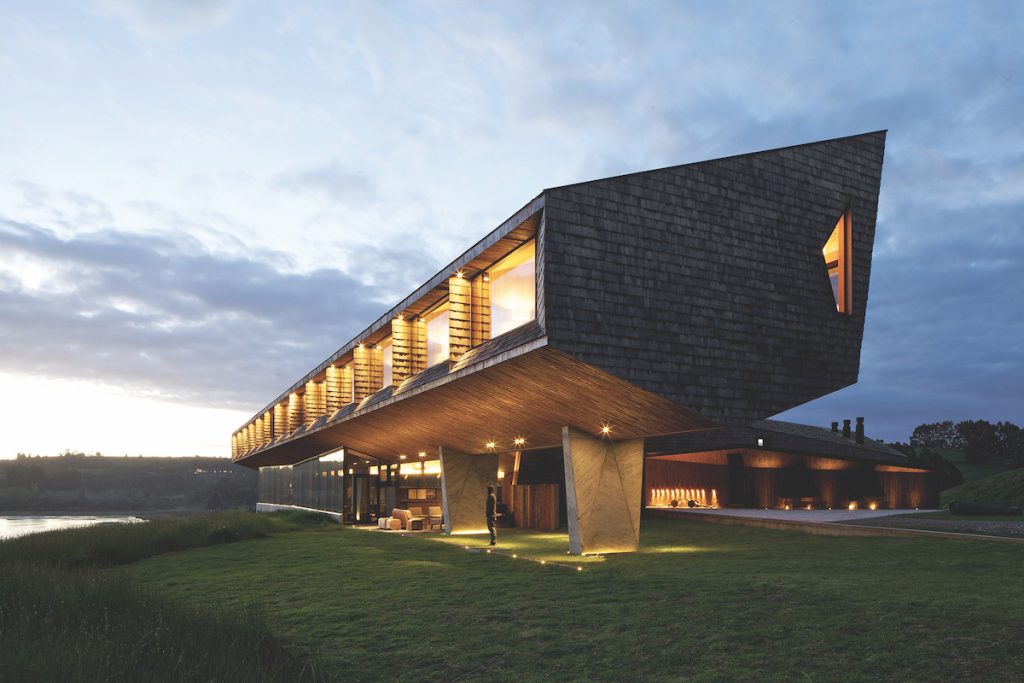 Poised on traditional palafito stilt architecture on Chiloé island, Tierra Chiloé connects guests with the lore of this singularly unique archipelago. Explore the destination by land, sea, or on horseback. Dramatic cliffs and a salty sapphire sea sets the scene; the hotel is surrounded by biodiverse woodlands and photogenic streams. Every piece of furniture and decor inside the hotel has a story, as Chilean designers have collaborated with craftspeople to curate a most welcoming sanctuary. Knowledgeable guides are on hand to help you discover the genuine warmth of the islanders, through excursions that provide immersion and insight into the local traditions.
Amangiri Resort, Utah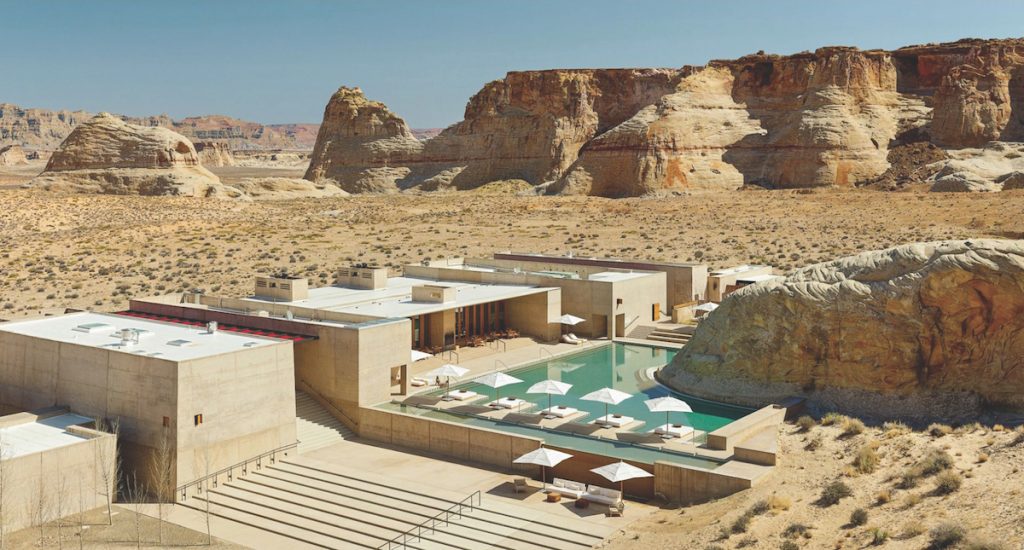 Amangiri is by far the most magnificent resort to be built on American soil in the 21st century.
It took five years and an Act of Congress to establish this majestic confluence of site-specific architecture and New Age minimalism situated in southwest Utah. With the rockface of two national monuments rising on either side, and sacred Navajo land in the distance, the setting is nothing short of spectacular. Aman spa junkies— known to test each far flung location's holistic elixirs in an ad hoc skincare decathlon— get the ultimate fix at this 25,000-square-foot temple, by far the largest of any Aman in the world. Anne Hathaway was spotted here in the lead up to playing Catwoman. If a stint at this spa is what The Dark Knight Rises darling needs to pour herself into costume latex, sign us up.
El Nido Resort, Philippines
El Nido Resorts is a group of sustainable island resorts in the El Nido and Taytay municipalities in Palawan, Philippines. Offering enriching experiences amidst beautiful natural landscapes, these resorts are ideal for romantic getaways. Hypnotic ancient limestone cliffs tower over marine sanctuaries teeming with innumerable species of tropical fish and coral, as well as five species of endangered sea turtles. Lush forests abound with more than 100 species of birds. With its scenic geographical treasures and high biodiversity, Palawan is known as "The Last Ecological Frontier of the Philippines".
Sextantio Albergo Diffuso, Italy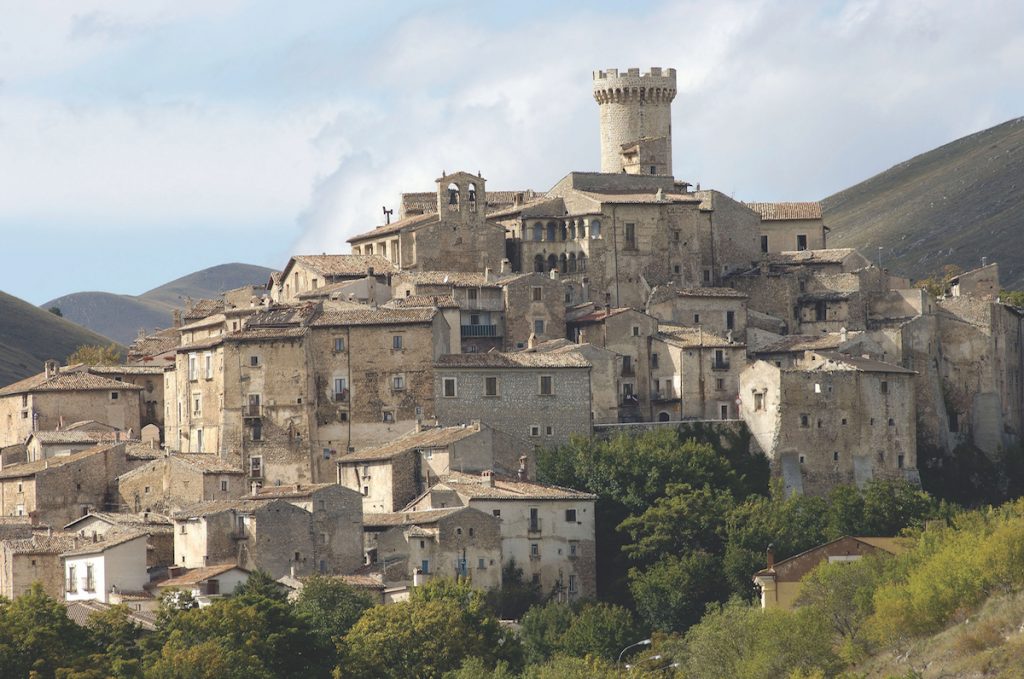 Northeast of Rome, Santo Stefano di Sessanio is one of the Abruzzo region's most idyllic hilltop towns. Here you'll find the 30-room Sextantio Albergo Diffuso, named after some of the area's first settlers. Sextantio's rustic series of buildings mirrors the handsome village, meticulously revived by Swedish-Italian hotelier Daniele Kihlgren. The restoration employed strictly local materials of terracotta, wood, and limestone, in a dedicated bid for historical accuracy. Sextantio draws those with a strong sense of authenticity and adventure, a passion for history and imagination. Dining here is also top notch, with seasonal signature dishes and local wines to cap off sun-kissed days of exploration.
Kakslauttanen Arctic Resort, Finland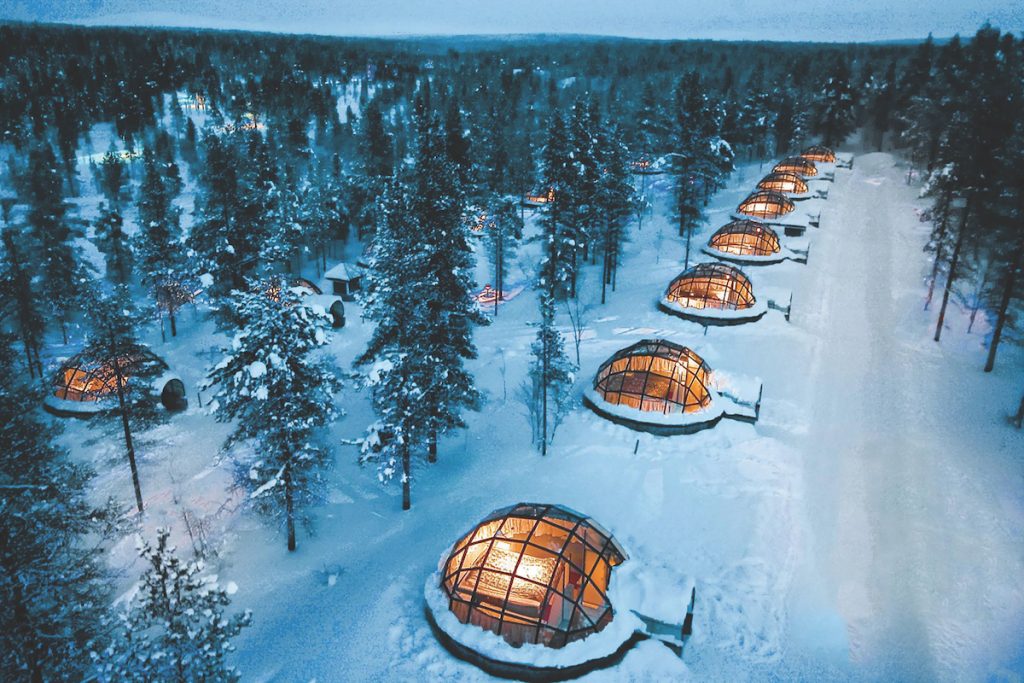 If you're living for the night you get to see the Northern Lights, there's one way to view them that may just beat all: from a glass igloo nestled in the snow at Kakslauttanen Arctic Resort. The upscale resort lies in the northern region of Finland called Finnish Lapland— 150 miles north of the Arctic Circle to be exact. Aurora Borealis is the main attraction at Kakslauttanen from August through April. In winter, Borealis pilgrims can also partake in snow mobiles, sled rides with huskies, ice fishing and safaris to spot reindeer. Summer season highlights are nothing to sneeze at; the resort boasts activities like horseback riding and panning for gold. You'll find wi-fi in the reception area, but the igloos themselves are intended as digital detox zones. The hotel features 53 igloos designed for two people, and 12 igloos ideal for parties of four.
Yemaya Island Hideaway, Nicaragua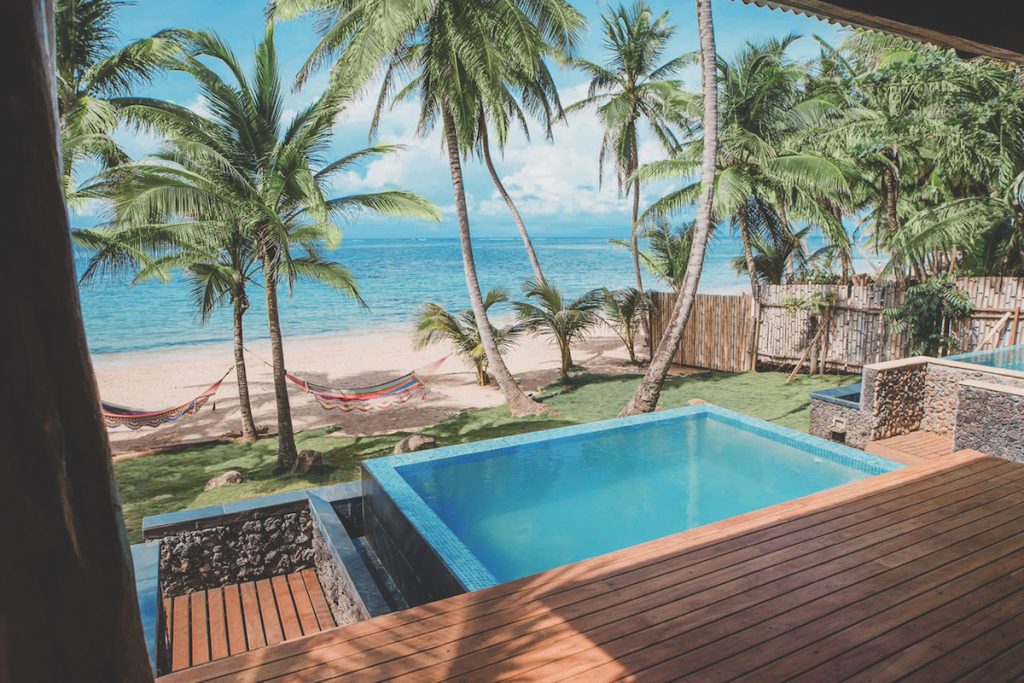 Yemaya is situated on the north shore of vehicle-free Little Corn Island, 43 miles from mainland Nicaragua. The village, where most restaurants and diving shops are based, is a 20 minute walk from the resort. All 16 oceanfront cabanas come with sprawling private terraces, a king bed and single daybed with crisp white linens. Communal areas such as the popular yoga pavilion and jungle spa are hewn from tropical hardwoods and topped with thatched roofs. Evening meals are seafood-driven, think spiked ceviche and succulent shellfish. Doting staff are attentive, and the concierge is skilled at coordinating the islands' unique transportation needs.
Sossusvlei Desert Lodge, Namibia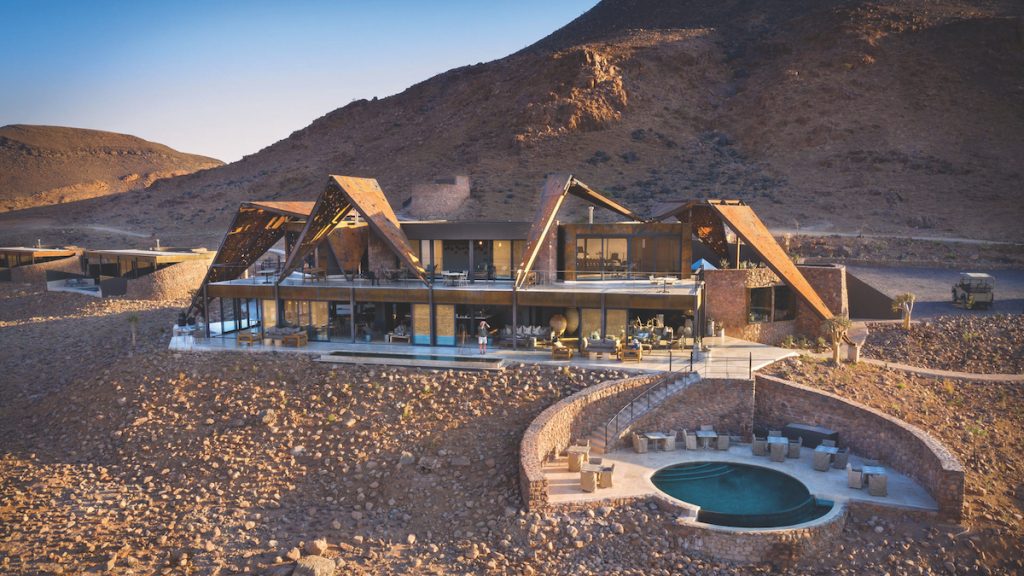 The newly reopened AndBeyond Sossusvlei Desert Lodge in Namibia is sleek beyond belief. The lodge's stark surroundings of endless valleys and dramatic sand dunes is a playground for outdoor adventure. A 90 minute charter flight brings you to the lodge's private airstrip from Windhoek. Choose your own adventure from a menu has opportunities for e-biking around the lodge's 12-mile path, hiking up to rock paintings in surrounding caves, driving quad-bikes over the dunes, or taking a sunset nature drive through the reserve.
One benefit to no formal schedules? It's such an intimate and exclusive set up that you and your date may end up as the only guests on your chosen activity, with a private guide for the morning or evening.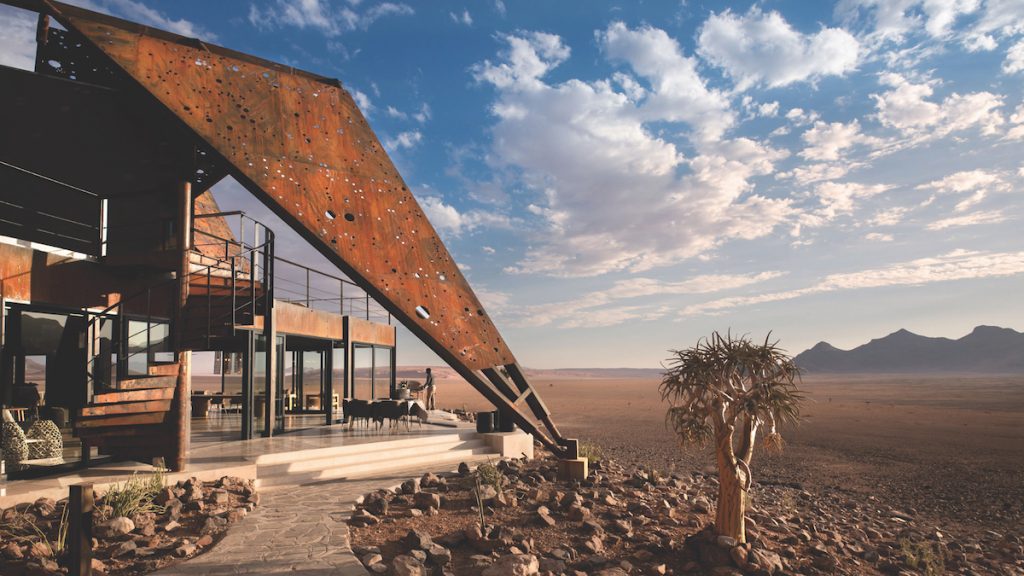 The only must-do activity is the half-day excursion to the otherworldly Namib-Naukulft National Park. Imagine hiking deep red dunes at sunrise, then exploring the stark Deadvlei, a river basin filled with bright white clay and preserved trees, now 900 years old.
The lodge's central lounge beckons after a morning of vigorous exploration. Fresh off a $3 million renovation, along with the 10 one-bedroom suites and singular two-bedroom suite. In the new lodge, everything revolves around privileging views of the valley below: floor-to-ceiling windows wrap 180 degrees around the lodge's shared guest area and enclose nearly three sides of the guest rooms, boasting voyeuristic views of wildlife as you eat, sleep, rest, swim, and shower.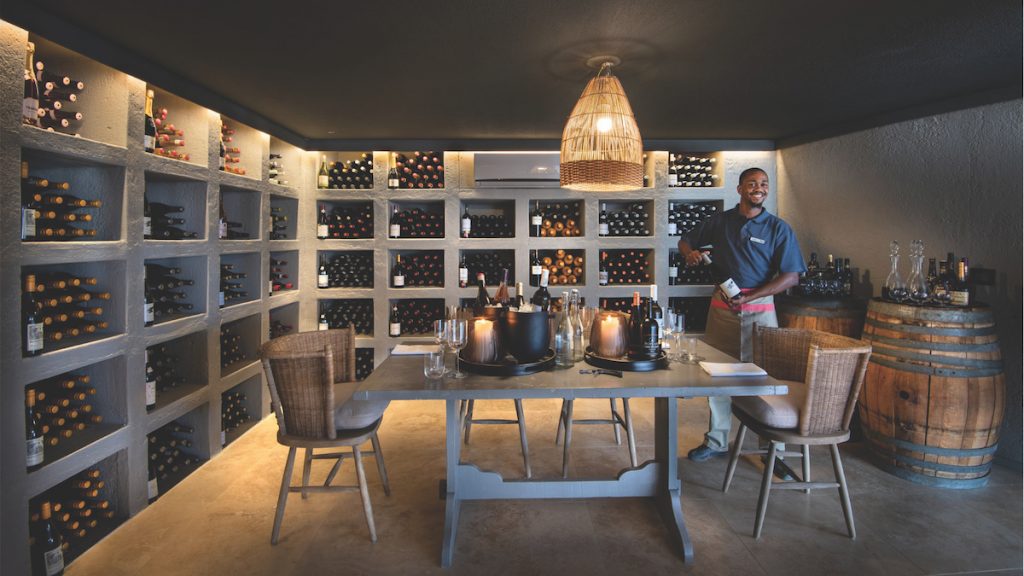 When rain is sparse, many of the reserve's species rely on the lodge's man-made watering hole in front of the central building. You'll often find oryx, springbok, ostriches, and jackals stopping for water around noon. A Swarovski spotting scope is trained on the well for magnified viewing, in addition to binoculars placed strategically in every suite. Turndown service includes opening the in-room skylight, which offers a view of the Milky Way from bed.