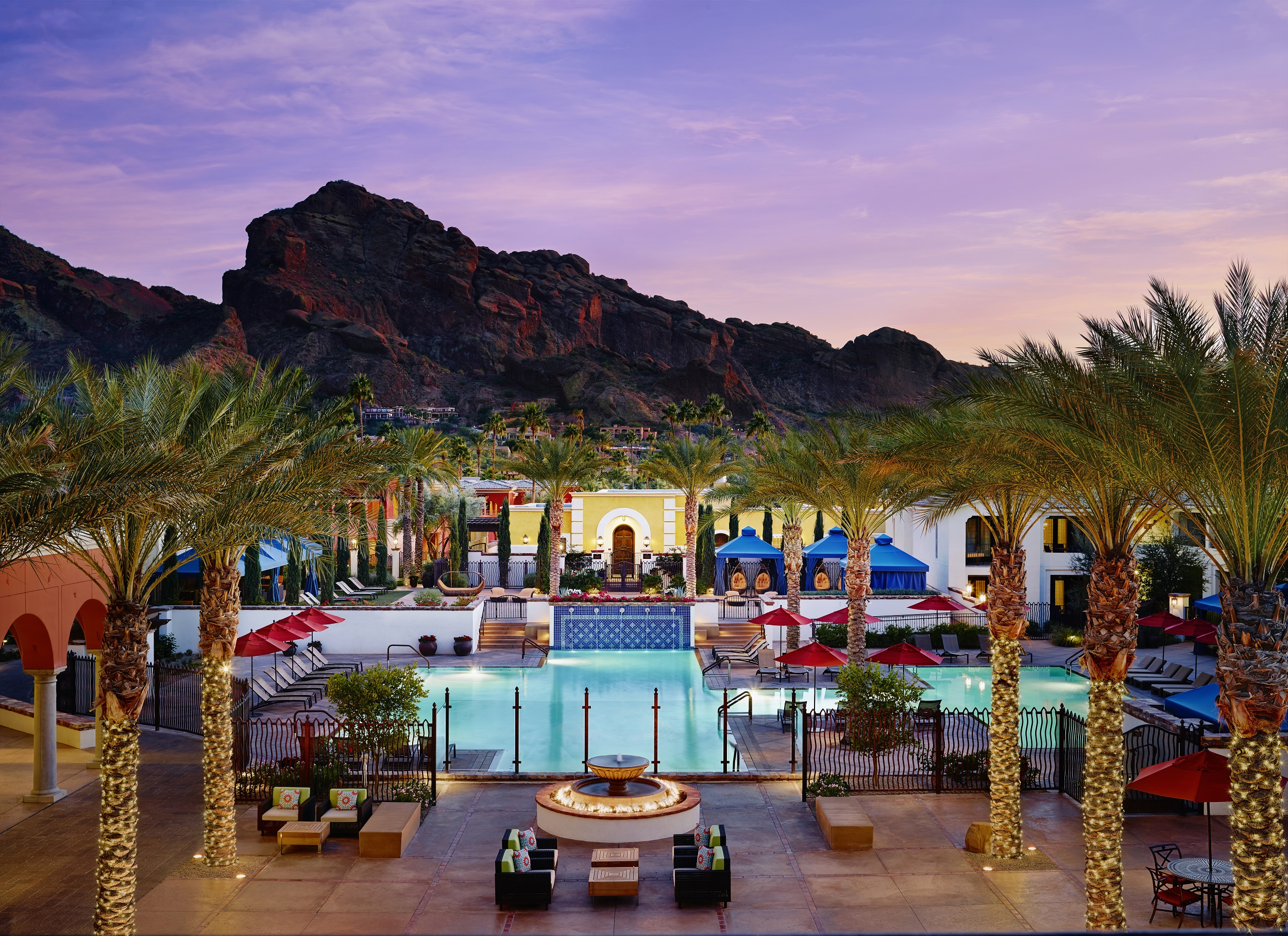 Take a trip out of the ordinary to an expansive Spanish oasis when you visit the Omni Scottsdale Resort & Spa at Montelucia. Set in the foothills of Paradise Valley, this city with in a city is nestled at the base of Camelback Mountain providing you with daily views reminiscent of a painting. With lush desert landscaping sprinkled with tranquil fountains and three decadent pools for your enjoyment, the Omni Montelucia defines absolute serenity.
Rooted in Spanish culture, the Omni Montelucia provides travelers with the essence of Spain in the heart of Paradise Valley. Upon arrival, enter through "Puerto Postigo," a door-within-a-door and let your senses wander; from the sights similar to a quaint Andalusian village, to the smells of the wood-fired display kitchen at Prado. Stroll through desert walkways shaded by large palms and floral topiaries as you discover the hidden architectural gems of the resort.
Take your taste buds on a journey as you indulge in the finest flavors at Prado, the award-winning restaurant on property. With local flavors and Spanish flare, Prado is the perfect setting for date night or to catch up with friends. Start the evening off with a Sip of Spain, a wine tasting event that allows you to sip and savor a handful of finely aged Spanish wines. The evolving Prado menu features the tempting creations by James Beard award-winning Chef Alex Stratta. Celebrating the traditional cooking methods of Spain and seasonal ingredients from local purveyors, Chef Stratta captures bold flavors but with the rustic elegance of the Mediterranean. Chef's signature items are complimented with finely selected wine pairings that create an ideal evening out. Afterwards, settle in at Mbar for a mixology class taught by one of the master Mixologist. Shake, pour, and serve as you learn the tricks of the trade when it comes to crafting the perfect cocktail. With a variety of tapas and diverse seasonal menus there's something for everyone, whether you're looking for light appetizers or a full three-course meal.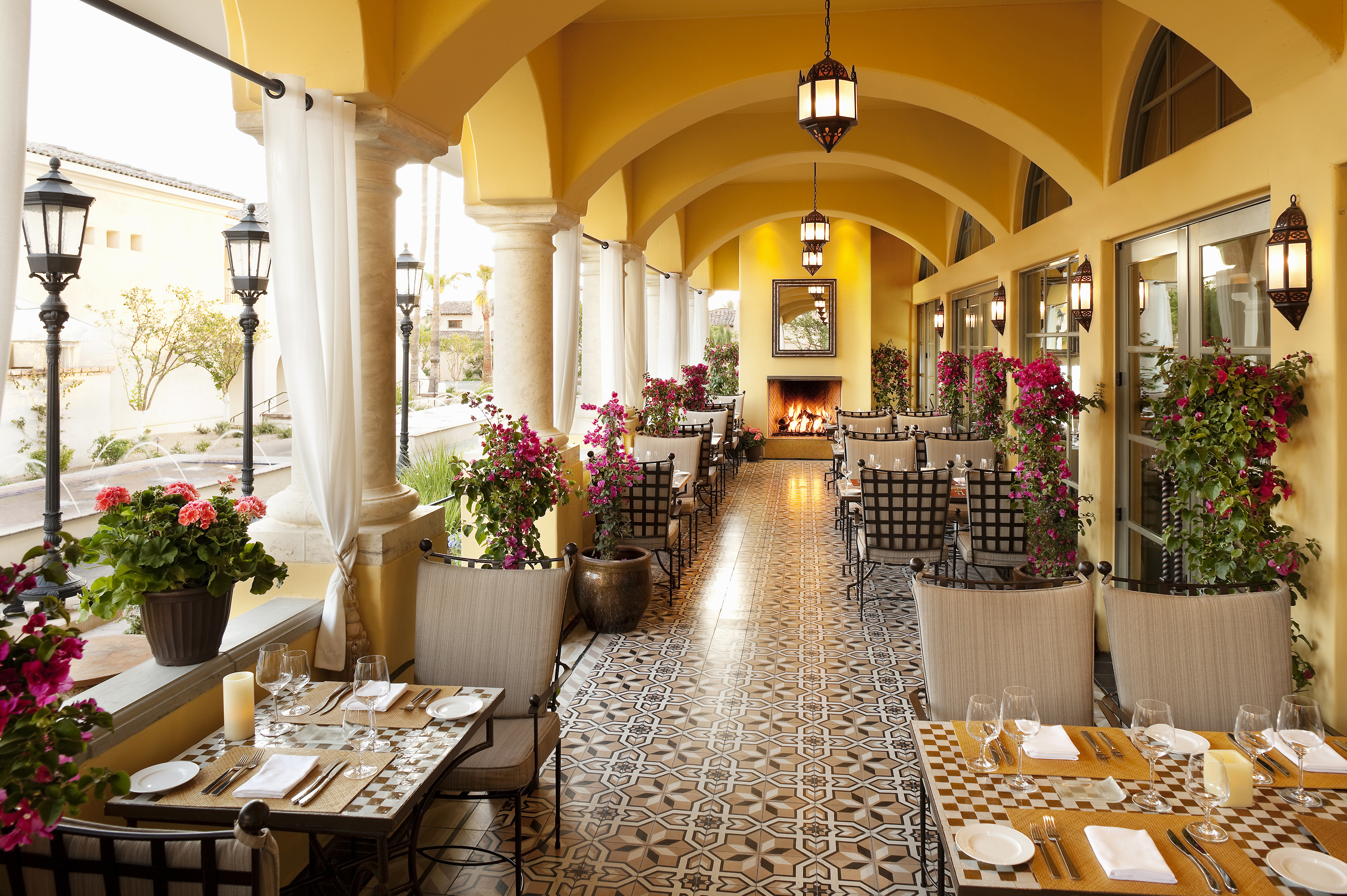 If private dining is more your style the property is full of options. Whether it's a private dining experience in one of two dining rooms within Prado or a true epicurean experience in the Chef's Kitchen & Herb Garden, there are options to satisfy every event and occasion. Chef's Kitchen, host to the resort's monthly dinner series, is a gourmet open kitchen where acclaimed Executive Chef, Michael Cairns, creates mouth-watering dishes alongside visiting master wine makers while fostering open dialogues with his guests. In addition, the Chef's Kitchen is the setting to an herb garden, which supplies fresh, local ingredients for the properties dining outlets.
Centro, the second of two sit-down restaurants on property, is a dream to any sports fan. With a nine-panel flat screen display, Centro is ideal for kicking back in one of the plush lounge seating sections while indulging in the highlighted sporting event. In addition, Centro is a beer lovers' haven with 10 craft beers on tap at any time allowing any aficionado to try and taste new beer blends. Tasty regional favorites adore the menu, satisfying any palette.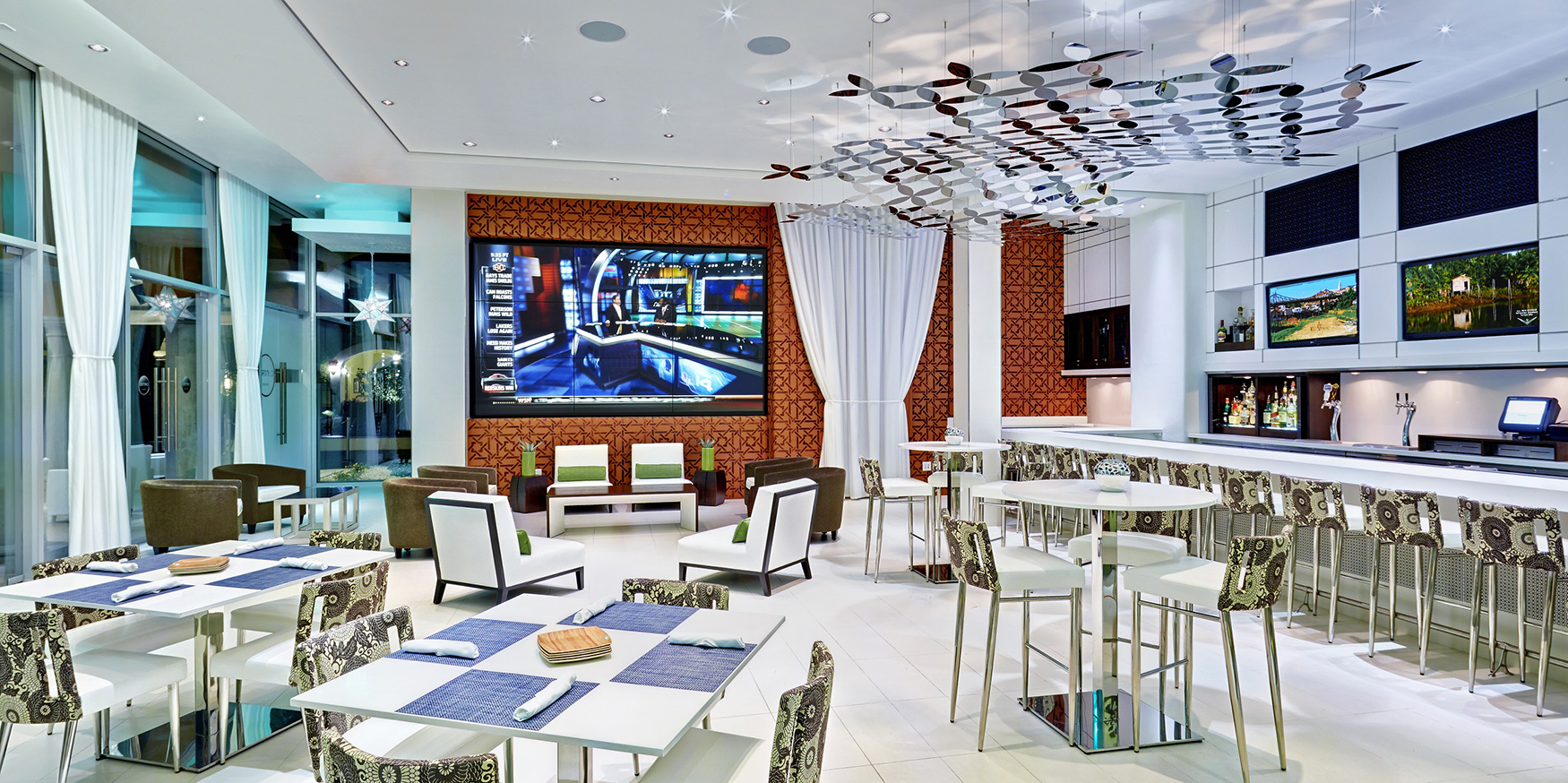 With a beer in hand it's only fitting that you experience one of three sparkling pools on property in order to soak up the Arizona sun. Bask in ultimate luxury as you sit poolside in an exclusive cabana with a private server to exceed all expectations. Or sip on your crafted cocktail at the adult-only Oasis pool where you can expect nothing but un-interrupted tranquility. But if it's true bliss you're searching for there's no better experience then sitting poolside at the private Joya Terrace pool after a full itinerary of heavenly spa treatments. Featuring Scottsdale's best healthy spa cuisine, the menu of fresh squeezed juices, decadent salads and grilled favorites, you can't help feed your body but also your soul.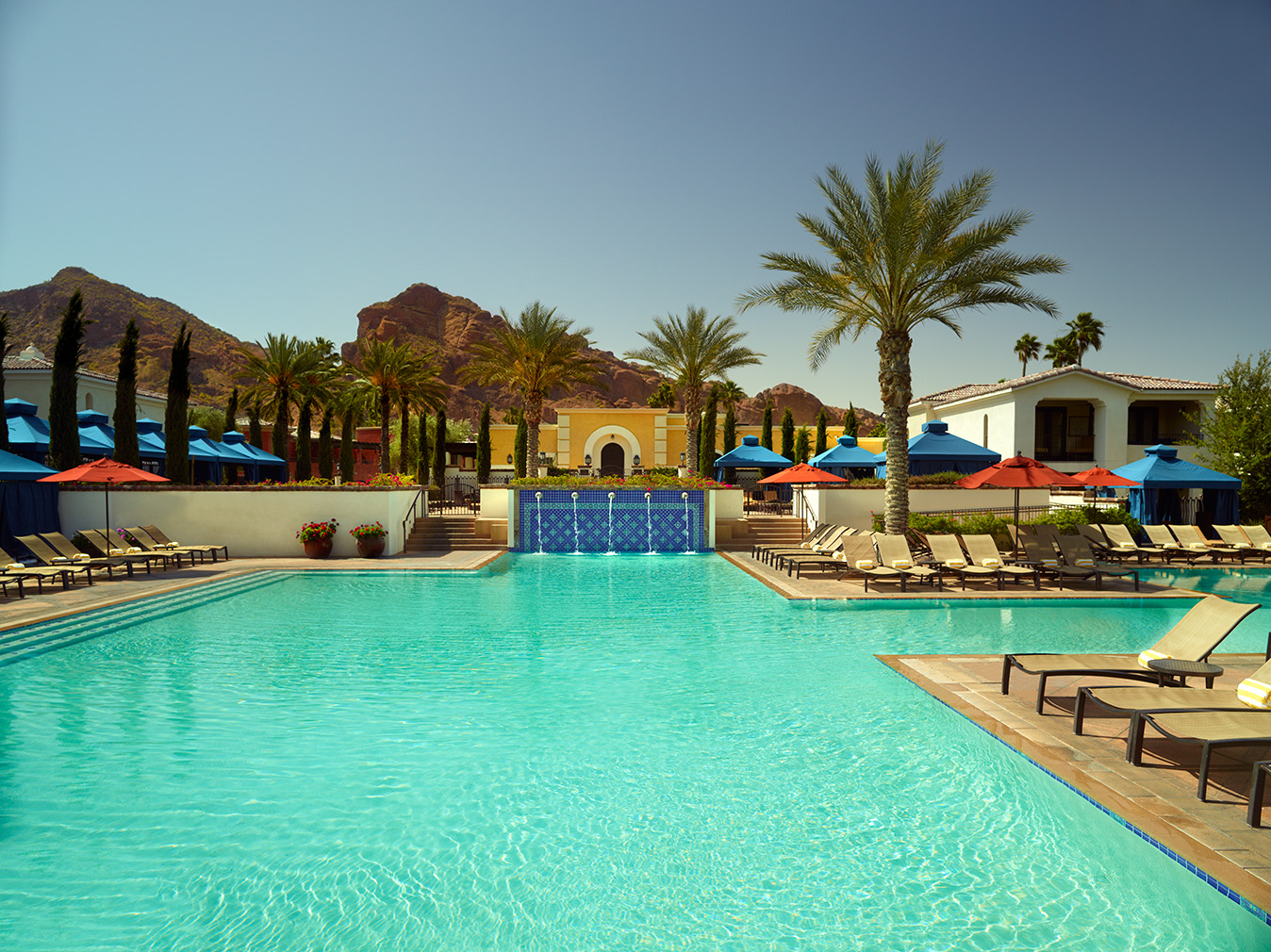 Joya Spa is an exotic journey through the Moroccan desert, with Arizona's only authentic Hammam experience. With relaxation as the ultimate destination, this Travel & Leisure Top Spa, transports you into a peaceful retreat. Begin with the Joy of Intention where you are invited to choose a gem stone and set your intention for the day. A 55 pound quartz crystal in the Joy of Purification room absorbs your negative energy as you arrive and centers you before entering the heart of the spa. In addition to the usual spa amenities (sauna, steam room, Jacuzzi), the spa boasts a cold deluge shower, as well as authentic Turkish bath. Begin your Hammam journey on a 200-year-old cherry wood bathing table where you're covered in a traditional Moroccan-made cloth and scrubbed with a black charcoal and olive oil mixture with a traditional Kassa glove. With 31,000 square feet of pure bliss and 5 full luxurious couples suites, Joya Spa offers the ultimate couples experience with amenities such as copper claw foot bath tubs, private patios, Jacuzzi bath tubs, king day beds, fire places and private food and beverage service within the suite. In addition to the classic spa offerings, Joya is well-known for an array of unique services including lip print readings, IV Therapy, Homeopathy, Tarot card readings and many Naturopathic services.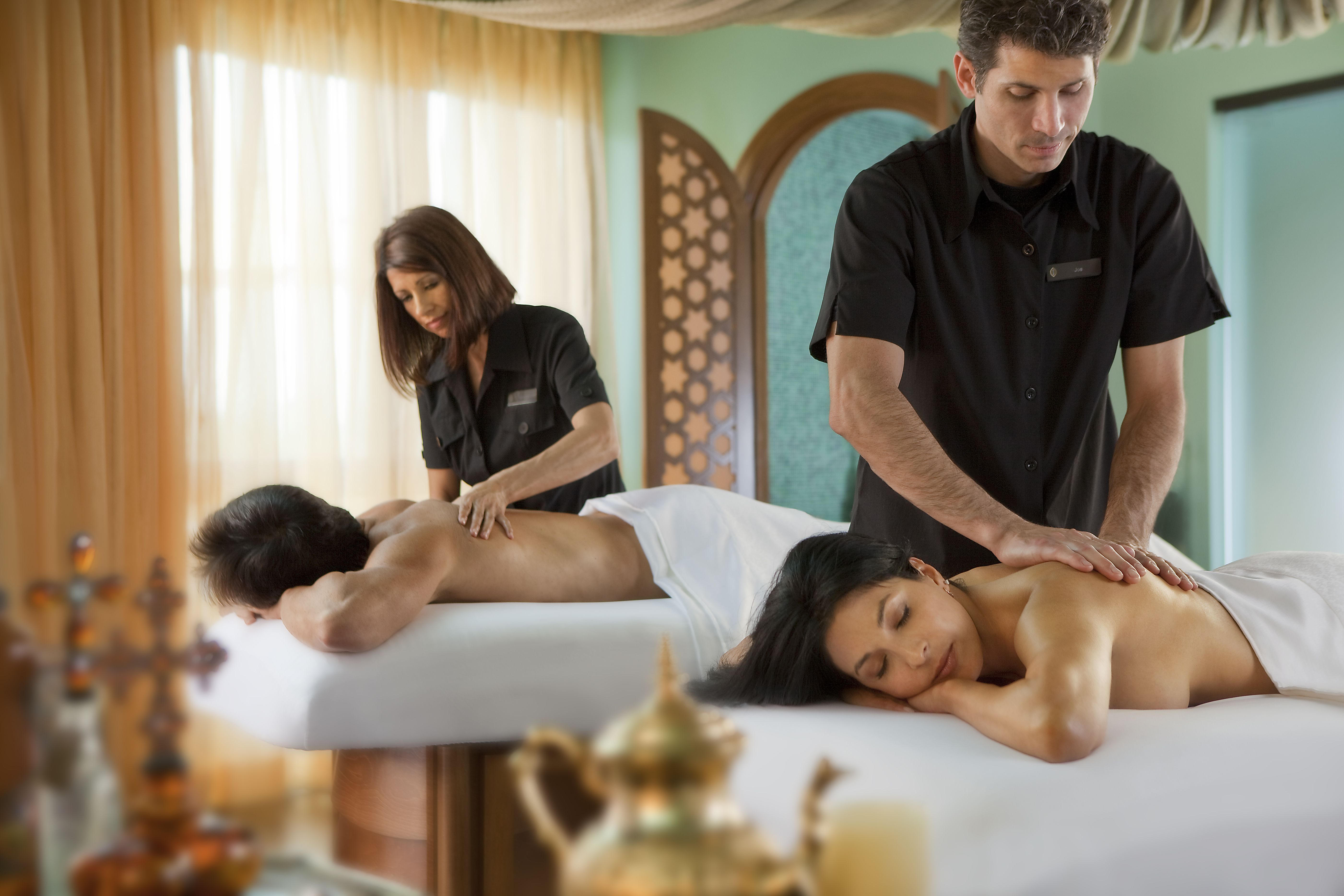 Finish or even begin your day with a handful of eclectic fitness classes that will inspire you to become the best version of yourself at the Joya Motion Studio. Gaze off into the sunrise while deepening your yoga practice or ride off into the sunset on a stationary bike atop the fitness terrace overlooking picturesque Camelback Mountain. Find your balance in the fitness world with classes offered day or night or schedule a trek up Camelback Mountain with a highly trained fitness instructor to guide the way.
For the avid hikers, Camelback Mountain is right in the Omni's backyard. A short walk or ride from the property to the two diamond trail will strike any hikers' fancy. With panoramic valley views from the top you won't regret the athletic endeavor it takes to get to the top. For travelers and locals alike it is a picture perfect spot for any occasion.
When it's time to explore the destination enjoy the finest shopping outlets, hiking trails, museums and additional local favorites all within a fifteen-minute drive of the Omni Scottsdale. If you're looking for an adventure, rent a vehicle from the Omni Montelucia fleet and take a drive to one of Arizona's unique destinations from Sedona all the way to the Grand Canyon. Take your choice from vehicles ranging in size and style from brands like Mercedes all the way to the exclusive collection which includes favorites such as Lamborghini and Ferrari. If your dream car varies, discover the true horsepower of six exotic vehicles when participating in the Dream Car Tour, an afternoon driving event featuring six vehicles and one hundred miles of expansive desert terrain led by an educated exotic car expert. This bucket list item is sure to get your adrenaline running.
When traveling locally, the Scottsdale area is very bike friendly. Speak with the property Concierge to rent a bike to explore the area on your own or get true insider tips on the hot spots not to miss. Whether it's biking to the base of Camelback Mountain prior to a hike, or for leisure throughout gorgeous well paved Paradise Valley neighborhoods, you won't regret taking in the sights of your surroundings.
Whether your trip is for work, leisure, or the perfect romantic getaway the Omni Scottsdale Resort & Spa at Montelucia is sure to meet and exceed all expectations. From the jewel of the property that is Joya Spa to the award winning cuisine served up at Prado, you truly cannot go wrong. Find moments of rest and relaxation as you walk throughout the property and get a good night's rest with luxury accommodations. Relax poolside or find your inner athlete as you participate in a yoga class or guided hike. Find your true self at the Omni.
Omni Scottsdale Resort & Spa at Montelucia
www.omnimontelucia.com
4949 E. Lincoln Drive
Scottsdale, AZ 85253