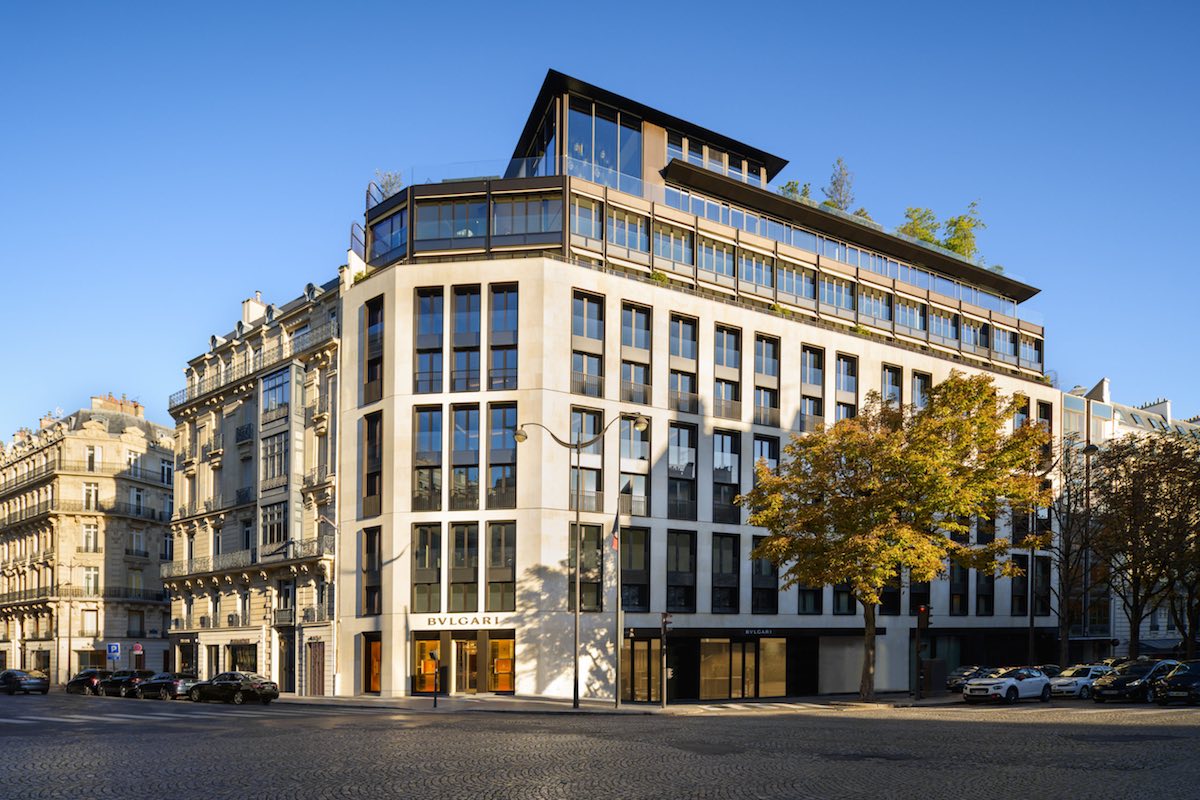 What happens when a legendary Italian fashion house builds a hotel in one of the poshest corners of Paris? A fusion of French sophistication and timeless Italian artistry comes to life, enhancing the allure of the world's most stylish city. That's exactly what Bulgari—the legendary Italian clothing brand known for its leather goods and jewelry—has delivered with its recently opened Bulgari Hotel in Paris. This project, which took six years to complete, is an architectural achievement. Gorgeous and glamorous, it stands at ten stories tall and features 76 high-end accommodations on the iconic Avenue George V in West Paris.
This hotel embodies the impeccable yet casual elegance for which Bulgari is famous, with its sleek linear structure, geometric façade, and stunning simplicity. The hotel and its top-notch amenities blend in seamlessly with its Parisian milieu, its grandeur turning heads and inspiring awe in all who pass by. A one-of-a-kind retreat, the accommodation also offers unparalleled views of Paris's most recognizable monuments and historic sites. The crisp interiors and understated luxury, which encapsulate the chic, classic style of French and Italian design, create a haute hotel that is both regal and restorative—making it a top destination for Paris's most elite visitors.
A Cross of Cultures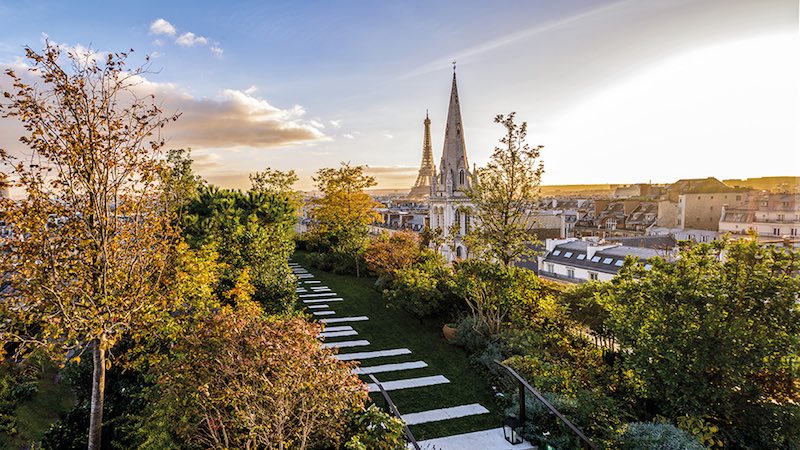 Most of the furnishings in this latest installment of Bulgari's international hotel chain hail from Italy, their sturdiness and sophistication evoking images and, perhaps for some, memories, of Rome and Venice. Meanwhile, the stone and millwork are all from local distributors, and the carpeting pays homage to classic French design, sporting details like subtle herringbone patterns, which commonly appears in many Parisian households. The bathrooms—elegant spaces for bathing, grooming and relaxing—contain glass artwork in the shape of Bulgari's serpentine logo, yet the design of these figurines is distinctly French, cast in the inimitable style of revered jeweler Rene Lalique. The walls of many suites have been papered in shantung—a material frequently used in couture fashion. Details like these foster a mood that is both casual and captivating, inviting without being stuffy or pretentious.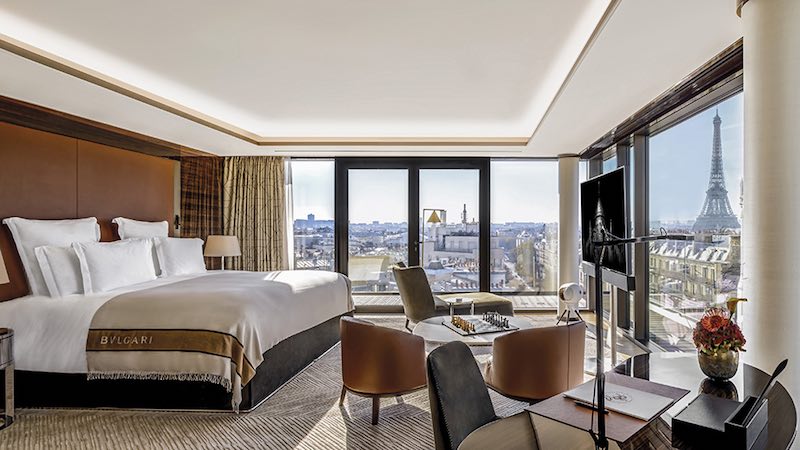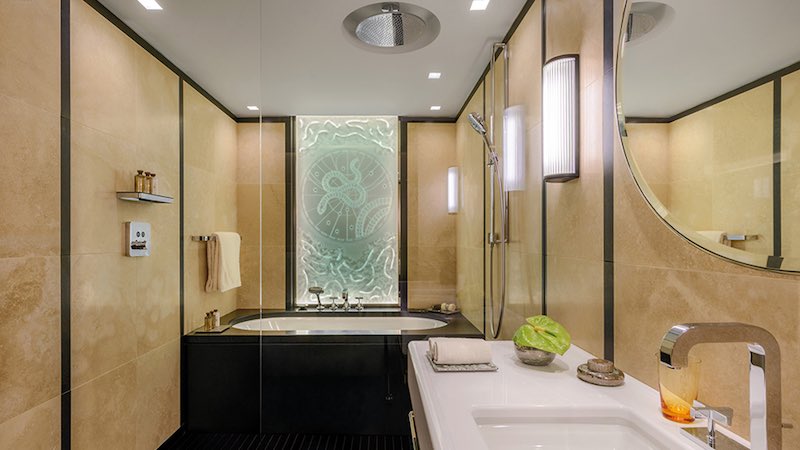 The Milanese architecture firm Antonio Citterio Patricia Viel overhauled this ten-story corporate office space and transformed it into a functional and fashionable hotel. 57 of the 76 luxury accommodations are suites, and each one offers enviable views of Paris's historic architecture, skyline and cityscape. The penthouse, however, promises a stay unlike any other, giving guests a panoramic view of the surrounding area, including uninhibited views of Sacre Coeur and the Grand Palais. During an overnight stay, visitors can also sit back and watch one of the world's most recognizable structures—the Eiffel Tower—glisten and sparkle in the evening, creating romantic, long-lasting memories, all with the comfort of full concierge service.
Fashionable Amenities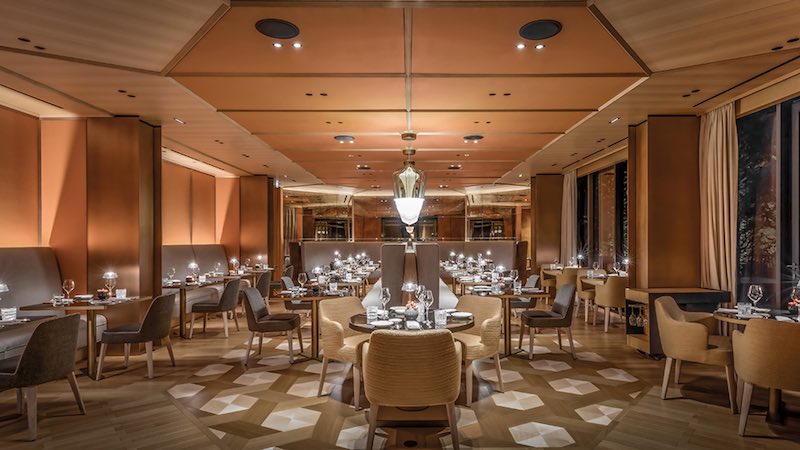 Bulgari Hotel Paris is replete with Italian and French-inspired amenities to pamper guests to the highest standards. The basement area has been renovated into a world-class spa facility, where guests can get a trendy haircut or a rejuvenating massage. Patrons will also have access to a branch of London's Workshop gym so that they can stick to their routine even while on vacation. The property is home to Il Ristorante, an eatery overseen by Michelin star-winner Niko Romito, whose menu consists of Italian staples and French classics. Anyone can whet their appetite for local and exotic flavors here by ordering a scrumptious French onion soup or a selection of Italian-inspired cuisine. The restaurant facilities are cast in a rich palette with black onyx accents, creating a cozy and intimate atmosphere. A highlight of the dining area is the outdoor garden, which can seat up to 40 guests for special occasions, ceremonies and get-togethers—making this restaurant a fashionable venue for wining and dining with friends and family.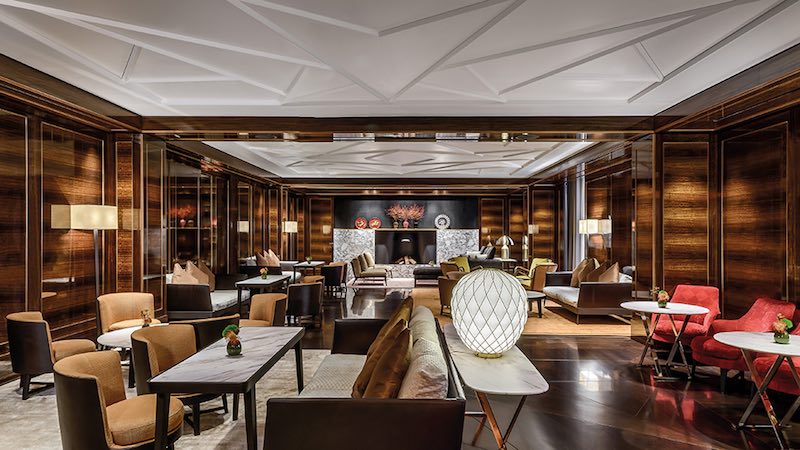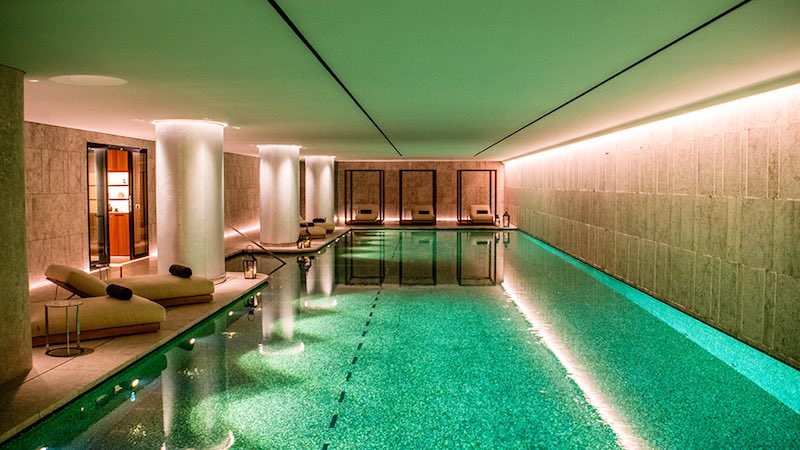 Ranging from 1400 to 35,000 dollars a night, Bulgari Hotel Paris offers a panoply of comforts and services that will make vacationing in Paris a posh and memorable journey. The concierge can arrange a variety of tours, room service, and a chauffeur to the Rodin Museum. Employees of the hotel can also orchestrate a private shopping trip to the Bulgari boutique on the Place Vendome or to Le Bon Marche so that guests can explore all the best products Paris has to offer. Blending French elegance with Italian charm, this new addition to the Bulgari Hotel chain is a cut above the rest, a Parisian paradise only for the most discerning patrons.
For booking information, visit Bulgari Hotel Paris's website here.