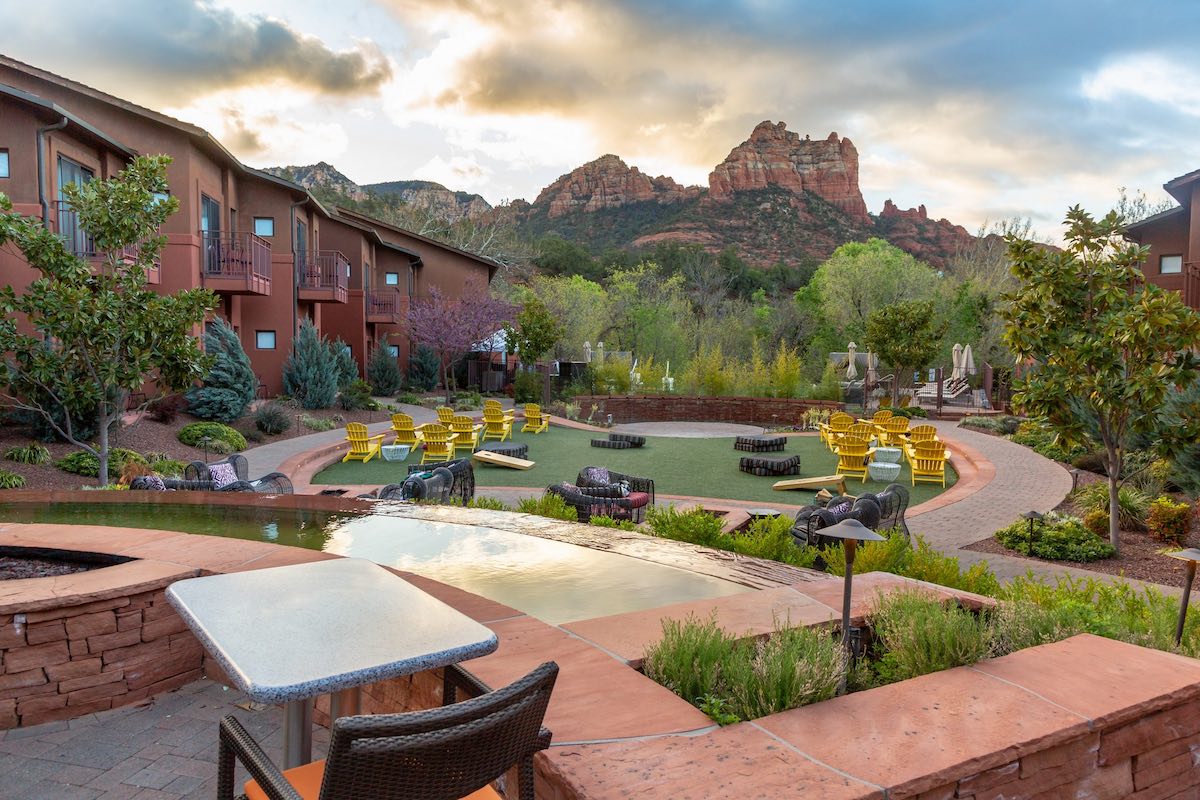 Sedona, Arizona, is best known for its metaphysical and spiritual aspects, stunning Red Rock sandstone monoliths, and vortexes. The small town is full of big energy, which is why three million visitors travel there each year — in search of a sacred getaway to gain a mystical perspective and vibrate at a higher frequency. The jaw-dropping landscape and overall ethereal vibe has drawn so many tourists over the last four decades that the hotels, restaurants, adventure tours, art galleries, metaphysical shops, crystal boutiques, and recreational activities have experienced a major uptick – especially over the last 20 years.
While there are charming hotels and extravagant resorts abound, today we feature one upscale diamond in the red rocks (awarded four diamonds by AAA). The Amara Resort and Spa is not just a drop-in and stay, it is more of a stay and play destination.
Location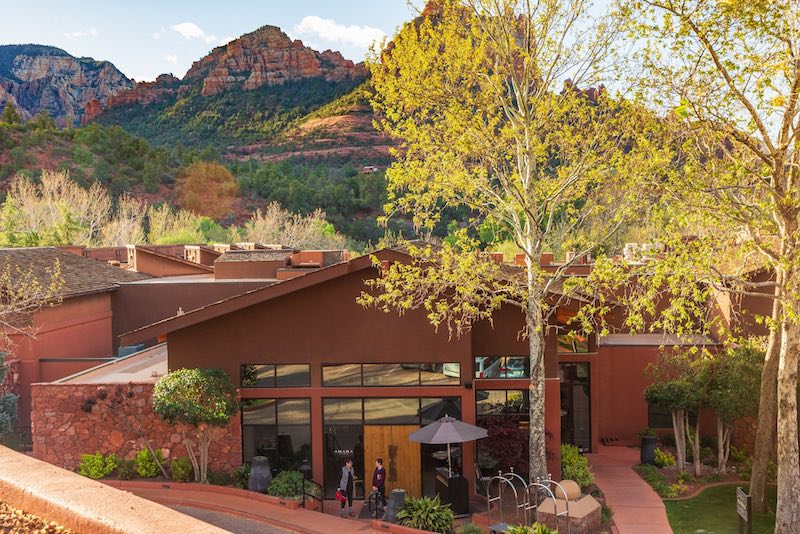 One of the major draws to the Amara is that while it is in the mix of Sedona's uptown scene, it is hidden two blocks down a hill, setting it apart from the bustle of Sedona's tourist spots. This location puts you in walking distance from shops, restaurants, and galleries, but it also allows for an escape from the noise. The positioning of the balconies allows for unobstructed, spectacular views of the red rocks, including 'Snoopy Rock.'
Grounds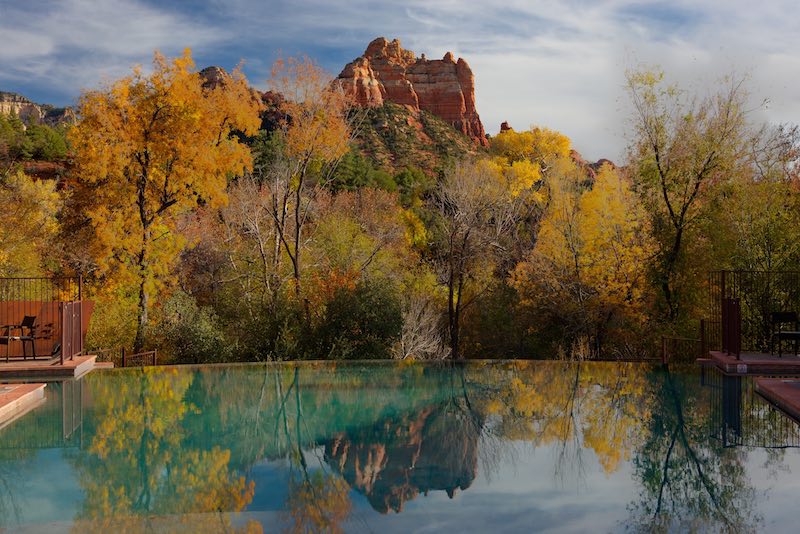 The landscape of the resort grounds is unique in that it lives beside and offers access to the ever-flowing Oak Creek. The central courtyard has soothing water features and is home to a garden patio with cushioned seating; the grassy area features sunny yellow Adirondack seating and gathering areas with gas fire pits. It is a serene place to have coffee and then do yoga in the morning, play courtyard lawn games in the afternoon, and have cocktails under the stars in the evening. The heated infinity edge swimming pool is accompanied by cabanas and has sweeping views of the creek and red rocks.
Accommodations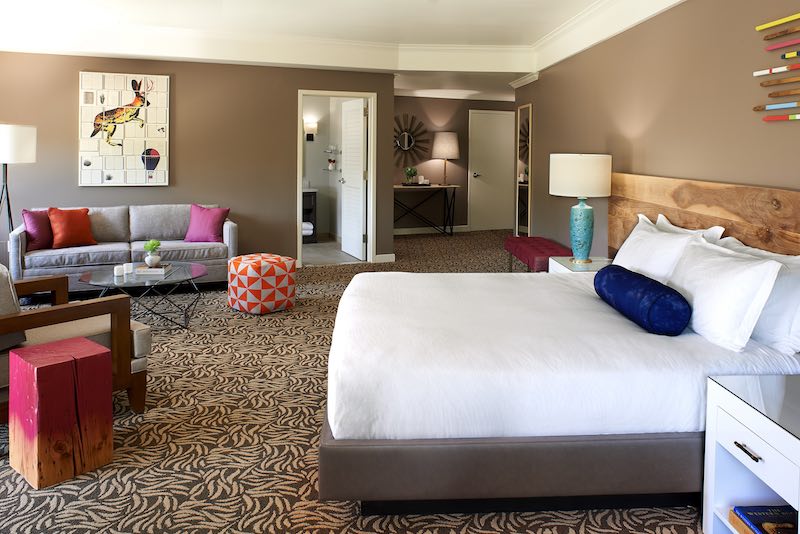 Every aspect of the resort lives in harmony with its surroundings. Self-described as a 'modern interpretation of Sedona's Native American heritage,' the serene rooms bring in nature in a most urban-chic manner. With pillow top beds, soothing modern décor, plush bathrobes, and a luxurious bathroom, the upscale modern rooms are comfortable, clean, and cozy. Reserve the Creekside Spa Suite, which is nestled just where the name suggests, along Oak Creek.
Restaurant and Spa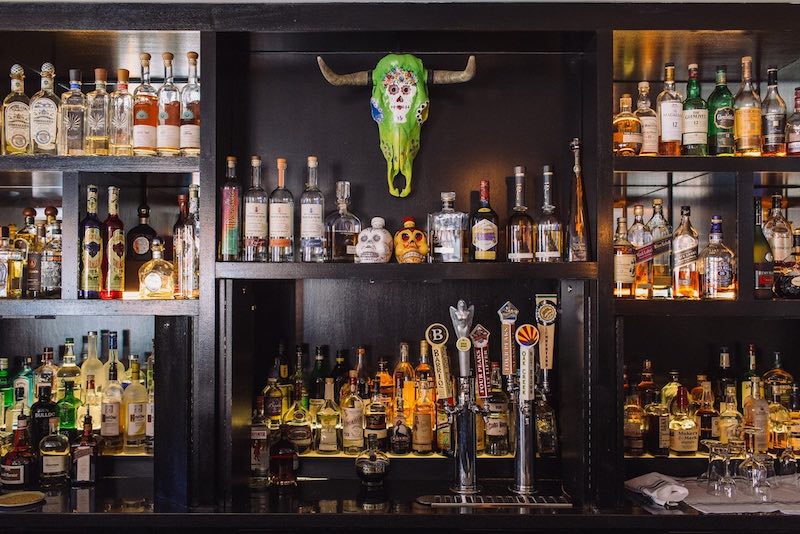 Amara's signature restaurant, SaltRock Southwest Kitchen, has both indoor seating and a patio dining area in the central courtyard. Locally sourced southwestern cuisine is accompanied by craft cocktails, and renowned margaritas.
The Amara Spa gives guests a little private time to be pampered from head to toe. The spa offers massage and facial services, body treatments, and spa packages like the Winds of Change Massage and Moon Chasing Sun Facial Metamorphosis – a 3-hour experience.
Top 4 Sedona Vortex Hikes
Airport Mesa – breathtaking views, high traffic, juniper trees, potential to see colored orbs
Cathedral Rock – short but intense climb, panoramic views. not for those who fear heights
Bell Rock – moderate difficulty, high traffic, potential for goosebumps
Boynton Canyon – moderate hike, most sacred of the four, spiritual home of the Yavapai Apache
Whether you are looking for a relaxing vibe or for an outdoor adventure, Sedona has it all. Check in with the Amara's guest services and concierge team to curate your experience.