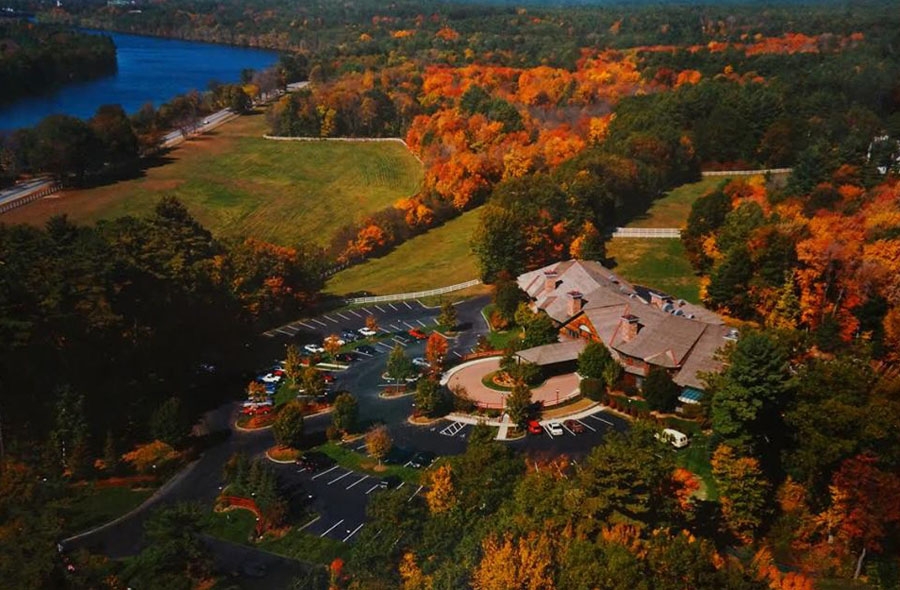 A classic New England Country Inn, close to Boston, yet worlds away. Nestled in the scenic woodlands of Tyngsboro, Massachusetts, Stonehedge Inn & Spa is a spectacular destination for wine lovers, business travelers and guests in search of a romantic getaway in New England.
For a special getaway, take advantage of a unique country weekend packages to include dinner in our award winning Left Bank Restaurant and pampering at our Vinotherapy Spa.
Mid-Week Country Escape
Treat yourself to a mid-week escape in any one of our luxurious and cozy suites at a special rate. Our suites include the following rooms; King Fireplace, King Jacuzzi or our King Summerhouse.
Yoga. Dine. Relax.
Leave your stress behind and get away to the country for a weekend of relaxation and rejuvenation at New England's premier European country inn. Unwind in the comfort of our luxurious rooms, enjoy healthy meals prepared by our award winning chefs, and renew your spirit in the peaceful calm of our beautiful spa.
Explore the deep connection between body, mind and spirit through a private yoga session with a certified instructor, who will guide you through the ancient art of harmonizing movement with breath to leave you feeling balanced, energized and refreshed.
Girlfriends Getaway
Enjoy a night away with your closest friend or friends! Connect and be pampered with this special getaway package. Overnight stay, wine tasting, dinner, breakfast and spa treatments…truly a night of pampering.
Sneak Away to the Country
Our Stonehedge Inn One Night Country Getaway is the perfect opportunity to sneak away for a night to relax and indulge. Be pampered with the finest European linens, superb gourmet cuisine, an unparalleled wine collection and gracious European service tending to every detail…
Spa Indulgence
Get away to the country for luxurious private spa treatments and fine cuisine at New England's premier European country inn. Nestled in 36 acres of serene woodlands, The Spa at Stonehedge features its own facility complete with an indoor/outdoor heated pool, steam room, sauna and a full array of spa treatments. The pampering continues with fine dining in our restaurant, Left Bank.
Romance Under the Stars
Get away with the one you love. Private spa treatments, luxurious dining, champagne, roses and the stars above. What could be more perfect?
Inner Harmoney, Just For You
Designed for one person, The Inner Harmony Retreat includes:
A One Night stay
Breakfast for One, prepared to your order
Dinner for One in Left Bank or in the privacy of your Suite
Two 50 minute private spa treatments, your choice from the following;

Classic Massage
Classic Facial
SkinFit for Him Facial
Seasonal Body Scrub
Luxury Back Treatment
Vino Hand & Foot Massage

Full use of our spa facilities, including four season pool, Jacuzzi, steam room and sauna
Suites with Jacuzzi, fireplace and/or porch available
Thursday Night Live
Join us in our bar every Thursday Night from 6pm onwards and enjoy live music by great local musicians.
Monthly Wine Dinners
This is the 27th year of our 'Celebration of Wine' dinner series! For each Wine Dinner we create a menu to highlight the wines that will be showcased each month. Our Chef crafts a menu that pairs perfectly with the featured winery.
Reservations are required for all of our wine dinners and we offer special overnight packages to guests who are attending the Wine Dinner.
Monthly Wine Tastings
Looking for everyday or unique occasion wines? Stonehedge Cellars is pleased to offer its monthly 'Top 25' wines which are hand selected from around the world and available for sale.
Join us for our monthly wine tasting events where we will unveil our new 'Top 25' list for you to taste!
Brunch
Join us every Sunday for live music and a fabulous brunch buffet.