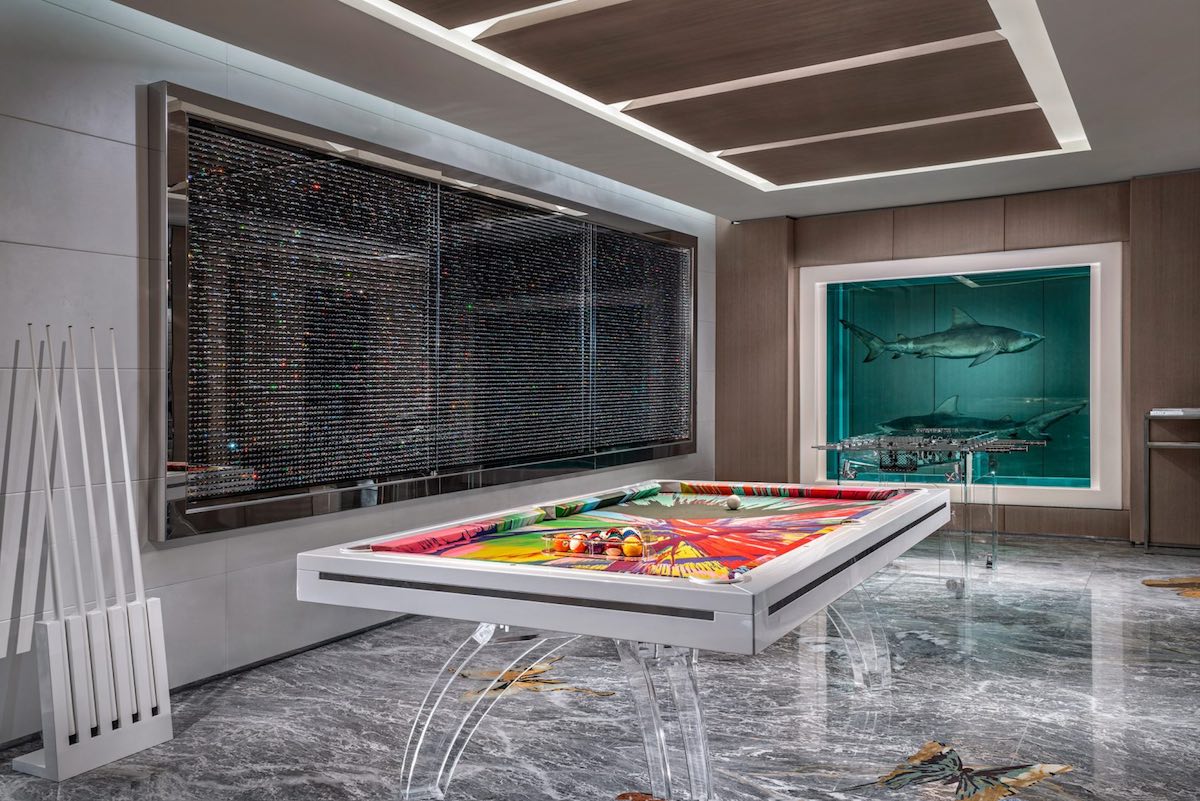 When it comes to putting a price tag on vacation and business travel, there is one thing that cannot and should not be compromised — luxury. But, as you know, extravagance comes with a high price tag. The following are 5 of the most expensive hotel suites in the world.
Hôtel de Paris Monte-Carlo, France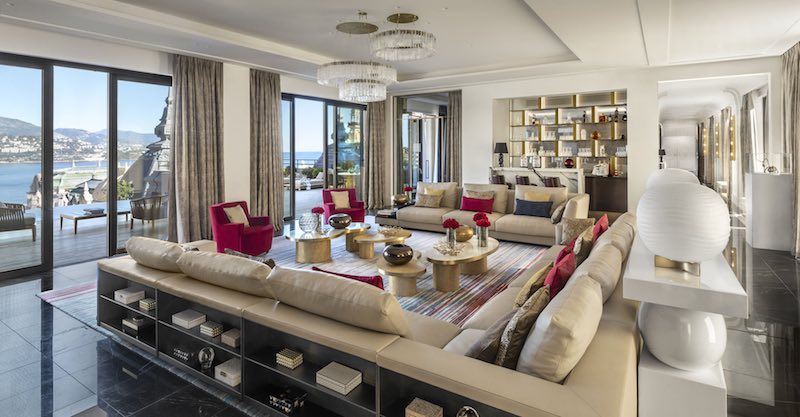 Luxury is on full display at the astounding Hôtel de Paris Monte-Carlo. For over 150 years, the hotel has received guests from all over the world. The Diamond Suite – Prince Rainier III reigns supreme in both indulgence and size. At over 8,900 sq. ft., this living space features a 3,767 sq. ft. two-level terrace with heated swimming pool and spectacular views of the Mediterranean Sea. The extensive main living room connects to a bar area, spacious dining room and study. The library and sitting area continue to display the suite's detailed design with paintings and sculptures from the personal collection of the Prince throughout the space.


Guests can either be met at the heliport to transport by helicopter or taken by luxury vehicle. At an average of $48,000 per night, the Diamond Suite – Prince Rainier III is at or near the top of the list for most expensive and luxurious hotel stays.
The Mark Penthouse Suite, The Mark Hotel, New York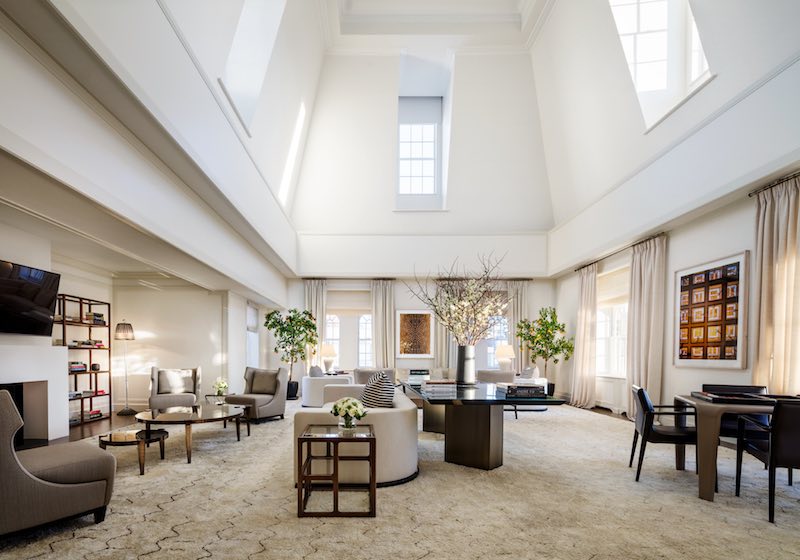 Surrounded by shops, restaurants, museums, and Central Park, this Upper East Side diamond is in the heart of the city that never sleeps. The Mark Penthouse Suite is the largest hotel penthouse suite in the entire U.S. at over 10,000 sq. ft. of living space. Designed by Jacques Grange, legendary French interior designer, the penthouse takes two floors of The Mark Hotel.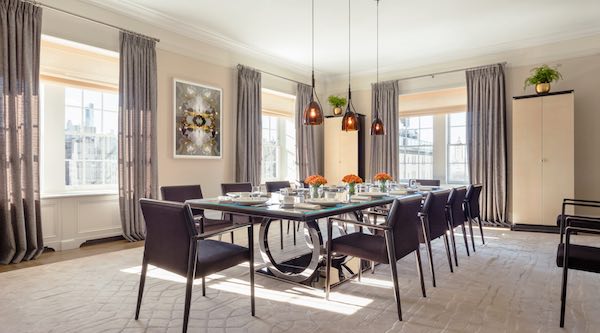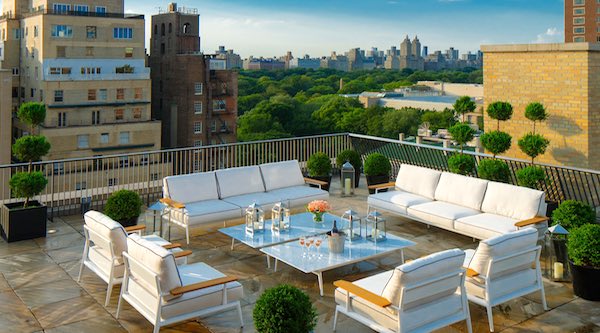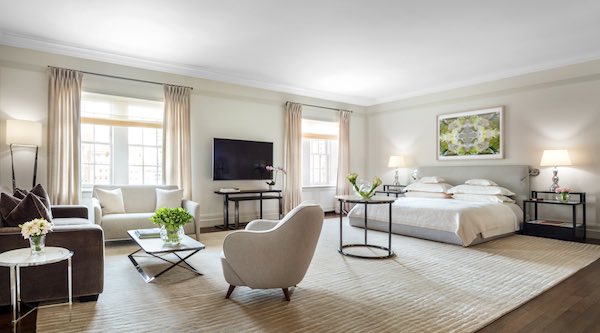 With 5 bedrooms, 6 bathrooms, 4 fireplaces, and 2 wet bars, this penthouse is a mainstay among celebrities including Oprah, Meghan Markle, Kelly Ripa, and Russell Crowe, among countless others. The living room features ceilings of over 25 ft. and can even be converted into a full-sized Grand Ballroom. The 2,500 sq. ft. terrace boasts a view that overlooks both the Metropolitan Museum of Art and Central Park. Expect to pay about $75,000 per night.
Ty Warner Penthouse Suite, Four Seasons, New York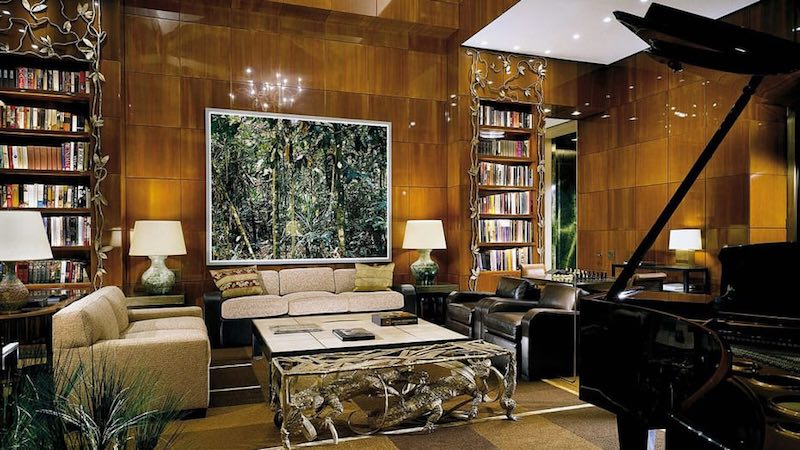 This 4,300 sq. ft. suite ($50,000 per night) is located on the 52nd floor of New York's Four Seasons Hotel. Designed as a collaboration between owner Ty Warner and architects Peter Marino and I.M. Pei, the suite cost $50 million to complete and nearly seven years to construct. The penthouse includes four cantilevered glass balconies, a private spa, and private art collection.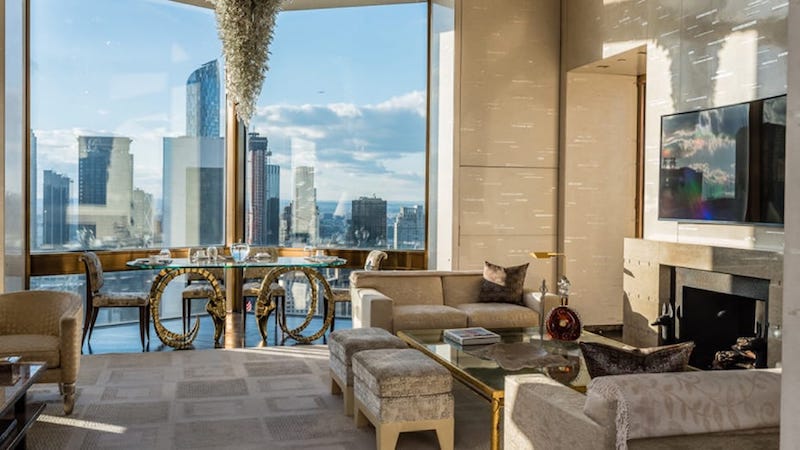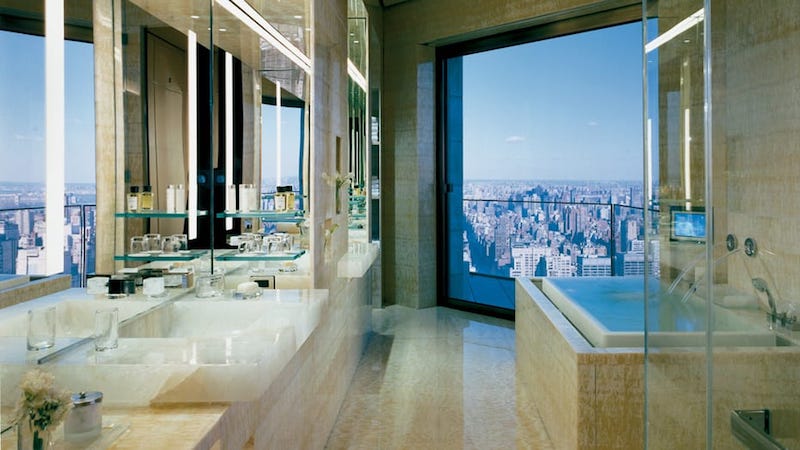 Made of Thai silk with 22-carat pure gold threads, the custom-made canopy bed radiates luxury. The suite's cathedral ceilings reach heights of 25 feet providing amazing 360-degree views of New York City below. The room also comes with daily use of a Rolls Royce with chauffeur among many other exclusive amenities.
Royal Penthouse Suite at the President Wilson, Geneva Switzerland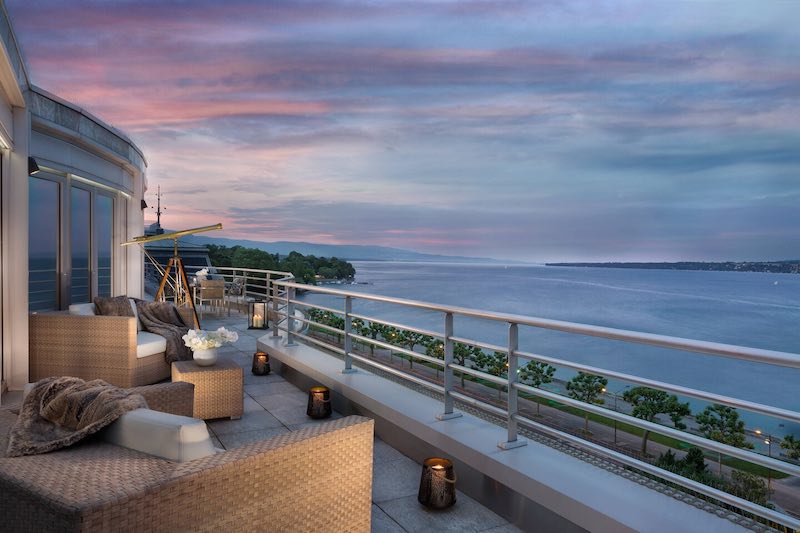 Boasting Europe's largest suite is the Royal Penthouse Suite at the President Wilson in Switzerland. With an amazing 12 bedroom and 12 marble bathrooms, this suite holds over 18,000 square feet of space to roam. Two dining rooms provide settings for unforgettable moments with one seating up to 26 people and the other with room for 16. A personal chef, butler, and assistant are always within reach to assist with any need. A handpicked art collection, floor-to-ceiling windows, private gym, and a private terrace that wraps around the building are just a few of the deluxe accommodations you will find in the penthouse.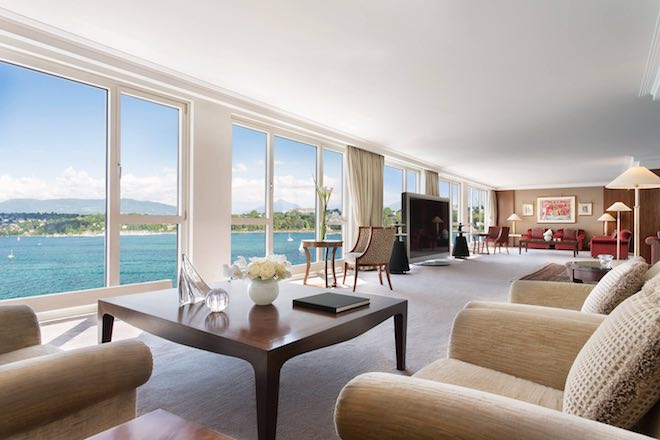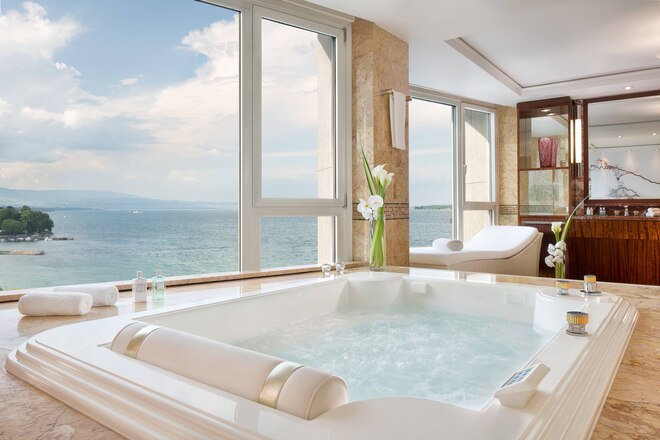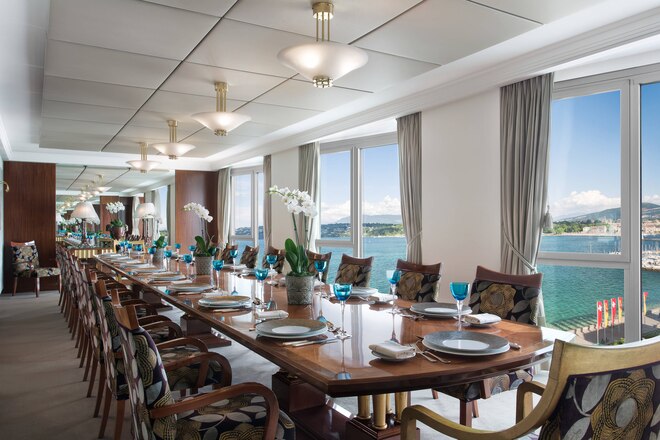 There is also a Steinway grand piano, billiards table, and unforgettable panoramic views of Lake Geneva and the Swiss Alps. The private elevator with bulletproof glass ensures safety and exclusivity for any guest of the Royal Penthouse Suite. Celebrities, foreign dignitaries, and VIP's have all enjoyed spending time at this one-of-a-kind locale. At an average of $80,000 per night, this suite is close to the top most expensive luxury suites.
The Empathy Suite, Palms Casino Resort, Las Vegas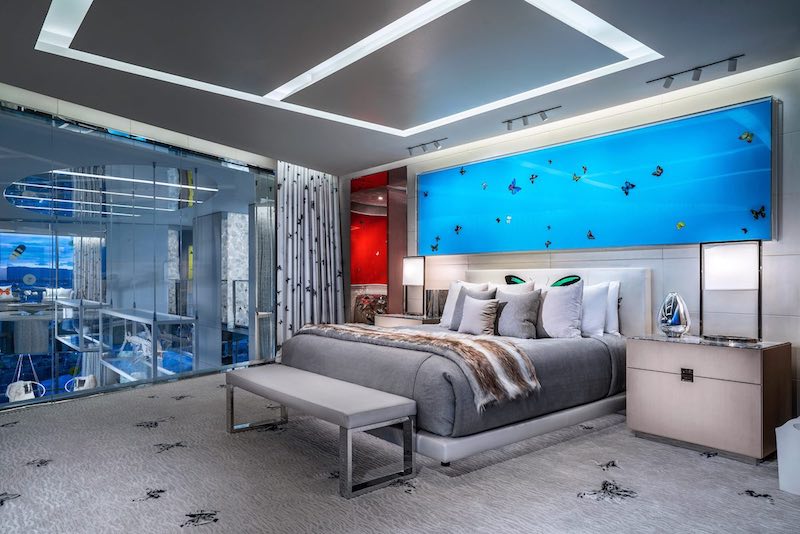 Located in the Palms Casino Resort is a 9,000 sq. ft. luxury suite that is nearly unmatched. At $100,000 per night, The Empathy Suite Sky Villa can be billed as the most expensive hotel suite in the world. Designed by British artist Damien Hirst, rooms have been fashioned with clear artistic intention. Within the two-story palace comes two master bedrooms, a Himalayan salt relaxation room, and a jacuzzi that overlooks the Vegas Strip.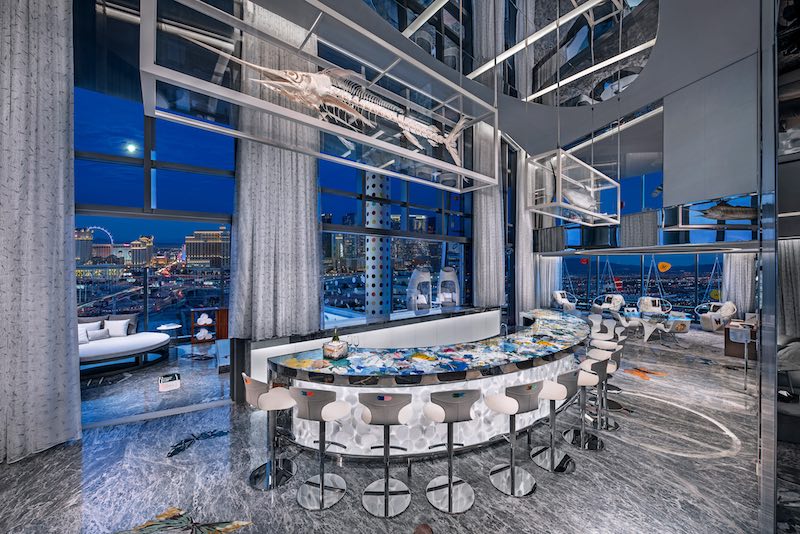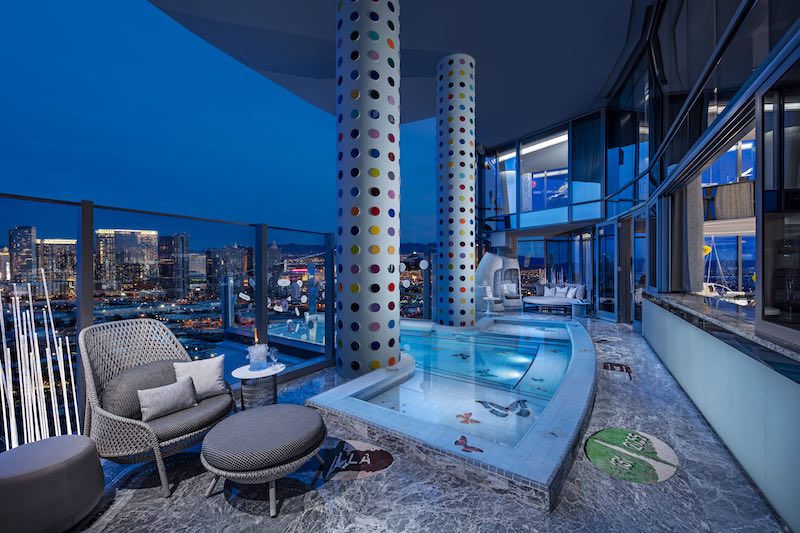 Perks include 24-hours private butler service, private property tour, chauffeured car service, and A-list and VIP access to any clubs on the Strip day or night. There is also a gym, two media rooms with seating for over 50, and a pool that hangs over the edge of the building.
For anyone with time for an ultra-extravagant getaway, these hotel suites are definitely worth every single penny.