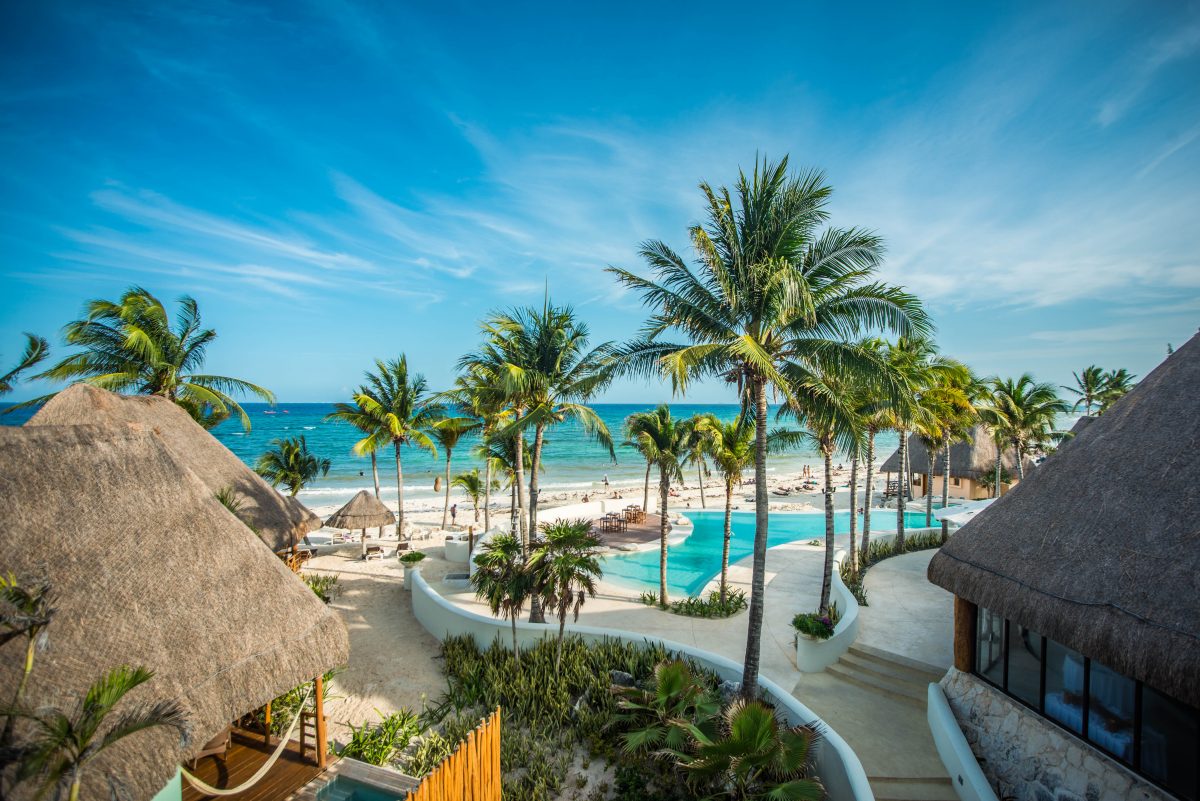 Few things compare to the relaxation and serenity of a tropical getaway to an exotic foreign destination. The highly acclaimed luxury resorts scattered along Mexico's sunny coastal towns offer a unique experience found only in this rather unusual part of the world. From ancient Mayan ruins and white sandy beaches, to some of the world's most sought-after golf courses, Mexico has something for everyone.
Viceroy Los Cabos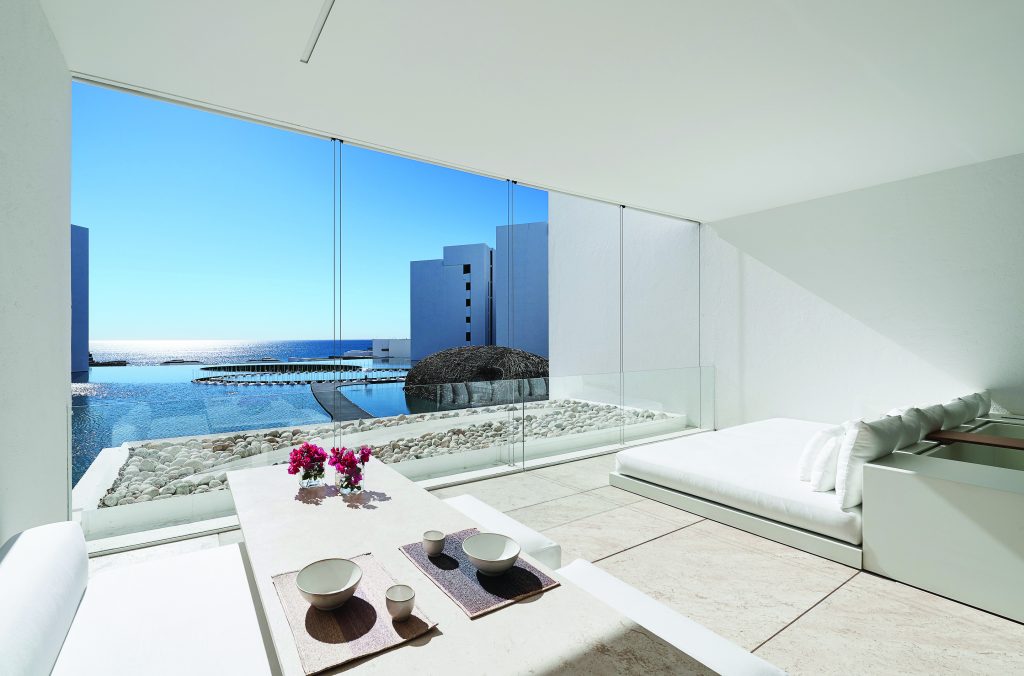 Bringing modernity and sophistication to Los Cabos, the newly-opened Viceroy Los Cabos escapes the ordinary with a design and experience unlike any other. The property's dreamscape design, originally concepted by Mexican architect Miguel Angel Aragonés, embraces the allure and fluidity of water beside its minimalistic and pure white infrastructure. With elevated walkways surrounded by water connecting the resort's buildings and unobstructed views of the Sea of Cortez, the water element appears to exist organically throughout the resort's dreamscape design.
Formerly known as Mar Adentro, the latest property from Viceroy Hotel Group has been reconceptualized after undergoing renovations and luxurious enhancements, including a brand new beachfront pool and bar, a refreshed and vibrant lobby and arrival experience, cinema room, new dining venues, meeting rooms and a state-of-the-art fitness center curated by Los Angeles-based celebrity trainer Harley Pasternak.
The property offers five distinct and modern dining outlets, each providing a fresh and local experience reflective of Baja's history and culture. Nido Restaurant, meaning "nest" in Spanish, draws in guests' eyes with a latticed, nest-like structure that appears to be floating on water in the center of the resort. With an international ceviche menu and innovative handcrafted cocktails, Nido is both a visual centerpiece and social epicenter for guests and locals. Likewise, Viceroy Los Cabos' beachside eatery Nidito, meaning "little nest," overlooks the picturesque infinity beach pool and ocean. Located in the main building of the resort, Casera Restaurant and Otro Bar feature elevated home-style Mexican cuisine and a Tequila Library, along with a vibrant rooftop bar with scenic ocean views that is set to open later this year,.
Further highlighting its connection and commitment to the arts, Viceroy Los Cabos has debuted "A Canvas for Discovery" artist-in-residency series, in which the property will display specially-curated works by rotating artists of various art mediums. Los Angeles-based contemporary artist Spencer Mar Guilburt is the first to showcase his vision and talents. After completing a dedicated, 70-feet-tall mural on the exterior of Viceroy Santa Monica in Los Angeles, Guilburt recently completed a corresponding piece at the Los Cabos property. Through this exploration of art and innovation, Viceroy Los Cabos aims to inspire visitors to engage in thought and conversation.
Viceroy Los Cabos' dedicated "Head of Vibe" has curated fresh and one-of-kind programming for guests — on and off property — including learning to surf with a local pro, an exclusive "fishing with the chef" experience, scuba diving with underwater photography, fluorescent night dives and custom tequila-making classes. Minutes away from downtown San José del Cabo, guests can immerse themselves in the local culture by exploring the city's weekly art walk, Colonial architecture and colorful sights. With a seemingly endless list of possibilities at Viceroy Los Cabos, extraordinary experiences are not far out of reach.
Banyan Tree Mayakoba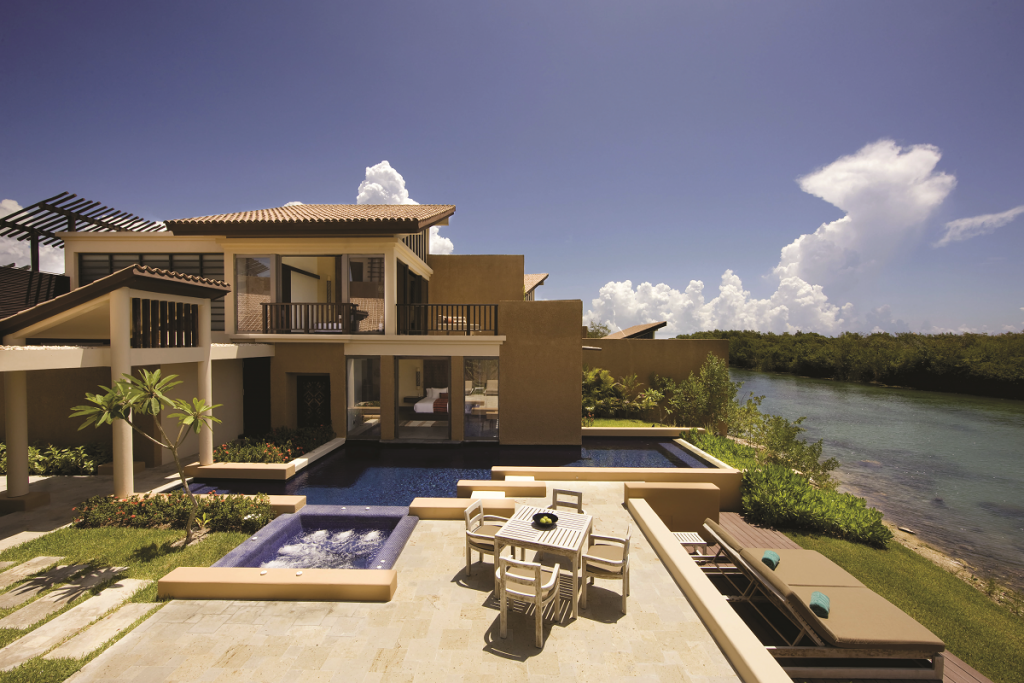 An utterly unique fusion of Mexican culture and Asian hospitality is available for the discerning traveler at Banyan Tree Mayakoba, one of the most immersive resort experiences in Mexico and the only all-pool-villa resort in the Riviera Maya. Nestled within lush mangroves and tropical lagoons, the resort boasts an almost unimaginable combination of pristine nature and luxury accommodations. From its award-winning Banyan Tree Spa and PGA championship golf course, to an extraordinary selection of dining options and activities, Mayakoba is truly a sanctuary for the senses.
Each of Mayakoba's 123 private pool villas has been elegantly adorned in Mayan-inspired designs and offers a wide array of amenities. With spacious interiors featuring separate living and study pavilions, private pool, whirlpool, and terrace, each villa has been strategically positioned to ensure superb views of the ocean, lagoons, or exquisite gardens. Villas feature a 30 to 50 square-meter private pool (larger than the standard plunge pool) to give you plenty of space to soak up the sun or just relax. Further enhance your escape to paradise with personal services such as spa treatments, in-room dining, and romance-themed packages, all offered in the privacy of your villa.
If fine dining is your raison d'etre, you won't be disappointed with any of the resort's palate-pleasing restaurants. Banyan Tree's signature eatery, Saffron, overlooks the Mayakoba waterways and serves authentic Thai cuisine. The skill and passion of Saffron's top-notch team of native Thai chefs is apparent in every dish they serve. For the more adventurous diner, there's the popular HAAB Destination Dining experience. This multi-sensory journey takes guests into the nearby jungle for a melding of the four sacred elements (water, earth, wind, and fire) as utilized in ancient Mayan culture, customs, and cuisine. While each of these choices is more than worthy of a visit during any stay, one notable option we simply cannot overlook is the resort's romantic Ixchel Destination Dining offer. Ixchel (which translates to "Moon Goddess") features a traditional trajinera (or gondola-style boat) and combines the beauty of the property's lush tropical surroundings with delicious cuisine for an unforgettable dining experience as you sail through the channels and mangroves of Banyan Tree Mayakoba.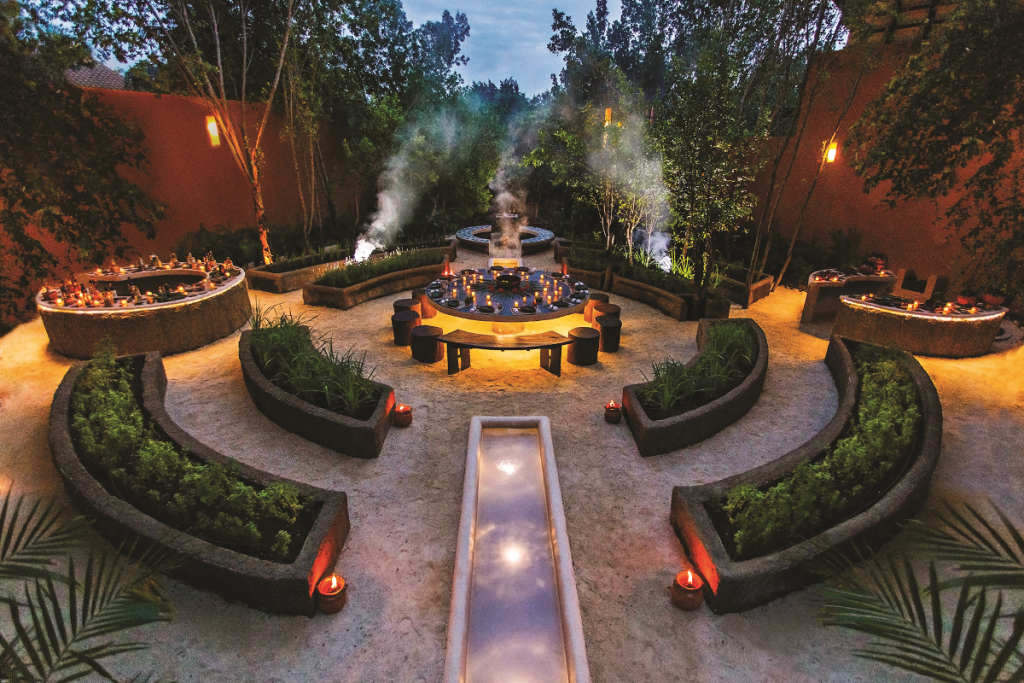 When you're ready to relax, a staff of handpicked and expertly skilled Thai therapists is on-site at the award-winning Banyan Tree Spa. Each therapist has completed hundreds of hours of rigorous training in Thailand, and every treatment is certain to both relieve and rejuvenate. We recommend the "Rainforest" treatment for a refreshing experiential journey through eight different hydrotherapy options including a cascading rain walk, aromatherapy steam chamber, jacuzzi, and themed showers, all intended to wash away your stress and invoke a feeling of serenity.
The property is also the proud home of PGA championship golf course El Camaleon, designed by legendary golf pro Greg Norman. El Camaleon Golf Course plays host to the annual OHL Classic at Mayakoba and made history in 2007 when it became home to the first PGA Tour event outside the US and Canada. Known for its diverse characteristics and unusual hazards, among them cenotes (sinkholes) and fresh water canals, this world-class course provides golfers with an unprecedented opportunity to play like the pros.
A stay at Mayakoba truly is unlike any other. And with the resort's certified commitment to creating a positive impact on the environment, you can take comfort in knowing your luxurious getaway is taking place in one of Riviera Maya's most sustainable five-star resorts.
Mahekal Beach Resort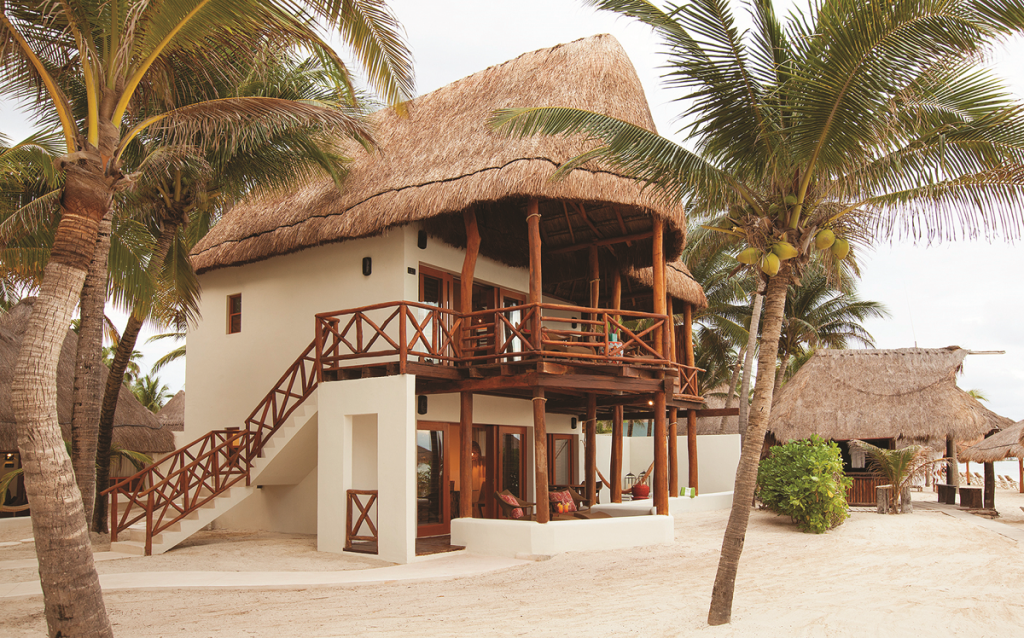 One of Mexico's finest tropical escapes awaits at Mahekal Beach Resort, perfectly positioned along the sunny Playa Del Carmen coast. Renowned for its rich history, friendly staff, and "magical" allure, Mahekal is the perfect solution for affluent travelers who want more from their time south of the border than one might find at the typical "all inclusive" resort. The lush landscape, white sandy beaches, and views of the neighboring island of Cozumel provide the perfect backdrop for this stunning oceanside retreat. Located just steps from Playa's popular Quinta Avenida (5th Avenue), Mahekal's pristine resort property includes an array of luxury amenities and services that guarantee memories to last a lifetime.
Upon arrival at Cancún International Airport, guests are greeted with a warm smile and a refreshingly cold margarita (an amenity you will almost certainly appreciate, given the warm air and humidity). The greeting is led by the property's resort concierge, Boli, and a genuinely friendly staff that seem fully committed to ensuring your experience is never to be forgotten. A short ride through Quintana Roo brings you to Playa del Carmen and this remarkable one-of-a-kind resort.
With its deep roots in local culture and tradition, Mahekal's history dates back over 50 years when a local family decided to build six thatched-roof palapas (huts) on the beach for travelers to rent. Every peso of profit was reinvested in new bungalows, and today the resort features more than 100 individual palapas and includes recent enhancements completed via a three-year, $16 million reimagining.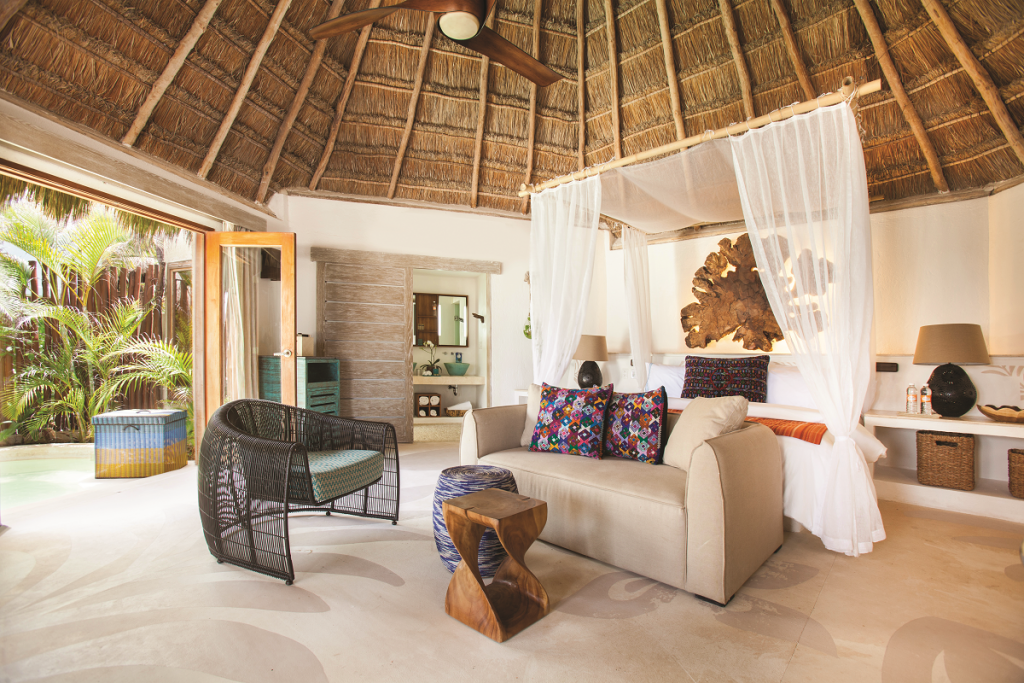 Rooms at this exquisite resort come in an assortment of floor plans ranging from oceanfront casitas to jungle bungalows. You'll find seaside beach houses with private plunge pools and outdoor moon showers, as well as Treehouse Rooms that afford the opportunity to fully enjoy the resort's lush gardens and fauna. One amenity you won't find, however, is a TV in the guest accommodations. It's Mahekal's way of encouraging travelers to engage with the resort's natural environment and escape from the cares of city life. Two-bedroom suites, luxury penthouse units, and longer term stays via La Residencia make Mahekal Beach Resort the perfect choice during your visit to Playa del Carmen.
Light fare and gourmet cuisine are available at on-site restaurants Cocina, Fuego Restaurante y Cantina, Itzi (named after a Mayan princess), Boli's Bar, and the property's flagship Las Olas Restaurant and Bar. Other notable dining options include the "Catch of the Day" program, boasting fresh oceanic selections delivered directly off the boat, and the Mayan Culinary Casita, an epicurean adventure featuring a taste of Mayan culture that's guaranteed to make an impression. Both were favorites of Jetset during our stay.
Mahekal's Revive Spa sets the stage for additional relaxation, with Mayan-inspired treatments in a 2,500 square-foot facility that infuses bohemian styles with rich, colorful Mexican accents. The spa utilizes locally sourced organic ingredients, and the entire experience has been meticulously designed to achieve the ultimate feeling of tranquility.
Additional amenities include on-site fitness and dive centers, a nightly beachside fire pit, complimentary use of the resorts bicycles, a local artisan boutique, and a plethora of activities designed to satisfy any appetite for adventure.
The Grand at Moon Palace Cancun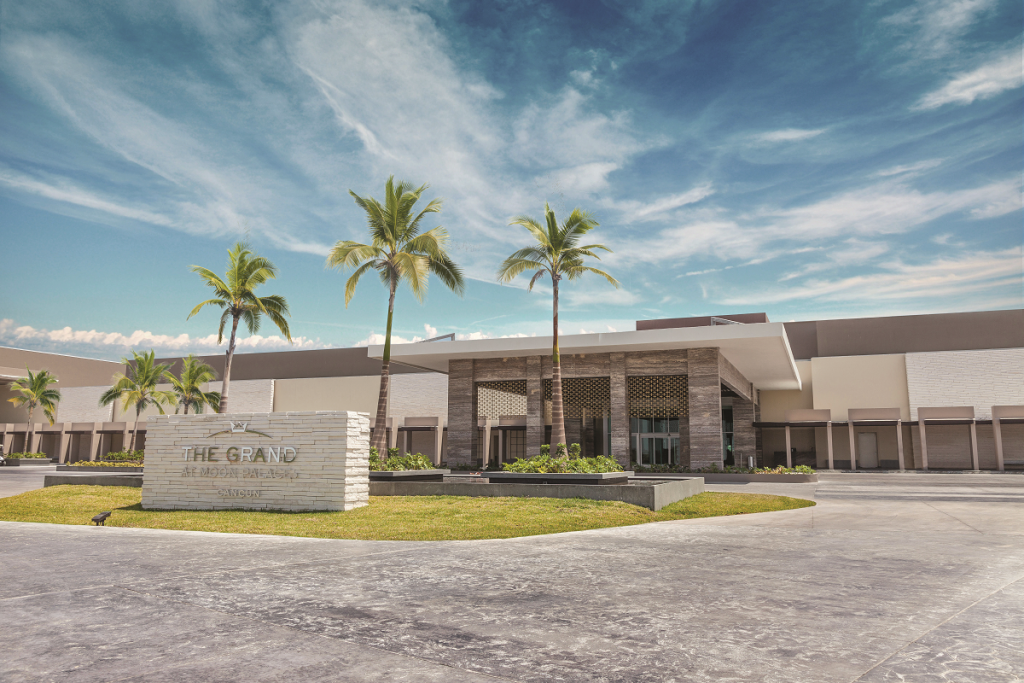 The Grand at Moon Palace, located in the Yucatán Peninsula just minutes from Cancun International Airport, offers the opportunity to revel in opulence along the region's Caribbean coast. Boasting an impeccable melding of modern luxury, smart technology, and five-star hospitality, The Grand's all-inclusive resort packages provide everything guests need to make the most of their time in this playful Mexico destination.
A stay in one of the resort's 1300-plus lavish suites includes a myriad of opulent amenities aimed at meeting the needs of the most demanding of jetsetters. Rooms are equipped with a double whirlpool jacuzzi tub, aromatherapy oils, a selection of premium spirits, and a complimentary bottle of wine, all included as standard features along with 24-hour room service and nightly turndown service. The Grand's Presidential Suites provide expansive space for guests who desire even more from their upscale accommodations, with an elegant open living room, dining and bar area, outdoor terrace, and two separate sleeping quarters with private baths and showers.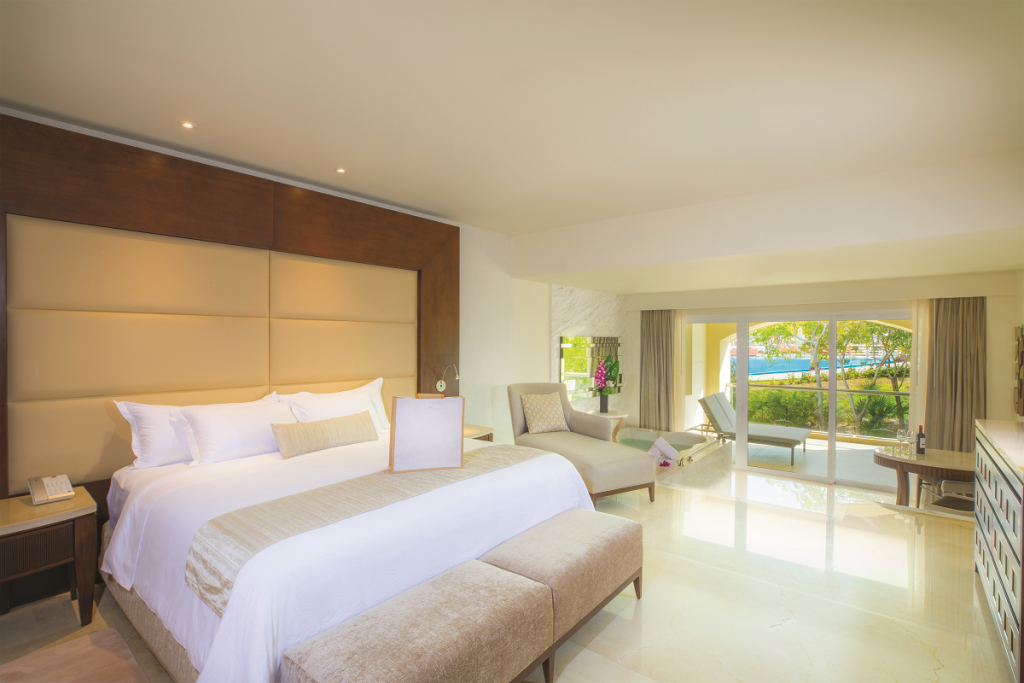 As the most luxurious of Moon Palace Cancun's three impressive resorts, The Grand offers its guests VIP access to a plethora of services and activities available on-site and at its neighboring sister properties. These include a family-friendly water park, tennis and basketball courts, fitness centers, mini-golf, an arcade, a bowling bar, a variety of non-motorized water sports, and a network of enormous swimming pools.
Dining options are plentiful at The Grand, with more than a dozen bar and restaurant choices. Whether you're craving local Mexican cuisine or looking for flavors of a different variety, the property's ample menus feature culinary inspirations from around the globe. You'll find everything from USDA choice meats and fresh seafoods, to the finest Asian, French, Italian, and Lebanese cuisine. Several bars are also located throughout the massive Moon Palace property, while Unique, The Grand's own nightclub, offers an upscale after-hours experience.
The Grand at Moon Palace is home to Awe Spa, offering adult guests a menu of services not typically available in a resort setting. The enchanting spa facilities feature a full-service beauty salon, invigorating massage and hydrotherapy treatments, and the trendy Fish Spa Experience where the Awe Spa has pioneered new therapeutic treatments using authentic Garra Rufa Fish.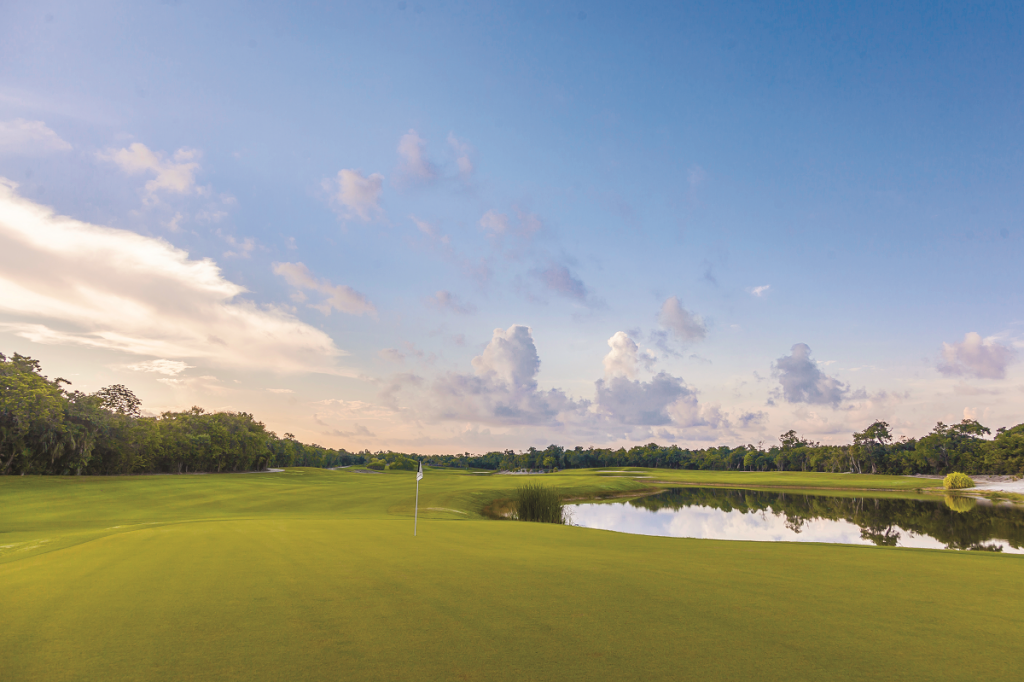 The Moon Palace Spa & Golf Club at The Grand is a golfer's dream. The clever and challenging 27-hole golf course is the brainchild of legendary golfer Jack Nicklaus and includes three intelligently integrated nines, all of which have been named after the region's pristine Caribbean landscape. Known as Jungle, Lakes, and Dunes, each 9-hole course offers a unique set of challenges for players of all skill levels. The Jungle nine requires daring golfers to traverse the flora and fauna of the surrounding jungle's dense forest as they navigate the course. Making even the slightest of errors on a tee shot here leaves players digging out of rugged shrubbery. The Lakes also delivers a formidable challenge to both novice and expert golfers. Its precarious wetlands network puts every shot at risk of ending up in a water hazard or bunker. The Dunes is certainly the most demanding nine and sits firmly atop the list of crowd favorites at this rather unusual 27-hole golfer's paradise. And for those looking to improve their game, the Moon Palace Golf Academy provides a chance to learn from the pros. All-inclusive golf packages are always available and each stay includes resort credits that can be used for a variety of activities and services.
Notable Restaurants:
Harry's Prime Steakhouse & Raw Bar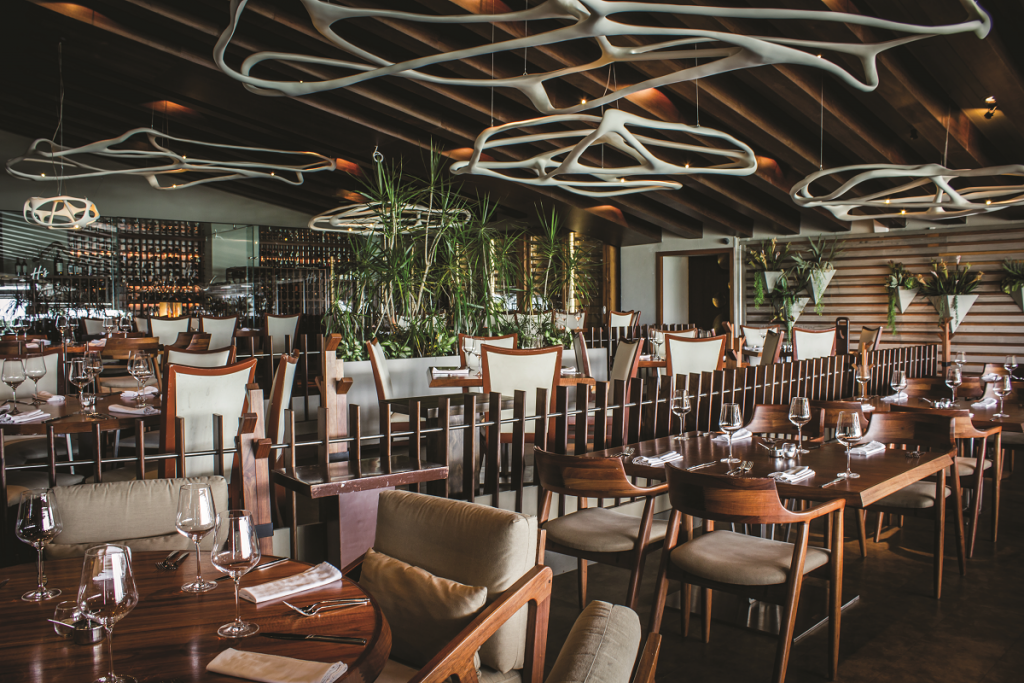 Specializing in top-of-the-line steaks and seafood, Harry's has gained notoriety as one of Cancun's absolute best high-end steakhouses. Offering a relaxed yet sophisticated atmosphere, with elegant architecture that's been designed to incorporate lagoon views and waterfall features throughout, the restaurant provides discerning diners with a noteworthy selection of fine USDA Prime cuts and is one of the few places in Mexico to offer certified authentic A5 grade Japanese Wagyu Kobe beef. Fresh seafood options are also available via the restaurant's raw bar, and wine enthusiasts will appreciate Harry's cellar replete with more than 400 different wines sourced from around the world.
Porfirio's Cancun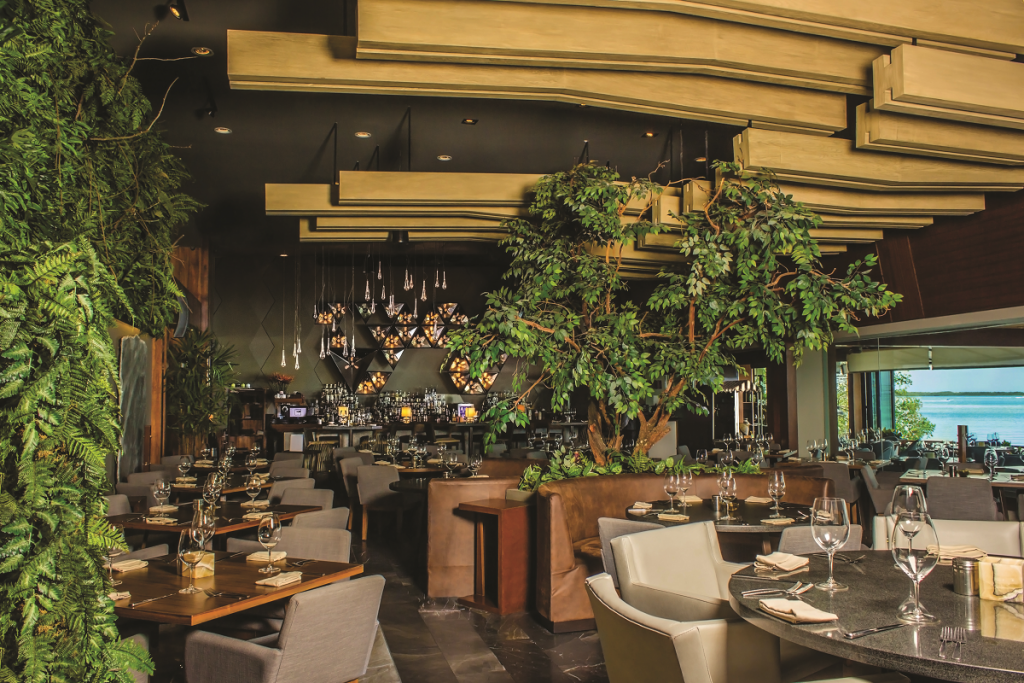 For a unique take on local Mexican cuisine, Porfirio's features a flavorful variety of gourmet options from which to choose. Drawing inspiration from dishes often found on the streets of Mexico, the impressive menu takes advantage of traditional ingredients to create an exquisite assortment of deliciously satisfying items. The innovative contemporary restaurant concept features an upscale atmosphere with colorful decor and views of the surrounding lagoon. Porforio's is also home to an extraordinary collection of tequilas and mezcals. With a selection of around 100 labels, we might recommend letting one of the restaurant's tequiliers help you find the optimal pairings for your meal.