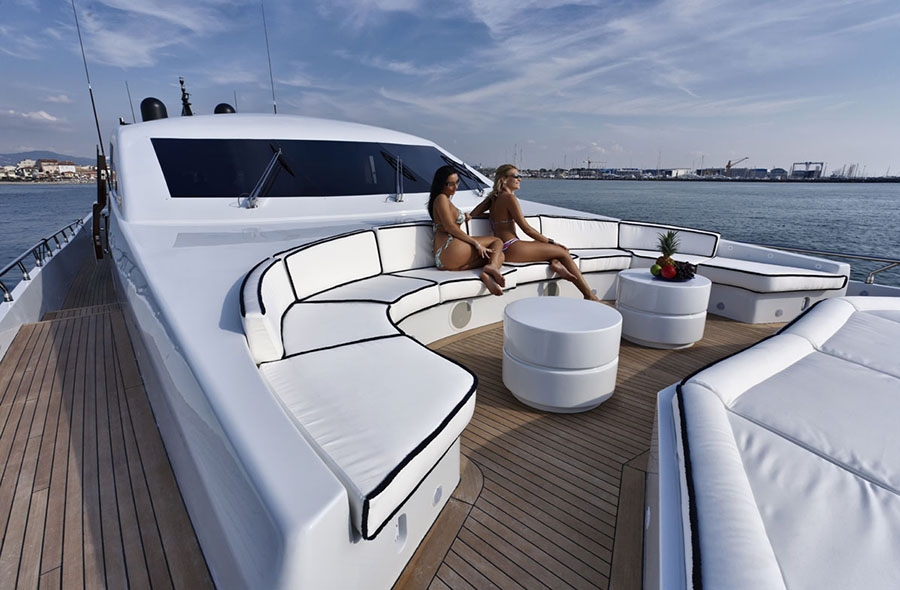 The needs of Advantaged Yacht Charters and Sales clients range far and wide, from bachelor and bachelorette parties to off-shore document signings; from family days on the water to sport fishing charters. We charter in Miami, Ft. Lauderdale, The Hamptons NY, the Bahamas and are also a licensed yacht broker.
Business or pleasure, short term or long, The Advantaged can supply the yacht, captain, crew and amenities to suite your specific requests.
Custom catering requests? No Problem. Thrill seekers love trying out the AquaJet or spending time on personal watercraft. Dare to dream about your perfect day on the water, then contact The Advantaged and watch as your dream becomes reality.
With boat rentals departing from Miami and Miami Beach, you can travel anywhere in the Caribbean with our term-charters. Bimini, Nassau, Key West and the Bahamas – select your destination then let The Advantaged provide the logistics and support for your ultimate comfort and enjoyment.
Seasoned traveller or first timer – all are invited to contact The Advantaged to learn more about good times yachting on south Florida waters.
See dozens of boats on our All-Yachts page. Yachts for sale: Buy with Confidence from South Florid's Premiere Yacht Broker. Charter management services available, too.
About The Advantaged 10 Years Custom Yacht Tours
The Advantaged is a luxury yacht service with extensive knowledge and experience in the charter industry. Over the years we have extended our impeccable service to yacht sales, in the Miami/Fort Lauderdale area.
We are one the oldest charter companies in South Florida, with a sterling reputation for quality and exceptional service.
Our clients expect the best lifestyle experience South Florida can offer and we delight in exceeding your expectations at every opportunity.
Our Service Area Includes:
Miami and Miami Beach
Fort Lauderdale
The Florida Keys
The Bahamas & surrounding islands
The Caribbean
Contact us today to customize your full or half-day adventure.
Our Staff
Our friendly team members provide the highest standard of service, uniquely crafted to each individual guest. We operate with transparency and fairness, which separates us from other charter companies.
Your comfort and enjoyment are our number one priorities. Our friendly team members are available 24 hours a day to attend to your every need and inquiry.
We take pride in our uncompromising five star service, satisfying to even our most demanding clients. Rest assured you will be delighted with the professionalism and responsiveness of our experienced staff.
Our Service
The Advantaged has an extensive background in the luxury mega yacht industry. Whether you would like to charter one of our many luxury cruisers or buy your own, we provide the best service, regardless of your budget. We listen to your requests and act upon them to exceed your expectations.
We can pick you up free of charge (up to 4 people) or arrange transportation. We will also deliver your charter vessel to the closest marina for your convenience and provide any additional request to make your experience an unforgettable one.
When you're ready to take your yachting experience to the next level, our professional yacht sales staff will be happy to assist you in finding the perfect ship of your dreams and help you locate crew.
Catering
All our charters come with complimentary Fruit & Cheese platter for up to four people, along with water, ice, and soft drinks.
Over the years we have enhanced our charter offerings to satisfy our guests' wants and needs. Enjoy a relaxing day and let us pamper you and your family and friends. Take a moment to look over our menu choices and we'll help you make all the arrangements and make your day as effortless as possible.
Call or email with any special needs or requests you may have.
Unique Services
The Advantaged offers standard service that stands apart from other charter companies in the Miami area, a pampering style we call Unique Services. Many services that come standard with The Advantaged are add-on charges at other charter companies. The only task you'll have to handle is to relax and have a good time!