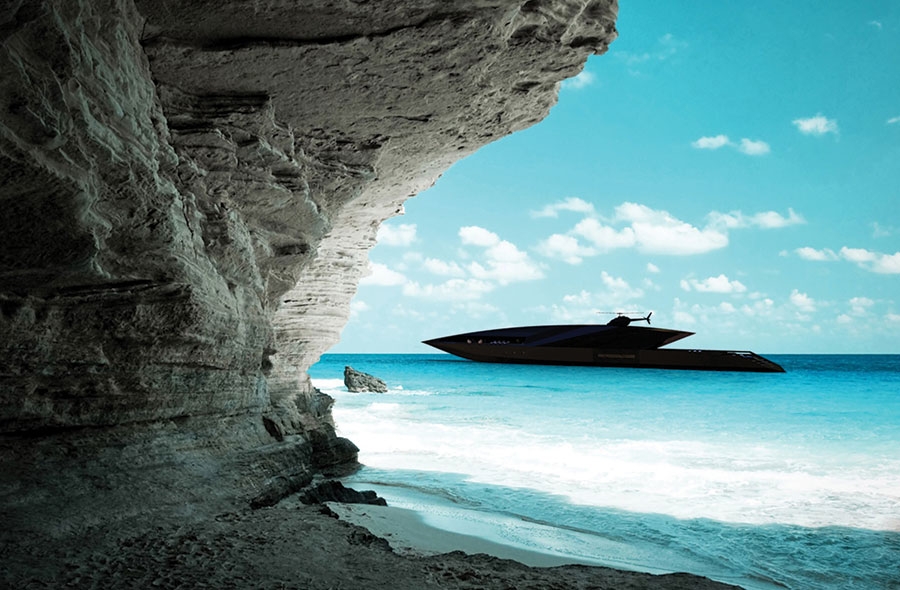 With just one look at this sleek black concept Black Swan superyacht by uk-based Turkish designer Timur Bozca, it's hard not to conjure up images of James Bond cruising away in it
(accompanied by a beautiful, bikinied babe, of course) after leaving one of his villains such as Blofeld or Dominic Greene in the dust.
This luxurious 70-meter floating getaway has been designed to be as technically-advanced "under the hood" as it is mesmerizing to look at. The yacht's arrow-shaped aerodynamic design not only ramps up its "cool quotient" – it ensures its high efficiency. Its four engines, capable of revving up to an impressive 23,172 in horsepower, are fueled by a staggering 183,000 liter fuel capacity. Cruising speed is around 20 knots, with a top speed of 28. The hull is made of reinforced steel and the superstructure is constructed of sleek black aluminum. An on-board water tank ensures that the yacht leaves port with a supply of 38,600 liters of fresh water.
Now, let's talk luxury. The Black Swan superyacht can accommodate up to 12 guests and a staff of 18. The master cabin and six guest cabins are decorated in earth tones with black walls and glass accents that give the décor a futuristic look. Bozca also thoughtfully included a helipad, pool and multiple sunning decks.
It would hardly be surprising if guests lucky enough to be invited to sail on the Black Swan superyacht were to be shaken (by its breathtaking black silhouette) and stirred (by its sumptuous style).