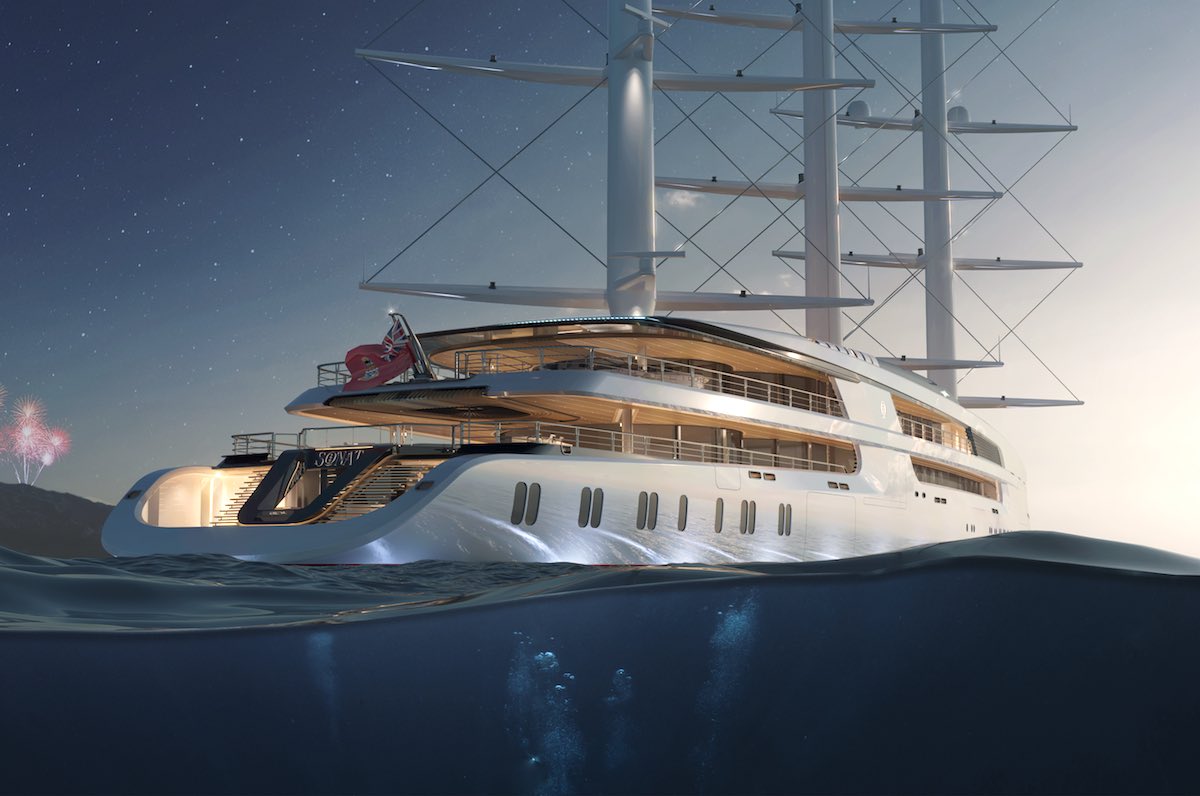 Tempted by a crystal-ball glance at the future of yacht design and charters? It's safe to say a new generation of yacht buyers, with distinctly different priorities and pastimes, is forcing the industry to freshen its approach.
Nicholas Dean, Managing Partner of Ocean Independence, a leading luxury yacht charter and brokerage firm, has seen all designers–whether naval architects or yacht exterior and interior designers–looking to push the envelope with a range of concepts, of which just a few will actually get built. "Most of the developmental concept ideas will produce an area of design that works, but to see it through to fruition involves a number of evolving stages," Dean explains in detail to Jetset. "Two years ago, when working for a trusted client, I created a specific concept book, where the client selected parts from a number of ideas which culminated in the final yacht design. This selection and collaboration process works very well, in order to put a project together that matches a specific client as without their input it is virtually impossible to create options. There are so many aspects to how a concept evolves, this evolution process is how it happens."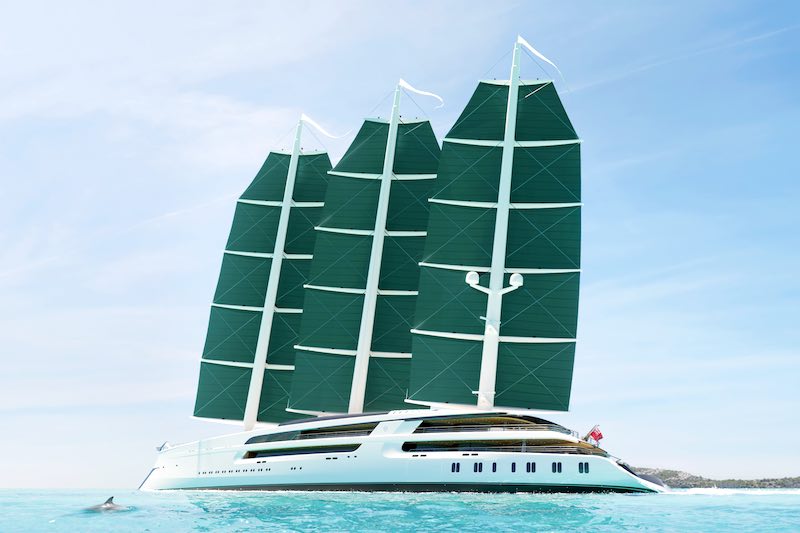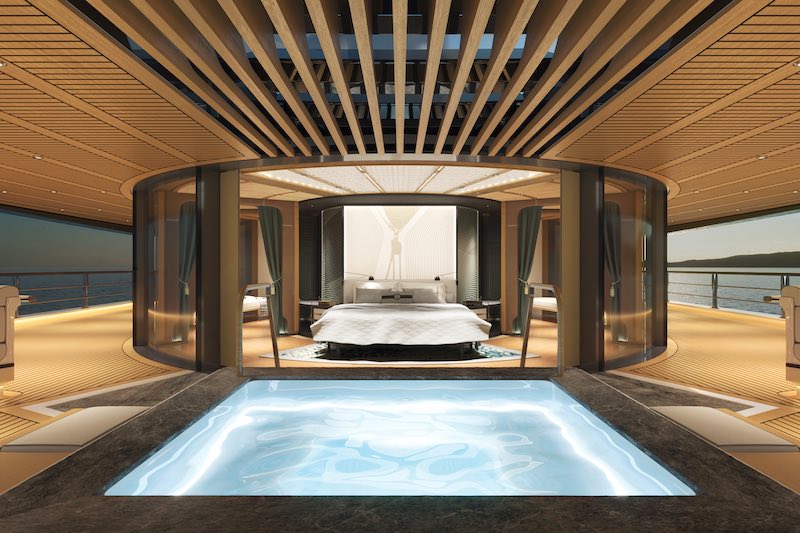 For consumers in this growing segment, a decadent scale and unparalleled sense of space are the essential ingredients motivating commissions and purchases, and high design over ostentatious glamor is the yachting culture in which they see themselves thriving. Here's a Jetset guide to a some of the industry's latest offerings and a few recommendations for that perfect nautical destination.
Project Sonata is a rule-defying 351-foot sailing yacht that would feel like a family's own private cruising luxury liner. When built, Sonata would be a first for sailing superyachts. Her super high-tech sails would lead to more of a motor yacht experience. Groundbreaking versatility will be the absolute hook for clientele that want the thrill of a sailing yacht with the space and luxury of a motor yacht. Project Sonata's primary objective? To create a buildable, eco-friendly superyacht of tomorrow, a more sustainable, smarter yacht design that seamlessly incorporates naval architecture into the design. Strong, confident lines merge with sleek surface transitions. The design prioritizes and revolves around the experience of the craft's guests.
For catamaran fans, BlackCat 50 is for sale through Ocean Independence. An entirely new superyacht platform, setting the platinum standard in large cruising catamarans, this design is aimed at an owner who wants to achieve the ultimate. According to Ocean Independence, the custom beauty will be the fastest sailing superyacht and the largest carbon fiber catamaran ever built, with a predicted top speed of 30+ knots. The concept has been created by revered sailor Mitch Booth and designed by Malcolm McKeon. BlackCat 50 will be constructed in carbon by Baltic Yachts, with a Rig & Sails package developed by North Sails and Southern Spars. A marvel of single deck living, the yacht features 620m² of open exterior areas and 320m² of interior space, a walkthrough living experience on a scale never before seen on the high seas. Interiors by M2 Atelier are in the style of an ultra-sleek New York loft, with glass wrapped overheads adding space and light. Fully engineered, the project is ready to begin building upon signing.
Numarine's new stunning flagship, the 37XP model, is a study in how to strike an ideal balance between strength and elegance. At 37 meters, the superyacht is the largest Numarine yacht ever built. Unveiled for the first time at the Cannes Yachting Festival 2021, it features a stylish decor from the sophisticated Hot Lab studio. This is the second auspicious Numarine project with the Milan-based studio. Gray, white, beige and brown tones make for a serene contemporary vibe. An abundance of natural light fills up the space through dramatic windows – they are the key feature for the entire XP Series range. The layout invites a residential approach to prestige decorating; designers relished in statement freestanding furniture from the likes of Fendi Casa, Promemoria, and Giorgetti.
A notable option on the frontier of obscenely spacious yacht schematics, Olokun confirms the dynamic design of Tankoa's S501 platform. The series, inaugurated with Vertige and quickly followed by her hybrid sister, Bintador, remains the shipyard's bestseller that focuses on striving for flawless execution. High up on the most recent owner's wish list was a hammam lounge and relaxation area as close as possible to the ocean, which led to the challenge of maximizing the beach club space within the 499GT volume of the 50-meter yacht. The owner further detailed the main salon to be as large as possible, so the dining room was moved to the upper deck, where there are two dining tables, one interior and one on the alfresco aft deck.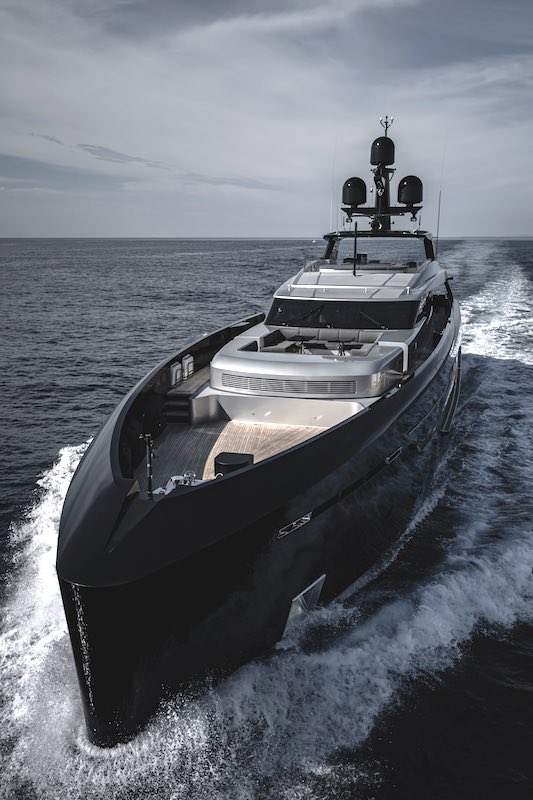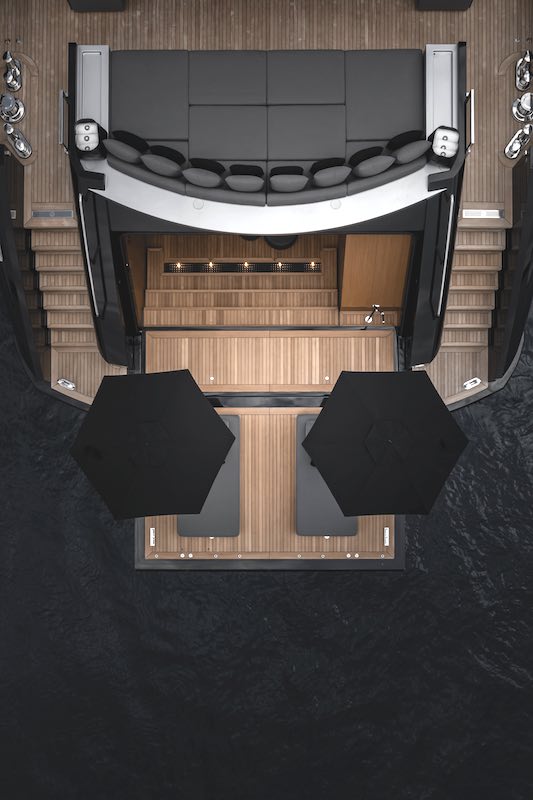 Tankoa's 50-meter platform has been progressively fine-tuned with each new launch, both technically and aesthetically. Olokun has a semi-displacement hull with conventional diesel propulsion for a top speed of 17.5 knots and a cruising speed of 14 knots. At an economical 11 knots she has an oceanic range of 4,500 nautical miles. Currently Tankoa is building 3 units of the same series, the S501. Two are already sold and ready to be launched in 2022 and one on speculation.
Olokun's exterior delivers a rigorous stylistic coherence with a clean, contemporary look. It has also maintained signature features like fold-down terraces in the master stateroom on the forward main deck, a large sundeck with bar and hot-tub and a spacious beach club with spa in the transom. Another example of client customization is the elegant black hull and metallic gray superstructure. Dark hulls easily overheat in the sunshine, so to meet the owner's request and achieve optimal results, Tankoa specified special Awlgrip coatings that reduce the temperature of the metal hull by as much as 10°C.
Olokun's interior by Casa Dio Miami/London – a US-based studio with experience in the residential, aviation and marine sectors – offers clean lines inspired by Japanese design. Best of all? Many interior fabrics feature prestigious Italian brand Loro Piana. Casa Dio focused on developing the interior and furniture design, based specifically on the owner's tastes, on a beautifully balanced interplay of brushed oak in three different shades: natural oak, Tokyo Black and Bitter Gray. The three colors are alternated for the vertical trims and ceilings, a motif that runs harmoniously across all decks. It also appears in the cabins where it creates a delicious mix with jute and wool carpeting by Loro Piana.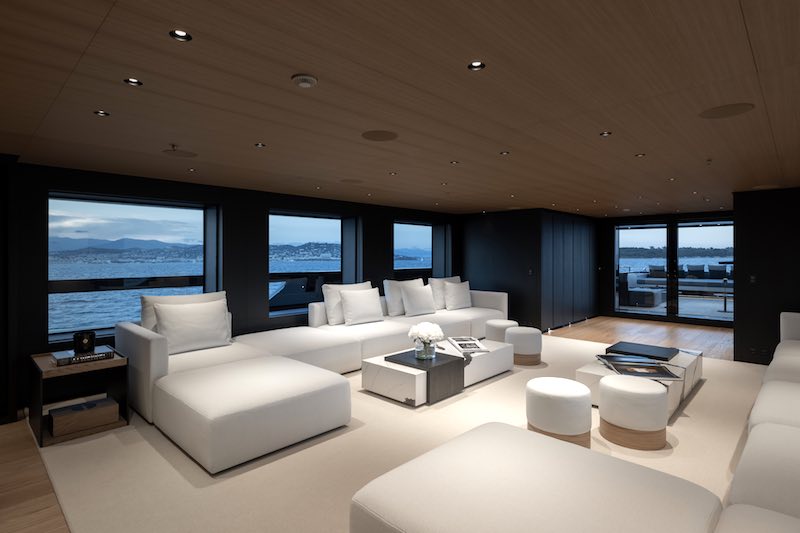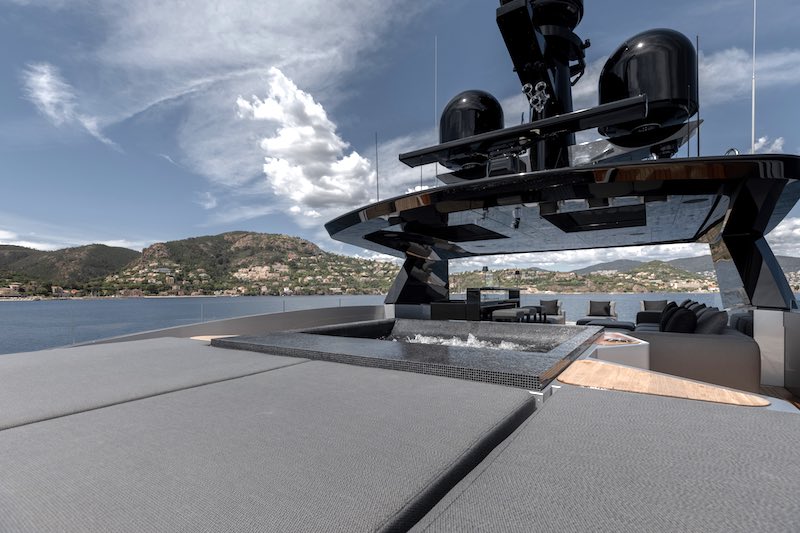 Now that we've caught up on the yachting world's ongoing obsession with going big or going home, we're all dressed up but where to go? The major news in boating destinations is that, for the first time in history, leisure travelers can now explore Costa Rica by superyacht. Long inaccessible by larger superyachts, the Central American coastline and idyllic islands will now be open to international superyacht charters. Leading luxury yacht firm IYC is poised to assist its clients with adventurous itineraries to enjoy the diverse region in the most celebratory fashion.
Sailing interest in ecological destinations has never been stronger. Home to a whopping 5% of the world's biodiversity within only 0.03% of the earth's surface, Costa Rica is undoubtedly one of the most extraordinary destinations for yacht charters in the entire world. Declared one of the most biologically diverse places on earth by National Geographic, the soul-stirring rainforests and warm inviting waters of the OSA Peninsula make it a show stopping region for charters and one of the most precious areas in Costa Rica. On the other end, the North Pacific Coast of Costa Rica is your other charter option, providing unmatched landscape views, an abundance of marine life, and some of the best conditions found in the country.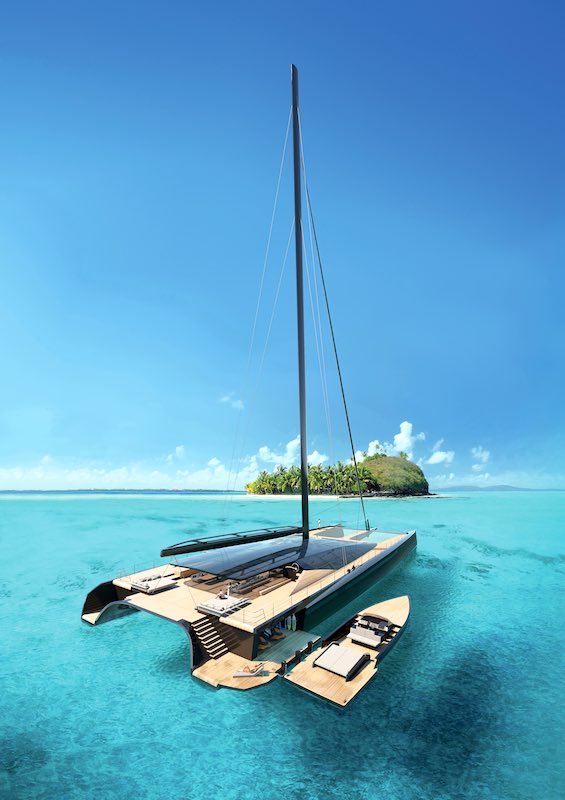 For marine lovers, Costa Rica is like a dream. On any given day, guests on board their yacht charter may see a plethora of marine life ranging from harlequin clown shrimp and seahorses to white tip and reef sharks, or even a very rare giant Pacific manta ray. If you simply must moor to make the most of your trip, the newly launched Villas NIMBU Nosara is worth mooring for. Recharge and reset in this upscale and deliciously private oasis, perched in a plum spot in Costa Rica's answer to posh Malibu. You'll revel in divine splendor and convivial conversation; A-Listers flock to the area for privacy and the notably Californian surf meets wellness vibe. You just may meet your soulmate as you sip kombucha watching the world famous surf at nearby Playa Guiones.
Many facets of the beautiful Bahamas archipelago are also only discoverable by sea, and with the largest charter fleet in the world, IYC also offers the best itineraries to enjoy the Bahamas exclusively. Yachts make the perfect bubble getaway, ideal for one of the most popular destinations in the Caribbean. Of these private places, the Abacos is a hidden gem. Filled with over 120-miles of islands and cays, the Abacos are an often-overlooked jewel. Once famous for shipbuilding heritage and prowess, the islands welcome large numbers of visiting yachts keen to explore the stunning cruising grounds.
Departing from Marsh Harbor, sail from the Southern Sea of Abaco; anchor up in Little Harbor Bay or the Bight of Old Robinson Bay. The next morning visit Robinson's Creek to explore the mangroves and blue holes, in the company of stingrays, mangroves, and tropical fish. Snorkel in O'Neil creek and swim with three different varieties of endangered sea turtles. Some of the standout IYC vessels for Bahamas charters are Silver Seas, Day One, Vida Boa, Zeal and Laurel.
When asked about his favorite scuba and yachting destinations for vacations with family and friends, Nicholas Dean responds candidly, "The best scuba diving spots for us would be in Belize where we have numerous vessels for charter. But the cruising area I like the best is the Ionian. I have enjoyed some fantastic sailing conditions here amongst beautiful scenery. Just the landscapes, the locals, the atmosphere – you really can't beat it!"