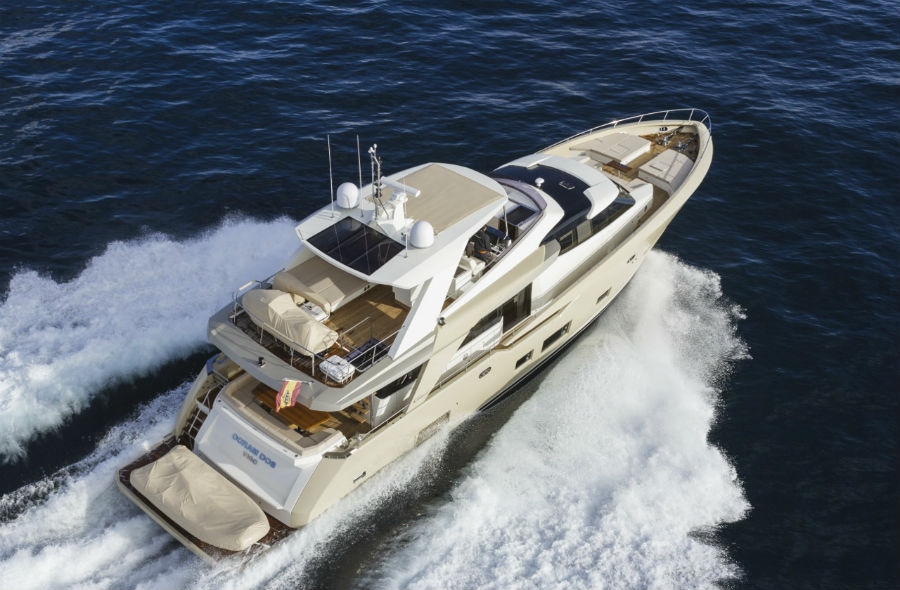 Worldwide Premiere at Cannes Boat & Yacht Show 10-15 September 2013
The Couach 2600 FLY was launched on the 24th of June on the Arcachon Bay. With this new model, the shipyard enters the 80 foot sector for the first time and broadens the scope of its yacht and professional speedboat catalogue that already boasts 13 models from 14 to 50 metres.
Between 22 and 28 metres: the missing link
Couach customers have been waiting a long time for a model this size. Designed to fill the gap in the range of 22 and 28 metre models, the 2600 FLY is the perfect expression of what the shipyard does best: a compact, homogeneous and functional yacht for enjoyable life on-board and sailing. With a new approach to on-board passenger circulation and space management, the 2600 FLY offers all the trademark features that have established Couach's reputation: deep V-shaped planing hull, composite materials, speed, stability and agility, shaft line propulsion.
Couach essence
Couach in-house designer Franck Reynaud began with a blank page and has imagined a contemporary model consistent with today's trends, in keeping with the brand's distinctive lines that reflect its precision, commitment and marine qualities. Particular among the new features are the stylistic effects borrowed from the 50 metre yacht design; the bow layout, uncommon on a deep Vshaped hull; the flying bridge layout and the large sliding side doors that open the lounge onto the sea.
Perfect homogeneity
To define the options for layout, always entirely customisable at Couach shipyard, the client drew on ideas from La Pellegrina, the 50 metre super yacht built in 2012. Ambitious choices that led the teams to make even better use of space and stretch every limit. The result is perfect and within its 26 metres and four cabins the 2600 Fly combines all the assets one would expect on a larger vessel.
The 2600 FLY will be presented to the press and the public at the Cannes Boat Show from 10th to 15th of September 2013.
SPECIFICATIONS
Main characteristics:
Overall length: 26,20 metres
Hull length: 23,95 metres
Beam: 6,30 metres
Draft: 1,70 metres
Light displacement: 52 tonnes
Fuel tank: 10000 Litres
Fresh water: 1800 Litres
Maximum speed: 31 knots
Engines: 2 X 12V1800 HP MAN – 1800 HP
Engine power possible from 1200 to 1800 HP
Construction materials: Kevlar® composite