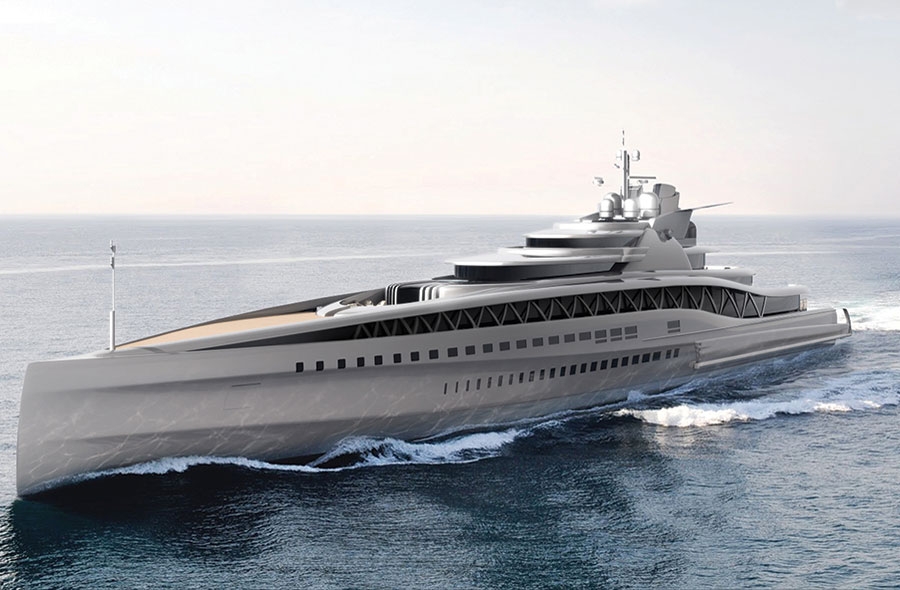 It's the kind of assignment that most design teams can only dream of: Create a turbine-powered superyacht that's not only very large, but amazing.
That's exactly what Ken Freivokh Design and Fincantieri Yachts accomplished when they collaborated on the Fortissimo superyacht concept which measures an impressive 145 meters and is capable achieving speeds of over 35 knots.
The Fortissimo features a total of seven decks, including a sun deck, a high-visibility bridge and operational deck, a dedicated owner's deck, a social and entertaining deck, a guest deck and a crew deck. The utility deck, which contains the galley, laundry and stores, was designed with segregated circulation routes to ensure that the crew can carry on their duties throughout the yacht discreetly and efficiently. Eight suites await the owners and their guests, and the yacht can accommodate a crew of 48. Other amenities include a see-through swimming pool and Jacuzzi and a main deck gymnasium and bar. achieving speeds of over 35 knots.
This futuristic superyacht also sports garages fore and aft to house toys and tenders, including a couple of elegant 10-meter, high-performance tenders; a limo tender; and utility, sports and rescue tenders, all launched via beam cranes from sophisticated shell doors. achieving speeds of over 35 knots.
A critical element of the Fortissimo's design is its rigid spaceframe system which enables full panoramic views. The design concept also acknowledges the tremendous power of the turbine installation, and integrates the powerplant as an integral part of the total design. The guest deck contains an art gallery that offers views into the machine room which is a work of art in itself. achieving speeds of over 35 knots.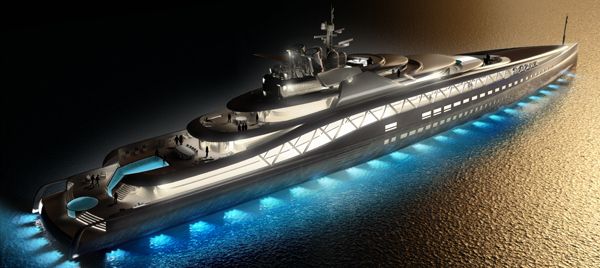 As Ken Freivokh notes, ". . . it is essential that the design is developed in close collaboration with a truly experienced yard, and we feel privileged that our lateral thinking proposals were creatively analyzed and brilliantly resolved by Fincantieri's in-house engineering team." achieving speeds of over 35 knots.
The Fortissimo is much more than luxurious — it's a totally unique concept that would surely turn heads on any body of water.