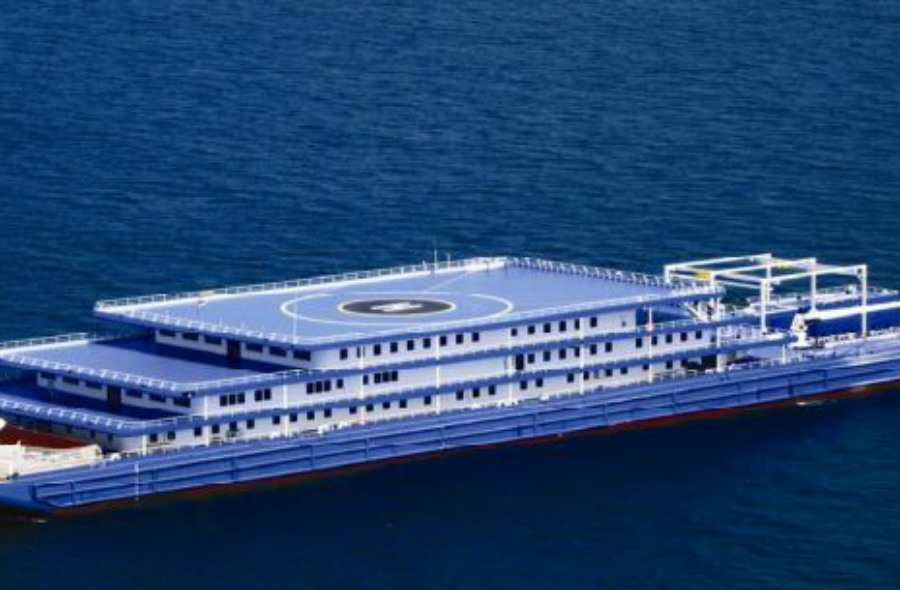 An outstanding opportunity to purchase a fully functioning self-contained offshore floating resort, casino, fishing/scuba lodge, scientific research lab, recording studio or…
Built and conceived as a first class luxury offshore fishing lodge, originally built as a US offshore cable laying barge, which has been transformed over 5 years and tens of millions of dollars into this ready to go opportunity!
Designed and built to be anchored offshore for months, if not years at a time, with enough fuel to last over 2 years between re‐fueling! The lodge was completely re‐built and is registered as a 2009, with all new systems to enable her to be self‐sufficient – making her own water, treating waste water and incinerating trash, while providing amazing, luxurious amenities at the owners chosen destination.
Equipped with a large "working deck" aft, with 2 large secure berths inset into the transom, capable of docking up to 70' yachts, plus an overhead gantry davit system for launching 32' center consoles, RIBS, or a submarine, using the alternate 20 ton crane. Complete with fish cleaning stations, live bait wells, flash freeze room and dive compressors, the lodge is ready to cater to all of a fisherman's desires!
The inset marina has two large slips capable of docking vessels up to 70' and a max. beam of 22' and 19' respectively. In addition there is an overhead gantry crane that can haul
and launch multiple 32' center console day fishing/diving boats.
In addition there is a 40' reach crane, with a capacity of up to 20 tons, capable of launching a submarine or whatever "toys" you may have!
This self-contained floating resort, is capable of producing up to 8,000 usg of fresh water a day, to supplement the 42,700 usg water tank. The water system has multiple carbon, UV and silver/copper sanitation systems, ensuring the purest of drinking water. There are 3 Caterpillar 99kW generators (plus a 50kW emergency backup generator on the upper deck), any two of which are capable of powering the entire resort, with enough diesel storage on board to be self sufficient for over 2 years without re‐fueling!!
There are three, industrial sized, 40 ton (each!), chilled water air conditioning plants, each independent of the other, any one of which can chill the whole vessel.
Main Salon with 1,000 gal. salt water aquarium hard plumbed and filtered to ocean
Dining Salon, Seats up to 50
Trophy wall
The 60' wide fresh water swimming pool holds 60,000 gals. And has it's own "drop tank" to store the water
900 bottlewalk‐in wine room
Fully equipped gym (with ocean view – of course)!
Double Queen Guest Suite
6,000 sq. ft top deck – is currently not built out but can be configured to suit
A Skywater Group Worldwide Exclusive!