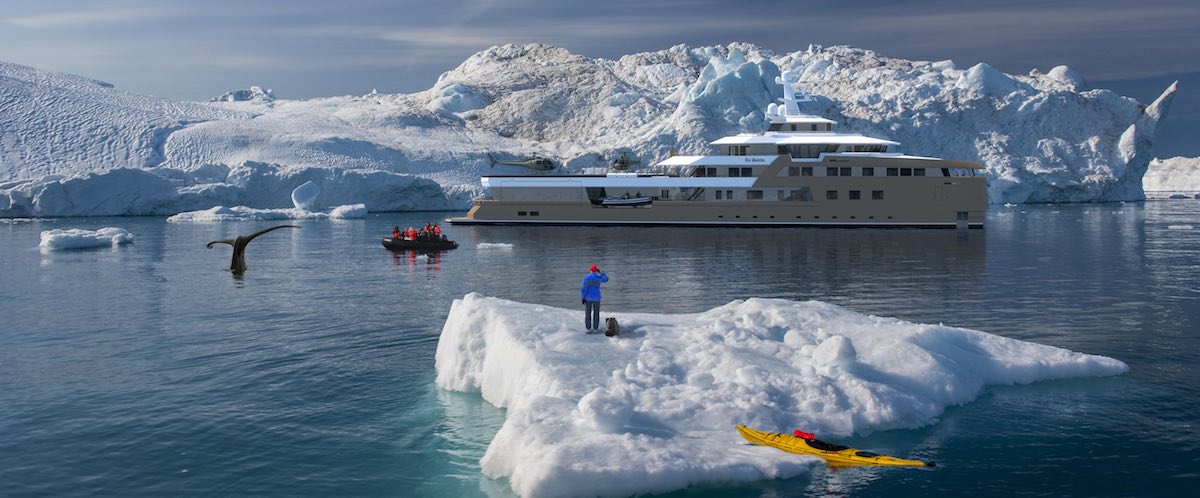 Charter yachts give passengers complete reign over the open seas, allowing them to sail to gorgeous tropical destinations in comfort and style. But for more daring sailors, roaming familiar waters fails to satisfy their cravings for excitement and adventure. Boating enthusiasts from all over the world, seeking thrills and awe-inspiring journeys, have been recently chartering Icebreaker Yachts. These vessels can safely transport passengers to the pristine Arctic Circle or the majestic Antarctic without sacrificing the coziness of home.
Sailing to higher latitudes, where arctic creatures drift and abound, requires a hardier vessel, capable of plowing through chunks of ice while navigating rougher seas. The following expedition yachts are masterful products of nautical engineering. They can not only glide through frigid waters with grace and ease but also shield sailors from the harshness of the arctic environment, providing exclusive adventures—all in the lap of luxury.
La Datcha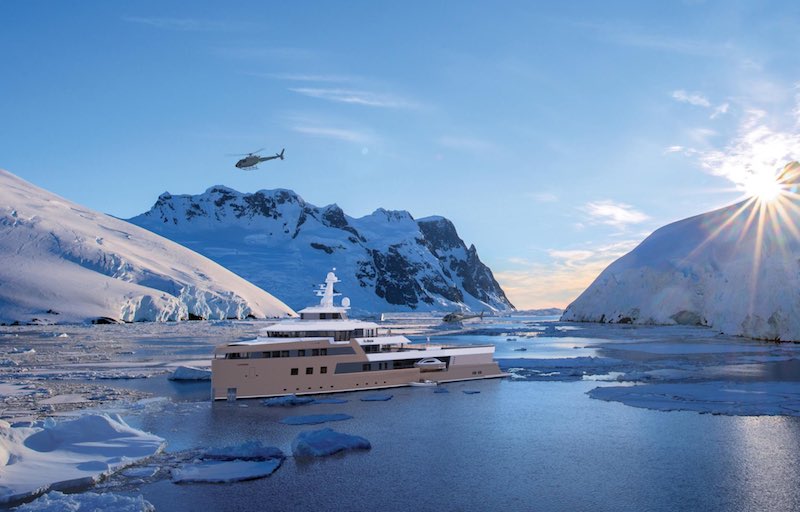 Measuring at an impressive 252 feet in length, La Datcha is a jaw-dropping vessel, with a six-level deck and enough space for 12 passengers. But that's not all: the expansive boat has a helicopter hangar, so that sailors can take flight and catch a bird's eye view of the vast ocean and Arctic landscape. Due to its state-of-the-art garbage management system and economical use of energy, La Datcha can stay out at sea for 40 days, and its onboard sauna, gym, and beautiful construction by Amels and Damen will make passengers never want to disembark. There is even a massage room, where mariners can pamper themselves after a day of sightseeing. This sleek vessel is the height of luxury, making Arctic and Antarctic exploration a glamorous affair.
Ragnar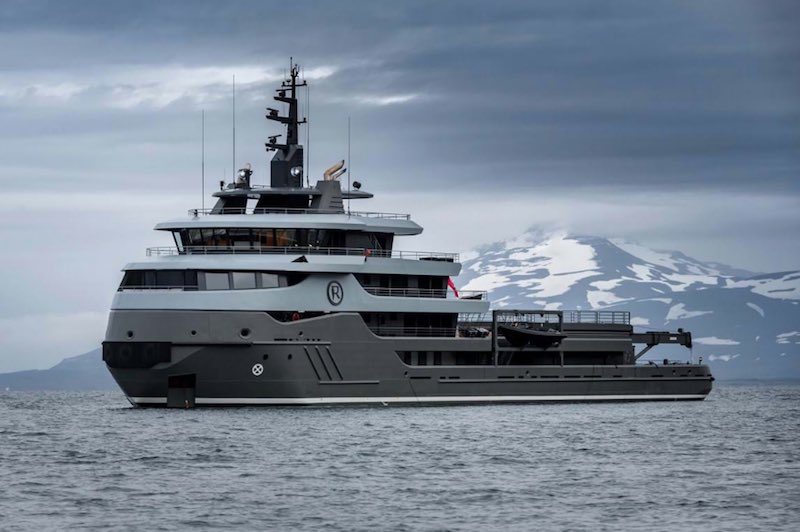 Massive and majestic, spacious and stylish, the Ragnar cuts through blocks of ice like tissue paper, providing unparalleled access to pristine seas. Boasting an impressive 6,000 nautical-mile range, this boat takes passengers on lengthy voyages through magnificent seascapes and comes equipped with innovative zero speed stabilizers. This feature prevents rolling motions while the ship is at anchor, making for a smooth trip, free of seasickness. The vessel is also replete with an optional submersible, snowmobiles, and jet skis for exploring the Arctic wilderness, and its lavish suites make for relaxing spaces to decompress. Also equipped with a helipad, the Ragnar succeeds in providing amazing adventures by air and sea; a trip on this vessel is a seasoned boater's dream come true.
Legend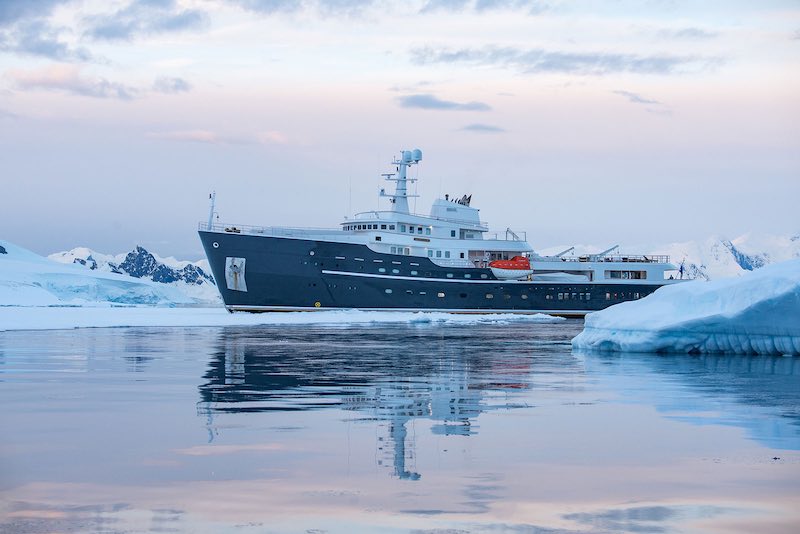 Legend is unlike any of the other Icebreaker Yachts, not only because of its sturdy construction and massive size but also because it is made from a renovated Soviet vessel. The vintage details of this ship are one-of-a-kind, an unfurling wonder of craftsmanship; those onboard can spend weeks uncovering surprise features—relics of times gone by. With 100 tons of steel and aluminum added to its frame, this vessel is home to sleek interior designs that pay homage to its Soviet past. Passengers can relax in the posh, ventilated cigar room, or take a dip in the spa pool, which contains a soothing waterfall. In the evening, they can chat with friends and crewmen in the whisky bar, or any of the other VIP lounges and spaces onboard. Legend lives up to its name, taking seafarers on unforgettable, legendary voyages to the ends of the Earth.
Cloudbreak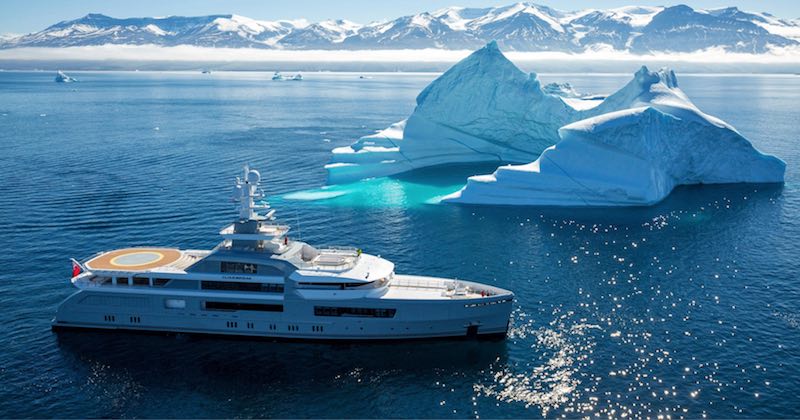 Designed by Norwegian superyacht icon Espen Oeino, Cloudbreak is a top-of-the-line vessel, built for speed and inspiring Arctic expeditions. The ship can reach cruising speed of 12 knots, and passengers enjoy roomy interiors resembling a ski chalet, interiors envisioned by revered French designer Christian Liaigre. In addition to a cozy fireplace, the floors of various living spaces have heaters underneath, keeping passengers' feet warm as they venture through colder climates. Throughout the ship, travelers will find a fully equipped gym, jacuzzis, a beach club, and a stunning observation deck. Another favorite feature is the outdoor sleeping space, which is perfect for stargazing or reclining in the open air. When it comes to sumptuous seafaring, Cloudbreak is transcendent, offering high-class sailing on the high seas.