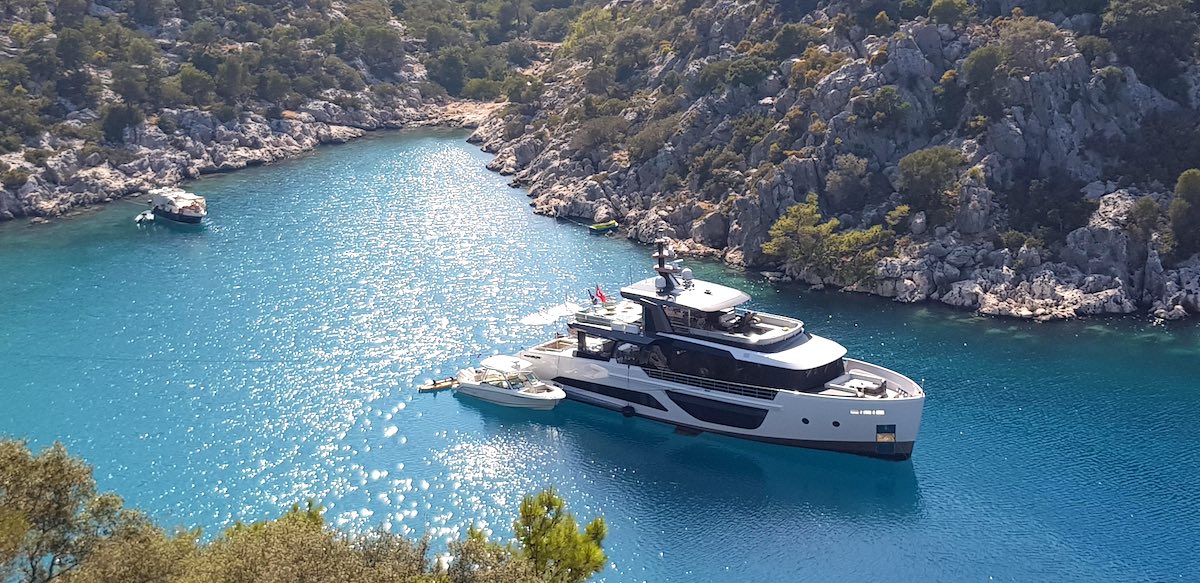 A rise in tide cruising audaciously on warm Caribbean waters, the latest addition to the Bahamas charter fleet has made its big reveal.
Confidently setting sail, the 102-foot VIVACE, built by Turkish shipyard Alpha Custom Yachts is the newest member of the Denison Yachting charter fleet. This boat is well-equipped for a Bahamas excursion, with accommodations for up to ten people, expansive outside space, an array of aquatic toys and an experienced lively crew of six leading the way.
Designed by renowned Italian designer Giorgio Cassetta, VIVACE's massive hull and stunning superstructure windows let in plenty of natural light into its interiors, adorning the vessel's towering vertical bow and unique copper color-glowing waterline. The running surface-area was fashioned by Laurent Giles, a renowned British naval architect, and is powered by dual 1,100 horsepower Caterpillar diesel engines. VIVACE can reach a peak velocity of 20 mph while comfortably sea-cruising at a 17 mph pace.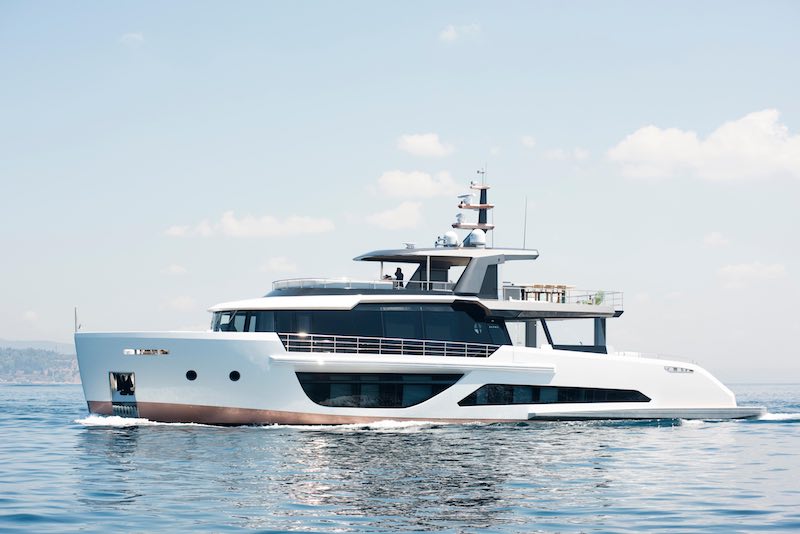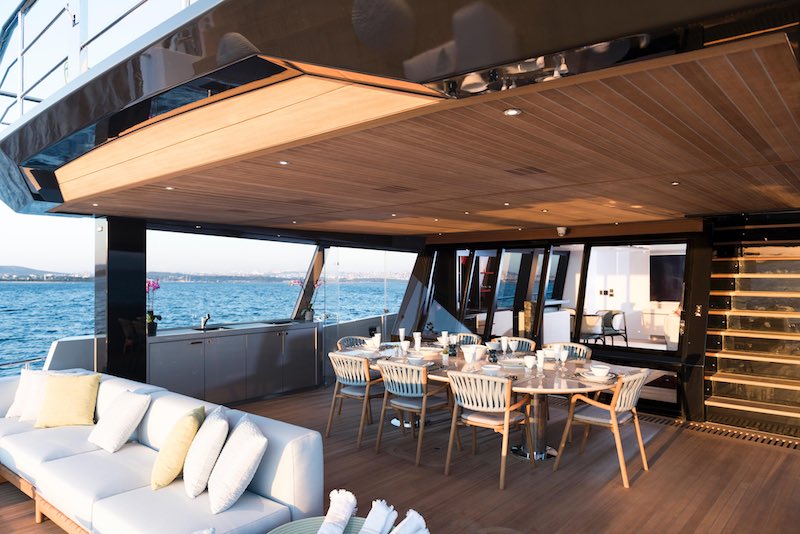 VIVACE's greatest asset is her wealth of outside space, highlighted by its deck, flybridge, and the bow. The 650-square-foot back terrace, which includes a heated dipping pool, is accessible by sweeping stairs on both sides. A custom teak inlay transforms it into a dance floor, where you can dance the night away beneath the stars above the sea sky. If it's a glowing suntanning vibe you desire, there are sun lounge-beds in the front, and a full-service bar and moveable couches at the back of the luxurious well equipped open-air kitchen.
Stylish sliding glass doors connect the dining room to the parlor lobby, which provides a shady and comfortable atmosphere for passengers to dine and relax. Jubilant VIVACE guests are likely to spend much of their time on the flybridge promenade. As the biggest in its yacht-class, it covers most of the yacht's circumference. VIVACE's main salon has a bar, plenty of sofas, and a second dining space near the chef's galley.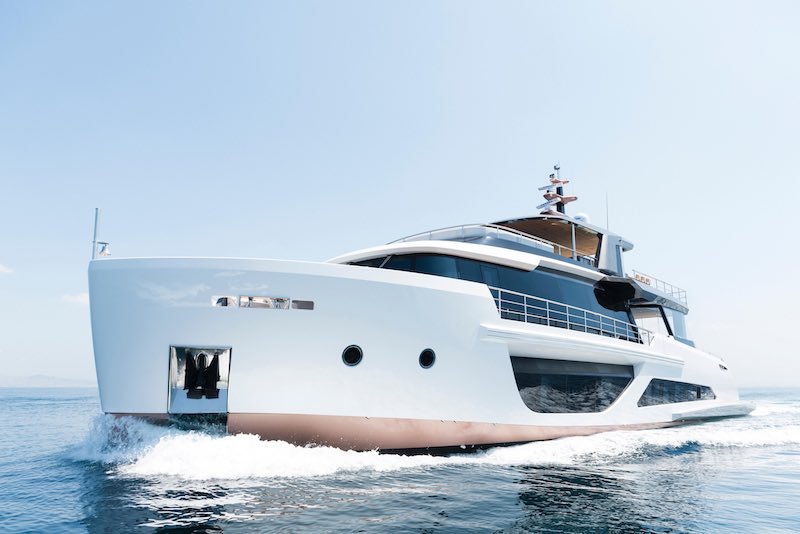 Head down below to the five en suite staterooms, which are accessed by an ornate staircase from the salon, with the full-beam master bedroom, large bathroom, custom sitting area and vast walk-in closet all serving as the star attraction. In addition, there are two VIP suites and two twin-bed cabins, with more than 1,100 square feet of area available on the lower deck surface. If you're craving some fun water sporting activities, VIVACE has two Seabobs, premium paddleboards, and a 32-foot WorldCat fishing speedboat on deck.
The ship's craftsmanship and focus on intricate details make it standout. Highlighted by its noise reducing features, its doors are more than two inches thick and automatically self-closing. The walls are also densely insulated, making the engines barely audible when you're on the water.
The owner of VIVACE, an American citizen, has no prior experience with yacht ownership or chartering. His only intention in acquiring the majestic vessel, which was priced for $13.4 million, was to use it as a premium charter vessel and not as a private yacht. In the luxury nautical industry, such an investable commitment makes sound financial sense in the current competitive niche market.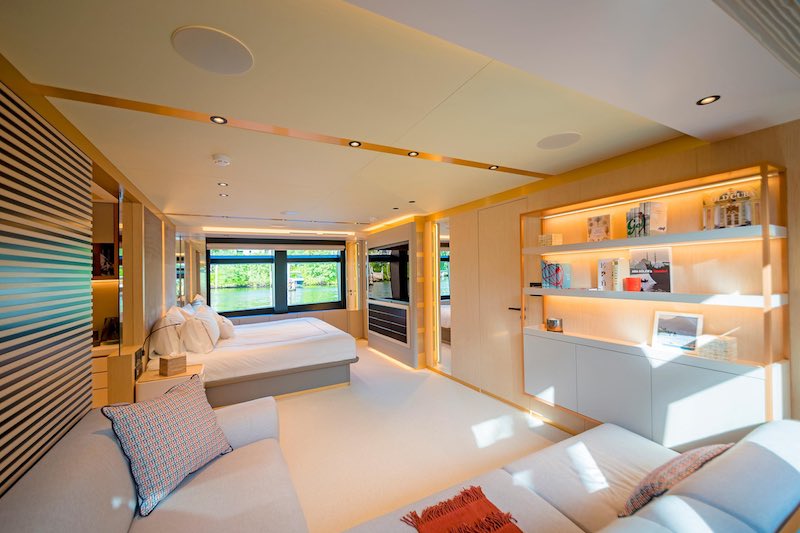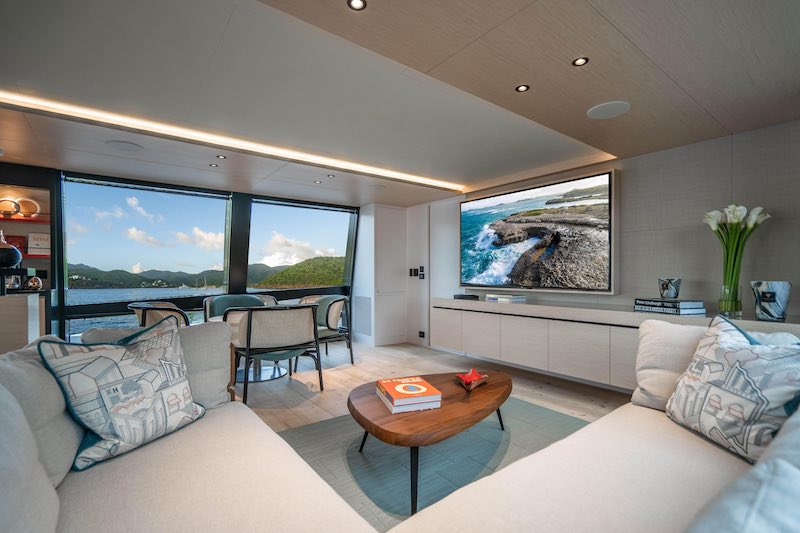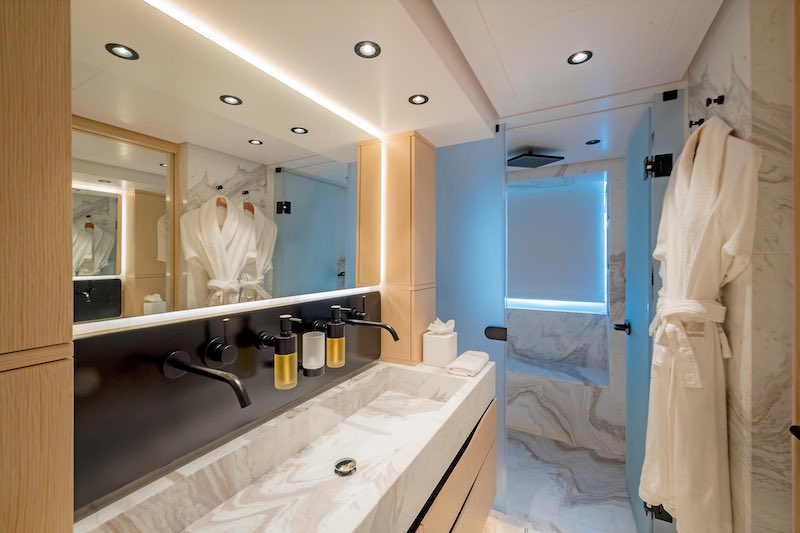 It's not uncommon for a chartered sailboat to serve as both a source of profit and a cost-cutting tool for its owner operator. If it's modern and fashionable, it should be more appealing to super yacht charterers. Even though it was built to cater to the biggest possible clientele, it has a distinct atmosphere since it is a charter ship and not a private vessel owned by one person. It's a novel idea to purchase a superyacht as a blue-chip stock investment.
This year, VIVACE plans to run from Florida to the Bahamas, beginning in mid-April, with Denison Yachting leasing VIVACE from $95,000 per week.