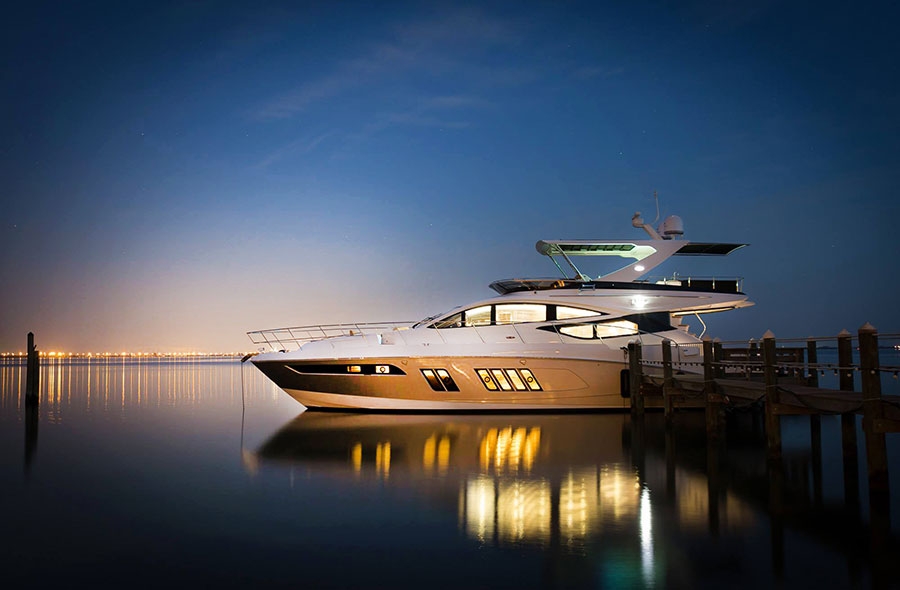 The finer things in life are best experienced on the water. Off shore, or at the marina, it's better on a yacht.
In a moment's notice you can get as far away as you like – without leaving any comforts behind. And if there's one thing that brings people together like the dinner table, it's a boat. It's where you can disconnect from the day-to-day and reconnect with your loved ones. Whether it's the perfect day with the family or a cocktail cruise with friends, there's no place you'd rather be.
This mindset is fully understood by the team at MarineMax. Headquartered in Clearwater, Florida, MarineMax is the nation's largest recreational boat and yacht retailer, listed on the New York Stock Exchange. Focused on premium boat brands such as Sea Ray, Hatteras, Azimut Yachts, Ocean Alexander, Boston Whaler, Harris FloteBote pontoons, Scarab Jet Boats, Aquila Power Catamarans, and Nautique towboats, MarineMax sells new and used recreational boats and related marine products and services as well as providing yacht brokerage and charter services. MarineMax currently has 55 retail locations across the USA, and offers power yacht charters in Tortola, British Virgin Islands through its division MarineMax Vacations.
The roots of MarineMax date back over 40 years, when CEO Bill McGill moved his family down to Florida to turn his lifelong passion for boating into what would become the world's largest boat retailer. Later McGill, along with a group of America's leading boat dealers, decided the boating industry was in need of change. By uniting companies they could maximize efficiency of operations while sharing best practices on everything from insurance to mobile boat- servicing. In doing so, they enable employees to focus on what's important – getting customers on the water and making them feel a part of the MarineMax family.
"Yes we sell boats. But the term dealer is limiting and associates us with other companies who are nothing like us. We're a resource. Our customers get access to a wealth of experience that can match them with the perfect boat from our unparalleled diversity of boat brands and models. They can get financing & insurance, world-class service during the duration of the boat's life, educational programs for the whole family, and access to our signature Getaways! owner's trips," explains McGill.
MarineMax offers 17 boat brands and hundreds of models across five customer lifestyles of Yachting, Leisure, Fishing, Watersports and Vacations, ranging from 15ft. to over 150ft. From being surrounded by your family to being surrounded by your own crew, the diversity is staggering. 'We believe the transformative qualities of the water should be shared by everyone, so we created our boat lineup accordingly," adds McGill.
Bill McGill lives the boating lifestyle everyday, whether checking in with customers at the original MarineMax store next to the head office, or barefoot waterskiing on his home lake, in the company of his kids and grandkids. 'We are lucky to work in a business that changes lives. Parents gets to know their kids better and they grow a little closer each time they're out together. A couple meets a new set of friends who introduce them to a completely different side of life. We are truly united by water.'
When thinking about yacht ownership, the first place to visit is MarineMax.com. There you can find out more about leisure boats and iconic American boat manufacturer Sea Ray, well known for its Sundeck and Sundancer boat lines, and now its new L-Class yacht range with the flagship 650 Fly, just launched during a month long tour of the East coast.
If fishing is more your style, then check out MarineMax's fishing lifestyle section, featuring premium brands such as Boston Whaler 'the Unsinkable Legend', and its award winning Vantage range, great for family cruising as well as serious fishing.
Two of the fastest growing segments in boating are pontoons and wake or ski boats, appealing to a wide range of boatings enthusiasts, young and old. MarineMax's watersports section outlines a wide range of options for you and your family.
Even if you don't yet own a boat with MarineMax, they have a wide range of events and classes where you can learn more, from boat shows and demo days to Kids in Boating and Women on Water classes.
Looking to enjoy yacht ownership sooner rather than later? Check out the United by Water Nationwide Sale, going on at MarineMax stores nationwide throughout July.
MarineMax
MarineMax.com
Toll Free: 888.429.6812