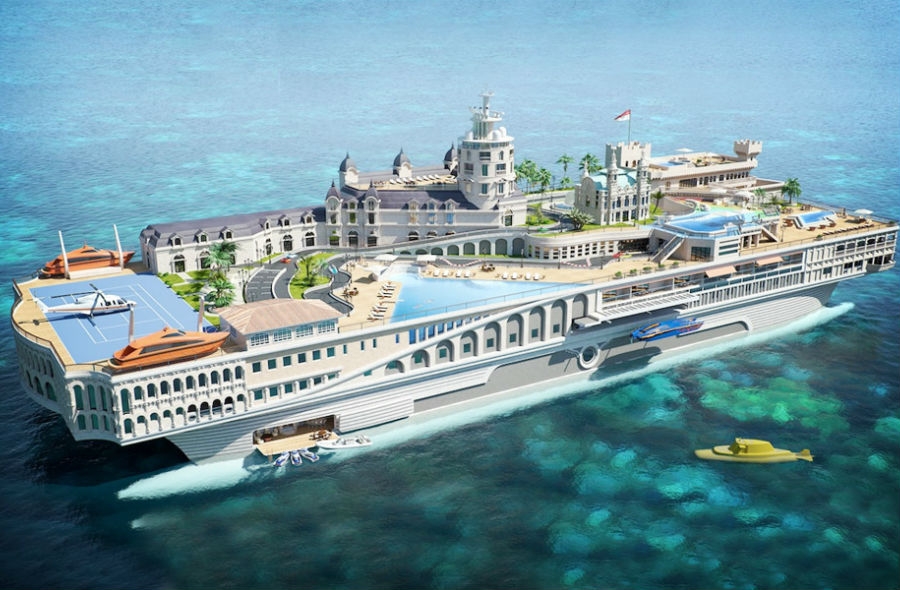 For the super-rich it would combine the delights of Monaco with untrammelled access to the ports of the world – as well as bragging rights as to owning the world's most expensive personal yacht.
British designers have produced plans for a floating replica of the principality named Streets Of Monaco which features scaled-down versions of its famous landmarks including the Monte Carlo racetrack.
The 500ft-long boat – expected to cost up to £700million – also boasts miniatures of the famed Monte Carlo Casino, Hotel de Paris, Cafe de Paris, La Rascasse, the Loews Hotel as well as swimming pools and tennis courts.
It even has a platform that holds smaller yachts in case prospective owners need something a little nippier to get around in.
The most mind-bending feature is the Monaco Grand Prix-inspired go-kart track complete with tunnel complex which runs around the deck.
The ship is the brainchild of fledgling Derbyshire-based Yacht Island Design.
Company director Rob McPherson said: 'The design theme called for a unique yacht that reflected the style and sophistication of the principality.
'We want to create a truly unique environment that could take the principality of Monaco to the ocean.'
But for the designers the centerpiece of the incredible ship is The Atrium, which links the upper and lower living areas.
The Atrium has seven guest suites which all include their own reception room, bathroom, dressing room, bedroom and balcony.
In total, Streets of Monaco' would be capable of housing 16 guests and 70 crew and would cost the owner tens of millions to run each year.
And the billionaire owner would get the benefit of the main apartment which is spread over three floors, sprawling an amazing 4,800sq ft – the size of a luxury penthouse.
The four-deck yacht will also have BBQ facilities dotted around the deck as well as a mini waterfall and cafe bar with underwater views.
While only at a design stage, The Streets Of Monaco would likely exceed the £665 million price-tag rumored to be paid by Roman Abramovich for his 'Eclipse' yacht to become the world's most expensive personal boat.
At 500ft, The Streets of Monaco is 25ft shorter than the Chelsea owner's super-yacht but Abramovich would undoubtedly be envious of the Monaco's fully functional kart circuit.
Now that the design has been completed, the only question remaining for Yacht Island Design is whether they can find a billionaire with enough spare change to turn it into a reality.