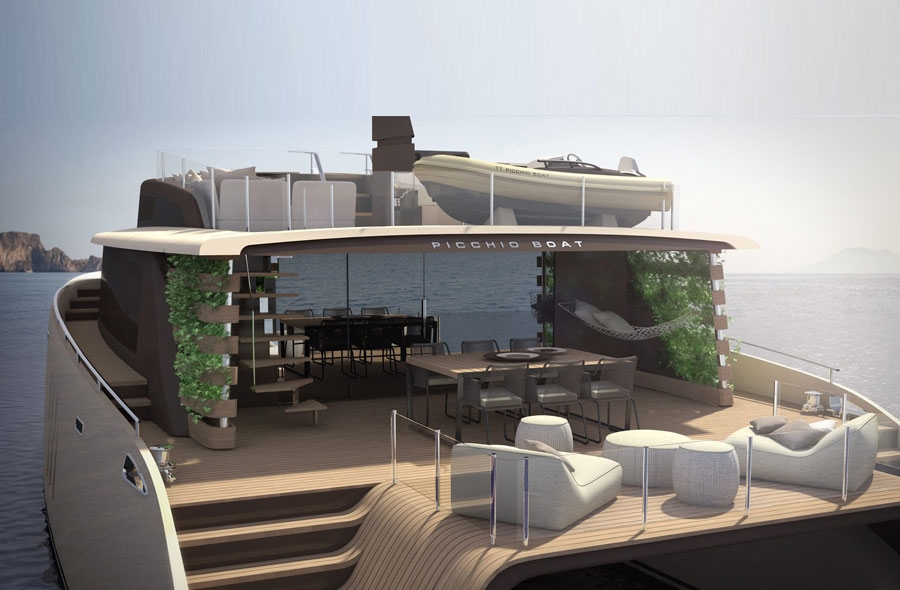 It's time to take everything you ever knew about catamarans and set it aside, because award-winning designer Christian Grande has created a game-changing new catamaran concept.
Named the "Picchio Boat," this revolutionary vessel is designed to cruise for extended periods (up to 2,500 miles) while honoring family life and demonstrating a respect for nature.
Spanning a lengthy 71 feet, the Picchio Boat contains a central salon with spacious living and dining areas. The salon also features a unique "submarine observatory" set between the hulls that allows passengers to view marine life, even at night with the aid of special underwater spotlights.
The master cabin, accessible from the piloting area, has a glass floor under the bed to give the impression that it is floating on an illuminated sea. The cabin is also equipped with a large wardrobe, vanity desks and a spacious private bath. The boat's lower deck includes two spacious VIP cabins with private baths, the galley and a children's playroom with foldaway berths. Lounges for relaxation are located on the stern and forward balcony.
The environmentally-friendly Picchio is also equipped with two Volvo Penta IPS engines to reduce her fuel consumption by one-third compared to other engines.