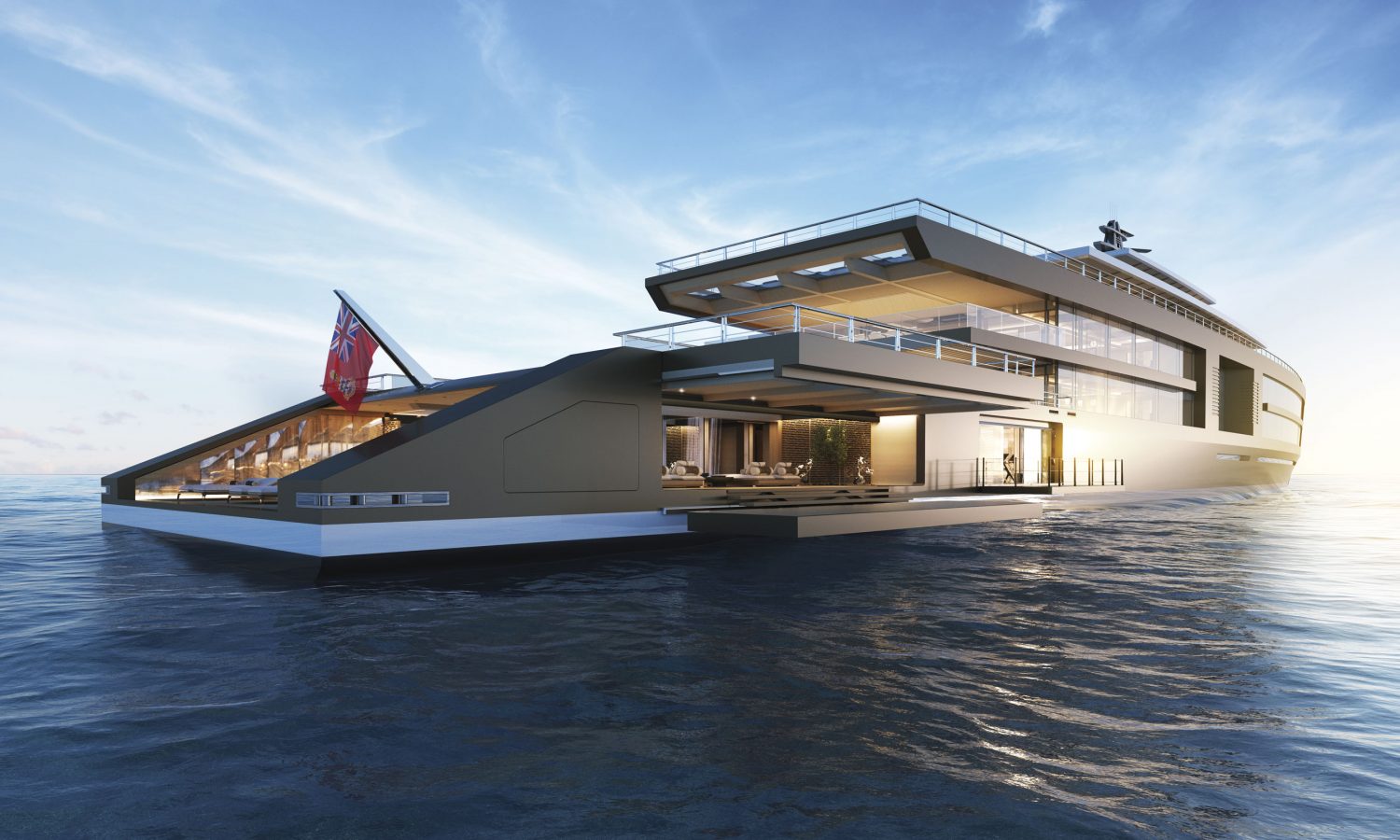 Whether you're an established jetsetter or an up-and-coming entrepreneur looking to dip your toes in the cool waters of affluency, mega yacht designer Sinot has set course to change the standard in what it means to create a completely bespoke luxury abode. Their latest concept, affectionately dubbed "Nature", is a 120 meter-long vessel capable of immersing any passenger lucky enough to enjoy a day at sea aboard the ship with unparalleled views of the ocean and surrounding environment. From a meticulous attention to detail, to a policy of only using the very highest quality natural materials in each custom build, Sinot's Nature is sure to raise the bar on what it takes to design a world-class superyacht for the most persnickety of affluent consumers.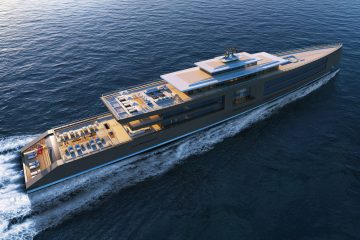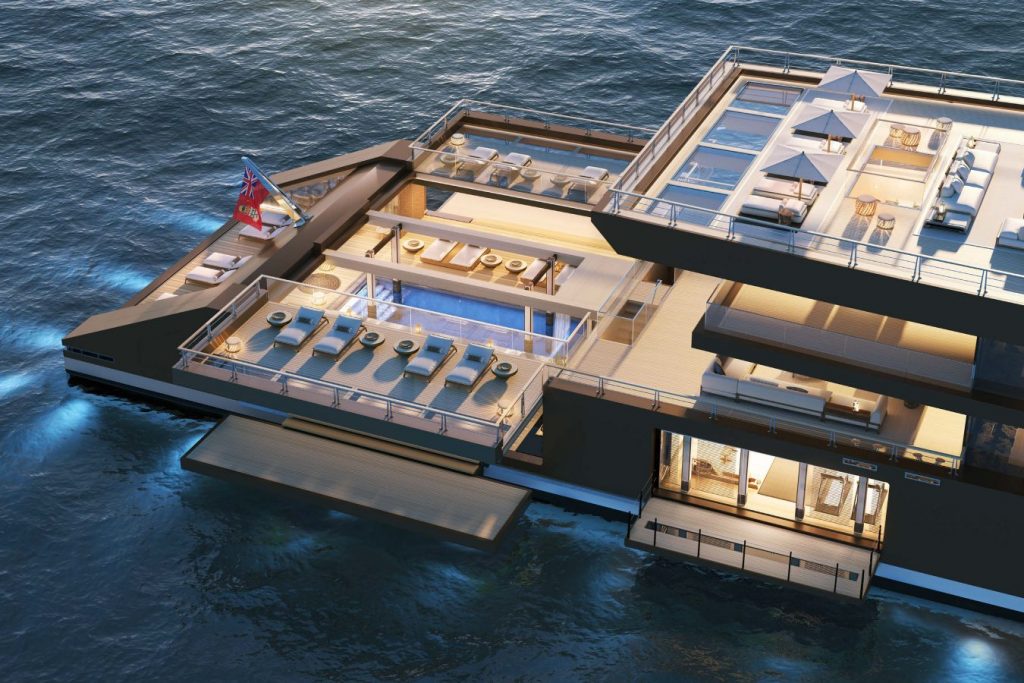 Starting with the exterior design, Nature's multi-tier outdoor space has been carefully crafted with intensely acute attention to detail. With a focus on comfort and luxury, the ship's various outdoor decks offer breathtaking views and a clear line of sight to enjoy all that the natural maritime landscape has to offer.  No stone has been left unturned as everything from the colors and finishes, to the window coverings and even door handles are heavily scrutinized before final approval is given on each design.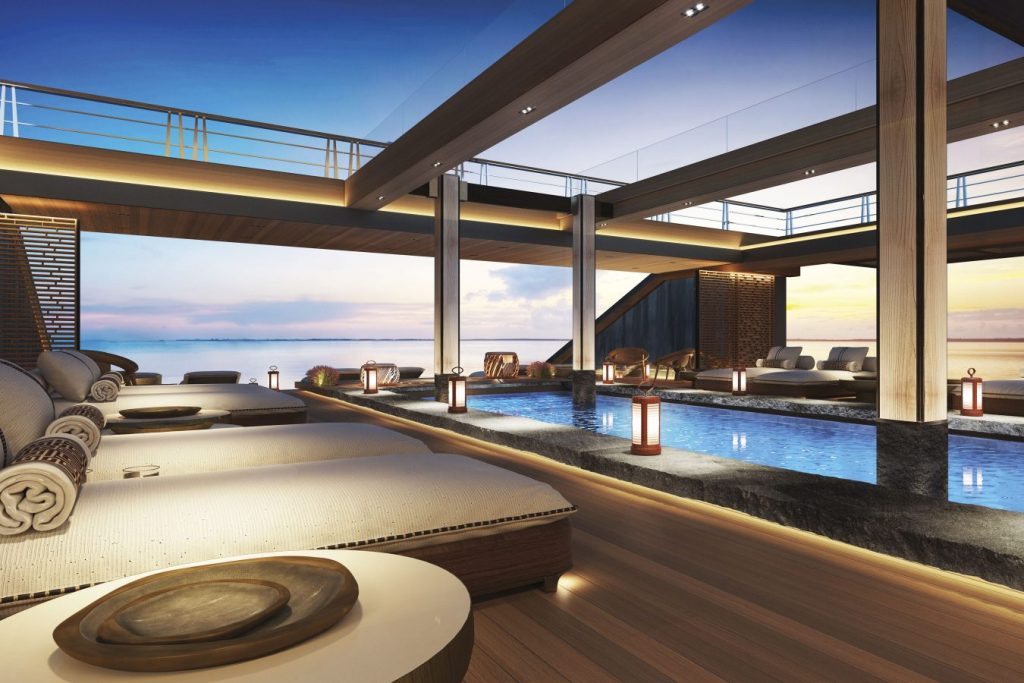 Located near the stern of the lower deck, Nature's state-of-the-art design allows for a unique transformation of the ships morphing architectural shape. By expanding the stern and side hatches, along with extending the roof hatches, a vast open pool area is created to provide ample space for both relaxation and entertaining. Whether you're looking to soak up a few sunrays or simply need an area for hosting your cocktail party, the central pool and retractable side terraces offer the perfect opportunity to take advantage of Nature's exquisite amenities. Furthermore, the aforementioned sea-level pool extends towards the bow of the ship ending in a waterfall of fragranced droplets to create a serene atmosphere otherwise unfamiliar to most yacht owners. Complimented with only the finest outdoor furniture available on the market, Nature's outdoor exterior space is sure to impress anyone looking for that extra layer of luxury.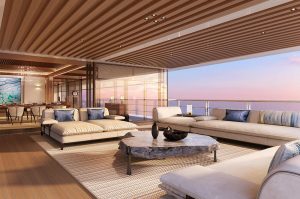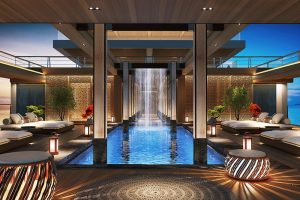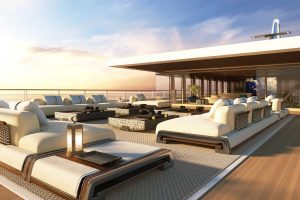 Building on the ideology that comfort should always remain at the forefront of design, Nature's laundry list of amenities also includes an immaculate day spa and full-size gym for additional convenience and to provide a total workout solution for the mind, body, and soul. Complete with plunge pool, sauna, and hammam, the spa offers everything one needs to enjoy a day of pure relaxation aboard this impressive home away from home. And, as with everything you'll find with Nature's innovative superyacht design, the entire spa and gym have of course received treatments in finely-crafted timber and precious stone.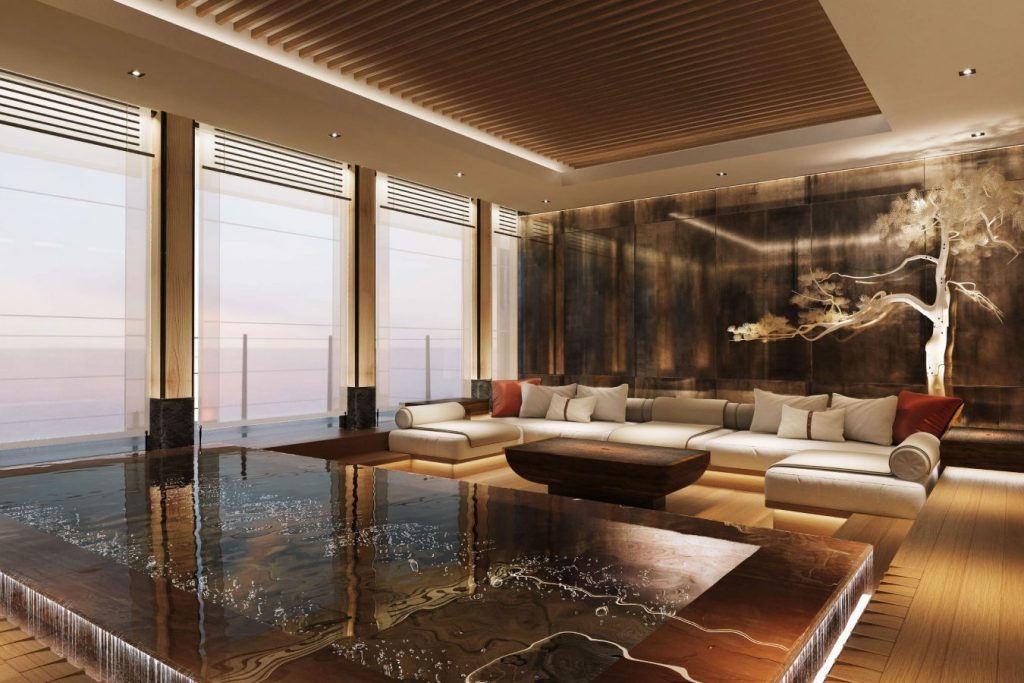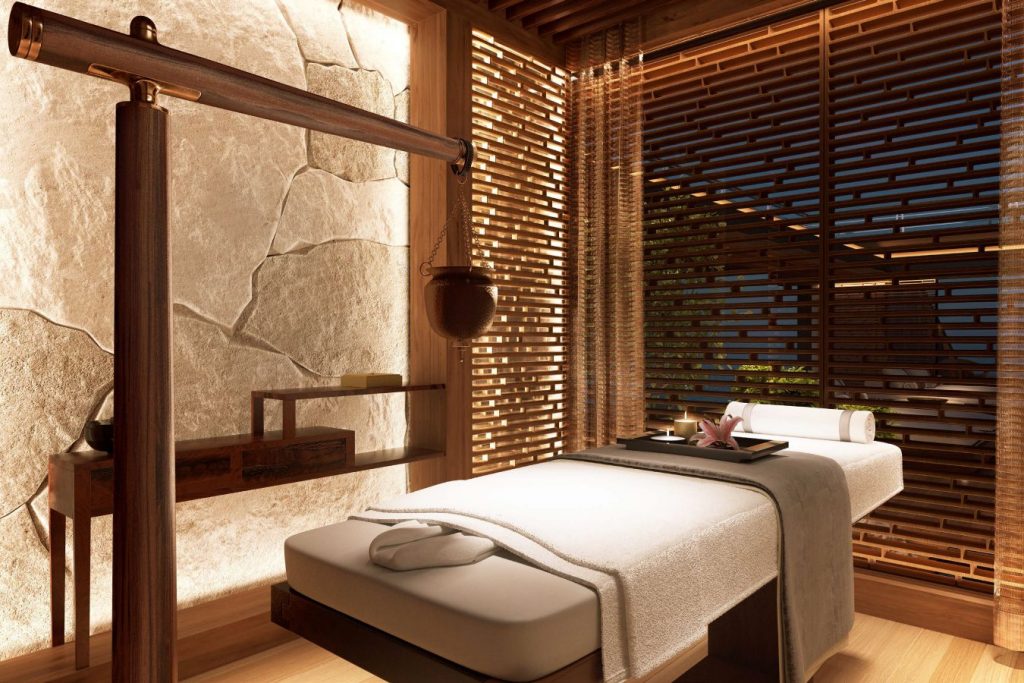 Positioned amidships, and perhaps one of the key highlight's to Sinot's breakthrough design, lies a gorgeous spiral staircase which accents the center of the vessel and grants access from the main deck to the upper levels for guests and owners alike. Appearing to "float" in place, the structure is supported by a single curved v-shaped central beam and acts as the ships artistic centerpiece as well as a functional gateway to Nature's various accommodations.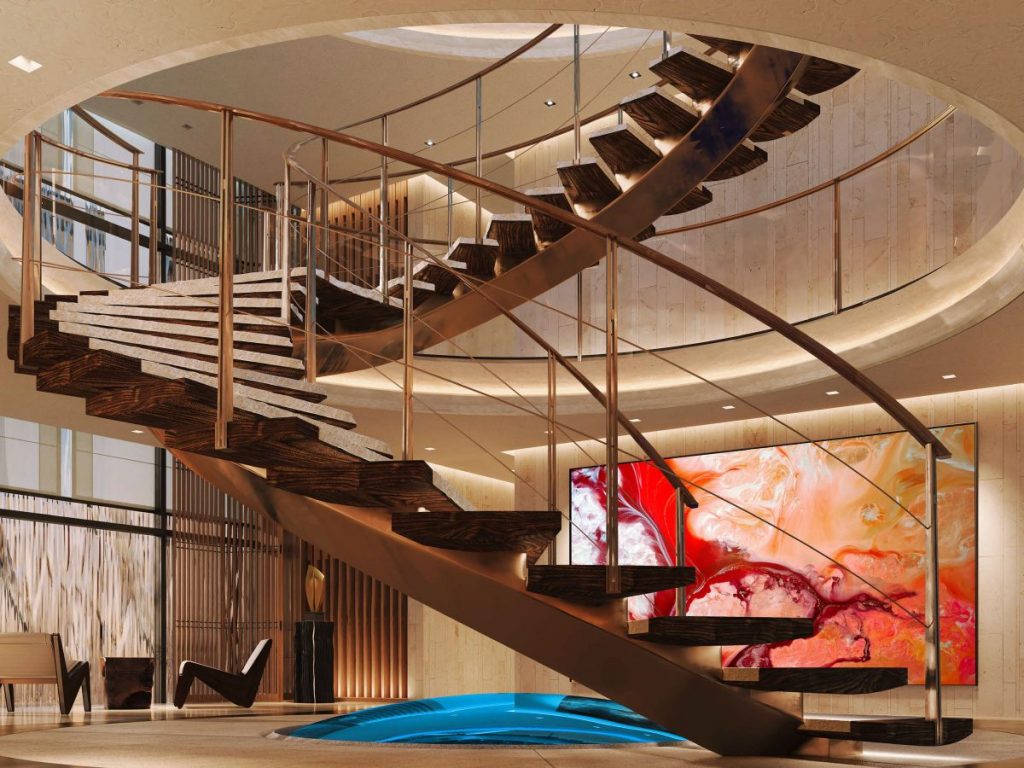 At this point you're likely asking yourself, what might accommodations on-board a ship of this magnitude ultimately entail? This answer is an absolutely stunning owner's suite (complete with climate controlled Inner Garden to provide the most realistic connection to nature possible aboard a sea-faring vessel) and eight luxuriously adorned Guest and VIP state rooms to help any passenger remain fully immersed in a feeling of sheer luxury and serenity.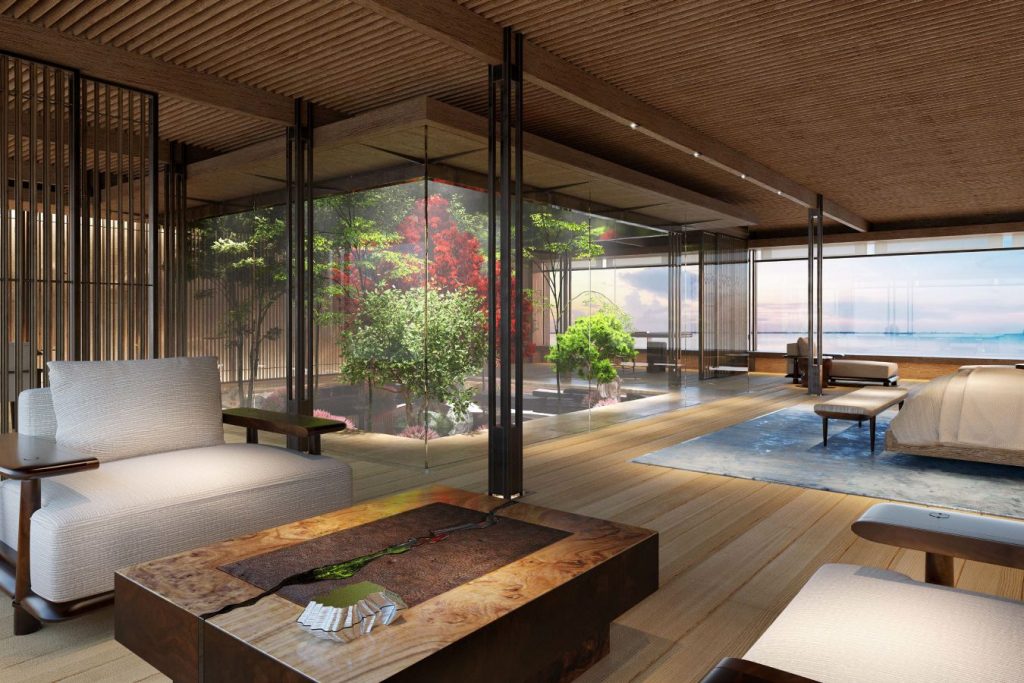 Floor-to-ceiling glass treatments that open to allow for seamless integration of the outside atmosphere, bespoke textured silk carpets, customized modular furnishings, and the continued use of only high-quality wood and stone materials create a tranquil environment to help anyone feel right at home.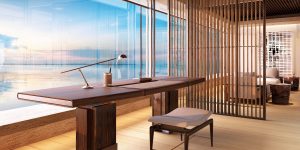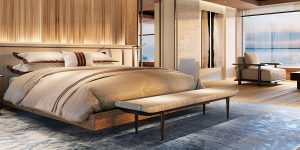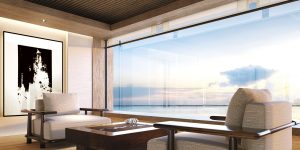 Entertainment aboard the ship can be found topside with sufficient space for mingling among the 900+ square-meter deck accented with full glass facades and additional room for socializing at both the port and starboard quarters. A variety of lounge and sunbathing options can be located throughout the top deck with the ability to combine indoor-outdoor spaces via the large sliding glass doors to further streamline every inch of the ship's impressive floorplan.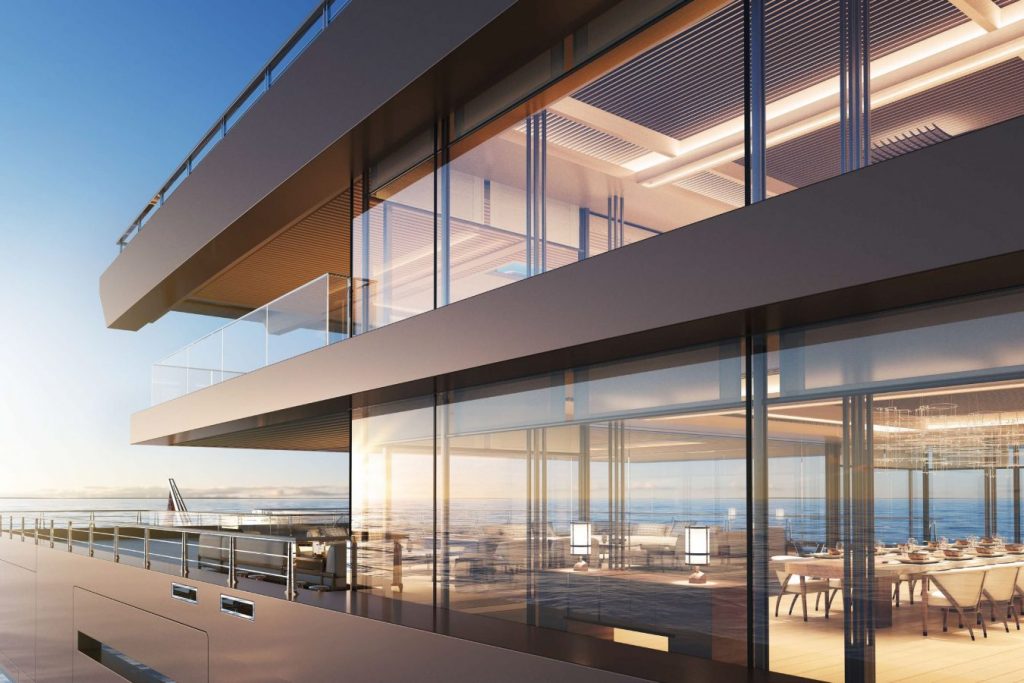 And finally, while Nature's unprecedented range of viewing options to soak up all that the aquatic environment has to offer can not be understated, it is perhaps the bow of ship which features one of Jetset's favorite amenities. Hidden in the upper deck of the ship's bow (thanks to fully integrated dropdown privacy screens) is the upper deck observatory which serves as the perfect setting for a romantic night with that special someone or as a simple getaway for owners and occupants who just need some peace and quiet as they absorb the ever-changing surroundings while at sea.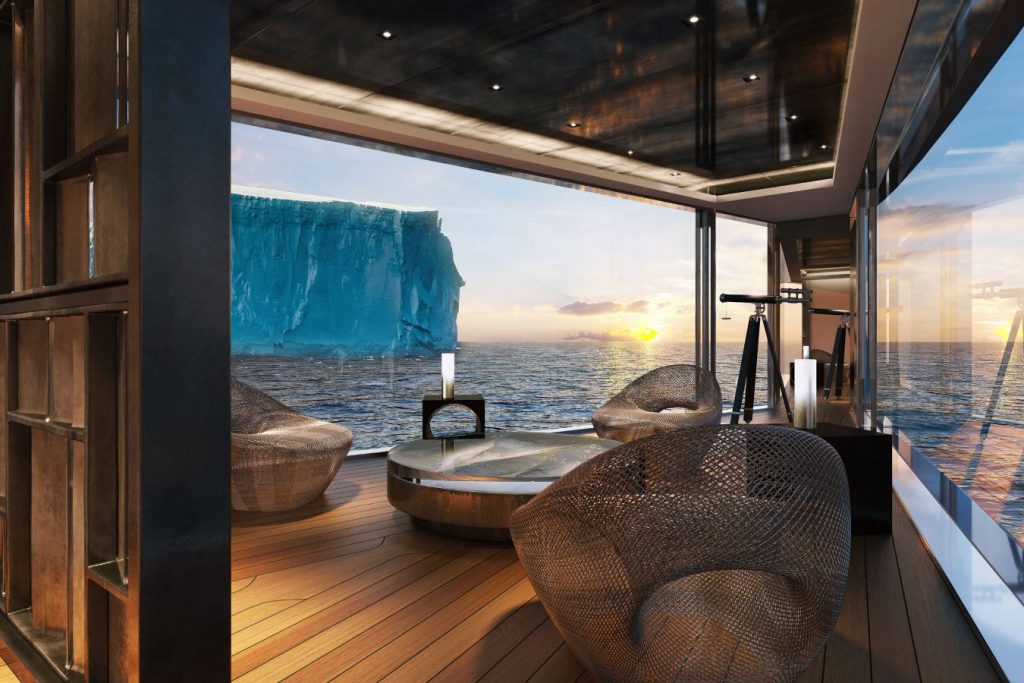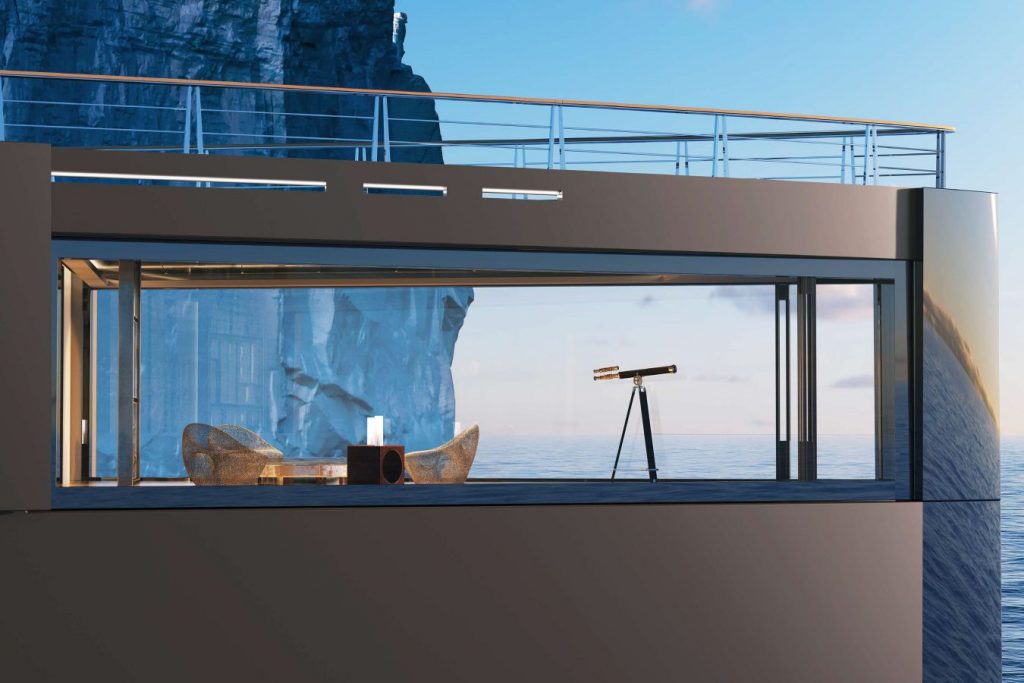 Whatever your preference, if tranquility and the epitome of luxury sit atop the list of your superyacht requirements, then Sinot's Nature yacht design is one incredible concept that you absolutely cannot let slip through your fingers. Move ahead and swiftly aloft with Sinot's groundbreaking superyacht design that's sure to make waves in more than just the seven seas.