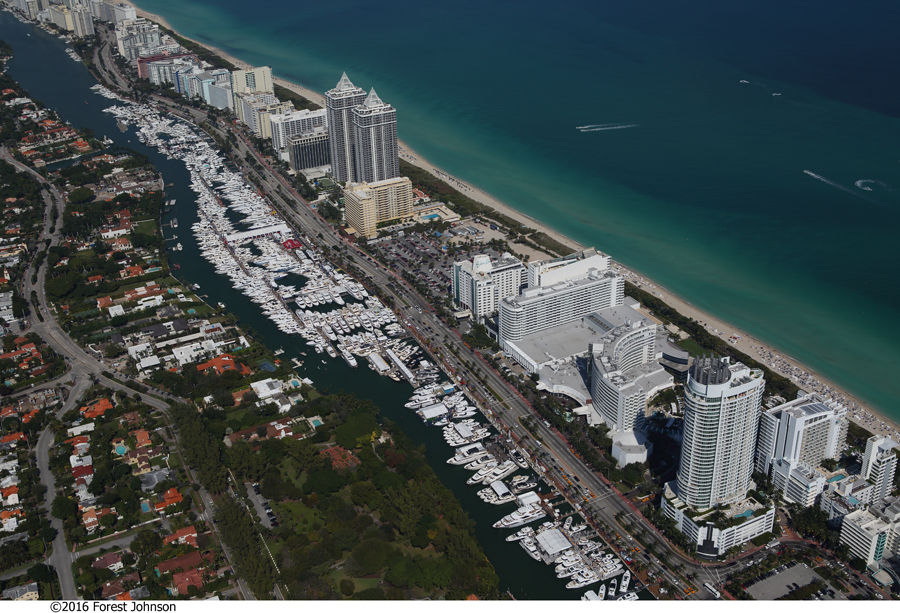 Ideal South Florida weather and robust demand for luxury yachts set the stage for success at Yachts Miami Beach, formerly known as the Yacht & Brokerage Show. Launched 28 years ago to fill the void for a world-class boat show in Miami that could showcase both brokerage and new yachts, Yachts Miami Beach once again drew an international audience of buyers to the mile-long strip of the Indian Creek Waterway from 41st Street to 54th Street along Collins Avenue.
"At this Yachts Miami Beach show, we saw very qualified and interested clients in both our totally custom-built and factory-built yachts, ranging from 48 feet to 110 feet and covering a variety of boating styles," said David Galante, partner of G Marine, representing Astondoa and Fairline Yachts. "We closed deals on four different models, introduced a new 110-foot Century Astondoa yacht and renewed an alliance with Fairline Yachts, so 2016 is looking bright for us and our shipyard."
The show, which ran from February 11 through 15, reported an overall increase of 5 percent in the total number of boats on display. The number of boats 104 feet and under rose 7 percent. The most dramatic increase was in superyachts over 150 feet, which doubled to 22 this year with the addition of a Yachts Miami Beach superyacht location at Island Gardens Deep Harbour on Watson Island.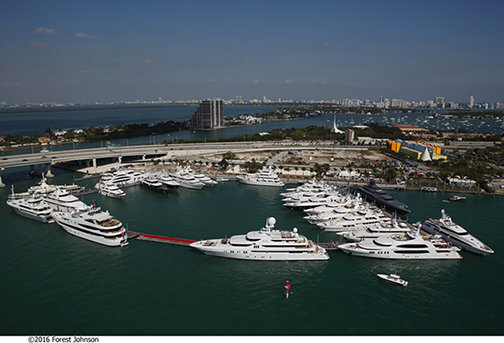 "The combination of strong demand for large yachts and the presence of international buyers who love coming to Miami Beach to shop for boats made this the biggest show ever," said Dane Graziano, senior vice president and COO of Show Management, the company that produces Yachts Miami Beach and co-owns the show with the Florida Yacht Brokers Association (FYBA). "Sunshine and comfortable temperatures were the perfect weather for people who love boating to experience this beautiful show over Presidents Day weekend."
Another indicator, hotel room nights specifically related to Yachts Miami Beach, were up 2.24 percent over last year, according to the show's official travel partner, BoatShowHotels.com. Average length of stay increased slightly to 4.42 nights.
Two different boat shows take place during Presidents Day weekend in Miami and Miami Beach. Show Management produces Yachts Miami Beach and co-owns it with the Florida Yacht Brokers Association. It is completely independent of the Miami International Boat Show, which is owned by the National Marine Manufacturers Association and moved to a new location this year on Virginia Key.
"Commuting between the two shows proved even more time-consuming for show-goers than organizers of both shows had anticipated it would be," Graziano said. "We are working together to ensure a smoother flow between the shows next year."
Like Yachts Miami Beach on Facebook at Bit.ly/YachtsMiamiBeach, follow the show on Twitter at Twitter.com/BoatShowUpdates, connect on Instagram at Instagram.com/BoatShowPhotos and tune into Boat Show TV at youtube.com/showmanagement.