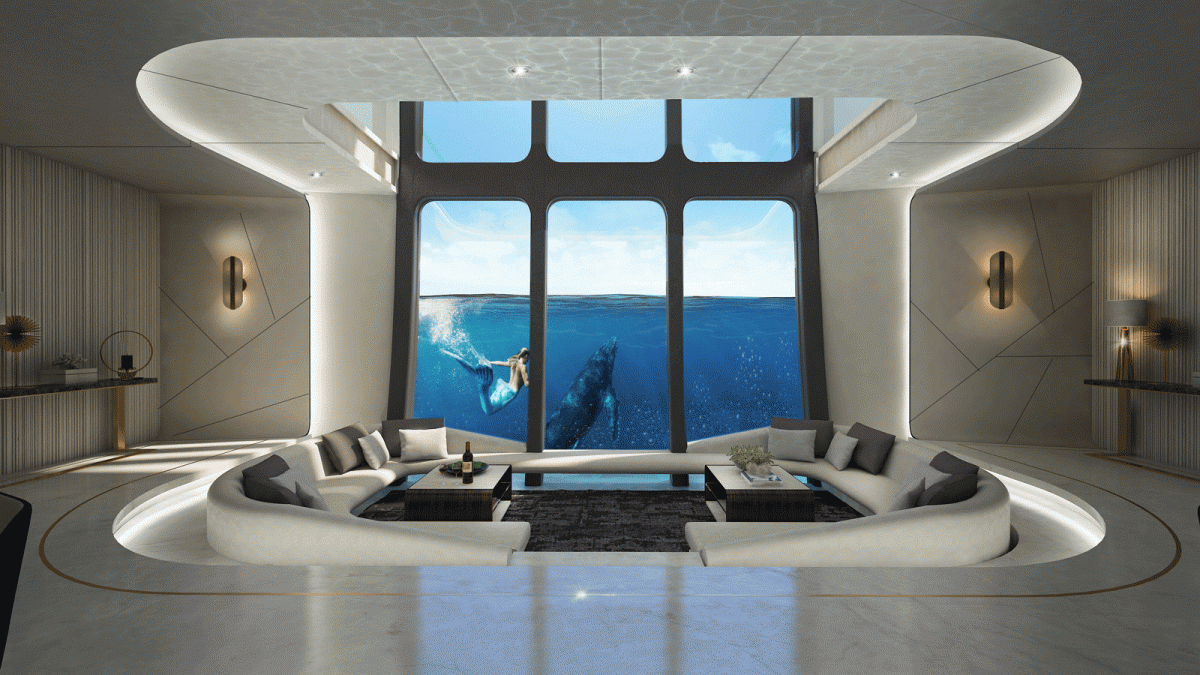 Imagine spending the summer sailing the open seas in a massive yacht, equipped for optimal comfort and luxury. That's exactly what the engineers at Sturge had in mind when they collaborated with Austrian industrial designer Ben Toth to conceptualize the Rimor X, a top-notch vessel like no other. Meaning "explorer" in Latin, Rimor X boasts an array of stunning features that chart new waters in the superyacht industry. It has been promoted as the ideal boat for those who enjoy venturing to remote places for one-of-a-kind nautical adventures.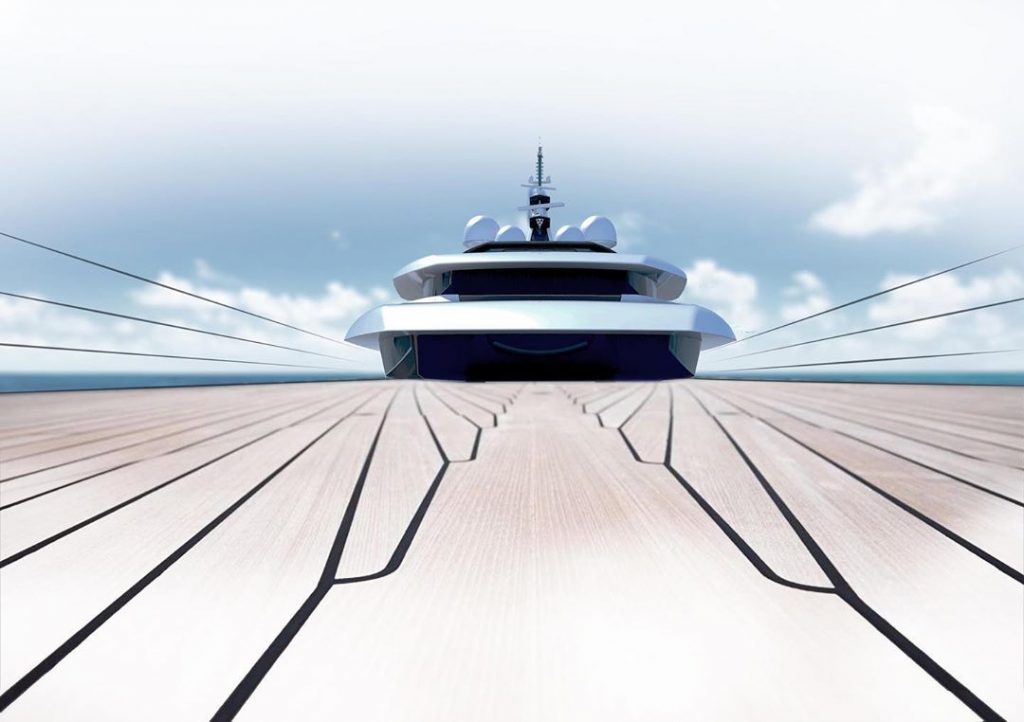 The most talked-about feature of this ship is its Mermaid Lounge, a partially-submerged room where passengers can peek beneath the ocean surface and watch marine life pass by—all from the comfort of a lavish living space. At an impressive 314 feet long (96 meters), Rimor X, which has yet to be constructed, promises to capsize traditional notions of what the boating experience can be. The design is already generating buzz among yacht enthusiasts, eager to catch the next wave in extravagant maritime exploration.
VIP Experience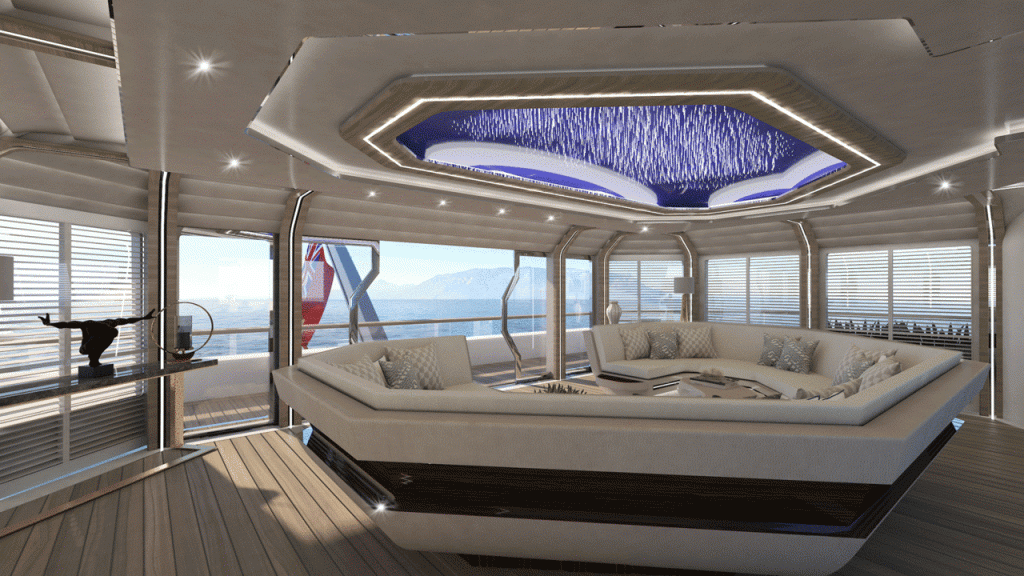 Replete with the latest technology and world-class interior design, the Rimor X will ensure that passengers have plenty of space to roam the high seas, without sacrificing the comforts of home. The ship's massive decks provide breath-taking panoramic views, perfect for watching sunsets, birds, and sea life. With this concept, Sturge Design thought outside the box to create a laid-back atmosphere, equipping the vessel with fire pits for socializing and an outdoor Jacuzzi for lounging. The ceilings have been accented with sleek and modern Teak wood, a detail that looks stylish and sharp, while projecting a homey feel.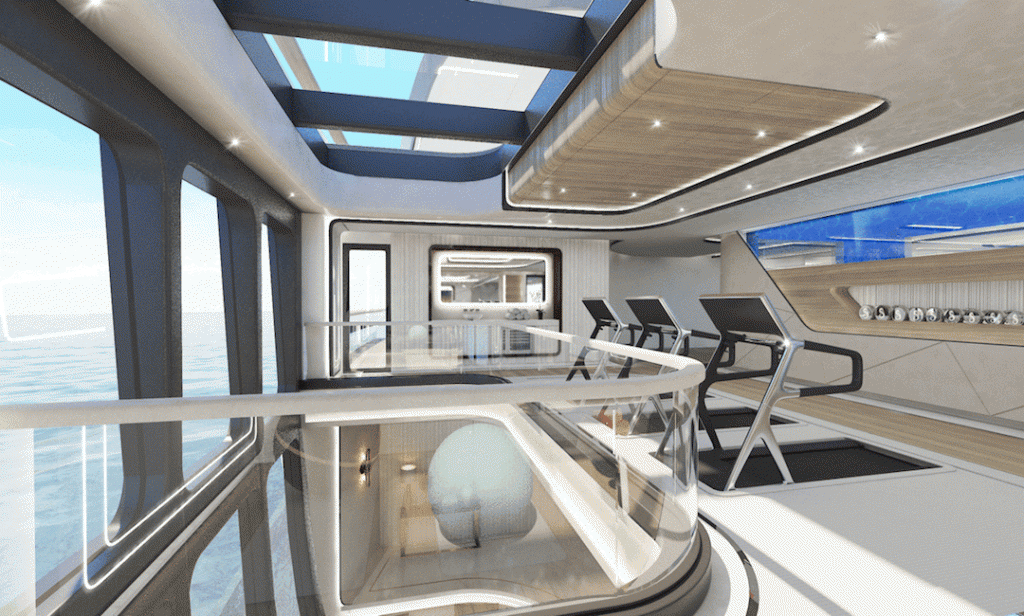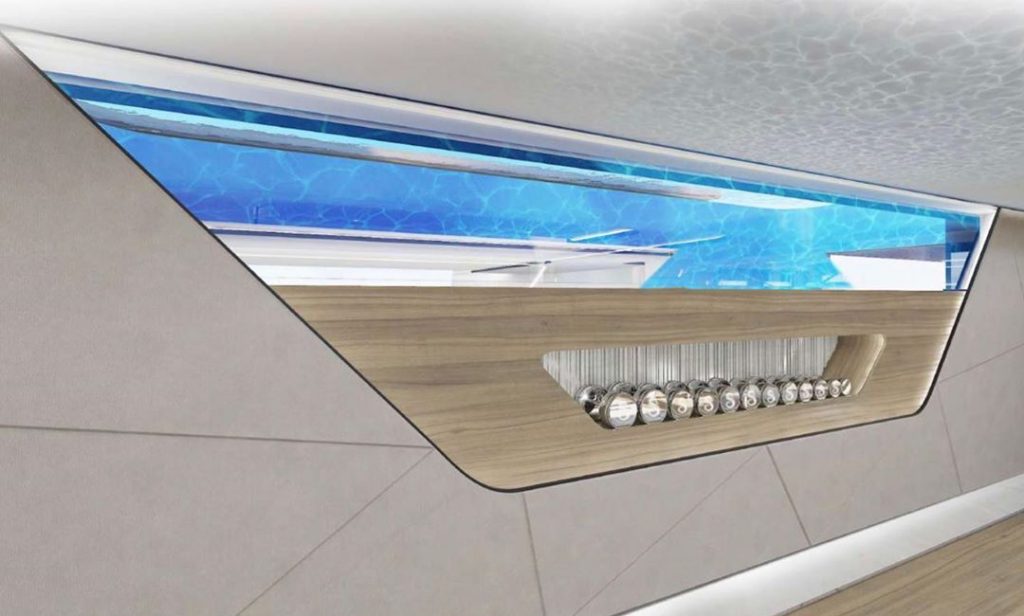 Gym addicts and workout enthusiasts will admire the Rimor X's wellness spa and recreational facilities. Fully equipped with exercise machines and space to relax after a rigorous workout, the ship promises to keep passengers in top shape, even on extended journeys overseas. It almost goes without saying: this superyacht is built for entertaining. With seven state rooms, the ship can accommodate up to 14 guests; it even has two VIP guest suites, with plenty of room for privacy and comfort. Rimor X also houses a 10-meter swimming pool, so that passengers can take a refreshing dip or play games together. Over-the-top in all the right ways, this superyacht will certainly turn heads and drop jaws as it glides into any harbor.
Built for Power and Prestige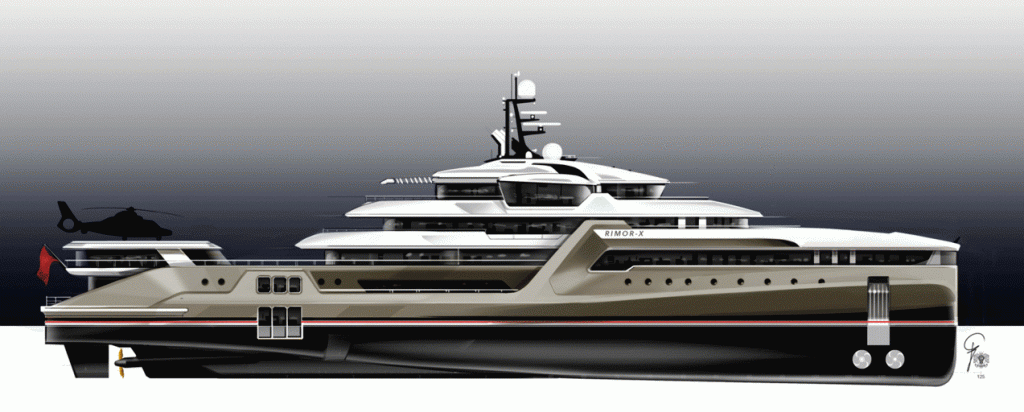 In addition to its alfresco dining area, and its aquarium-like Mermaid Lounge, Rimor X is a powerhouse of superyacht engineering, its formidable mechanics making it a cut above the rest. The vessel can travel at a top speed of 17 knots—impressive for a ship its size—and it's capable of traversing a total of 10,000 nautical miles at once, ideal for longer vacations across vast stretches of ocean. Pushing boundaries with its innovative design, the Rimor X will offer both unmatched power and stunning luxury on the open water, if it goes into production. Plus, the bow's roomy observation deck will give passengers uninhibited views of the distant horizon. These, and so many other features, will allow Rimor X's prestigious passengers to stylishly sail the ocean blue, charting new horizons for high-end excursions at sea.