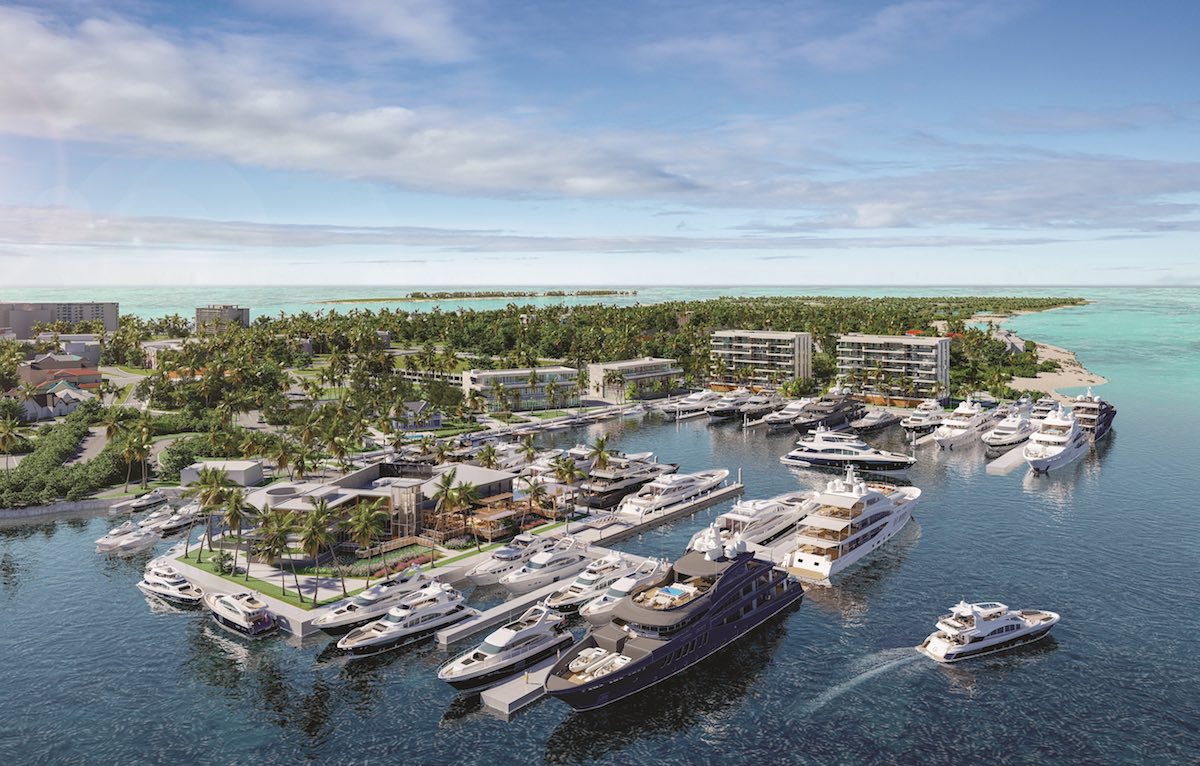 Once you've been there it's tough not to fall in love with The Bahamas, the world-renowned tropical paradise surrounded by turquoise-blue, crystal-clear waters. Composed of 700 islands and cays, 30 of which are inhabited, The Bahamas offers luxury experiences for every preference, from private islands and exclusive beachfront estates to posh resorts with the finest service and amenities.
For superyacht owners seeking a home port with all the conveniences and amenities of a five-star luxury resort, the totally rebuilt Hurricane Hole Superyacht Marina at Paradise Landing is preparing to welcome yacht owners by the new year. Setting out to build the best superyacht marina in the Caribbean for owners, their guests and crew, the development team addressed each item on an owner and crew wish-list for the ultimate in comfort, convenience and service.
With 6,200 linear feet of floating and deep-water concrete docks and slips up to 420 feet, the marina's entrance wall construction is designed to reduce wake and wave action in all conditions. The five-star marina provides 24-hour security, on-site customs and immigration services, 400-amp, 480-volt power, fuel and pump out service, laundry, shower and dressing room facilities. For captains and crew, there is a dedicated pool, lounge and gym facilities.
"We have great respect for the people of The Bahamas and are committed to restoring Hurricane Hole into the premier yachting destination on Paradise Island and an asset for the Bahamian people to be proud of," said David Kosoy, Executive Chairman & Founder of Sterling Global Financial, the project's developer, manager, and owner.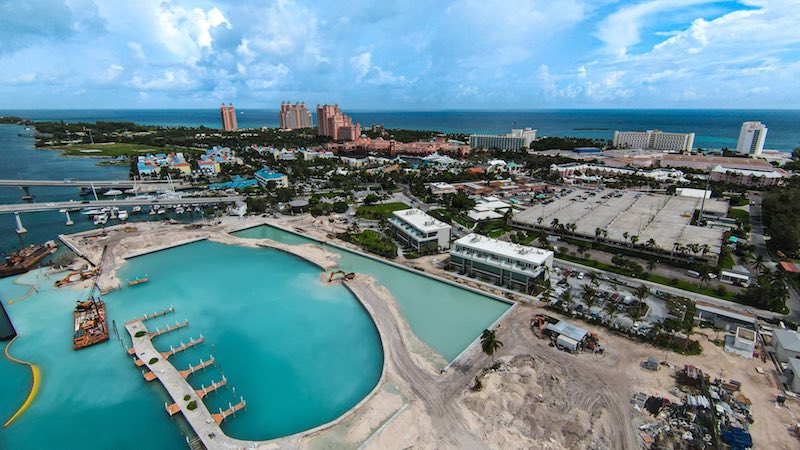 The marina's location on Paradise Island couldn't be more convenient by private plane or multiple daily direct flights from cities across North America and the UK. By yacht, the crossing from Fort Lauderdale, Florida to Nassau is 164 nautical miles (304 km).
Designed to be a must-experience mainstay on the itinerary of the superyacht set, the spectacular marina village adds an extraordinary new dimension of luxury, service and reliability to yachting in The Bahamas and the wider Caribbean. Created without compromise by an international team of development experts, architects and designers, Hurricane Hole Superyacht Marina at Paradise Landing is the perfect home port for exploring the natural beauty of The Bahamas, whether your passion is fishing, cruising or enjoying the thrill of close encounters with marine life.
If it's big resort entertainment you seek, the marina's location just 120 steps from the world-renowned Atlantis Bahamas Resort makes it a great home base for visiting the 21 restaurants, variety of specialty shops, waterpark and casino at Atlantis.
Alongside the marina, luxury units are available at The Residences at Paradise Landing, with two and three-bedroom marina-front layouts featuring dramatic water views. Guests need not venture far to find restaurants, boutiques, gourmet groceries, yacht provisioning, spa services, executive office space and a medical clinic in the marina village. Owners at The Residences special membership opportunities at the renowned Ocean Club Golf and private Beach Club
"This master-planned yachting village is being constructed to the highest standards of quality and design, and I am confident that Hurricane Hole Superyacht Marina at Paradise Landing will claim its place among the most exceptional destinations in The Bahamas," said Kosoy.
World Class Yachting
An increase in flights to The Bahamas from the U.S., Canada and Europe has made it easier than ever before for the superyacht set, luxury charter operators and owners of second and third residences to get to and from this top global destination. With the amazing yachting lifestyle, world-class fishing, proximity and ease of access to The Bahamas, demand continues to exceed supply for slips at exclusive marinas and residences on Paradise Island and other Bahamian islands. All signs point to persistent demand for yacht slips and luxury residences as more and more people discover the captivating lifestyle, crystal clear sapphire waters and ease of access of this tropical paradise.
Grounded in a rich heritage and a vibrant culture, Bahamians are known for their hospitality, colorful fabrics, tasty fish fries and everything Junkanoo. The story of their island nation is entwined with mystique going back hundreds of years, as its shallow waters provided ideal hiding places for treasure and treasure hunters. Known today for spectacular resorts and clear, blue water, the islands of The Bahamas have been transformed over centuries from a lure for buccaneers into a magnet for superyachts from around the world.
Astonishing natural beauty and spectacular waterfront real estate have made The Bahamas a favorite playground for celebrities and the super wealthy, as well as the setting for memorable James Bond movies and an inspiration for popular songwriters like Lenny Kravitz.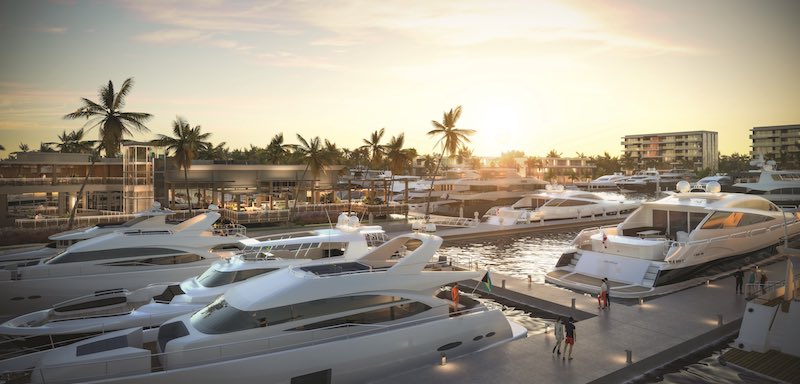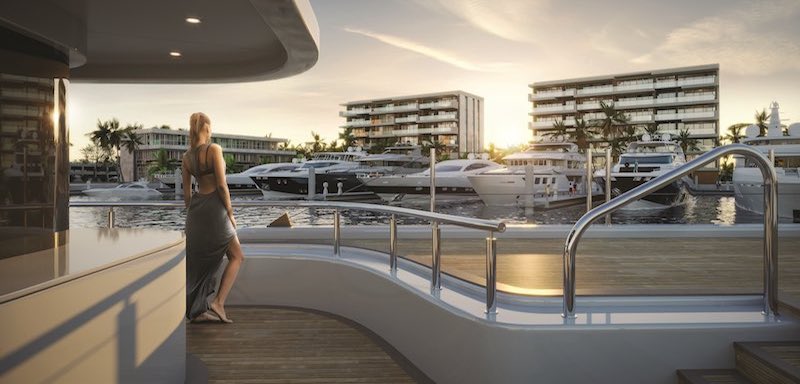 Exclusive gated communities in The Bahamas are ranked among the world's richest enclaves, providing extraordinary security and catering to the needs of prominent business leaders, celebrities and socialites from around the world, even with private islands for sale. But it's not only billionaires who are drawn to the natural beauty and friendly culture of this tropical getaway. From quiet, elite beachfront retreats to dazzling luxury resorts, The Bahamas offers an array of hospitality options.
When it comes to the ultimate in island hopping, the chain of 365 Bahamian islands and cays known as The Exumas begins just 35 miles southeast of Nassau and stretches about 100 miles south. They are some of the prettiest islands in the world to cruise crystal clear waters, snorkel, pet nurse sharks and even visit swimming pigs. Between anchorages, the clear waters and breathtaking scenery are a cruising paradise like no other.
Few destinations in the world rival The Bahamas when it comes to unspoiled beauty, clear waters, pristine beaches and the short distance from the U.S. mainland. For sport fishing, many say there is no better place in the world. For yacht owners, no other waters offer such stunning beauty. Like a string of pearls in pristine waters, its natural harbors, secluded beaches and friendly people make The Bahamas the greatest home port in the world for superyachts.
Visit HurricaneHoleMarina.com, email [email protected] or call +1-242-677-1900.