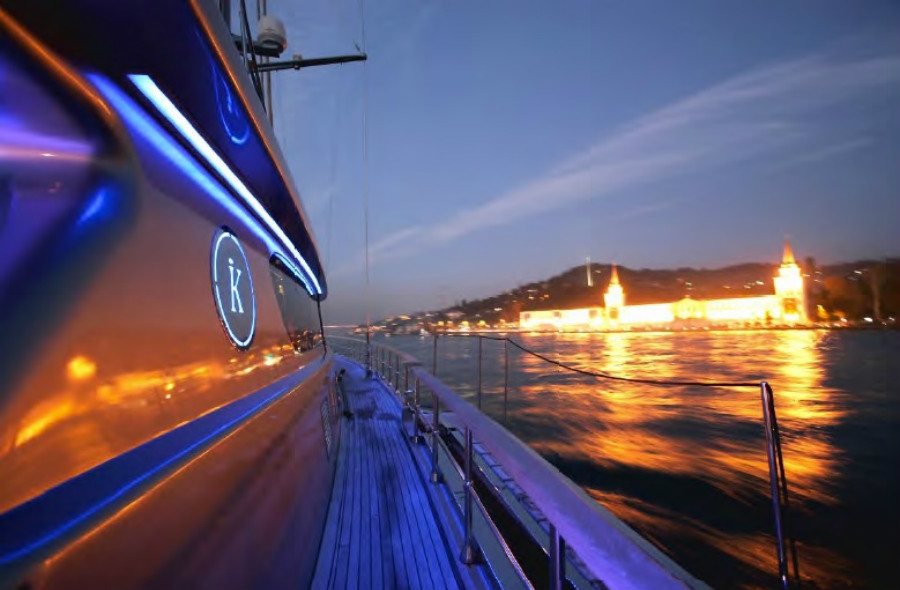 Sylver K is the phenomenal flagship sailing yacht of the Turkish shipyard Noble Yachts since 2008.
At 31 meters / 103ft she is one of the few sailing yachts below 120ft offering a full sun deck with dining area, sun-beds, lounge, cocking panel, helm position, etc. with both sail and motor power capabilities.
Possessing a cruising speed of 16 knots and a maximum speed of 20 knots thanks to the performance sails and two powerful engines providing a total of 1,000hp, this offers the yachtsman the best of both the motor yacht and sailing vessel world. She not only provides these options in her construction but in today's sensitive fuel market it gives one the true luxury of choice.
She is a showcase yacht that demonstrates the highest standards in exquisite craftsmanship of the Noble Yachts shipyard. Although built in 2008, she is in fact still a brand new sailing yacht and just recently being offered for sale for one lucky yachtsman to acquire.
Built by Noble Yachts, a fairly young shipyard launched its new super yacht Sylver K in 2008. She was built using cold molded wood lamination, long favored by the Turks for its fleets of workhorse holiday gullets and now finding favor with a number of super yacht builders.
Her hull construction type is known to be lighter, gain impact resistance and known to have a more effective noise and heat isolation, the vessel also provides the ultimate climate controlled comfort on-board. The interior was custom designed, each piece of furniture built using one of Italy's most recognized manufacturers, Smania, creating a "photo ready" atmosphere room by room. LED lighting was carefully chosen to brighten the magnificent setting. Her on-board entertainment system is of course top of the line with equipment by Sharp Aquos, Pioneer, Bose and the galley is stunningly outfitted by Gaggenau.
Turkey is a vast country that borders eight others, with the waters of the Mediterranean Aegean and Black Seas all washing its coastlines. For centuries it has been a busy hub for shipbuilding and in recent decades has become highly specialist in the production of chemical and oil product carriers. These ships have paved the way for Turkey's blossoming trade in yacht building. Straddling East and West Turkey is becoming a yacht-building powerhouse by combining European quality with Asian economy.
Boatbuilding is in the blood of many Turks but some see the writing on the wall for the mini-tanker market. This is one reason why the country is suddenly and rather prolifically embracing super yacht building as the savior of the skills of its experienced and talented workforce. With celebrities such as Demi Moore, Salma Hayak, Catherine Zeta Jones, Michael Douglas, Ben Affleck and Jodie Foster visiting in 2011 alone, Turkey has an established yachting community. Johnny Depp's famed sailing vessel "Vajoliroja" was built in Turkey.
World Yacht Group www.worldyachtgroup.com is proud to represent this magnificent vessel and see to its sale to one lucky yachtsman.
Joan Plana, World Yacht Group's CEO says, " this yacht encompasses all of the best attributes from both a motor and sailing yacht, it was built by a yacht enthusiast and only has the finest materials and latest equipment". This magnificent vessel will make any yachtsman happy and with the sail capabilities keep his accountant thrilled too given it's unique fuel options.
Please take this opportunity to experience and learn more about this yacht by contacting World Yacht Group at [email protected] and visit www.worldyachtgroup.com/yachtsales for a full online brochure on the spectacular Sylver K!! "
Brochure: http://worldyachtgroup.com/brochures/Sylver%20k%20brochure.pdf