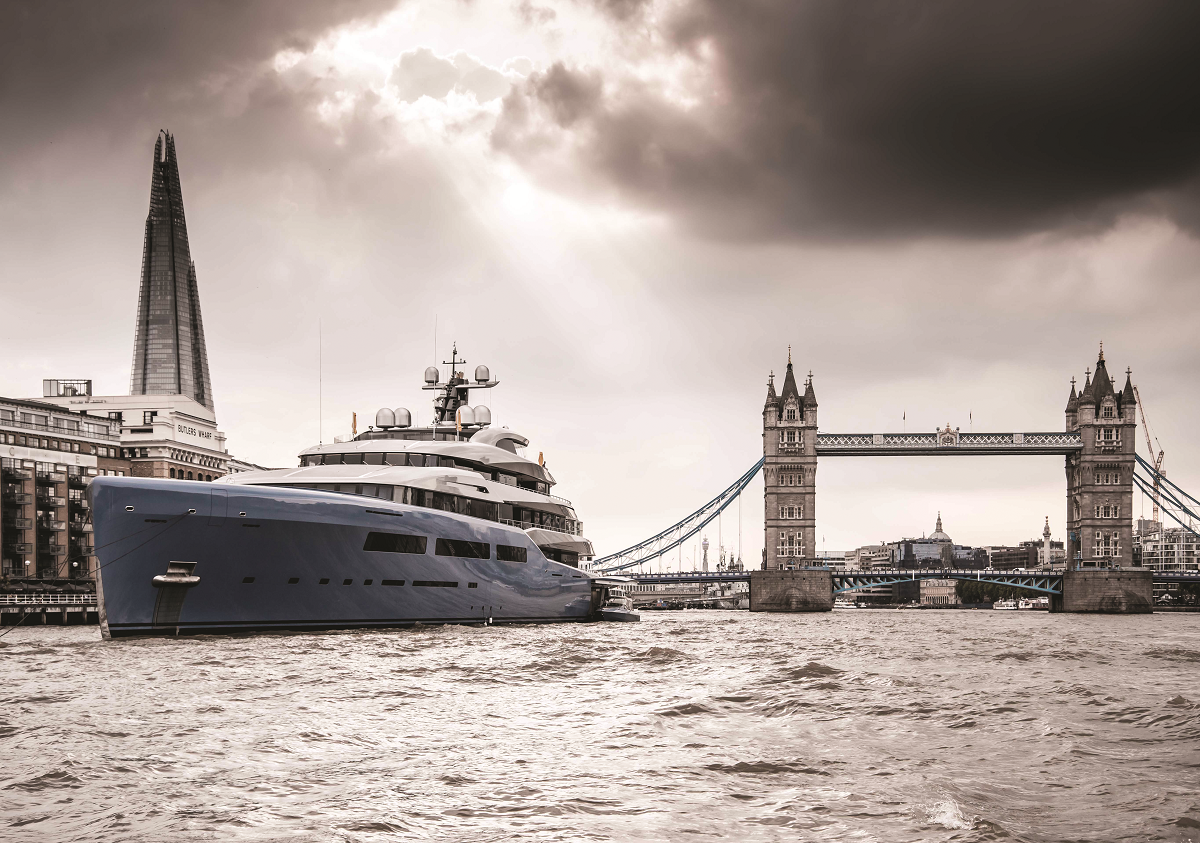 We've said it before, but it bears repeating. There is simply no greater status symbol purchase than a massive vessel perfect for you and a few dozens friends to explore the most beautiful and exotic parts of the globe. So for those in this elite club (or those ready and eager to join), we have prepared a prime selection of the most exceptional yachts for sale and yacht concepts for 2019. Fresh from the big yacht shows, here are our most illustrious finds.
Abeking and Rasmussen: Elandess Superyacht
With a distinct low-slung superstructure, the Elandess slouches like a supermodel on sativa. The platinum blonde certainly turned heads as she glided up the Thames on her maiden voyage. Abeking and Rasmussen made headlines on delivering the superyacht to its owner Sir Lloyd Dorfman, founder of Travelex. The 74.5-meter gem, priced at 100 million, marks Dorfman's second purchase with the German shipyard.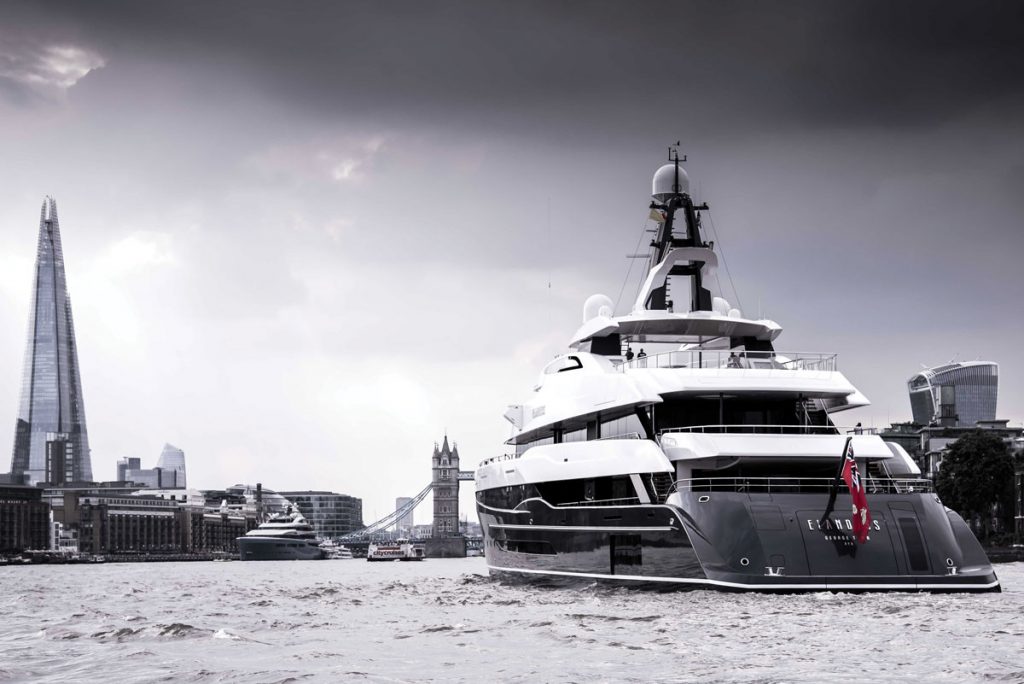 London-based Harrison Eidsgaard design studio had the privilege of styling both interiors and exteriors of the 2,065 GT yacht. Guest accommodation is split across six staterooms, including a divine owner's cabin on the main deck. The cunning studio pretty much nails the owner's brief: a fresh, modern yacht catering to relaxed conviviality and family bonding.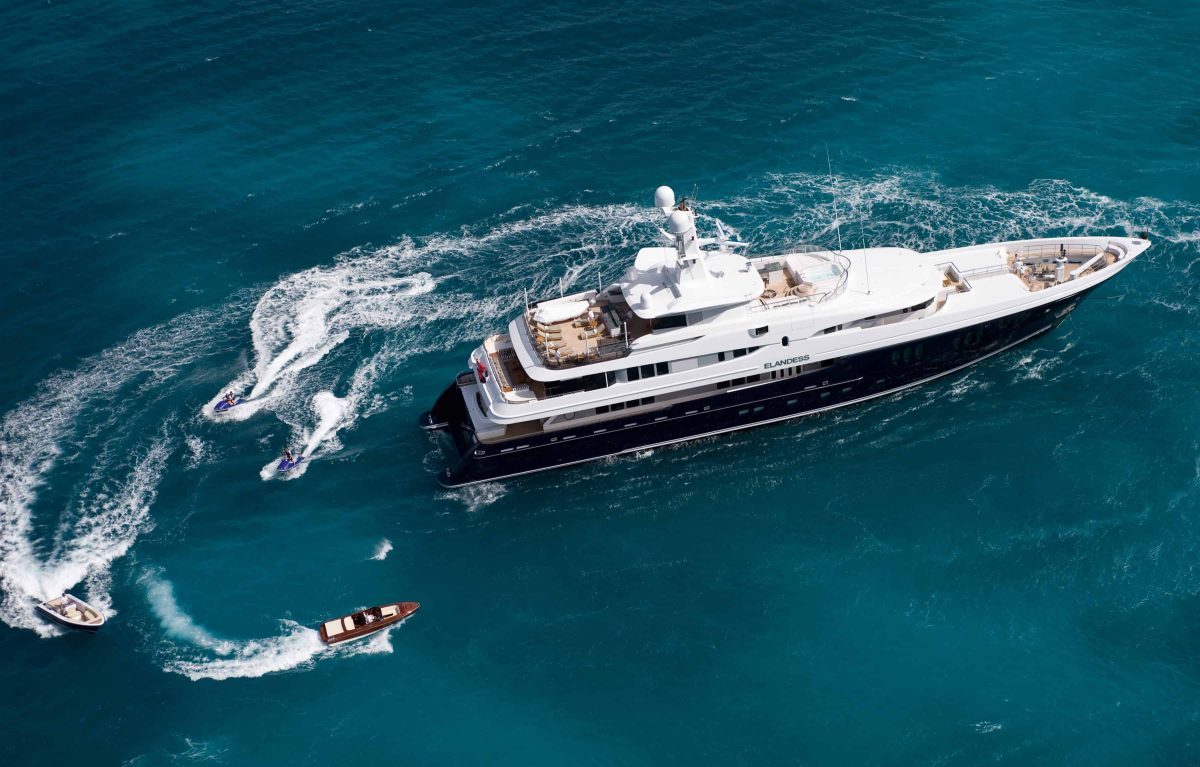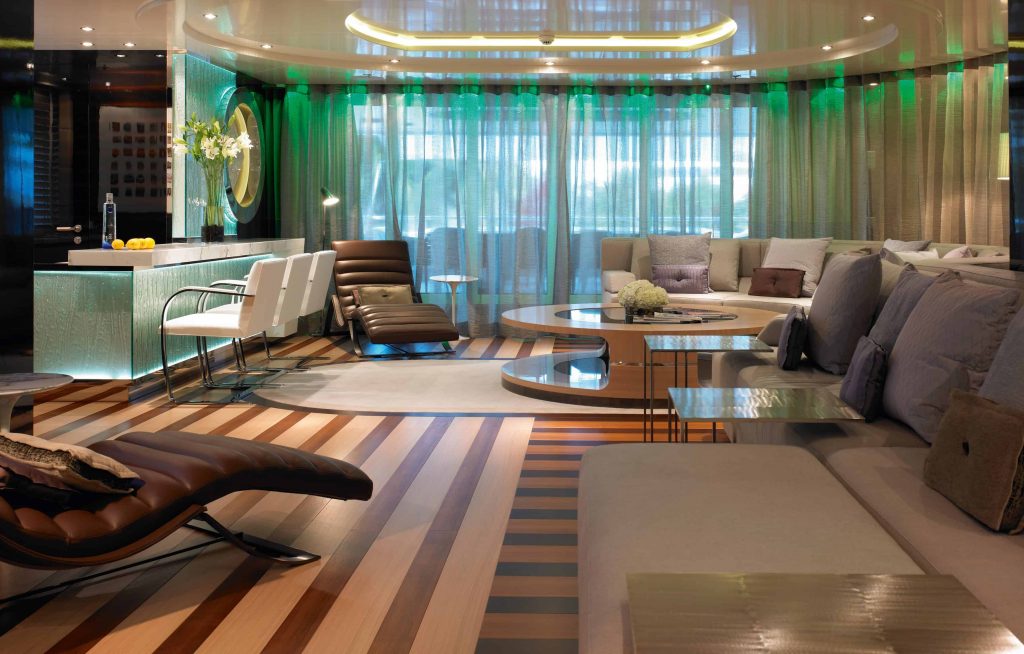 The Elandess's yacht naval architecture is characterized by a signature 'Atlantic' bow, designed in a collaboration between the shipyard, Burgess and Harrison Eidsgaard. The sheer stance of the ship hints at its ocean-crossing cruising range. Compelling on-board features include an impressively scaled 8 x 2.25-meter pool on the grand sun deck, and the spellbinding Nemo lounge with portholes below the waterline for optimal aquatic views.
Rosetti Superyachts: 52-meter Supply Vessel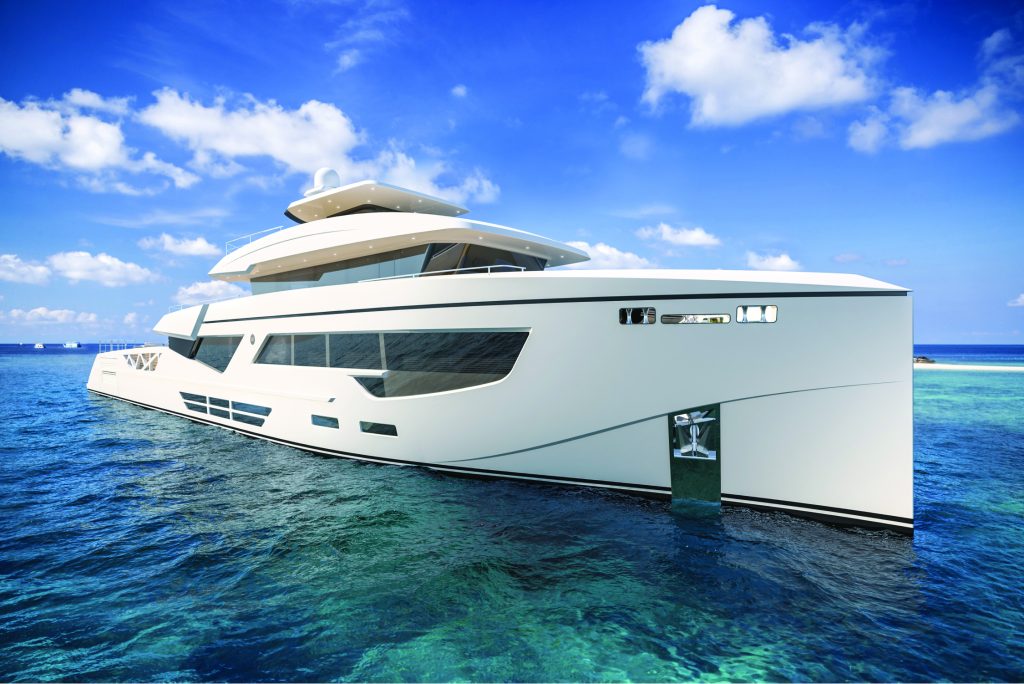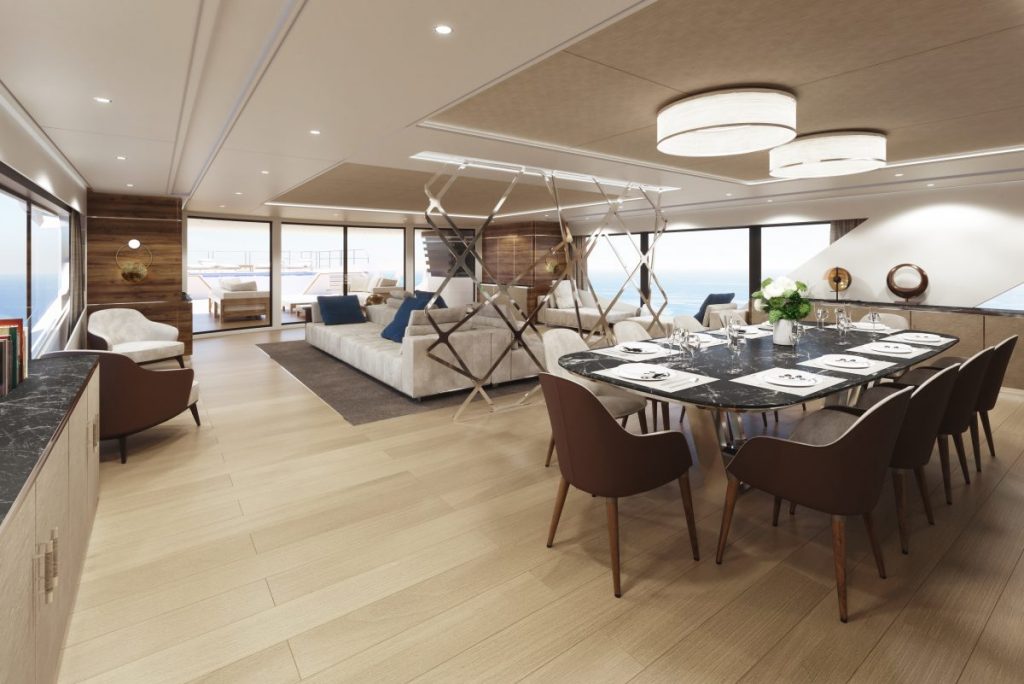 Italy's Rosetti Superyachts debuted this rather dashing 52-meter supply vessel concept at the Monaco Yacht Show, created in collaboration with Giovanni Griggio from Phi Design Lab. Owners will be spoiled with options galore, customizing the yacht's 1,528-square-foot aft deck with outdoor lounge areas and water toys; a glass-bottomed swimming pool will be directly forward. Even if a purchaser decides on a helipad, there's still literally tons of space as the tender garage transforms seamlessly into a swoon worthy beach club via fold-out hull sides.
Alia Yachts: M/Y Virgen del Mar VI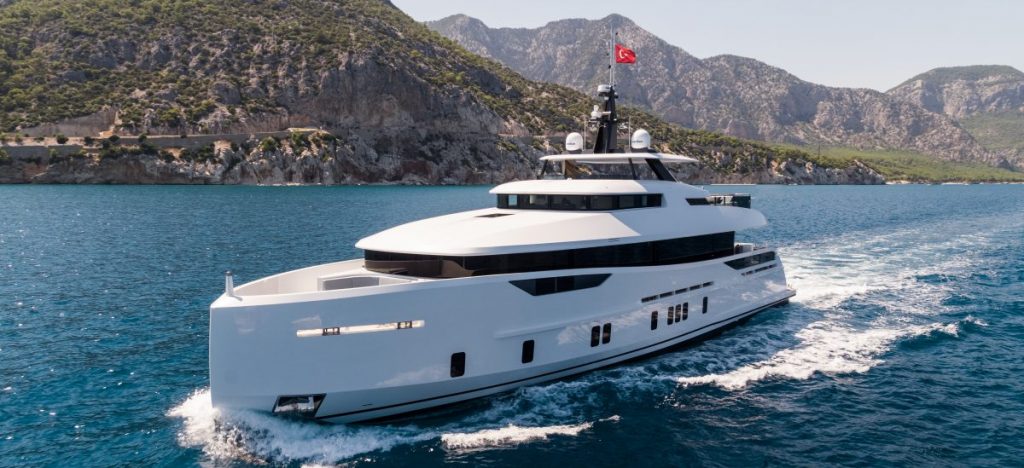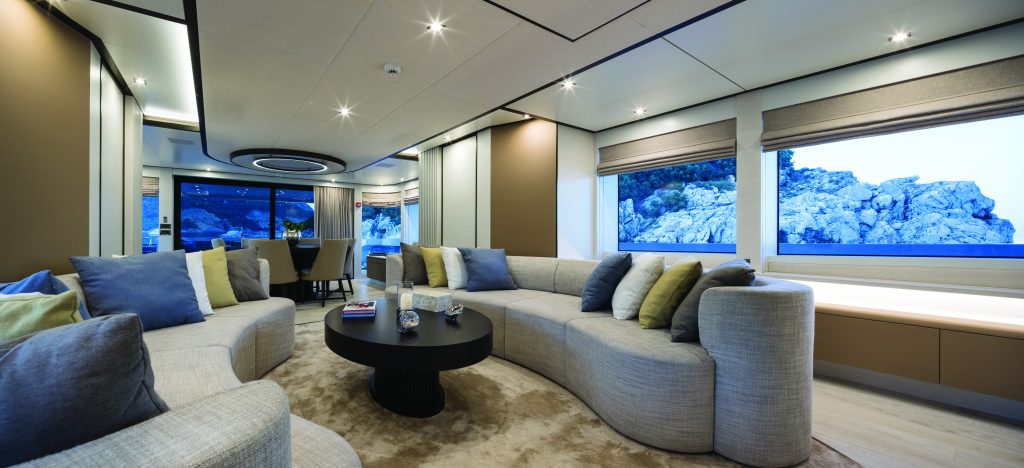 Turkish builder Alia Yachts delivery of the 31-meter M/Y Virgen del Mar VI, described by the shipyard as a 'pocket superyacht'. This new addition to the fleet has been designed to offer a dizzying degree of onboard customization and bespoke design features within the confines of 235 GT. Dutch design studio Omega Architects excelled in the exterior design execution, which has a distinctive raised pilot house profile and continuous dark features, accentuating her length with long, uninterrupted lines.
Monte Carlo Yachts: MCY 96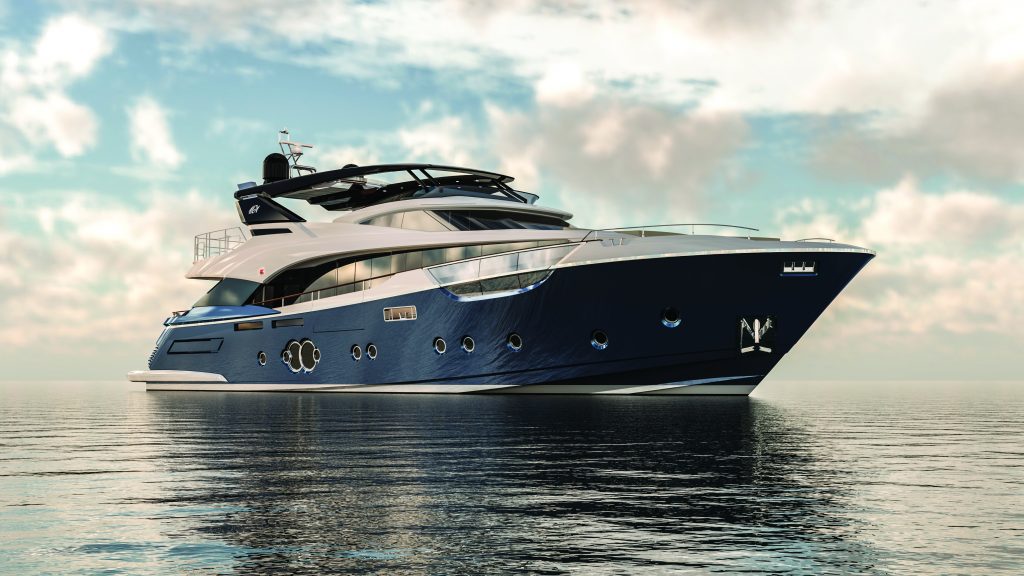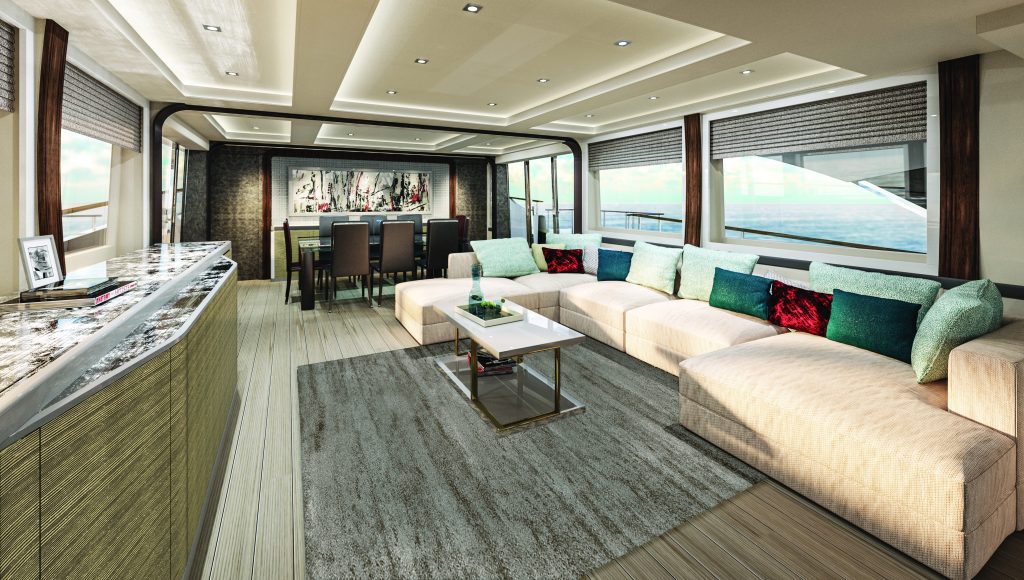 Gazing upon the sleek, sexy styling of the MCY 96, the last thing we're thinking is "safety first." Despite its aggressive silhouette, the naval build was designed with particular attention to safety during long crossings. Developed for extended ocean voyages according to both Pleasure and Charter Yacht Rules, the 30-meter yacht cinches the second spot on the Monte Carlo Yacht's size podium. Bulwarks are raised sensibly higher, and the broad overhanging side deck improves coverage from the natural elements.
Palmer Johnson: 49m M/Y Khalilah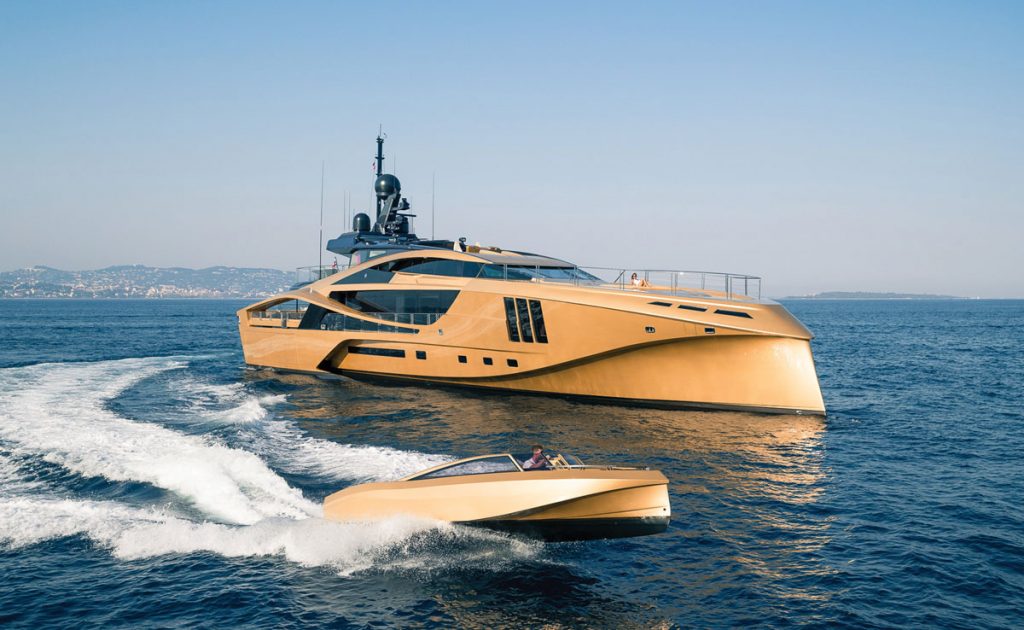 The renowned Khalilah is the world's first superyacht made entirely of carbon composite. This gleaming golden boat may look like a futuristic sports yacht from the outside, but the interior reveals a surprising contrast. You'll find a contemporary bohemian aesthetic, with discreet touches of retro. A metallic octopus chandelier is only one of several eye-catching design features. Khalilah's aft deck is loaded with oversized sunpads and an al fresco dining area complete with an exotic wood table. Low profile furnishings make for a residential feel and superb uninterrupted views.
Icon Yachts: The Gotham Project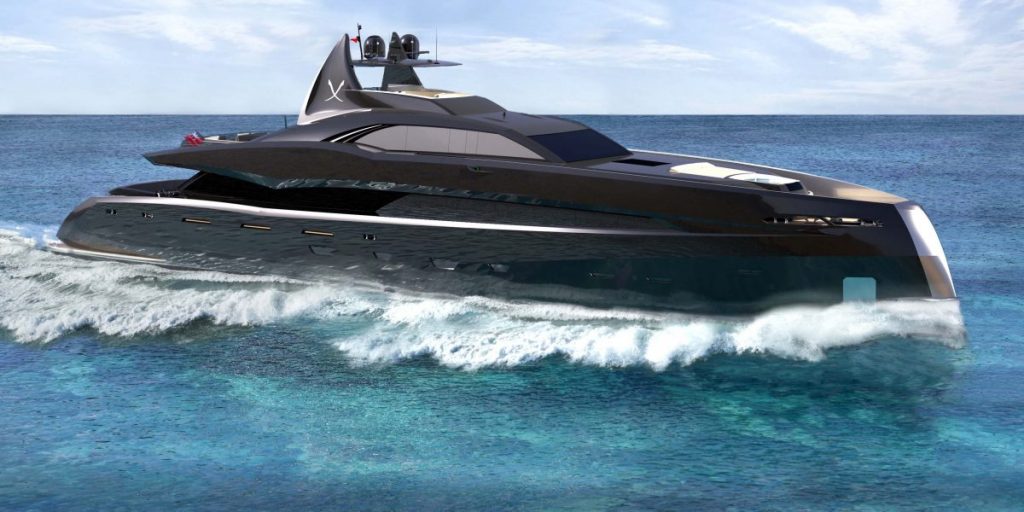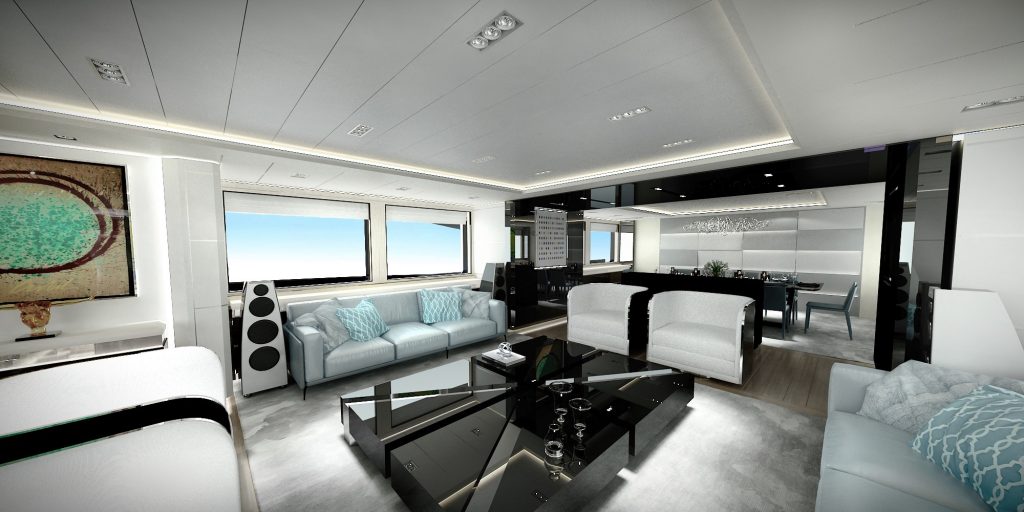 When Icon Yachts announced The Gotham Project, we couldn't have been more intrigued. A truly unique superyacht designed by ER Yacht Design, this promises to be one of the most iconic builds driving the future of the industry. Due for delivery in 2020 and available through Bristow-Holmes brokerage, the Dutch shipyard affectionately dubs it "a wolf in wolf's clothing."  Powered by twin 2000 hp MTU engines, she'll boast the performance to match her striking shape. Lifestyle aficionados will be seduced by a custom glass wine cellar, gymnasium and symmetrical entertainment areas.
Numarine: 26XP Superyacht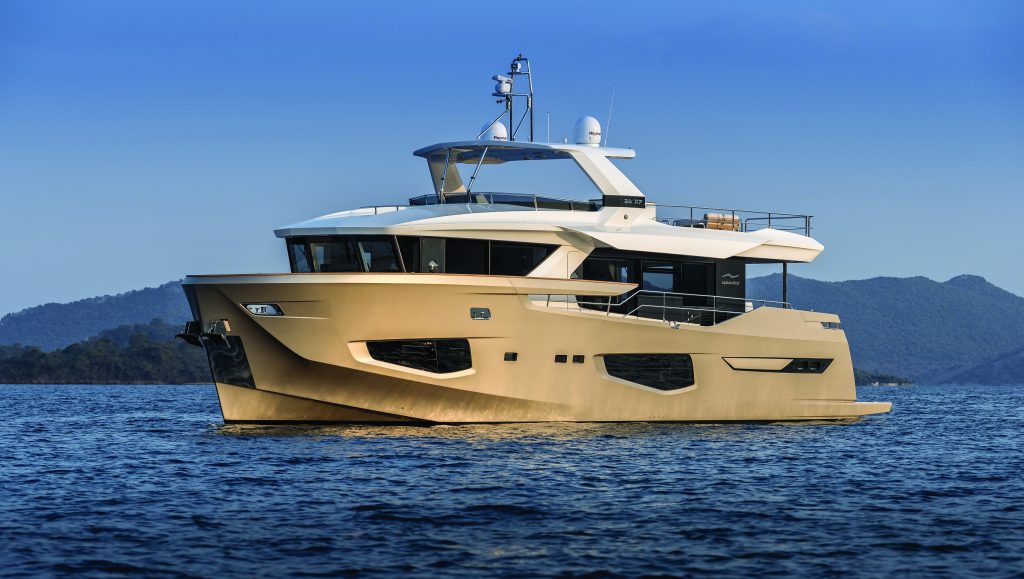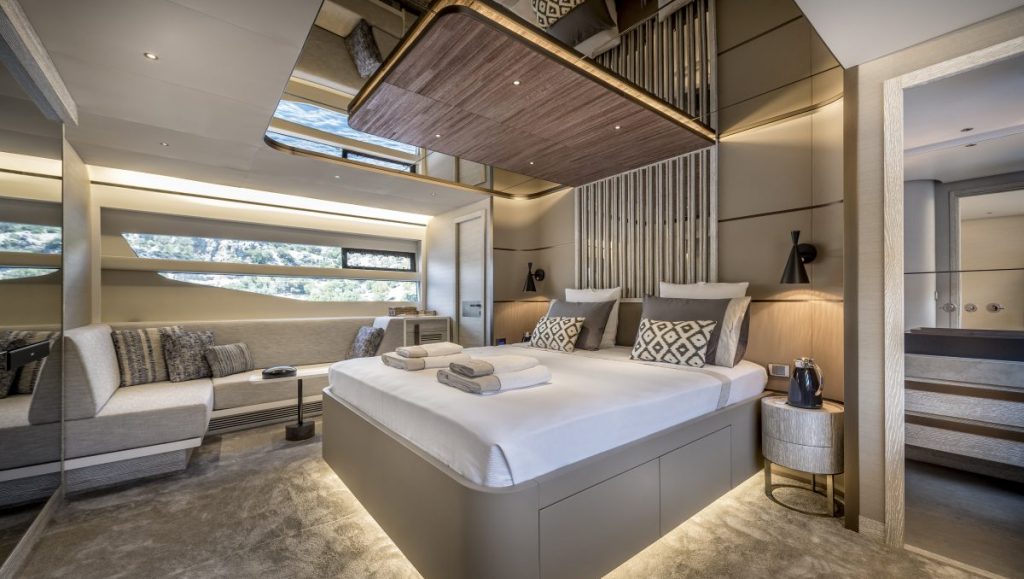 Sleep like a baby at sea? Turkish shipyard Numarine's 26XP features the "silent package", a lithium-Ion battery system allowing all necessary on-board systems to run without generators for up to 12 hours. Silence is golden while enjoying secret coves; the 26-meter expedition yacht is equipped with a full displacement hull and bulbous bow for maximized stability. A 16-meter flybridge covers two thirds of the hull's length, ample room for a 5.5-meter tender. The yacht is equipped with an open dining area with sprawling sunpad located aft, and beach platform on the lower deck.