Tom George Yacht Group has built a strong reputation based on their personal and trusted advisor role with all their clients' yacht and sport boat needs.
Synonymous with top shelf customer service and strong customer loyalty, TGYG is dedicated to protecting customer interests, providing an enjoyable and hassle-free yachting experience. TGYG is a Florida-based dealer and broker with offices in Tampa Bay and Fort Lauderdale. 


TGYG is a certified dealer of Hatteras, Marquis and Carver yachts in addition to Cobalt and Edgewater Boats. Whether you are seeking a new or pre-owned yacht or sport boat, or interested in our broker services to sell and/or acquire a unique brand of yacht, TGYG has an experienced team of certified yacht brokers for the sale or acquisition of virtually any brand of yacht.
TGYG also offers custom yachts. Much like building a custom home, there is a great level of professionalism, trust and experience required to build a custom yacht. We have veteran yacht builders with decades of experience; contact us today to schedule a meeting at your convenience to plan out your dream yacht — we personally supervise custom builds from 20 to 200 feet in length.
With beautiful yachts and pristine sport boats, maintenance and service is one of our top priorities. TGYG has licensed professionals that are skilled in everything from digital navigation instrumentation repair and service to experienced engine mechanics, in addition to being an authorized dealer for Mercury and Volvo. Our relationships with carefully selected and time tested boatyards, marinas, mechanics, service personnel and detailers can be relied upon to make sure you have the best experiences and confidence in your boat or yacht.
We are proud to represent these "All American-made" brands and invite you to learn more about each one.
Hatteras Yachts

A Hatteras Yacht does not aspire to offer a luxury. That is simply where we begin. It is beyond that point – and within the experience each voyage offers – which you begin to understand the true Hatteras difference. That difference, for over half a century, has allowed Hatteras to stand as the benchmark of quality and innovation to which all others aspire.
Two strong currents collide near Cape Hatteras: pride and perseverance. We're a product of the storied coastal waters from which we borrow our name. Unforgiving seas where, for hundreds of years, dreams were sacrificed and legends born. So when others say we're obsessed with over-engineering every detail, we know it is simply the right way to build a yacht. The uncompromising union of inspired design, breakthrough innovation and unmatched craftsmanship.
Our commitment began over 55 years ago when Hatteras founder, Willis Slane, envisioned a new breed of fishing boat. One strong enough to tame the waves off Cape Hatteras. What followed was the birth of a legend. Beginning with the Knit Wits, the 40-foot fiberglass yacht that revolutionized the industry, Hatteras served notice that our yachts would now be the standard to which all others were judged – above and below the waterline.
From that initial breakthrough vessel to each innovative yacht that has followed through the decades, Hatteras has offered a level of craftsmanship focused on perfecting every detail and over delivering on every expectation. When Hatteras began, some asked why our yachts were made this way. These days, they just want to know how.
Marquis Yachts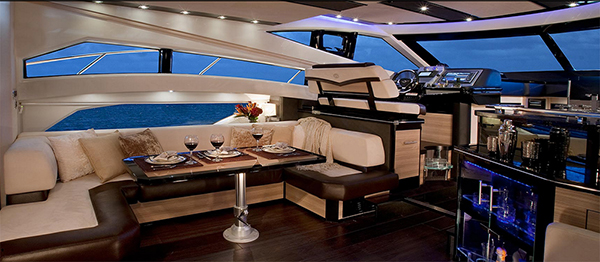 Marquis quality is strikingly different. It is typical for other yacht builders to outsource the design and installation of electrical and plumbing systems as well as cabinetry construction, upholstery fabrication and other critical components. In doing this they are, in essence, assemblers of other company's products and are limited by their supplier's capabilities, timeframes and quality standards.
Marquis is unique and superior because we build nearly every subcomponent and critical system ourselves and are immersed in every minute detail in the creation of each vessel.
The results are yachts with the ultimate in distinctive style, unmatched fit and finish and proven operational reliability. This quality and uncommon attention to detail says a lot about the Marquis brand and the person who owns one.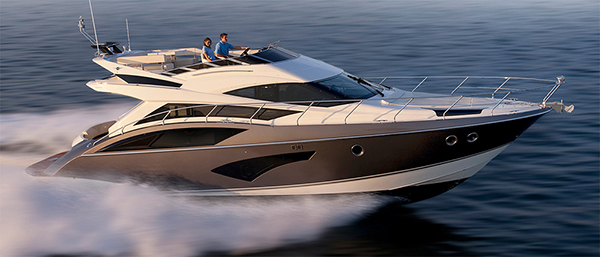 Marquis' Corporate headquarters and yacht yard are located in the inland seas region of the United States where generations of skilled craftsmen have been building the world's finest yachts and ships since the early 1800′s. This heritage runs through the veins of all who work at Marquis, bringing an experience and passion to our craft unmet anywhere else in the world.
Carver Yachts

Every Carver Yacht is crafted with the confidence that comes from 60-years of quality boat-building expertise. We continue to raise both structural standards and customer expectations through our cutting-edge technology and with generations of handcrafted skills that put our manufacturing in a class by itself.
At Carver, we're never satisfied with building anything less than the finest luxury cruising yachts in the world. Which is why every step of construction is performed in-house with the perfect blend of artisanship and technology. All so we can closely manage a quality build, one boat at a time.
You can be sure that every Carver Yacht is intelligently crafted to the highest performance and quality standards known to the industry, without compromise. The result is integrity that's painstakingly built into every square inch of every model.
Today, Carver Yachts continues to lead the industry in creating spacious, highly functional, durable and dependable world-class cruising vessels. The future promises new and exciting developments to enhance the ultimate cruising experience that only a Carver can deliver.
Cobalt Boats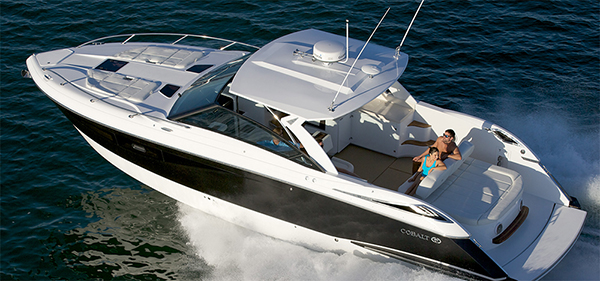 When we are motivated by goals that have profound meaning, by dreams worth realizing, by love and passion that need expressing, then we truly live life. Our Cobalt family believes we have a unique opportunity to enrich life, to help create memories for lifetime, to evoke passion for the boating lifestyle. We have set high expectations for ourselves. Our aspiration is to design and build the very best boats. Every time we succeed our owners are treated to a tremendously rewarding ownership experience. Each new Cobalt becomes the realization of one of our boat owner's dreams. It marks the opportunity to create some of their life's best memories. Our family's craft becomes their family's dream boat! It is an awesome responsibility.
Together, as Cobalt associates and Cobalt dealers, we believe in looking inward to benchmark our progress towards our aspiration. We have never aimed to be the biggest boat company, just the best. And if our actions follow our words, which in turn follow our objectives, we will together be good stewards of what Cobalt stands for. We are Cobalt…welcome to our family.
Edgewater Boats
Unlike most other boats on the market, we utilize proprietary SPI (Single Piece Infusion) Technology. Vinyl ester resin is chemically bonded in a close-mold vacuum infusion process that bonds the hull with composite structural beams, creating a single structural unit. The result is a stronger, safer and more efficient boat that is classed as unsinkable. By focusing intensely on safety, EdgeWater lets you focus on making the most of every moment on the water. Our fishing boats are used by serious sportsmen, active families and commercial clients who demand practical features, reliability and durability. That's why we strive to build the safest, most versatile fishing boats imaginable. Our boats are great for fishing, diving, skiing, cruising and anything else you could possibly want to do on the water. Our Fishing Boats are ones that handle exceptionally well in a wide variety of sea conditions.
At the heart of our company is a philosophy that deeply thoughtful design and intelligent engineering will produce a uniquely superior product. A strongly held conviction that quality matters goes into our Fishing Boats. A belief that uncompromising standards for safety and durability can be incorporated into a boat that is well-suited to its purpose and yet, still elegantly styled.