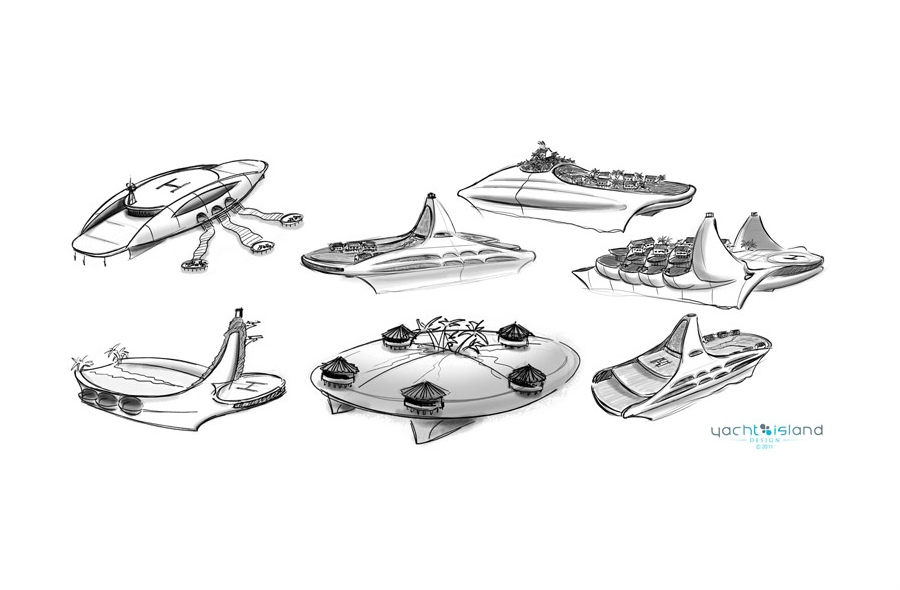 These are some of the initial ideas created during the conceptualisation stage showing a wide variety of designs.
From these designs, elements and features are extracted and combined to produce the final yacht concept.
The brief for this yacht concept was to create an idyllic, floating island, with all the features of a tropical island getaway built into the design. As you can see, from the early stages, we wanted to include elements close to the water, deployable, as well as a mountain/waterfall feature.
A colour perspective sketch of the final yacht concept. This shows the design nearing its final form, with colour to better express the mood, and atmosphere of the yacht island. Here we get a better idea of the open-face swimming pool peering out to sea, and the form of the foliage and waterfall against the superstructure.
Profile drawing to show the final design. The profile sketch helps to finally show the scale of elements, and now demonstrates the free-flowing nature of the hull, mimicking waves, and gives an idea of the volume that the body of the ship encompasses, and a rough feel for how much space might be enclosed in its vast structure.
This image shows a number of the key elements of the exterior main deck. These include the swimming pool, guest cabanas, the bar and outdoor dining. The waterfall can quite clearly been seen running from the volcano and feeding into the swimming pool.
This view shows the guest cabanas nestled around the pool and highlights the two deck owners' suites carved out of the front of the volcano and looking out across the bow. The interior features an owners suite located inside the volcano and spread over two decks. The living room balcony affords views out over the front of the yacht from behind the waterfall. Located behind the bedroom is the owners private spa.
The rear view shows off the sculpted wave-form of the superstructure, as well as the rear deck which doubles as a helicopter landing pad, just one of the available options for reaching the yacht whilst at sea. Further accommodation can be seen on the flanks, taking the form of four VIP suites all having private balconies and direct access up into the beach cabanas.
One of the more unique features of this yacht is the deployable beach deck which allows acces to the sea for various watersports and sea level relaxation.
Indoor entertainment is catered for by way of a cinema, library, games room and gym, with relaxation options in the form of a multitude of lounges each offering their own unique ambiance, and a fully equipped spa.
We can create your very own bespoke yacht island using a similar process, and make your dreams become a reality. Contact us to create your ideal paradise!