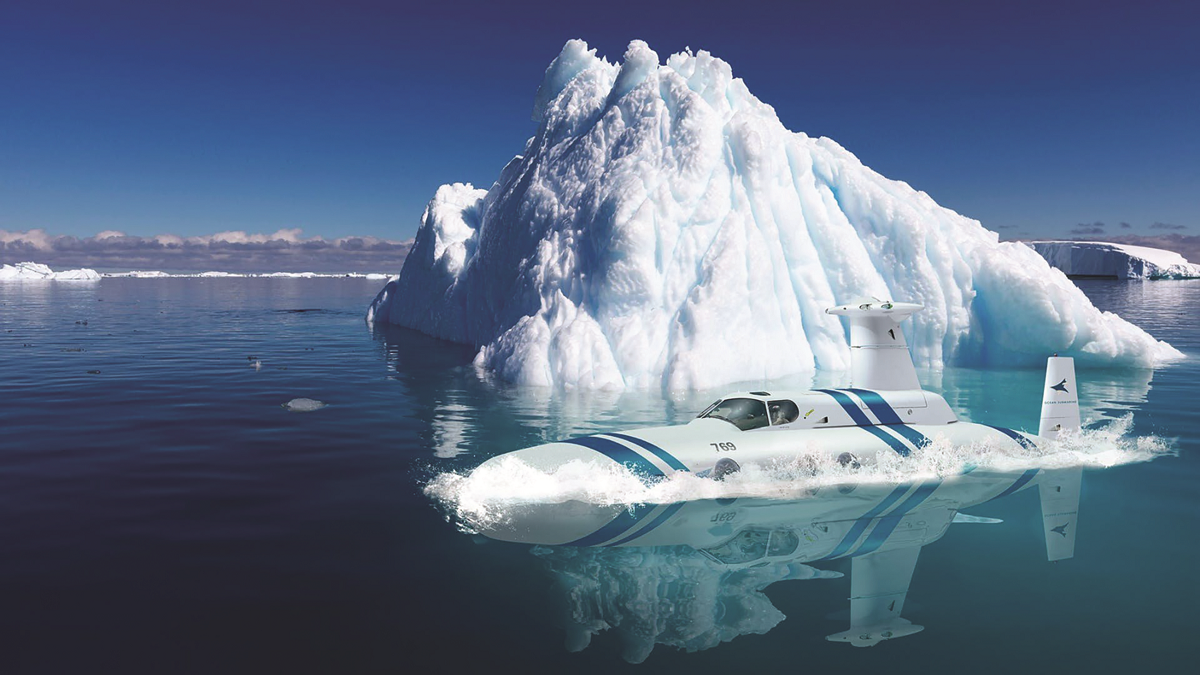 More than eighty percent of the world's ocean is uncharted and unexplored. As the National Ocean Service observes the vast underwater realm through sonar technology, hydrographic surveys and manned expeditions, deeper waters remain a mystery, as oceanographers have mapped just five percent of its floor. Luxury submarine manufacturers are stepping in to help with site survey while also creating opportunities for personal exploration travel. Now comes the introduction of a new generation of completely customizable, deep-diving submersibles available to the elite with support vessels (superyachts) and those who want an up-front view of underwater landscapes and marine life that most people will only see in pictures and on film.
U-Boat Worx Submersibles
For Research, Media Production and Adventure Tourism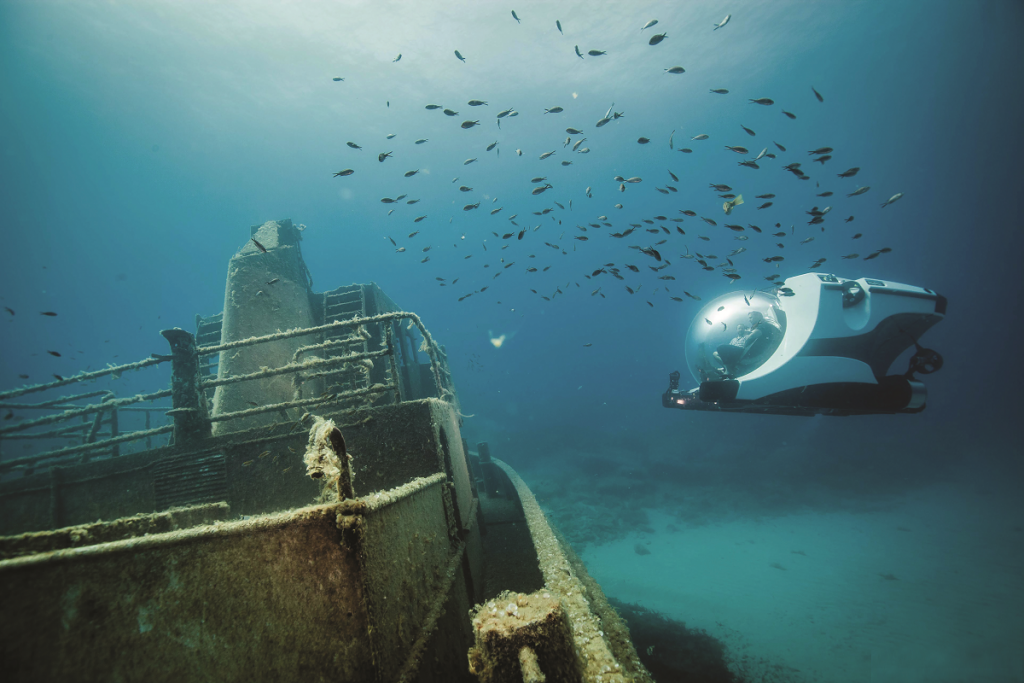 One of the key players in the global Private Submarines market, U-Boat Worx creates handcrafted submarines flexible for a range of applications—from adventure tourism to media production to scientific research. The Dutch manufacturer is the largest of its kind and the first to produce a full range of submersibles. There are currently five series in production. The C-Researcher series has eight models that take scientists, researchers, documentary makers and explorers to depths of up to 9840 feet (3000 m) and offers unimpeded views out of an acrylic dome. With a new Pressure-Tolerant Lithium-ion battery system, mission times are extended to 18 hours. The Super Yacht Sub 3 series is the most compact private submarine available and aimed at superyacht owners. The Cruise Sub series offers cruise liners and high-end tourism operators the greatest available seat capacity of the U-Boat Worx models and can dive as deep as 5570 feet (1700 m). The Hiper Sub series is a high-performance sports machine that can go as deep as 330 feet (100 m) and travel up to six knots performing tricks like a fighter jet.
Neyk Submarines
Turning Fantasy Into Reality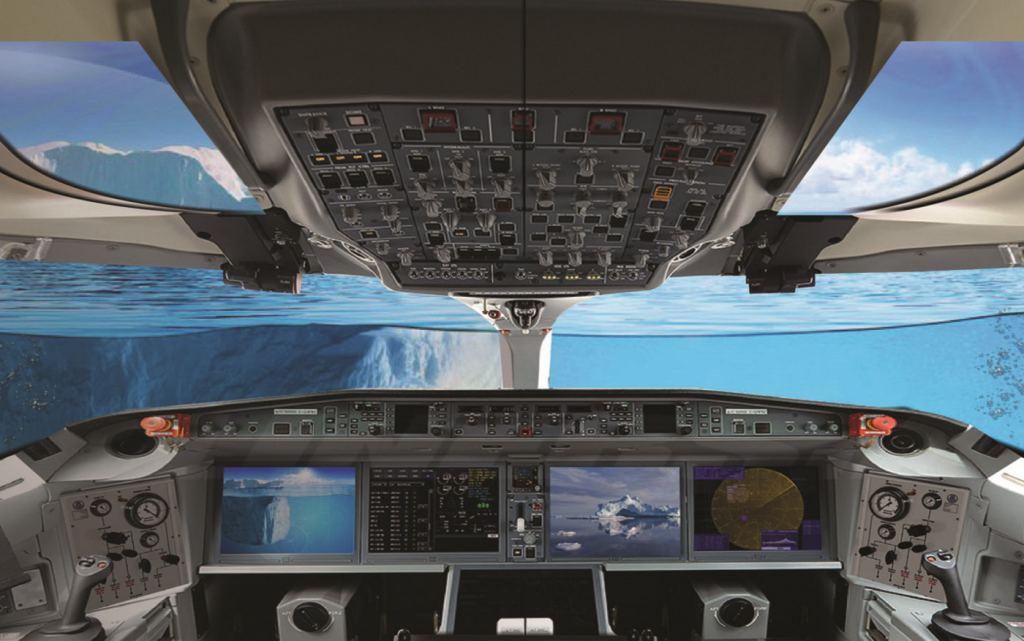 The 63-foot pressurized Neyk submarine has been touted as a 'subaquatic luxury jet' capable of carrying up to 20 passengers in a customizable airplane-style cabin. Ocean Submarine has teamed up with Rolls-Royce, MTU and Bosch to craft a one-of-a-kind underwater luxury vessel with high-end technologies and maximum comfort to take passengers to great oceanic depths. Built to both Royal Netherlands Navy and NASA specs, the Neyk is capable of speeds of 15 knots and depths of 500 feet (152 m). A large dome at the bow allows for one of the best views in the industry. The luxe interior is outfitted with a full galley, bar and library. The Neyk submersible is powered by twin electric motors and has the lowest possible noise profile in a sub. With built-in landing gear, the sub is able to traverse land and sea.
Triton Submarines: Project Neptune
In Collaboration with Aston Martin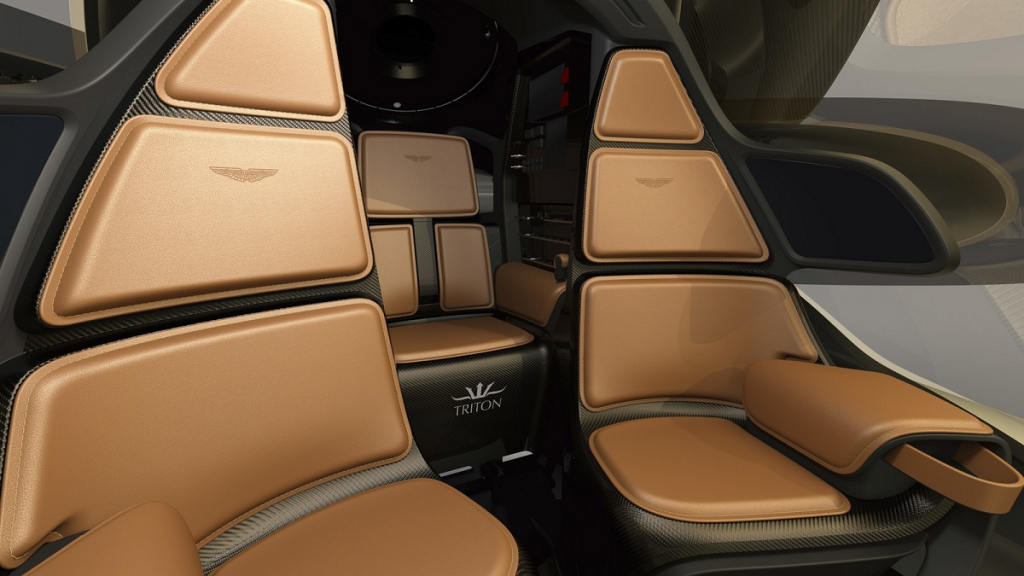 When the performance, beauty and elegance of an Aston Martin vehicle meets the safe, reliable, hydrodynamic efficiency of a Triton submersible, magic happens. Project Neptune is very real as the collaboration has conceptualized the sleekest, most lavish design in its class leading to the exclusive limited-edition vehicle. Project Neptune will be capable of descending to 1640 feet (500 m) at top speeds of five knots. While the joint development of the acrylic canopy and iridium coating are unique exterior features, the luxurious interior has a congruous aesthetic of hand-stitched leather and high-performance carbon fiber that is quintessentially Aston Martin. And with Triton's famed unobstructed panoramic sightlines and hydrodynamic efficiency, the Project Neptune design reflects the high standards of each company.
SEAmagine: Aurora
Submersibles for Professionals and Private Yachts
California-based SEAmagine Hydrospace Corporation designs and manufactures personal submarines and submersibles for professionals and private superyachts. The AURORA-3C is a compact, lightweight three-person model (two passengers, one pilot) that reaches depts of 1500 feet (457 m), while the six-person model can go as deep as 3280 feet (1000 m) and offers a larger cabin with a private restroom in the back hull. Horizontal entry points with secure walking decks provide for safe boarding from yachts, while the field of view is enhanced as the access hatch is behind the main cabin. The AURORA series of personal submersibles have a maximum speed of three knots and include seven LED flood and spotlights along with cutting-edge underwater HD camera systems to expand the understanding and enjoyment of the ocean environment.