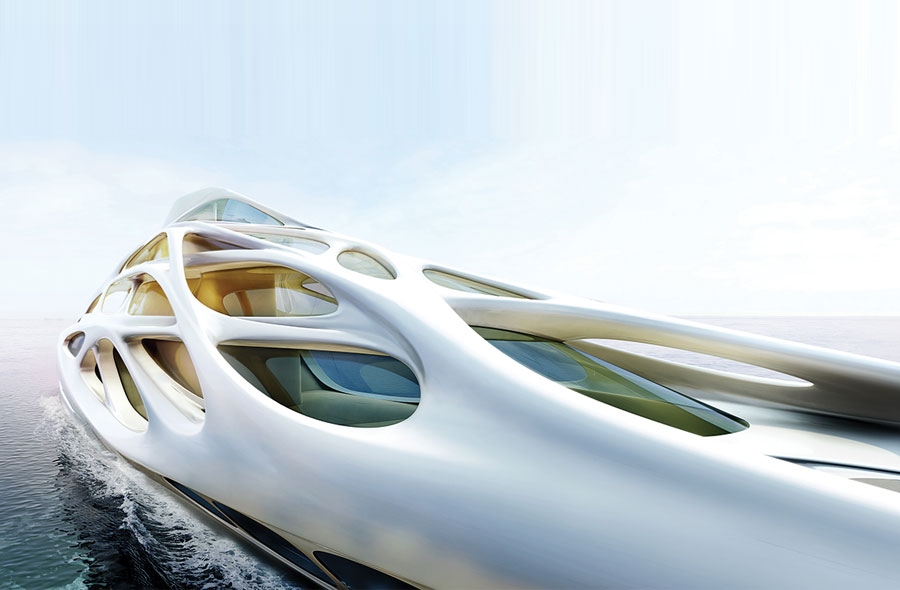 Her stunning, futuristic designs have earned wide acclaim in Beijing, London, Singapore, Abu Dhabi and other destinations around the world.
And now, Pritzker Prize-winning architect Zaha Hadid of Zaha Hadid Architects has focused her considerable talents on creating yacht design concepts for Blohm + Voss.
The result of this collaboration of design and technical expertise is the Unique Circle Yachts, a family of five 90-meter yachts that are based on the sculptural form of a master prototype conceived for a 128-meter yacht. The overall design was inspired by hydrodynamic research and natural underwater ecosystems.
The yachts display Hadid's signature bold, organic design philosophy through the use of a unique exoskeleton structure that evokes natural marine formations and seamlessly connects the various levels and decks of the ship.
The JAZZ yacht is the first of the series to be technically specified by the naval architects at Blohm+Voss. Four more Unique Circle Yachts have been custom designed to meet the specific requirements of their respective owners.
Hadid described the unique challenges that yacht design presents. "As a dynamic object that moves in dynamic enviroments, the design of a yacht must incorporate additional parameters beyond those for architecture – which all become much more extreme on water. Each yacht is an engineered platform that integrates specific hydrodynamic and structural demands together with the highest levels of comfort, spatial quality and safety."