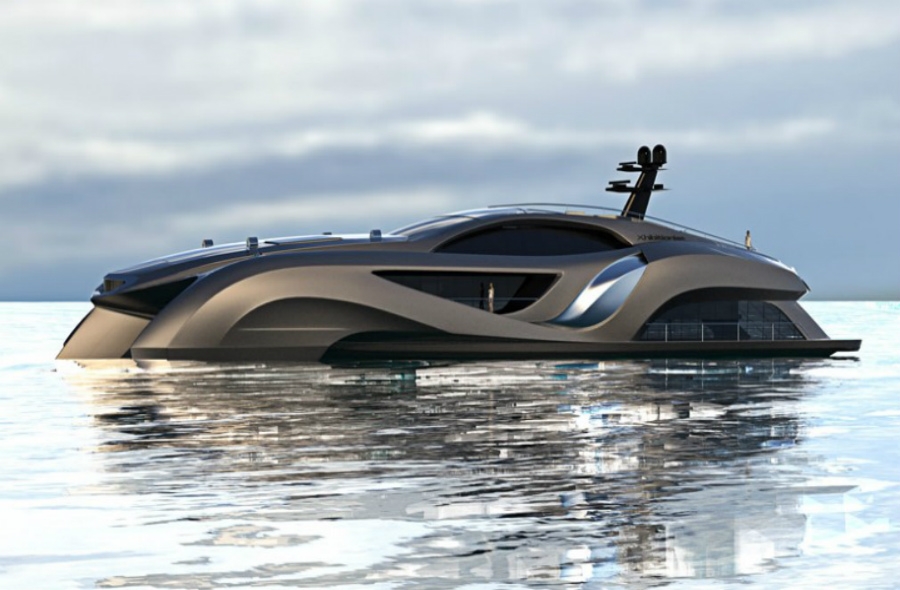 Take one look at the Xhibitionist's sleek, car-like styling, and you might be reminded of the Batmobile. But we can't help but wonder if the Caped Crusader would have gladly traded in his beloved street machine for a chance to get his hands on this stunning concept yacht.
The brainchild of renowned designer Eduard Gray, the Xhibitionist was designed to be a "floating working asset" capable of serving in many different capacities, such as a floating showroom, an exclusive retail space or any other creative use the owner can imagine, including, of course, "guest mode."
The Xhibitionist's streamlined automotive lines were inspired by Gray's expertise as a designer of supercars. He has even designed a car, the Xhibit-G, to complement the yacht.
Gray chose an inverted trimaran configuration to provide stability for the 75-meter vessel, and instead of a typical engine room, there's a "powerplant gallery" where the impressive hybrid drive systems are showcased behind a glass wall.
One of the many amazing features of the Xhibitionist is its creative use of solar panels. In addition to powering the vessel, these massive panels are strong enough to be raised up and used as a helipad or even as a concert stage while at sea or at the marina.
Gray Design boldly admits that the Xhibitionist has been designed to "wantonly, shamelessly, unabashedly and knowingly steal the show." It looks like this well-named yacht has succeeded.