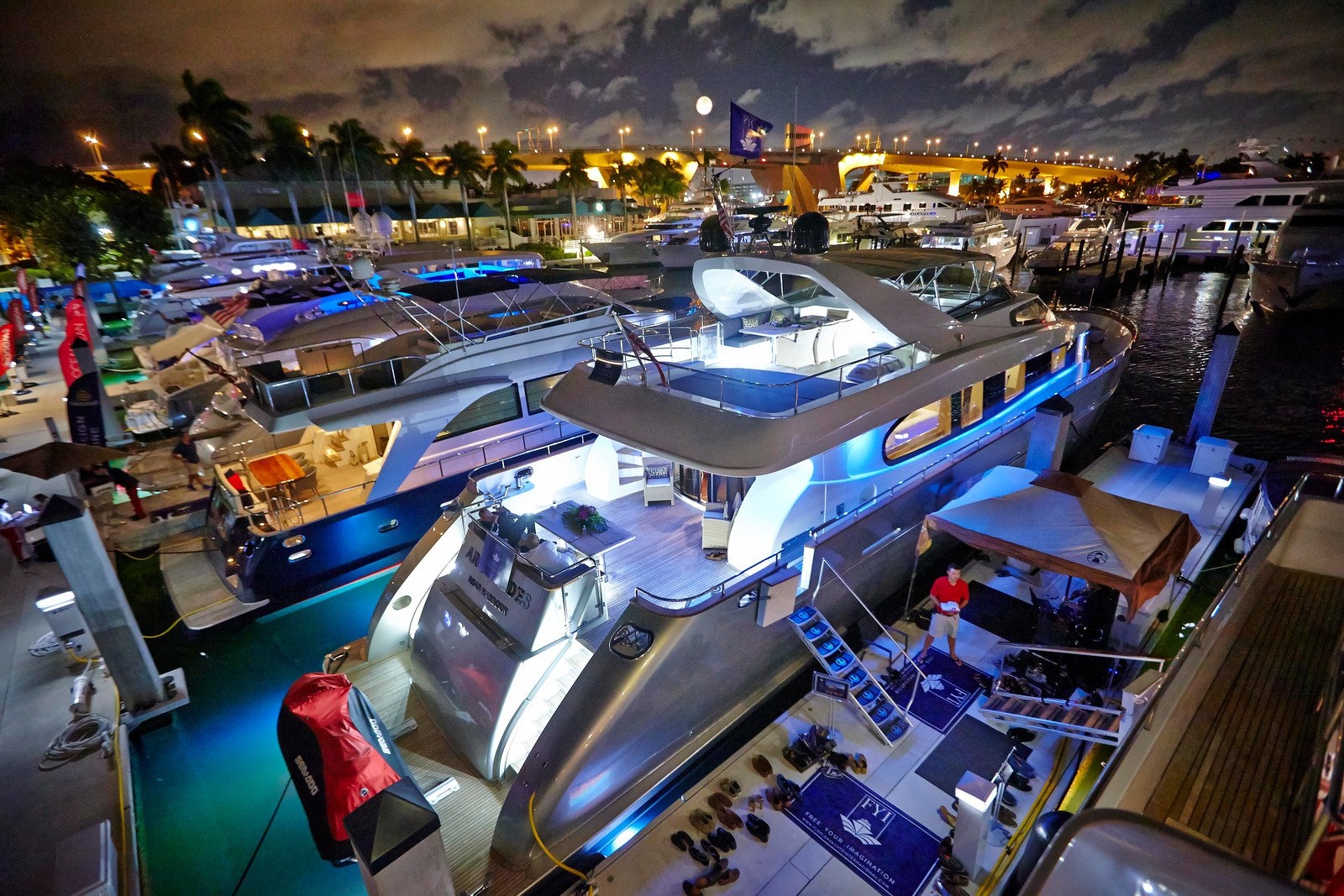 Every year thousands flock to Fort Lauderdale and brave the humidity to witness the largest annual gathering of in-water boats on planet earth.
From November 5-9 last year, seven massive locations encompassed more than 3 million square-feet of exhibit space in what is called the "Marine Hub of the World." As always, Jetset was on hand to cover it all, as more than 1,000 exhibitors showcased nearly 1,500 boats of all sizes.
This year the show had more boats on display than ever (up four percent from last year), and you could feel it as you walked the docks and surveyed the seemingly-endless parade of monstrous yachts. According to Fort Lauderdale Show Management's president Efrem "Skip" Zimbalist III, five yachts this year topped 200 feet each: Oceanco's Lady Lola, Oceanco Tri Deck's Natita, Feadship's Positive Carry, Icon Ocean Going's Meridian, and the grand behemoth of the show — the epic, 247- foot Northern Star from Lurssen.
Sales of boats, equipment, accessories, and marine art at the show totaled more than $4 billion, with everything on sale from sportfishers to sailing yachts to catamarans to the aforementioned monster-yachts. Moreover, the annual boat show has a greater economic impact upon the Fort Lauderdale area than the Super Bowl on its host city. The last conducted impact study (back in 2007) estimated the benefit of the Boat Show to the Fort Lauderdale area at roughly $500 million. (A Super Bowl typically generates around $400 million to its host city.)
"The Fort Lauderdale International Boat Show brings together B2B and B2C vendors, manufacturers, yacht brokers, and customers from more than 34 countries to conduct business at the best boat show in the world," says Phil Purcell, executive director of the Marine Industries Association of South Florida, which owns the show. "This year's show delivered on experience, expectations, imagery, new products and world debuts at all levels of the marketplace."
Many major players had solid showings at the show. Fraser Yachts had a strong fleet on display, including two beauties that hovered around 170 feet in length: M/Y Felix and MY Helios 2. The latter features some of the most advanced technologies ever seen on a modern superyacht, while the former can accommodate up to 14 guests. Worth Avenue Yachts threw an excellent private party which displayed a selection of nine incredible superyachts. In Jetset fashion, Rolls-Royce Cars were on display, and very special guests enjoyed a complete Louis XIII experience while browsing through the yachts.
Paragon Yachts partnered with Jetset in displaying one of their gorgeous, one-of-a-kind yachts — an all-new Bahamas 100-foot SkyMaster dubbed Kaytoo. And Tom George of Tom George Yacht Company was gracious enough to sit down with me and gave tours of several of his marvelous listings, including the most incredible fishing boat I've never seen.
The feeling of the size and scope of show was omnipresent. As Yacht Chandlers vice president James James said, "We saw more owners, captains and project managers through our booth than ever before." Even if you don't own a boat, even if you aren't in the market for a yacht, any lover of boating (or fan of the promise of ocean exploration) owes it to themselves to witness the splendor of the Fort Lauderdale International Boat Show.