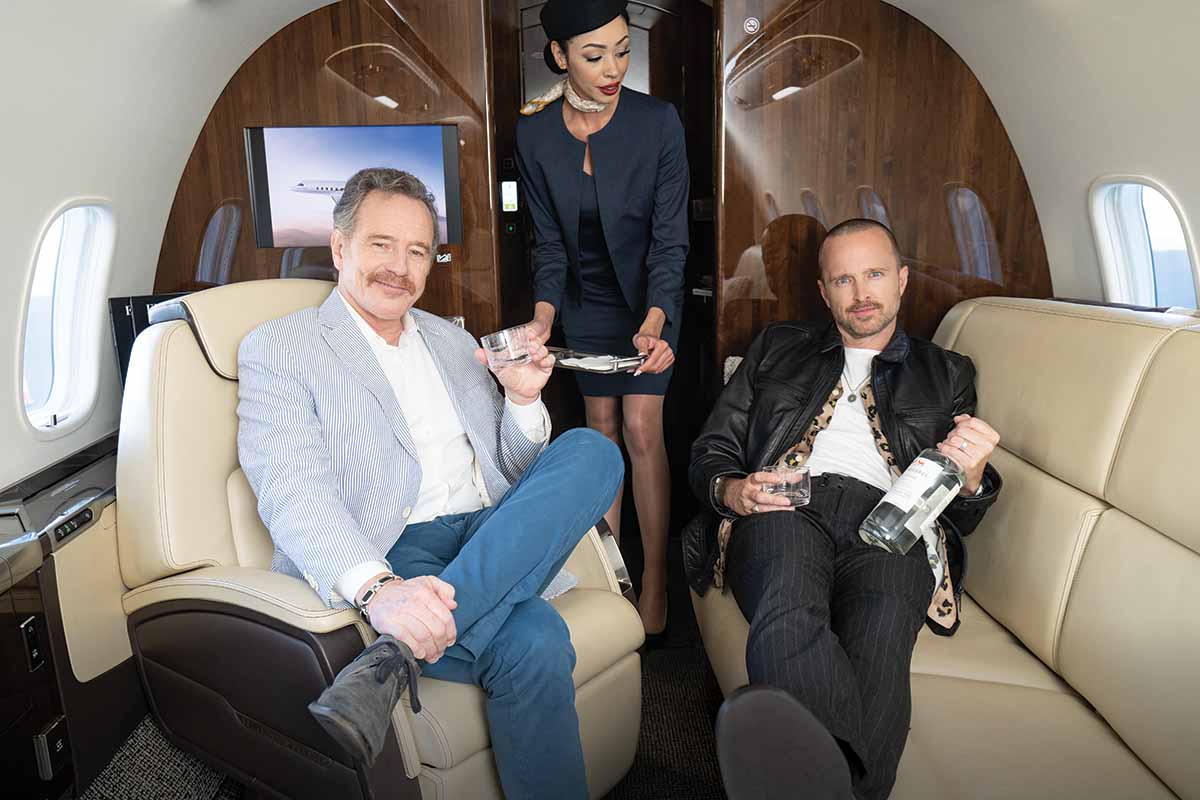 By all accounts, the latest venture from Bryan Cranston and Aaron Paul is going quite well, perhaps even more so than their decidedly-less-legal fictional enterprise on Breaking Bad. Dos Hombres, the mezcal company the two award-winning actors launched in 2019, has quickly ascended the spirit's global ranks as it undergoes a swift expansion, its two beloved principals firmly at the helm. Jetset recently had the pleasure of sitting down with the industrious duo aboard a well-appointed Bombardier Challenger 350 to imbibe some of their smoky spirit and discuss the brand's growing success.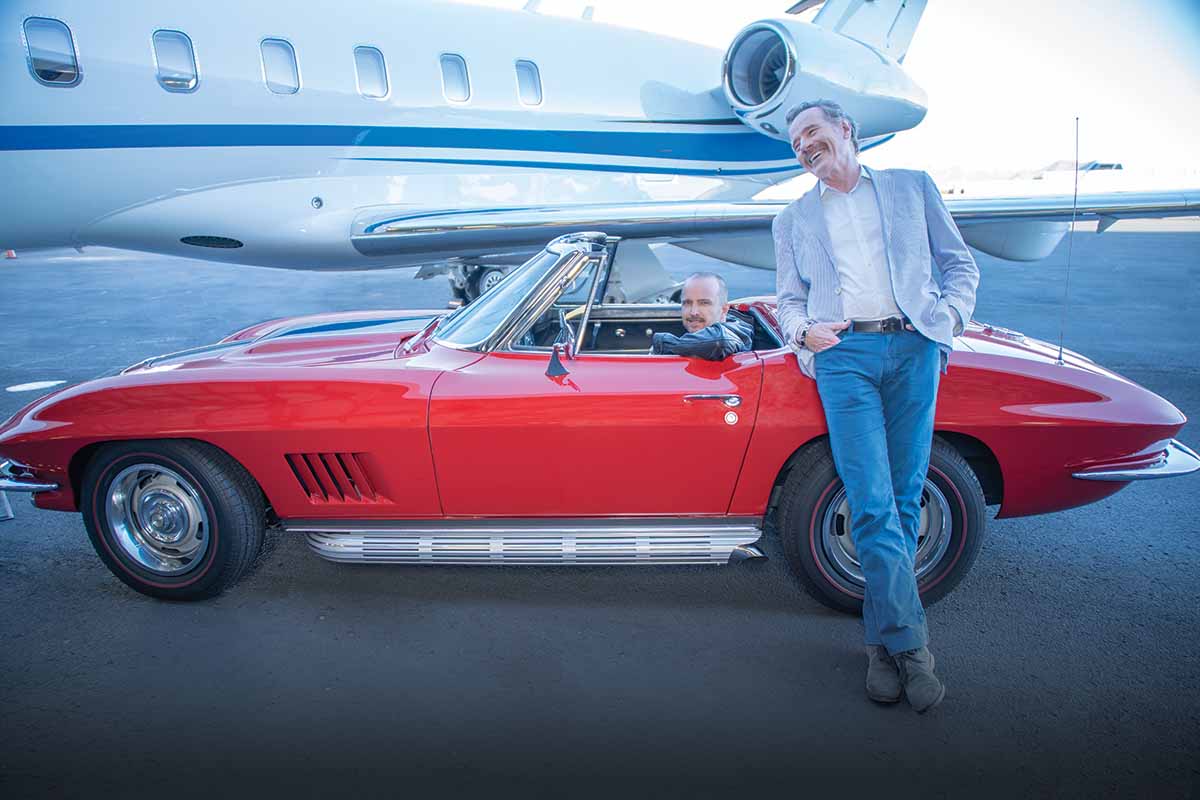 "I think it's important for people to know that we are very hands-on," Paul says, filling his rocks glass with Dos Hombres. Paul is proud to say that the pair has hired every single one of their employees personally and are involved in nearly every decision for the global brand. The two frequently embark on whirlwind promotional tours — long days of four, five, six stops in one city — surprising fans at bars, mixing drinks, signing bottles, and getting to know the people whom Paul says "put liquor to the lips." I've had the opportunity to witness one of these things firsthand and found myself struck by his boundless energy, effortless charisma, and genuine passion for the brand. Many celebrities with brands talk the talk; few walk as fervently as these two.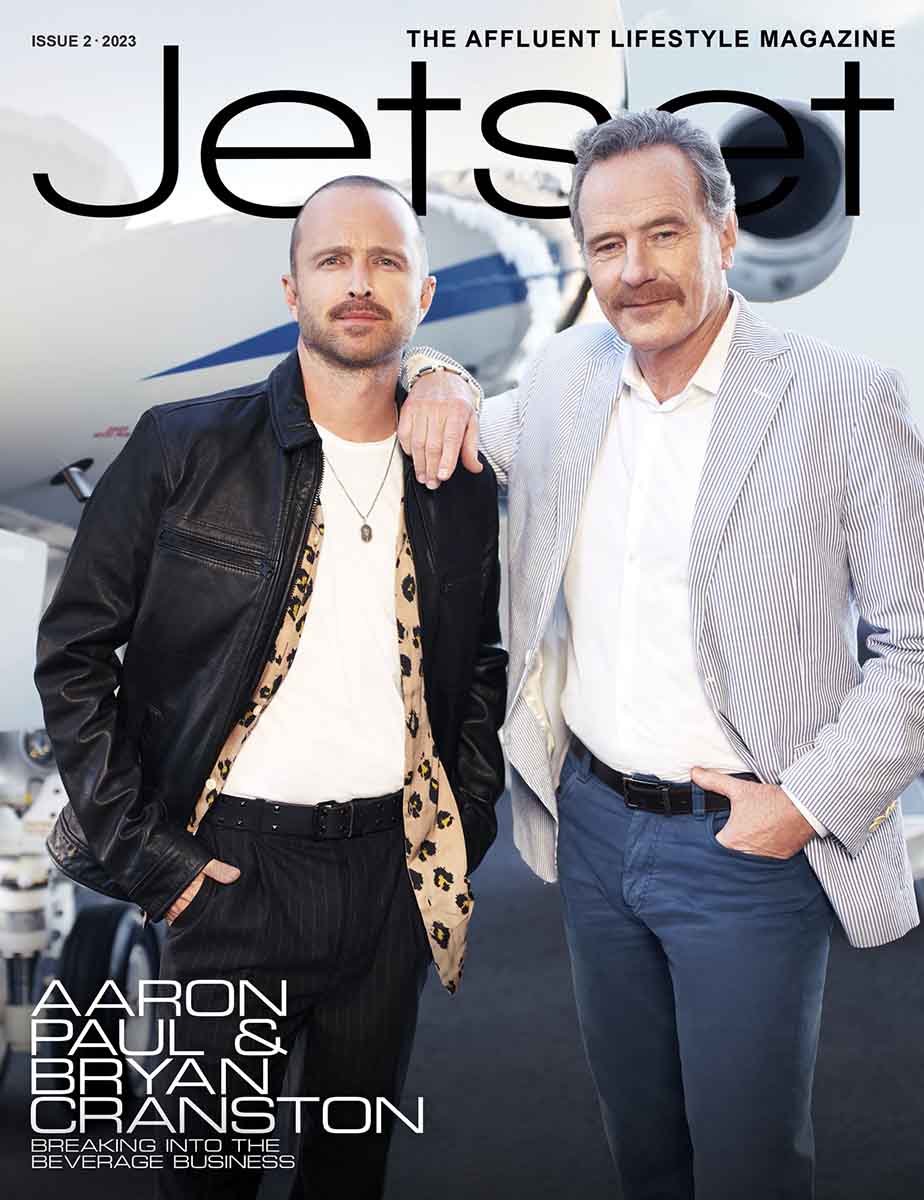 In 2023 celebrity liquor brands are beyond ubiquitous. Seemingly every week, another familiar face lends their weight to a new spirit with varying degrees of quality and success. From a business perspective, the logic is sound. As you are probably well aware, in 2017, Clooney and Co. sold Casamigos to Diageo for a billion dollars. By 2025 the global market size for alcoholic beverages is estimated to surpass $2.2 trillion. A cynic might look at Dos Hombres and think that someone saw what Casamigos did for tequila and said, "Let's do that for mezcal," and cravenly found Cranston and Paul endorse it. They would be wrong.
"This is all self-funded by Bryan and [me] from the very beginning," Paul tells me. "It wasn't some big corporation that came to us asking us if we wanted to make a quick buck, slap our name on something, and wish it luck." No, this is a clear labor of love, something born out of hard work, a two-decade-long friendship, and respect for the culture and tradition from which this spirit comes. It began as the pair pondered their next project a few years after their TV show concluded its snowballing run as a bonafide cultural phenomenon with another slew of Emmys and a rightful place in the pantheon of great television.
Following up on a hit of that magnitude is no small feat, and for a while, the right project seemed evasive. Then Paul had a somewhat outside-the-box idea. Mezcal. "I mean, it's my favorite spirit," he tells me. "I come from the bourbon/Scotch/whiskey world…I was always having a glass of whiskey or bourbon…and then I was introduced to mezcal 17 years ago…and I just fell in love with it. It's just such a clean spirit. The older I got the next morning sort of hurt me a little bit with the darker spirits, but I could have a mezcal, and I feel great. I love the smokiness to it, the peaty-ness."
He also sensed an opportunity. "I saw such a clear opening there," Paul says. "There wasn't a clear frontrunner in the space, and I thought we could take a swing at that." Once Cranston was on board with the idea, they began an immense education in the spirit's rich tradition and embarked on frequent trips south of the border where they discovered the tercer hombre in this equation, third-generation Maestro Mezcalero (basically "master mezcal maker") and partner in Gregorio Velasco. Velasco helped bring the duo's vision to life and craft an accessible mezcal perfect for bringing this somewhat acquired taste to the masses.
The two speak of their maestro with great reverence. "Every time we go down to Mexico and visit our maestro…he teaches us something different," Cranston says. As Cranston tells it, Velasco carefully guards the formula for Dos Hombres, not unlike the recipe for Coca-Cola, Colonel Sanders' 11 herbs and spices…or Heisenberg's infamous blue. "He has a recipe, like a fine chef has a recipe, for Dos Hombres, and it's very well tightly kept…we don't even know it."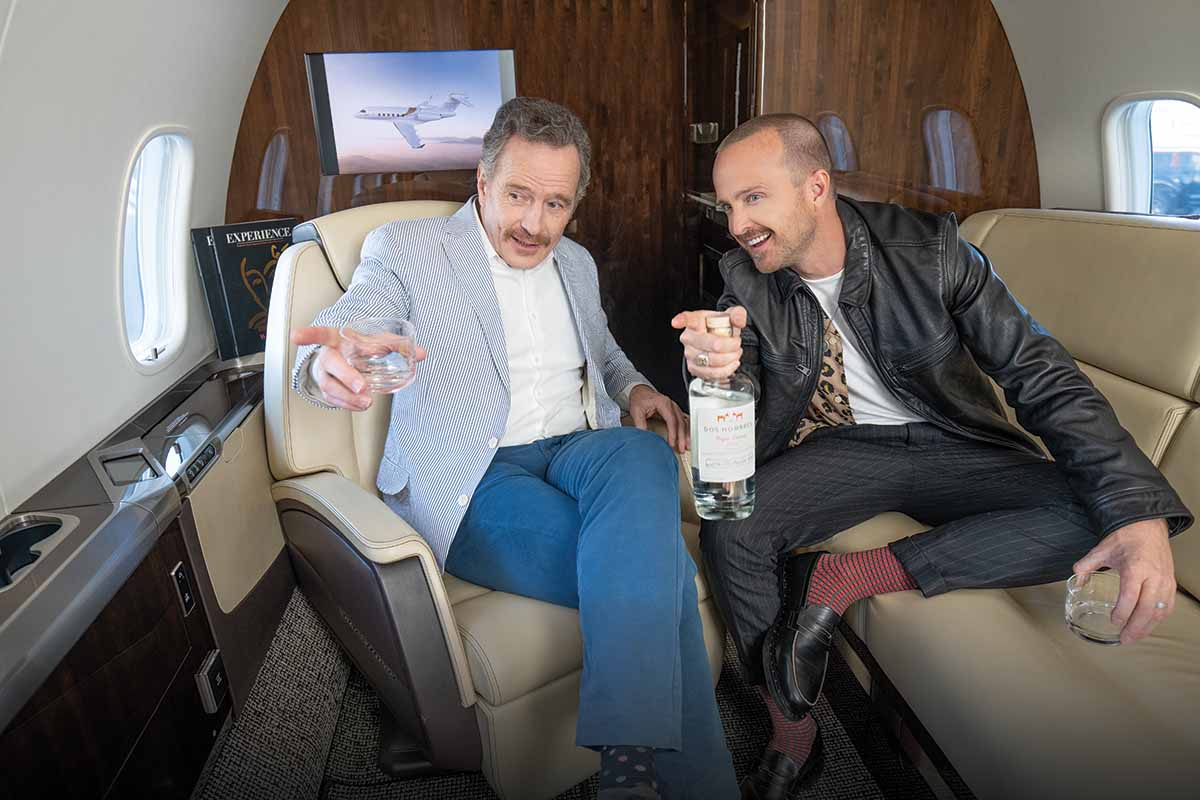 When asked about transitioning from acting to business, Cranston admits that while there was a natural learning curve, the pair relished the challenge. "What's interesting as actors, every time we start a character, it's outside of us," he says. "We don't know if we're truly going to get it and to be able to understand that character and grab hold of it. So I just looked at this business in the same way. Oh, it's outside, here… just have to study and do everything I do as an actor, developing a character to learn as much as I can…keep pulling it in. We're like dry sponges; just pull it in and learn as much as we can."
The two both owned production companies, but as Cranston points out, that is within a world they know well. "This is really the first ownership of a business completely outside of anything I had ever been involved with before," he says. But by all indications, they have been quick studies. In just a few years, they are certainly looking like that frontrunner, as their donkey-adorned bottles can be spotted in more and more retailers, restaurants, and bars. The pair admits they have "lofty goals" for the brand. "We just want to keep growing this thing," Paul says, "keep educating people on what mezcal is, and swing for that number one spot."
While it seems they have already attained quite a lot through this endeavor, one major milestone might be eluding them. Cranston surveys the Challenger's cabin before casually admitting, "We could use a jet to get around…that would be great." Paul agrees. "You know what? We really could use a jet," he says, laughing, "Just saying…you know a guy?" Cranston echoes a line from Breaking Bad: "You know a guy who knows a guy who knows a guy who knows a guy?" (At Jetset, we know a few guys.)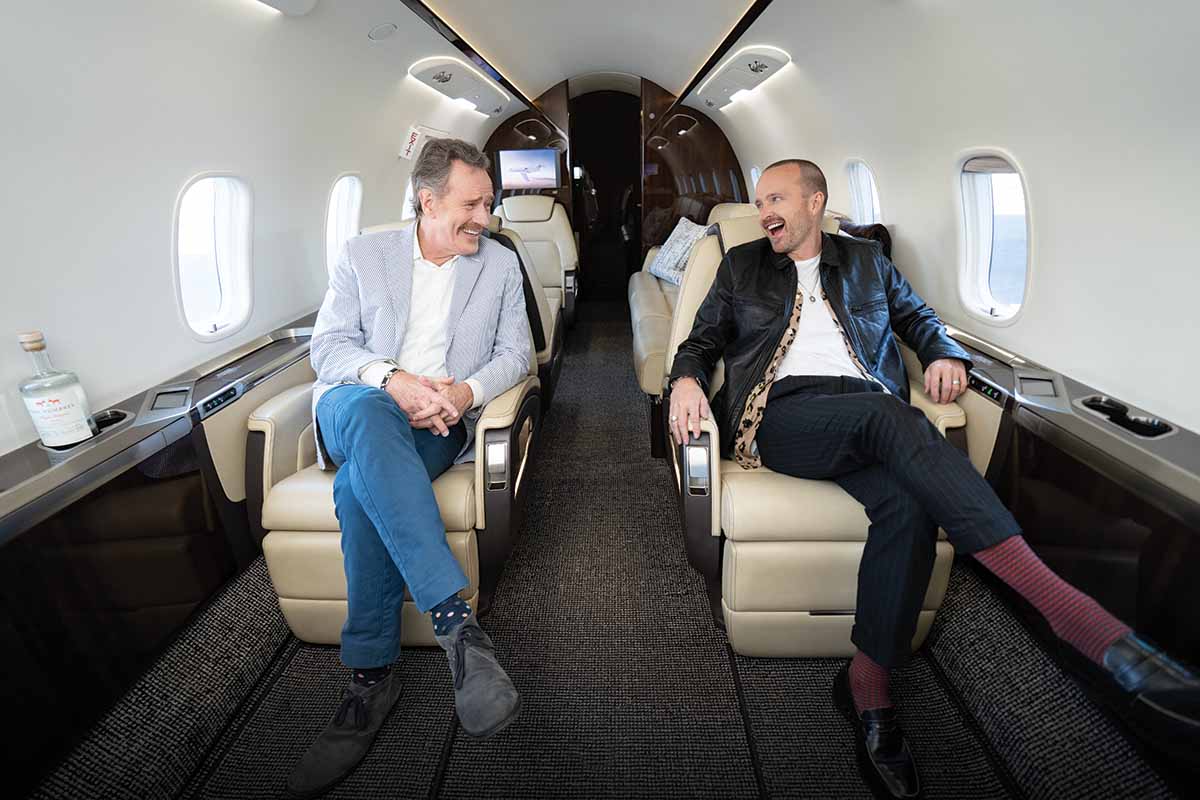 All kidding aside, it would seem that the real goals behind Dos Hombres extend far beyond creature comforts. "We have always felt that we can be a massively successful company and still be good stewards to the earth and to people," Cranston says. "There's no reason why that cannot be joined…[to] share the joy, share the wealth, do things that are beneficial for people, both here and in Mexico…I think we feel that way because we have never gone after a money plateau. We are going after a product, whether it is a movie that we make or a mezcal that we make, we focus on that to be the best it can be, and if the ripple effect of that is a success, then fantastic."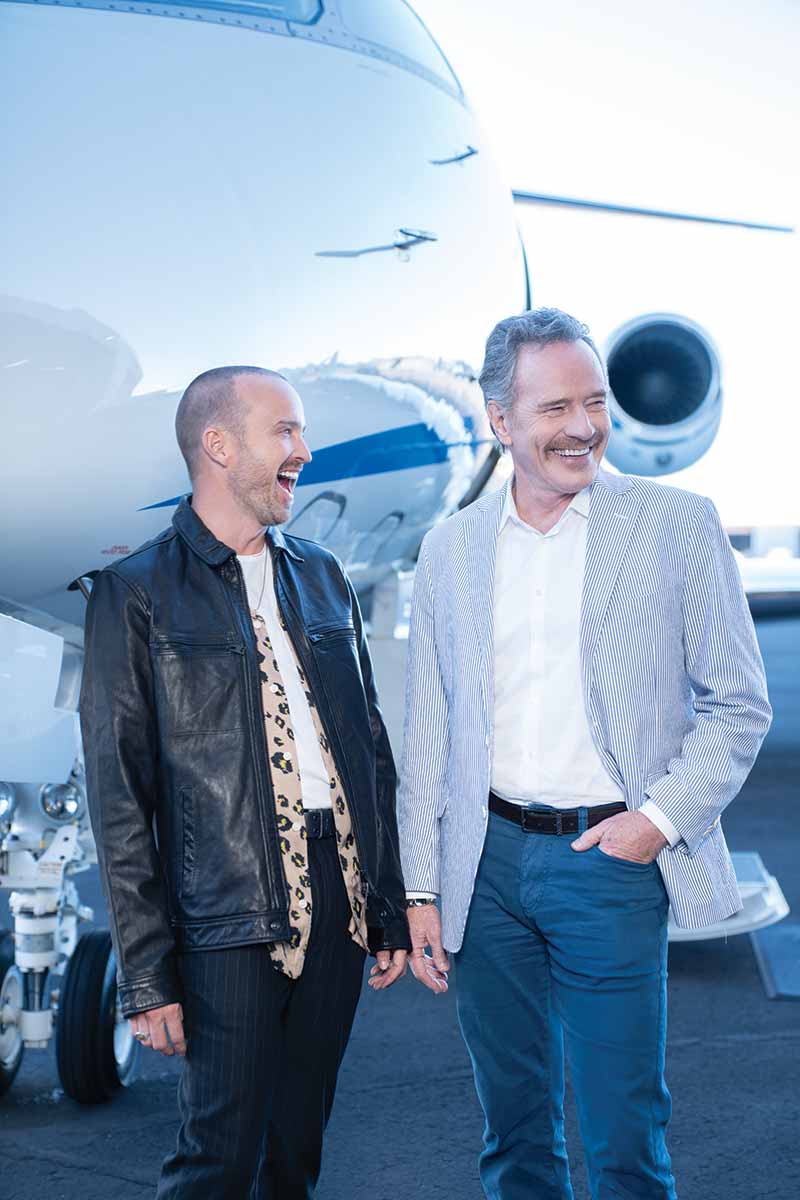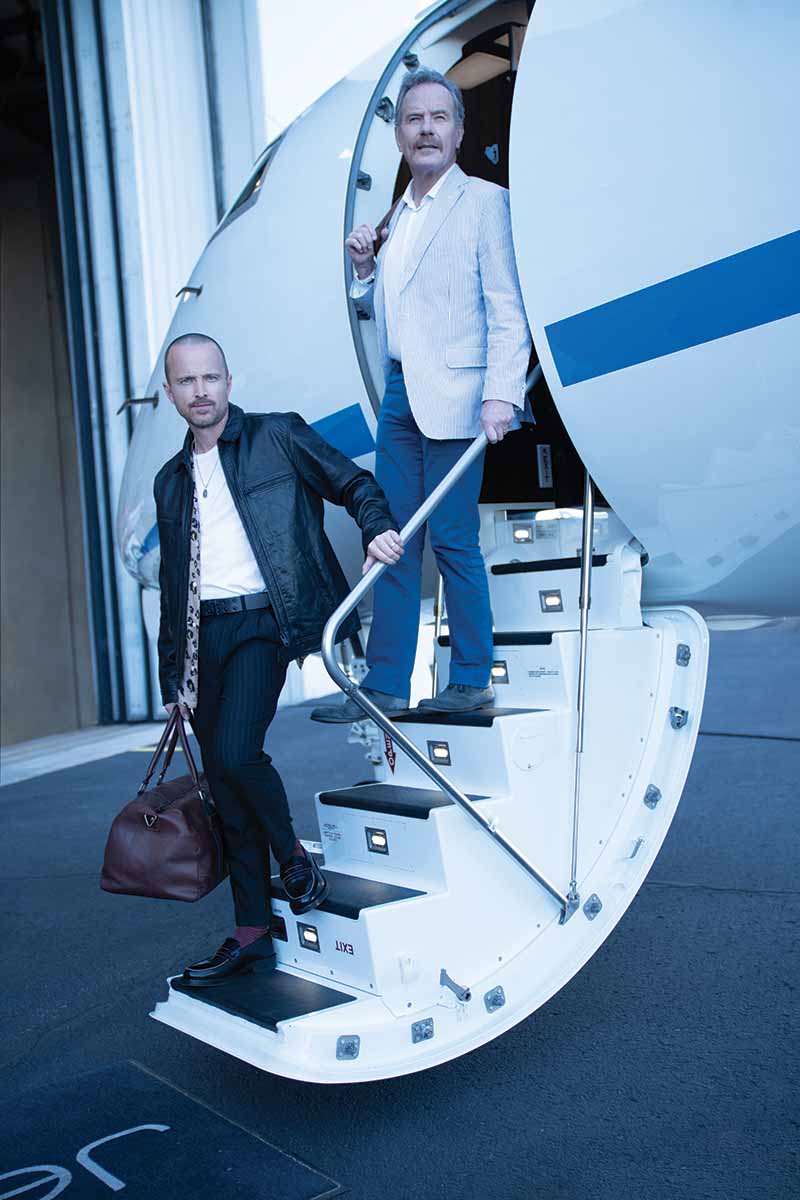 To this pair, the work is all they know. To them, the action is the (smoky) juice. "We both are from blue-collar families," Cranston says. "We didn't have much money at all when we were growing up, so we don't know what that's like; we just know how to work…and every time we achieve another plateau — we break into the top ten, the top five, now we're number four — we cheers, and we go back to work." He pauses for a moment, looking at his partner. "I kind of like it that way." The two raise their glasses. Salud to the next plateau.