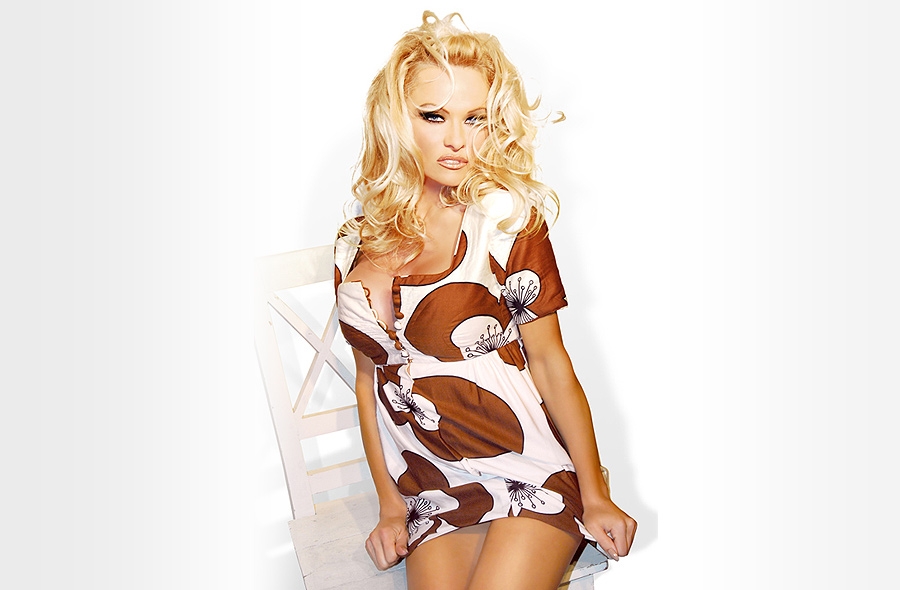 Named TV's sexiest woman ever, Pamela Anderson—undeniably the most recognized icon of the millennium—never seems to lose her stride.
With more magazine covers worldwide than any star of her generation and in every important demographic, Pamela is still red hot. Not surprisingly, she is the Guinness Book of World Records holder for most downloaded images of a celebrity; in fact, Googling Pamela Anderson's name returns more than seven million results.
But if you think that you can capture the essence of this timeless beauty and international superstar on a computer screen, you are sorely mistaken. Actor, activist, author, and first and foremost a mother, Pamela is a force with which to be reckoned. She is bigger than life; a global icon of colossal proportions and deeply admired for her beauty by men and women alike. Her widespread appeal and unfaltering commitment to the noble causes she supports have given her the platform to spread her message: one of a healthy, beautiful, and cruelty-free world.
To know the real Pamela Anderson, who has managed to capture the imagination of the world, it helps to understand that some of us are just meant to be celebrities. Born Pamela Denise Anderson at 4:08 a.m., July 1, 1967 in Ladysmith, British Columbia, with fireworks in the air, her journey began. It was Canada's centennial year and Pamela was the first baby born on this landmark day, earning her the title "The Centennial Baby." The timing of her arrival earned her mention in an article in the local newspaper, the Ladysmith-Chemainus Chronicle. "That's where it all started," says Pamela.
But it was the chance opportunity of having her image serendipitously broadcast on the JumboTron at a B.C. Lions game that laid the pavement for the runway that truly launched Pamela's career. Long before Playboy and Baywatch, she was living a small-town life surrounded by the natural beauty of British Columbia. Yet somehow this Canadian native was able to transform herself into the all-American girl. With a tremendous résumé and now a long history as one of the world's most-admired beauties, the persona of this unassuming, yet powerful, woman has become a media and branding powerhouse.
But it was not simply her celebrity status that brought Jetset Magazine to the beaches north of Los Angeles. It was the desire to understand the woman who lies beneath the legend.
We caught up with Pamela at her Malibu home as she was readying to head out on her morning walk with her four dogs. The demanding rhythm of 16 paws and the pull of the beautiful beaches of Malibu brought this compelling glamour girl out into the sunshine, a place that seems to be her natural environment.
With 14 films and 22 television credits set atop a world of print, there is a tremendous amount of information to reference, but there is so much more to Pamela Anderson. She is extremely intelligent, interesting, and funny. No attitude, no celebrity-laden sense of entitlement, just a pretty, local girl who is living her life. How refreshing. But that is Pam Anderson. You might not see her coming, but she always arrives. She truly carries herself as an average individual—no posse, entourage, or glam squad in tow. Yet, it is amazing how this down-to-earth activist can transform herself into the all-encompassing glamour girl we all know so well.
To call Pamela determined would be the understatement of the century. Pam Anderson has a long track record of being an advocate for injustices, as well as using her celebrity to come to the aid of those less fortunate. One of her current passion projects is teaming with Georges Laraque and Terrasphere Systems to bring vertical farming to Haiti. This is cutting-edge and sophisticated green technology that can deliver a steady supply of fruits and vegetables 12 months of the year, in any climate, with absolutely no waste water. This is truly something about which she is extremely excited: a sound concept and possibly a serious step in the right direction to address world hunger. Her devotion to this type of project is symbolic of Pamela's work with intelligent experts and clearly memorializes her commitment as a humanitarian.
With that said, Pamela is no stranger to luxury and at times, with the appropriate carbon-laden guilt, she occasionally enjoys the pleasure of private jet travel and "has a few friends with pretty planes," as she explained to Jetset. Still, she is devoted, without excuse, to a healthy planet. Her talk shadows her walk, and that, in itself, is something to be admired. She has earned the right to be labeled as a true environmentalist.
With other interests that include architecture and designing everything from linens to furniture, she is extremely involved in the construction of her new home. Until that time, life with her two boys, Dylan and Brandon, in a Malibu temporary residence is considerably simpler. Well, simple if you don't take into account the development of her new organic perfume or her hair care and sun products. Oh, and let's not forget Pamela the designer is also hard at work developing her own line of stockings, corsets, and lingerie. Apparently, she was born into a world with a 36-hour day. Impressive indeed.
All that aside, the fact is that Pamela Anderson is a leader—a warrior with an eye toward the future and a consciousness about the world we are leaving our children. I know what you are thinking: every celebrity reaching for fame, a comeback, or acceptance and love from the public is suddenly a tree-hugging philanthropist. Not here. Pam is old school. Her history is not only that of one who cares and contributes but one who has changed her life and put her career second to her role as mother and activist. How many celebrities can truly say that? She effectively leverages her fame in a skilled and deliberate way to educate the global community about responsible living. She's not simply a celebrity who is riding a trend; she's a woman of thought and distinction, carving a path for others to follow.
As Pamela told us, "I'm on a mission to love, give as much as I can, and support people who make a difference." This is her vision, her journey, and we are all the beneficiaries. It is difficult not to be inspired by the passion, nor edified by the knowledge of this person whom we all feel that we know, or perhaps, only really recognize. Pamela Anderson truly is more than a pretty face, but with a desire to make the world more beautiful with her every action, she radiates like the true star she is. We're just thankful we get to bask in her glow.