Awards season truly kicks off with the Heaven Gala, a prestigious gala the evening before the Golden Globes. Hollywood elites gathered at the ninth annual Heaven Gala at 3LABS in Los Angeles in support of The Art of Elysium, a charity that brings art to critically-ill children. This isn't your regular black-tie formality, the non-profit collaborates with a designer or artist on the décor and theme of the bash and gives them one mission: create your vision of heaven and hell.
British fashion designer and activist Dame Vivienne Westwood and design partner, creative director and husband Andreas Kronthaler served as the creative visionaries of the hotly anticipated evening – overseeing a movable feast of installation art, avant garde music and culinary expressionism. Finola Hughes and Russell Young were honored with the organization's highest honor, the Spirit of Elysium award.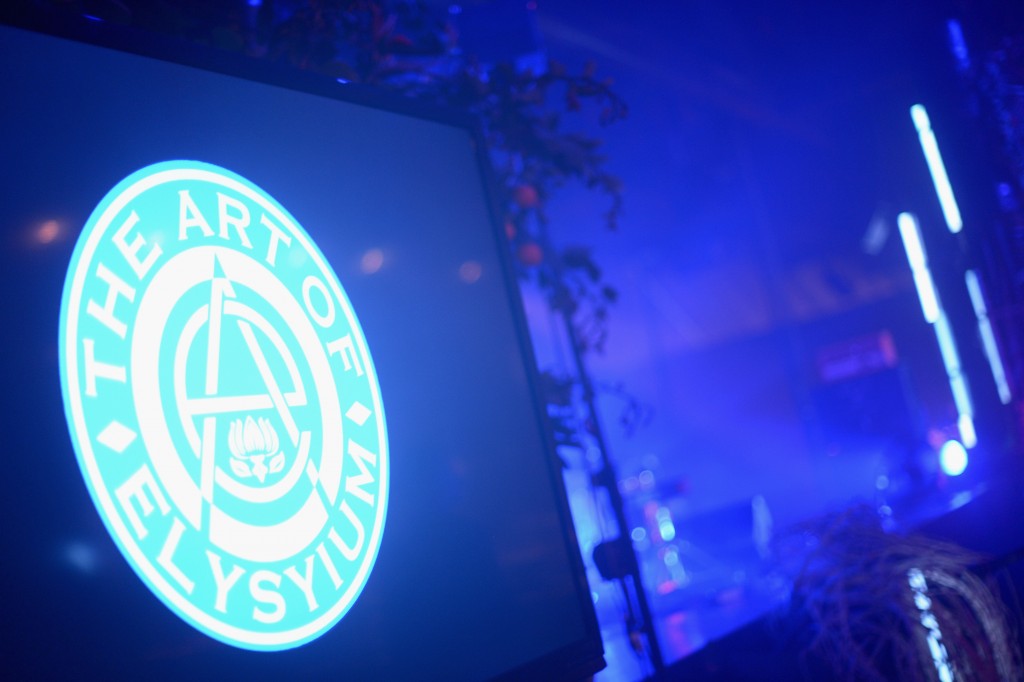 Christina Hendricks and Kelly Osbourne and rocked out to the Wild Daughter performance before the formal dinner. Johnny Depp and Amber Heard made a striking entrance, making the rounds conviviality before settling down into a deeper conversation with Westwood. Newlyweds Jamie Chung and Bryan Greenberg swooned at the inventive plating of each course, while Nikki Reed and Ian Somerhalder snapped photos of the installation by New York-based art director Andrew Ondrejcak. Christina Milian gave into her inner fangirl and asked Depp for a selfie. Dame Westwood also brought out young hollywood stars Zendaya, Bella Thorne and Greg Sulkin. Towards the end of the formal proceedings, a moving video was shown featuring James Franco, who hopped on stage to talk about his long time involvement with The Art of Elysium.
The Heaven experience was divided into two parts, with the first being an industrialized modern world which included a live performance by the London-based punk band, Wild Daughter. Think florescent lights strapped to stacks of black gasoline barrels. Afterwards, guests transitioned into a "post-apocalyptic rainforest" for dinner. Detroit-based soprano Shara Worden sang her heart out alongside ballet dancers dressed in Westwood couture.
Kronthaler and Westwood took the stage over dinner, and Kronthaler expressed deep appreciation for being able to cultivate his artistic side since childhood. He stressed his desire to give other children the opportunity to explore the arts, illuminating his reason for supporting The Art of Elysium. Westwood reflected on the importance of art. "Art is something that human beings can do. We understand the world by imitating the world," Westwood said. "Art makes us understand things. Every work of art is a vision of an individual at that point in time."
The art world power couple clearly used this opportunity to make a statement about environmental sustainability. Cocktail hour was clearly "hell", with the bleak décor illustrating the possibilities of an overly industrialized modern world. The formal dining area was the opposite – a heavenly eden of art and botanical expressionism.
Westwood went on to explain climate change, urging guests to take action. "It's a matter of life or death," Westwood said. "If you can do one thing, change your energy supply to green energy. If you do that it will make a big difference — especially if you're a business person." Finola Hughes and Russell Young were honored with the organization's highest honor, the Spirit of Elysium award. "It's not a surprise that artists run this charity," Hughes said. "As Vivienne said, we are always striving to interpret the human condition."