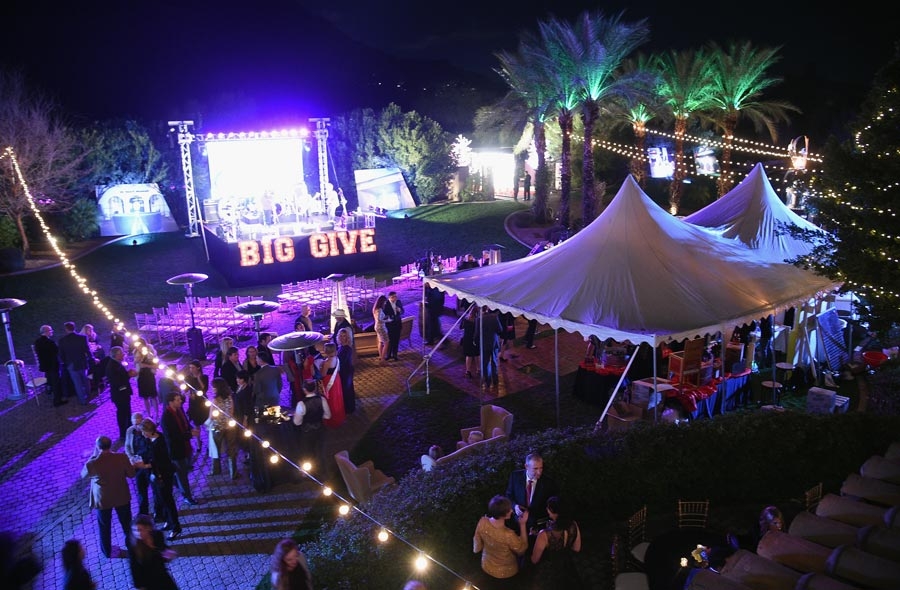 Anyone who's ever descended on a Super Bowl city knows that from Thursday before the game until an hour before kickoff, it's easy to forget there's actual football to be played to decide the NFL championship.
And that the entire weekend isn't simply about private jet landings, celebrity appearances and celebrity-fueled parties. That was the case this year in Scottsdale and Phoenix, but among the never-ending spectacle of A-list attendees making appearances at soirees all over town, there was one event that looked, felt, and simply was different. It was the Big Game Big Give party held January 31st at the spectacular Paradise Valley home of Major League Baseball Manager of the Year Matt Williams and his wife Erika.
Let's start with the primary reason this gala is different. While it spares no expense on celebrity glitter and opulence, the primary function is to raise money for charity, and on this one night alone over $1 million was raised to benefit a national public charity, The Giving Back Fund; The Mark Wahlberg Youth Foundation and the Boys and Girls Club of Metro Phoenix.
The event was co-hosted by Hollywood icon Mark Wahlberg and attended by an impressive guest list of celebrities from the worlds of entertainment, business, pop culture, sports, politics and music. Over 500 people attended the event on the lavish two-acre estate, and it was the "must have" ticket for local power players and anyone looking to get a glimpse of the red carpet arrival of some of the planet's most recognizable faces.
Jetset was honored to be the media sponsor, and along with some of our most valued partners and advertisers, we were able to step up and contribute over $80,000 in cash and prizes through the donations of some incredible experiences and affluent lifestyle products. We partnered with Louis the XIII to create an ultra-private VIP pouring experience with Mark Wahlberg and film director Michael Bay. Additionally, Remy Martin and Louis XIII collaborated with Jetset to donate a trip for two to Paris this summer, including a private distillery tour for the winners. We also partnered with Duxiana to donate a $15,000 bed, the top-rated bed for comfort in the world; an A-Rosa River Cruise experience, VIP NHL tickets and a fabulous three-night getaway to one of the top five-star resorts in Southern California, the Montage Beverly Hills.
The people-watching was fabulous, because at this party, the celebs were part of the show, having a great time interacting with guests and enjoying the musical performance by Arizona native Jordin Sparks and the fireworks show that illuminated Camelback Mountain, providing a fitting backdrop for this epic and unforgettable evening.
There is a reason Michael Bay called the Big Game Big Give fundraising event on the eve of Super Bowl XLIX the "Hot Ticket" of all Super Bowl parties held in Phoenix and Scottsdale prior to the big game this past February — because it was!
How often do the legendary Budweiser Clydesdales walk the red carpet? The iconic horses didn't exactly walk on the red carpet, but they were near it, and when you have Hollywood heavyweights like Mark Wahlberg and Bay co-hosting an event, you know it's going to bring out an electrifying crowd. This gala, held at the fabulous Paradise Valley estate of Matt Williams, the manager of the Washington Nationals, and his wife Erika certainly did that.
"We set out to make this party over the top, a one-of-a-kind experience for our incredibly generous donors and I think we achieved that. From the Budweiser Clydesdales on the red carpet to greet everyone right down to the last minute with fireworks, I think it was a ton of fun for everyone. One media member said to me it was something straight out of The Great Gatsby!"
Over $1.1 million was raised for charity on this night, and it's because of the time and energy donated by this list of celebrities that played a big role in making the Big Game Big Give party a huge success. Jetset had the privilege to serve as the media sponsor for the event, and it was an honor to be involved in such an elaborate and memorable evening.
Big Game. Big Give. Big Thanks!
Some of the celebrity attendees:
Mark Wahlberg
Michael Bay
Jerry Bruckheimer
Gavin DeGraw
Jordin Sparks
Maria Menounos
Maksim Chmerkovskiy, Dancing with the Stars
Adam Richman, Man vs. Food
Nigel Lithgoe, Television Producer
Bryce Harper, MLB Washington Nationals